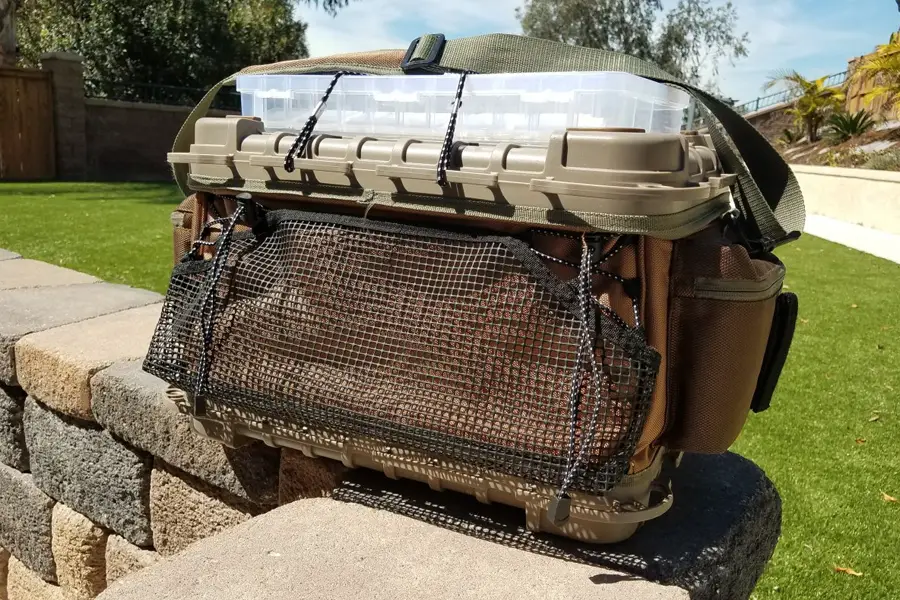 Fishing Bag Reviews
Fishing is a sport that requires a lot of gear, and a lot of gear requires thoughtful organization. Having all of your lures, bait, and various tackle stowed away in one, easily accessible location gives you more time to focus on finding (and catching) the fish. Tackle boxes and bags come in many shapes and sizes for every style of fishing. A good tackle box/bag should be large enough and organized in such away to hold all of your gear, with enough room to expand and add a few extras. Though choices of size and style abound, the first step is to decide between a hard, plastic tackle box or a soft tackle bag. Hard, plastic tackle boxes have been around forever and the design has mostly stayed the same over time. Soft tackle bags are becoming increasingly popular due to their lightweight, versatility, and convenience. They are typically made of waterproof shells that can store a number of different-sized utility boxes so you can take what you need for the day and leave the rest at home. Additionally, tackle bags utilize external storage pockets and compartments for storing anything else you need while out on the water.
Most Popular Fishing Bag
Plano
The Plano Tackle Box with Chill Bag System blends the traditional hard-shell tackle box with a removable soft-sided cooler bag for the perfect blend of sporting efficiency and leisurely recreation. The top of the box features 5 bait/lure storage compartments covered by a clear, hard plastic lid that snaps shut. These are flanked by two molded cup holders for keeping a cold one within arm's reach on the boat and onshore. The top storage compartment detaches to reveal a modular internal compartment with 3 removable sections. Included with the box are two Plano series 3600 stowaway boxes that fit into one of the sections, with enough room to fit a total of six boxes in the 3 sections. The removable soft-sided cooler bag has enough room to carry a lunch and drinks and has four zippered side pockets for phone, wallet, keys, and other accessories.
Molded cup holders in lid
Ample space for food, drinks, tackle, and accessories
Convenient size for occasional or lone angler
Room for 6 Plano utility boxes – 2 included
Sturdy carrying handle
– Anthony Dawson
Best Overall Fishing Bag
Spiderwire
The Spiderwire Wolf Tackle Bag was designed to take anywhere fish are biting and set you up for success when you get there. The bag is constructed of polyester with a durable PVC backing and molded bottom for all-around protection and element resistance. The bag can conveniently carried around the shoulder with the adjustable polypropylene-webbing strap. The inside compartment of the bag comes with adjustable dividers for organizing your tackle boxes, reels, and other gear. Four large tackle boxes are included with the Spiderwire Wolf bag with more than enough compartments to store all of your baits and lures. On the outside of the bag are two front pockets with fishing organizers, two slots for pliers, and removable fishing line dispensers on either end. Aside from casting out and reeling them in, the Spiderwire Wolf bag virtually does the fishing for you.
4 tackle boxes included
Front pockets and accessories designed for efficiency
Suitable for multiple styles of fishing in any environment/conditions
All-weather molded bottom and PVC backing
High quality zippers, latches, and buckles
– Anthony Dawson
Best Budget Fishing Bag
Generic
Generic is a Soft Sided Tackle Bag measures 7.5"x5.25"x1.5" and has enough room for anything you could need on a fishing trip. Though not included, the bag is designed to coordinate with other R2F tackle boxes and accessories. It has pockets on nearly every panel designed to stow your gear and keep your valuables protected and dry. Two zippered side pockets on the front and side of the bag have room for tools, line, and your personal belongings, while a separate zippered pocket is dedicated to protecting your electronics (phone, camera, GPS). A side mesh pocket keeps a cold drink within reach and a cable net can keep a jacket, hat, and gloves on standby in cold weather. Also on the outside front of the bag are 7 individual carabiner loops, and two black carabiners are included with the bag. The leakproof and easy to clean interior is spacious enough to keep a lunch and a few drinks alongside several tackle boxes and the rest of your equipment with room to spare.
Padded, adjustable shoulder strap for comfortable carrying
Total of 3 external accessory pockets
Interior pocket for map and fishing license
Dedicated electronics pocket
7 carabiner loops and 2 included carabiners
– Anthony Dawson