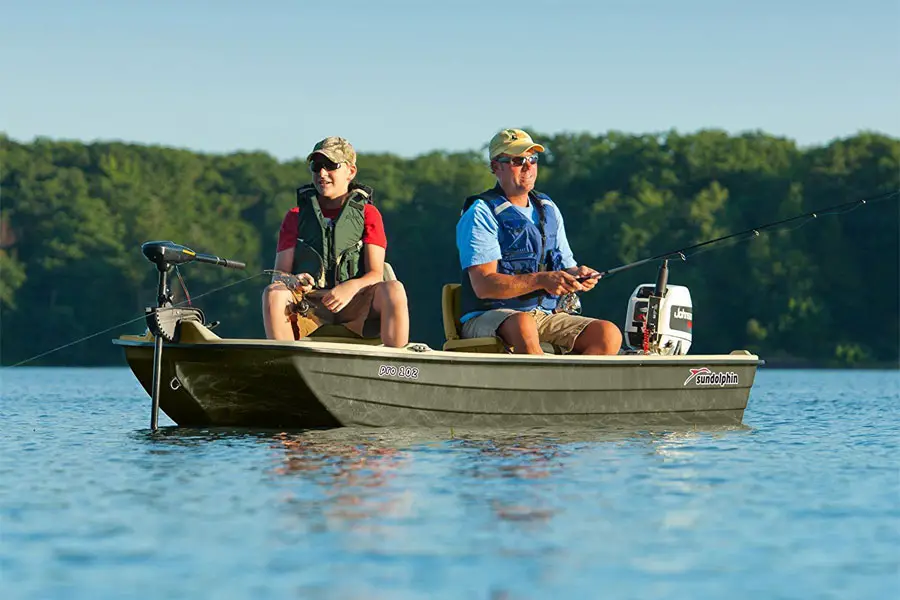 Fishing Boat Reviews
Fishing boats come in all shapes and sizes for both freshwater and saltwater purposes. They range from small kayaks meant for freshwater lakes and streams to full-on trawlers and sport fishing boats. Many freshwater anglers start with simple, flat-bottomed aluminum boats that are easily transported by trailer directly to the lake or stream. They typically have durable and lightweight aluminum hulls with bench-style or swivel chair seating. Their low draft allows them to venture where other larger boats cannot, to the shallow waters of coves, inlets, and backwaters where the fish tend to lurk. These boats typically run off outboard electric (sometimes gas) motors, though use of front-mounted trolling motors and manually operated paddle/oar is also common. Though smaller, flat-bottomed fishing boats cannot go the distances or achieve the speeds of much larger boats, their advantage is their versatility in a variety of freshwater fishing situations. They make great starter boats as they are easy to transport, easy to operate, and low profile enough as to not disturb the fish you're after, even in the shallowest of waters.
Most Popular Fishing Boat
Intex Seahawk
The 10.2-foot Intex Seahawk Fishing Boat is feature-filled and ready-to-go from driveway to truck bed to river or lake's edge. Like most KL Industries fishing boats, the Intex Seahawk 10.2-foot is constructed of a thermoformed high-density polyethylene that's designed to stand up to the toughest of in-water and on-deck impacts. The boat is lightweight enough to allow for manual steerage or power from a low-HP outboard or electric trolling motor, both of which must be purchased separately. Featured on the deck is an aerated livewell with drainage system and twin mounted swivel chairs with comfortable padding. The boat is pre-wired and has intended plugs for mounting rear outboard or front trolling motors. At 55-inches wide, the boat is compact enough to be strapped into the bed of a pickup, making it easier than ever to get into the water and on you're way fishing. The deck and hull come with a two-year warranty against defects and the entire boat meets USCG, CE, and NMMA ratings for safety.
Boat pre-wired for front and rear motor attachment
Features livewell for fresh catch with aerator pump and drainage system
Full-navigation lights allow for visibility and safety in low-light fishing
– Anthony Dawson
Best Overall Fishing Boat
Sea Eagle
The Sea Eagle Fishing Boat is one of their most compact and easy-to-transport models yet. The boat has a raised pontoon-style design with two adjustable and removable bucket-style swivel seats that can either straddle the boat's center or turned to face either side. The boat is only 144-inches long and 52-inches wide, which allows it to fit into the back of most pickup beds or full-sized vans without the need for a trailer. The Sea Eagle features protective vinyl rubrails to prevent injuries or accidents and add stability when hauling in a big fish. The boat offers a built-in rear motor mount in addition or a pre-wired front trolling motor mount. There's a formed compartment designated for a motor battery, in addition to multiple recessed beverage and tackle compartments. The deck is UV-protected to prevent fading and drying from the sun and weighs only 110-pounds to allow for transport by a single person if needed.
2-person fishing boat with seats
Built-in motor mounts, rod holders, battery storage locations and extra storage area
Four rod holder locations
Meets CE and US Coast Guard standards
– Anthony Dawson
Best Budget Fishing Boat
Intex Explorer K2
The Intex Explorer K2 Fishing Boat is designed to meet the freshwater fishing needs of anglers at all levels, from novice casters to pro haulers. The boat has a UV-stabilized, high-density polyethylene deck and hull, flanked by carpeted casting decks beneath the seats that cover the boat's many wells. There are two swivel seats on the boat to allow ample space for two casters and their gear. The Intex Explorer K2 compartments include an aerated livewell for safekeeping your fresh catch and three insulated wells that can hold food/drink, an anchor, lifejackets, and other essential gear. At the rear of the boat is a compartment to keep a battery for a rear motor motor (not included with the boat), in addition to a built-in motor mount. There's also a pre-wired slot at the front of the boat for easy attachment of an additional electric trolling motor. Other features include oarlock sockets for manual paddling, anodized aluminum handrails for added stability, and bow lights for fishing in low-light conditions.
Approved by CE and US Coast Guard safety standards
Features large, aerated livewell with drainage system
Two padded swivel seats allow multiple anglers to cast in comfort.
– Anthony Dawson
Fishing Boat Buying Guide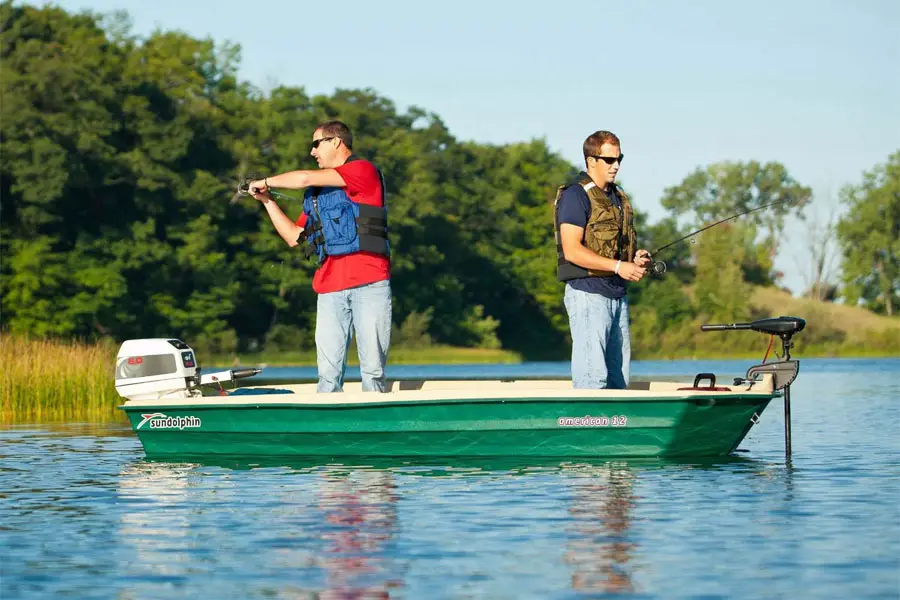 You've decided that it is time for you to purchase your own fishing boat, but before you set out to find the right boat, there are a few very important considerations that must first be made. There are quite a few out there to choose from. They come with a range of brands, sizes, features and options. Each has its own price tag as well. Before you jump off of the dock and swim in the waters of boat ownership, you'll need to consider pricing and what you can comfortably afford, and the range of other considerations which can be overwhelming if this is your first time purchasing a fishing boat. This guide will help you to plan ahead so you can more easily find the best fishing boat that will best meet your fishing needs and land within any budget limits you may have.

Where Do You Plan to Use the Craft
The type(s) of fishing that you plan to do will help you to determine what size and type of boat that you need to purchase. How many people must the boat accommodate? You will want to make sure that your boat will have seating enough for all of the people who will regularly go with you.
Will you be taking the boat out on a lake, river or in the ocean? If you plan to do any deep sea fishing you'll need to ensure that the boat you purchase is seaworthy. Another consideration that you'll need to make is the power of the motor.
Will your boat have inboard or an outboard motor? Consider all of the possible uses you'll have for the craft and try to plan ahead by getting the craft with all of the features and accommodations that you will need. If you're going after some of the larger species of fish, make sure that you have plenty of room for storage compartments as well. Another consideration is storage of food and beverages while out on the water.
It is also wise to consider what type of accommodations you will need to make. For example, if you plan to be out for hours at a time, or overnight even, you may want to check out a few cabin cruisers with sleeping accommodations. If your plans include taking it out on a lake for a few hours at a time, you may not need to have all of the bells and whistles.
Consideration for All of the Associated Expenses
When purchasing a brand new fishing boat, it's a good idea to get a price range in mind that is within your budget. Pre-arranging financing with your bank or other lending institution is also an important step to take prior to wheeling and dealing with the sales reps. It's a lot like buying a new car and it can be just as expensive, sometimes more so.
When it comes to expenses, the purchase price of the boat is just the beginning. You will also need to consider annual licensing fees, insurance, maintenance and the cost of fuel. Being prepared for these things will help you to avoid regret or frustration later.
Towing Capacity
The size and weight of the boat must be considered when it comes to transporting it from one place to another. You will need to have a vehicle that can handle pulling the trailer with the boat fully loaded including any equipment that will be onboard, with the appropriate trailer hitch and hookups for the trailer lights.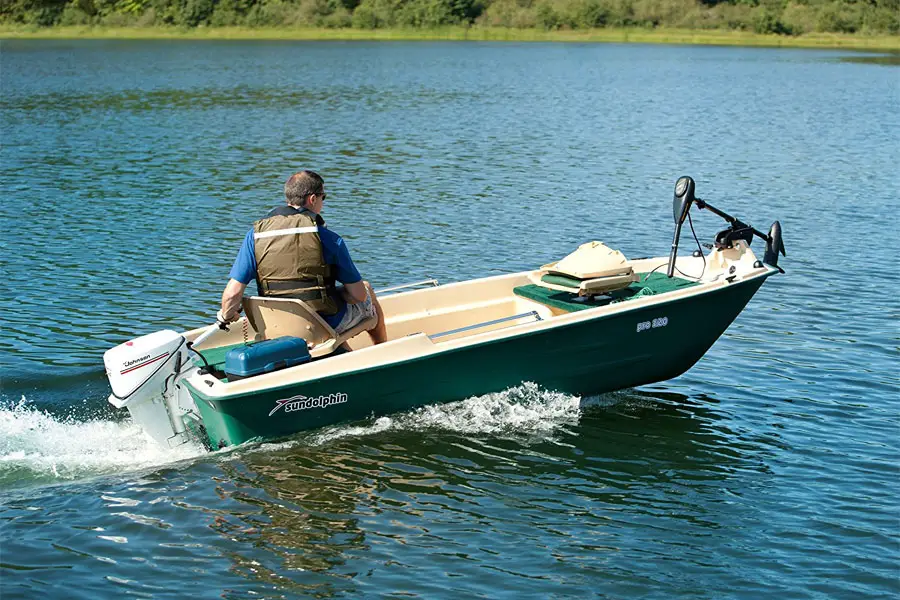 Fishing Layout
The layout of the boat inside is another consideration to be made with respect to the type of fishing that you'll be doing. Will you be doing cast netting? If so, you'll need a bow that allows for enough access to this area. Will you need an anchor? Also, consider any guests which will be on board and their comfort with regard to fishing and additional seating and dual consoles, drink holders and other accommodations such as cooking and refrigeration needs.
Technical Aspects of Fishing Boats
Digital instrumentation and fly by wire throttle and shift are available of several of the newer marine engines. Automatic engine synchronization and auto speed control is also available for trolling. Some models come equipped with fish finders and depth finders or you can add them later, but you'll need to have the room to place them.
You'll also need to make the choice of which type of hull you will want. There are a few choices out there including V hulls, which are the most popular, and catamaran or multi hull options. The V hulls are most often chosen for fishing boats as they cut the water more efficiently.
What to Look for in A Fishing Boat
When you have your financing in order and an idea of what you will need to suit your fishing needs, start looking at boats that are the size you will need. Make sure that the boat has a strong enough engine to handle the type of uses you will have for it. It also must be something that you can easily tow with the vehicle that you have available. Check out the features and options that each have to offer, and when you have identified 4 or 5 different boats that are suitable in terms of size, space and accommodations, start making price comparisons.
Conclusion
Purchasing a new fishing boat can seem like a daunting task, but it becomes much easier when you do a little pre-planning so you are fully prepared when you begin comparing them.
When you know precisely what it is you are looking for, you'll be able to hone in on a few different brands and models to compare the pricing and find the best deal. It's always best to sleep on it, for perhaps a few nights before you make the commitment for the final purchase. By following the tips and recommendations made in this guide, you will have taken all of the important aspects of boat ownership into consideration and will be prepared to make the best selection that will meet your fishing boat needs for years to come.