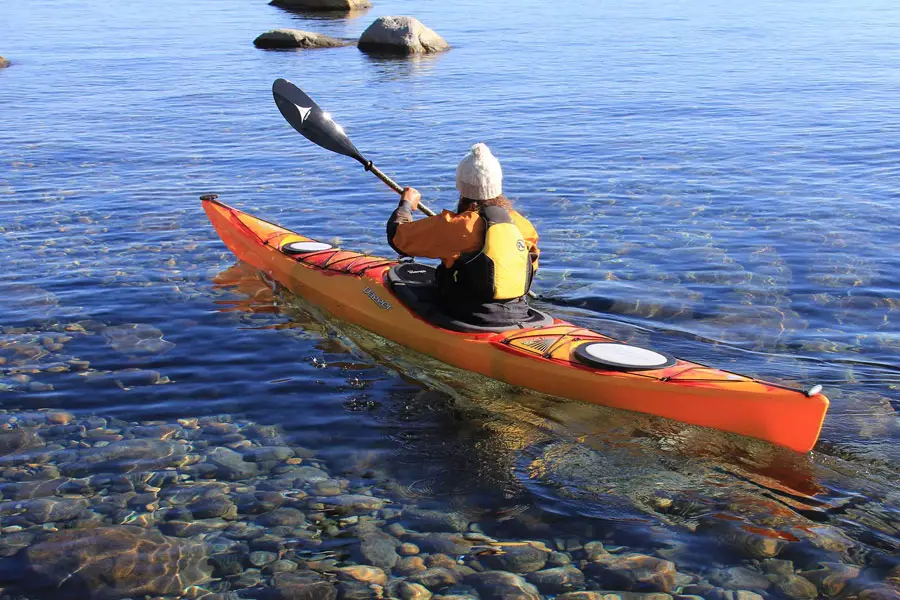 Fishing Kayak Reviews
Fishing kayaks are built especially with anglers in mind. They provide additional storage space, more comfort for many hours on the water, and accessories like rod holders that make an anglers life easier when on the water. There are many options available when it comes to fishing from a small boat or kayak. Here are three options that provide comfortable fishing, great quality products and accessories that will make your days on the water a pleasure instead of a frustration.
Most Popular Fishing Kayak
Riot Kayaks
The Riot-Kayaks-Escape-12-Angleris a sit on top flat water kayak that is 12 feet in lengthand is great for lake fishing. This kayak is made with bells and whistles that anglers will love. It has a great combination of stability and performance with enough room to carry all your gear. The Riot Kayak has 5 rod holders and a pilot rudder system. It has a high back seat for comfort during an all-day fishing trip. It has adjustable sliding foot braces for support and comfort of the legs. The Riot-Kayaks-Escape-12-Angler has an anchor trolley system, a front hatch and hatch cover, an integrated console comes with a molded cup holder, 2 4 inch deck plates, 2 paddle hooks and a rear deck storage compartment.All features that make a day on the water a pleasurable experience.
12 Feet sit on top kayak
5 Rod holders
Pilot Rudder system and anchor trolley system
Front and rear hatch for storage and to carry gear
2 4 inch deck plates and 2 paddle hooks
– Anthony Dawson
Best Overall Fishing Kayak
Classic Accessories
The Classic-Accessories-Colorado-Inflatable-Pontoon boat has all the elements that anglers need for a great day on the water. It comes in a sage Green/black color. The 9′ pontoon style boat has a padded seat and is agile enough for river fishing. It comes with a high storage capacity including 20 pockets and 2 insulated drink holders. There is a weatherproof motor mount and a wire rear storage area and battery platform. The Classic-Accessories-Colorado-Inflatable-Pontoon will carry up to 400 pounds and has a river rating for class 1. A rod holder can be mounted in different positions on the oar stand. The oar stand hold the oars so you do not have to worry about losing an oar when you are managing your rods. The Classic-Accessories-Colorado-Inflatable-Pontoon also has a motor mount that can be used for trolling. The seat and foot rest can adjust to several positions for the greatest comfort. The sides are inflatable and the seat folds down for compact transport and storage. It comes with a 1 year warranty.
9′ Pontoon style fishing kayak
Padded fold down seat
River fishing up to Class 1
Over 20 pockets to store fishing gear
1 Year warranty
– Anthony Dawson
Best Budget Fishing Kayak
Solstice
The Solstice-30400-Voyager-4-Person-Boat is ideal kayak for fishing. It is built of heavy PVC construction and multi person capacity. This boat is a perfect option when fishing with children. It has a 4 chamber double hull construction and can be used on a river or lake. It is an inflatable boat creating a compact storage and can be transported in the trunk of a car. The seats are also inflatable for a comfortable ride while on the water. The boat can be inflated with a manual or electric pump. The Solstice-30400-Voyager-4-Person-Boat comes with swivel oar locks that keep the oars in place while you are enjoying the water. There is a fishing rod holder in the back of the boat that secures the rod. The Solstice-30400-Voyager-4-Person-Boat has an optional motor mount, which allows you to get across the water faster. It can accept a 2 HP electric or gas motor.
Inflatable boat made of heavy PVC
Swivel Oar locks and inflatable seats
Optional motor mounts for 2HP gas or electric motor
4 Chamber double hull construction
One fishing rod holder
– Anthony Dawson
Fishing Kayak Buying Guide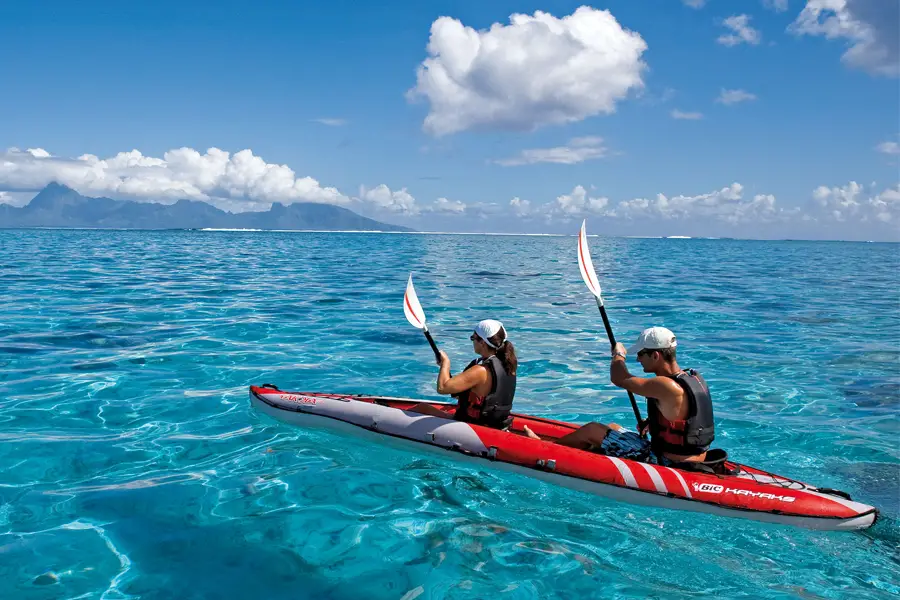 If you like hitting the water to fish, you should consider kayak fishing. However, before getting into kayak fishing, you need to understand what to look for when choosing a fishing kayak. Fishing kayaks come in different sizes and shapes. Narrowing them down to the best option can be very easy before purchasing. Some of the basics you need to consider also include whether you're going to fish in small or large bodies of water, the water temperature, boat performance, and stability. Apart from these, there're a few other important things to consider when selecting a kayak:
Things to Consider
1. Fishing Goals
The first thing to consider when choosing a fishing kayak is your fishing goals. First, make sure you identify where you'll be fishing, i.e., in salt water, fresh water, farm pounds, offshore, warm water, large lakes, dockside or in slow-moving waters. In some cases, you may want to fish in more than one body of water. Understanding these is crucial before purchasing a kayak since it will help you narrow down to your potential number of options.
Additionally, you need to consider if you'll be fishing alone or with your family. If you want to fish alone, consider a one-person kayak. On the other hand, if you want to go with someone else, consider a two-person kayak.
2. Portability and Storage
You need to understand that while in possession of a kayak, you'll need to take it to the fishing ground and back home after the activity. It's therefore wise to select a compact and lightweight kayak which is portable in nature. In addition to this, ensure you select an option with carrying handles for easy carriage. Apart from portability, don't forget to consider the storage options. If you purchase a longer kayak, it'll probably be stored in the garage or truck rack. In case your storage option allows direct sunlight or heat, it's essential to choose a kayak with ultraviolet inhibitors on its exteriors.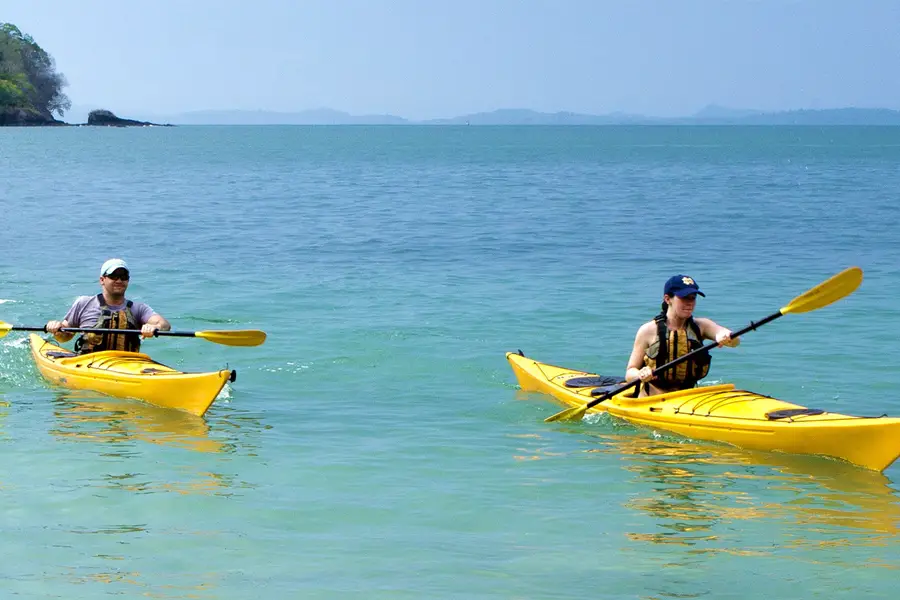 3. Sit-In or Sit-On-Top
In most cases, kayaks come in two types, i.e., sit-in or sit-on-top. If you're an angler, the sit-on-top kayak types are a good choice since they easily allow the angler to wade through water. Additionally, you can attach other accessories easily to them. The major disadvantage of the sit-on-top fishing kayaks is that they put one in an elevated position that can make you soaked easily. On the other hand, the sit-in fishing kayaks provide a wider cockpit to the anglers from where they can fish. The major advantage of a sit-in kayak is that it has good stability due to a lower center of gravity. Additionally, it helps one to remain dry and comfortable especially if you're in cold water.
4. Color
Many people tend to overlook this aspect due to how simple it is. However, there're kayak colors that are safe and can be easily seen especially during sunset and sunrise. Also, some colors can't be seen by fish easily. The safest colors when it comes to selecting a kayak are bright colors like orange and yellow and since they stand out especially in low light areas such as dawn and dusk. On the other hand, if you want a fishing kayak that won't easily alert your catch, consider a fishing kayak hull with a sand color.
5. Boat Design
In most cases, this is the largest trade-off when selecting a fishing kayak. A longer kayak usually provides the paddler with quicker speed as compared to the short ones. On the other hand, a wider fishing kayak provides greater stability compared to the narrow ones. Also, a fishing kayak that has an unswept bow has a better performance in waves and currents compared to flat water. You need to determine between speed and stability which you need most.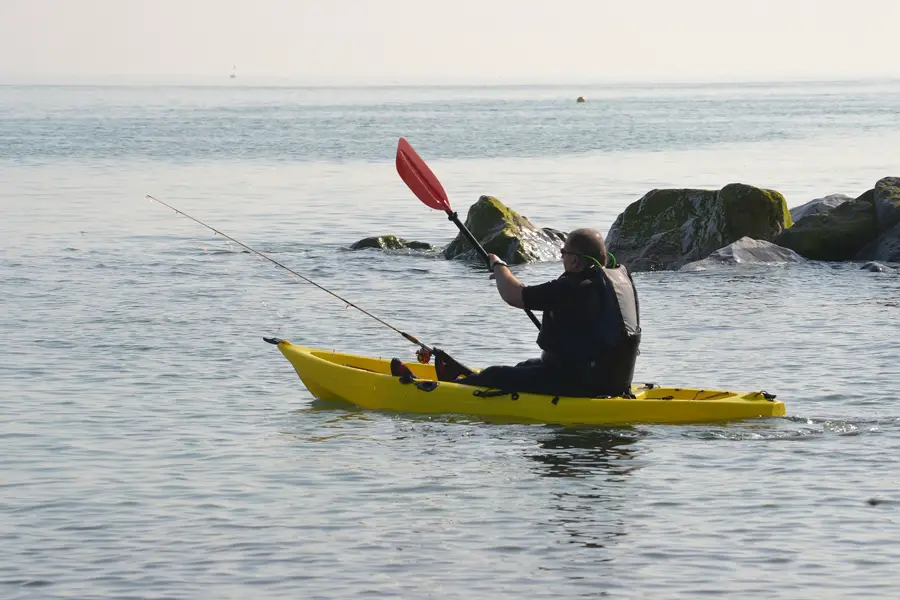 6. Comfort and Convenience
When going into the water, you need to be fully prepared for anything and everything that comes on your way. Ensure you select a kayak with enough space to accommodate your tackle, food, water, clothes among other belongings. Comfort is also key when selecting a fishing kayak. Make sure it has a comfortable seat especially if you'll be staying on water for long.
In conclusion, these are some of the top things to consider when selecting a fishing kayak. You should also consider the price, and material used.