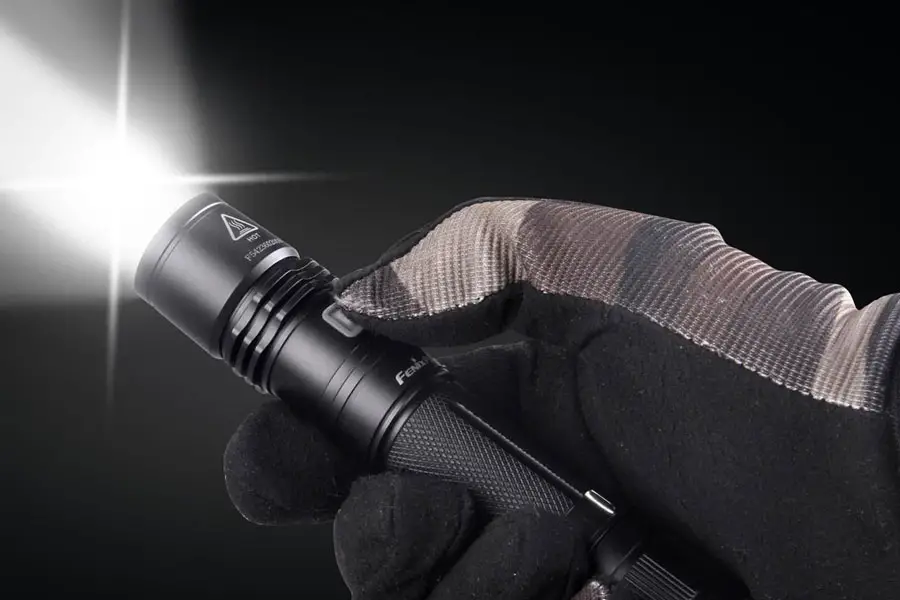 Flashlight Reviews
Flashlights are absolutely necessary to have in your home, your office, your car, and several of them. They are used for emergencies when the lights go out. For seeing in dark places and for outdoor adventures like hiking and camping. Having a flashlight handy with fresh batteries will help you to be prepared in many emergencies. The challenge with flashlights is getting dependable heavy duty flashlights that will actually work when you need them to. So many inexpensive flashlights will barely make it through one set of batteries before they stop functioning. When the lights are out, or the car breaks down in the dark, or when you are finding your way back to the campsite, is not the time to realize you have an inferior flashlight. Having a heavy duty flashlight that you know you can depend on to provide you light in any situation is what everyone needs. The following flashlights have proven to be dependable and will help you to have a great survival tool.
Most Popular Flashlight
Streamlight 88031
The Streamlight 88031 Protac Tactical Flashlight 2L with White LED Includes 2 CR123A Lithium Batteries and Holster, Black is a product that you will be able to use for years to come. This flashlight's style is 2L and is powered by two CR123A lithium batteries which are included with the flashlight. This flashlight has an anti-roll facecap and a removable pocket clip attached to the flashlight to allow you to clip the device onto your pocket. The Streamlight 88031 Protac Tactical Flashlight 2L with White LED has a IPX7 rated design that is waterproof up to one meter for 30 minutes. This feature will allow you to use this flashlight in any condition without being worried if the device were to be submerged in water. This flashlight can be operated with one hand and has three modes: momentary, variable intensity, or strobe depending on your needs. The flashlight has C4 LED technology allows this flashlight lights to have a lifetime of 50,000 hours.
2L style flashlight
Powered with two CR123A lithium batteries that are included
Removable pocket-clip with anti-roll face
IPX7 rated design
Waterproof up to 1 meter for 30 minutes
– Anthony Dawson
Best Overall Flashlight
Streamlight 88040
The Streamlight 88040 ProTAC HL High Lumen Professional Tactical Light with LED and Holster, Black will provide you light in whatever unpredictable circumstance you may come across. This flashlight is waterproof making it a great flashlight when dealing with flooding, rain or other water issues. Instead of worrying about the capability and durability of your flashlight, you can work in confidence with this device. Throughout the battery life of this flashlight, the LED Solid State Power Regulation will provide you with maximum light output. The Streamlight 88040 ProTAC HL High Lumen Professional Tactical Light with LED has C4 LED technology for extreme brightness yet the LED lighting uses very little power enabling the batteries to last a long time, even with extended use. This flashlight has three different operating modes and has an anti-roll face cap. The Streamlight 88040 ProTAC HL High Lumen Professional Tactical Light is 5.25 inches in size allowing you to store this device anywhere you want. This flashlight is battery-powered and will need batteries upon purchasing.
Waterproof
LED Solid State Power Regulation provides maximum light output
C4 LED technology
3 different operating modes
5.25 inches in size
– Anthony Dawson
Best Budget Flashlight
MagLite
The Maglite ST3D016 3-D Cell LED Flashlight is durable and will help you perform your needs with reliability. This flashlight has very efficient power usage allowing the battery life to last longer than many flashlights. The LED lights are virtually unbreakable. The flashlight is water and shock resistant preventing potential harm to you allowing this device to be reliable even in unpredictable scenarios. The Maglite ST3D016 3-D Cell LED Flashlight has an aluminum alloy case that will protect the flashlight. It has a bright and powerful beam that can adjust from a spot light to a flood light depending on your needs. This product is a 3 D-cell flashlight with 3-watt LED making it a high quality device. The case is made of high strength aluminum alloy that has been anodized inside and out. You can purchase this flashlight in five different colors. The Maglite ST3D016 3-D Cell LED Flashlight comes with a limited lifetime warranty. 3 D batteries are needed in order to operate.
Water and shock resistant
Aluminum alloy case
3 D-cell with 3-watt LED
5 different color options
Limited lifetime warranty
– Anthony Dawson
Flashlight Buying Guide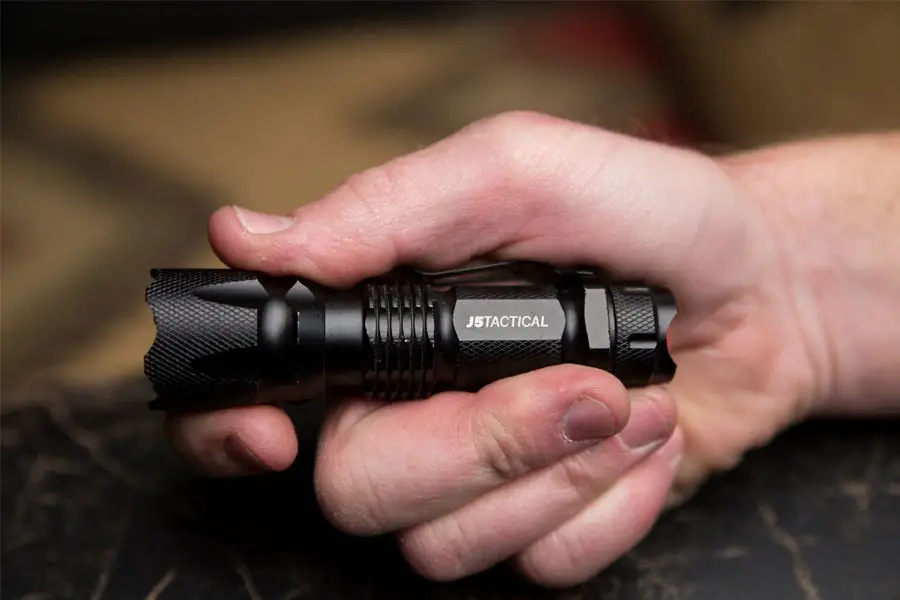 Flashlight Reviews
Flashlights are an important piece of equipment and almost every home or office has at least one of them reserved for emergency purposes. It's a must have for anyone who plans to go on camping or hiking and be able to see the surroundings at night. A fully charged flashlight battery comes handy during emergency situations but does it really last long enough?
Most poorly manufactured flashlights have low battery capacity and it only takes a while before the power runs out, leaving you stranded in the dark while making your way to the campsite. A long-lasting light that is able to last for days, weeks or even months will surely benefit the user. These lights have been tested for their staying power and dependability to help you in places where it is indispensable.
Streamlight 88040 ProTAC HL
Features:
It uses C4 LED
The checkered body design doesn't slip easily
LED Solid State Power Regulation ensures the highest light output possible
Metal clip
Nylon holster
It doesn't roll easily
Additional strobe light feature
The tail switch is recessed
It can be a weapon at the same time
Water resistant
The Streamlight 88040 ProTAC HL is an all-around companion. It is able to produce a bright light with its 600 lumens. Users will be able to switch the brightness of light into strobe, high and low. The body is designed with a solid built and it comes with a clip and nylon holster. We tested it at its brightest setting and we noticed that the ProTAC HL drains battery faster when compared to its low-level brightness setting but it's common with all lights because they tend to consume more energy in higher brightness level. A unique feature about the ProTAC HL is the C4 LED which consumes less battery power that lasts for longer periods of time and the LED Solid State Power Regulation ensures the highest level of light output possible. If it's used for emergency purposes, always make sure to have an extra spare battery in case the current battery runs out of power.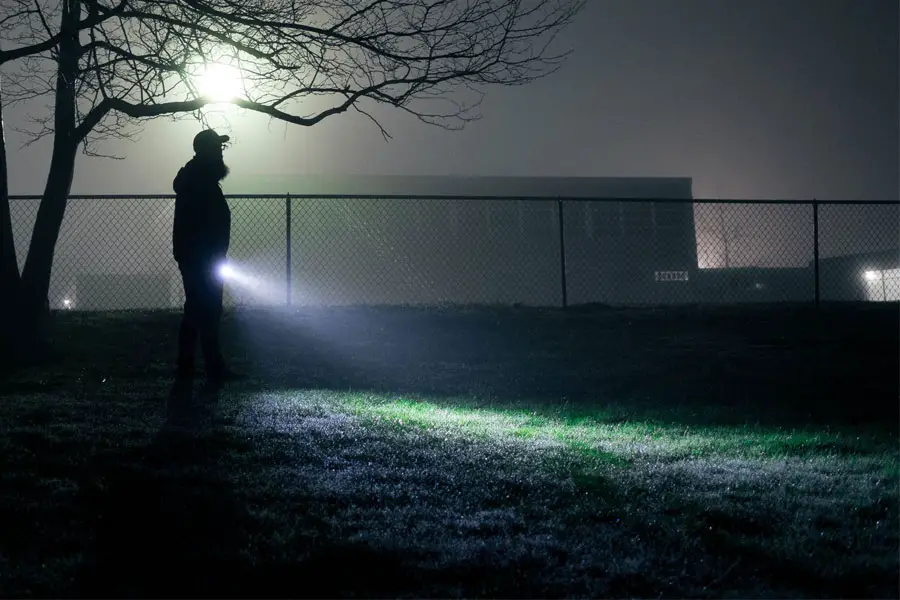 The Streamlight 88040 ProTAC HL produces a bright light that can be used to blind a person temporarily as a defensive maneuver. Measuring at 5.27 inches in diameter, this light is built for self-defense and it's small enough to fit in your purse or pocket so that if somebody attacks you, you can also strike them back by using both ends of the ProTAC HL. Furthermore, it is water resistant so that you don't have to worry anymore about water getting inside; it's an ideal device to have especially when it's raining or during floods.
LED Lenser M7R
Features:
Rechargeable battery
Focusing head
Excellent build quality
It can be controlled using one hand
Easy-to-use belt clip
The LED Lenser M7R comes with its own carrying case and the whole package contains a wall mount, user guide, o-rings, charger and magnetic connector. The light has a built-in rechargeable battery so that you don't have to worry anymore whenever it runs out of power. Charging the battery is fast and long-lasting, you just need to connect the recharging system to a wall mount and plug the M7R via charge connector. In addition, the wall charger is equipped with swappable plugs designed to be used for different countries. The M7R securely connects to the charge connector using an activation button to ensure that there won't be any unsuccessful charging. If not used regularly, the battery power can last up to one month.
It features a well-designed focusing head that is powerful and works well. While testing the product, we noticed that it produces longer and bigger light than most similar sized models like the Surefire G2X Pro. It offers an average of 200 lumens but it seems brighter in an actual test that reached 300 feet on a football field. The optics on the M7R has a clean and centered finish. The build quality is excellent; it has straight lines and the threads were cut perfectly. A nice thing about this light is that you can control everything using only one hand including beam profile, output, output sequence, output regulation and strobe availability. Additionally, the LED Lenser M7R has a belt clip which is good to have one especially for those who will use it on a regular basis like law enforcement officials because it allows them to detach it quickly.
Fenix TK75
Features:
Powerful LEDs
Long lasting batteries
Compact
Water resistant
Dual Switch buttons
Stable brightness
The Fenix TK75 is powered by three Cree XM-L LEDs. Its light output can produce a stable brightness of up to 2600 lumens. The TK75 has a built-in protection against improper placement of battery and battery over-discharge so you never have to worry about short circuits anymore. A durable clear glass optic protects the three LEDs and it has an anti-reflective finish too. The TK75 is able to produce a wide 80-degree light that creates a panoramic view and it uses four rechargeable batteries. When you order the complete package, it contains a lanyard, spare o-rings, Fenix battery charger, four 18650 rechargeable batteries and cord. This light is made of aircraft-grade aluminum and coated with an anti abrasive coating. In addition, it is also certified as IPX-8 water resistant for 2 meters.
The TK75 measures at 7.3 inches in length, 2.2 inches in diameter and 3.4 inches on the head. It weighs 1.5 pounds together with the 18650 batteries. Each of the four 18650 batteries are equipped with 2,600 mAh which is equivalent to 10,400 mAh but the light can also be used using only two batteries. In a single charge, the four batteries are estimated to power it continuously for 8 days using the low brightness setting. There is a dual switch button that allows you to turn the power on and change the brightness level. The four brightness levels in these flashlights include 18 lumens, 400 lumens, 1,100 lumens and 2,600 lumens. At maximum level of brightness, the three LEDs are protected by heat dissipation to make sure they won't overheat.