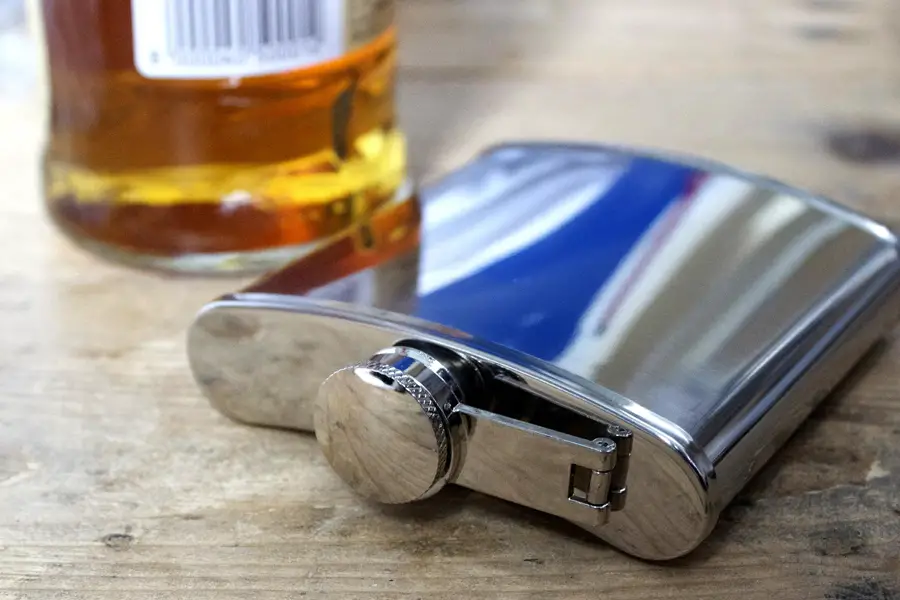 Flask Reviews
Flasks have been around since the 18th century and traditionally made of silver, pewter, leather and sometimes even glass. Today's flasks are mostly made of durable stainless steel and come in all shapes and sizes. A typical flask is contoured to match the curve of the hip or thigh, and is known as a kidney flask, due to this distinguishable shape. Many flasks will have something known as a captive top which means it has a small arm that attaches to the top of the flask to keep the lid from getting misplaced once it's taken off. The purpose of flasks was to discreetly carry alcoholic drinks and water for long trips across the country. The very old flasks that were made of glass were made of limestone, quartz and sandstone to name a few, and traditionally come in amber, green, blue or clear colors. Some flasks will come with a collapsible little shot glass but it is more common for people to drink directly from the flask itself. Flasks are commonly seen used by cowboys in the old Westerns on TV.
Most Popular Flask
Personalized 6oz Pink Beaded Hip Flask
Flasks are not just for men. Women might love this pink beaded, "bling" hipflask with pink rhinestones adorning the entire outside of it. Food grade stainless steel won't alter the taste of your drink and it is leak proof. Tons of sparkle is present with this flask. This pretty little flask can hold up to 6 shots and fits into your purse or pocket easily. Measures 4 ½" x 3 5/8″, A unique feature of this sparkly flask is the engraving plate that is made from stainless steel and can be engraved with up to three lines, 10 characters on each line that they are offering for free. These make perfect bridesmaid gifts for the bride to give her wedding party. Holds up to 6 ounces of liquor or other beverage.
Beautiful pink rhinestones on front and back
Holds up to 6 ounces of liquor
Stainless steel engraving plate for personalization
Free personalization – 3 lines, 10 characters each
Measures 4 ½" x 3 5/8″
– Anthony Dawson
Best Overall Flask
Cork Pops Nicholas Portside Flask
A truly unique and breathtaking flask that is perfect for anyone who loves to sail. This flask looks just like a porthole on a ship and allows a clear view of the contents through the little window on the front of the flask. You can carry up to 4 ounces of your favorite liquor, water or other beverage and know exactly when it's time to refill it. Constructed of polished stainless steel with a round glass window and has rivet looking designs around the window for an authentic porthole look. This flask will last a lifetime with the proper care and makes a perfect and unique Christmas or birthday gift for the seafaring loved ones in your life. The screw on/off top keeps the liquid securely inside and the whole flask is leak proof. Super easy to keep clean and store when not in use.
Beautiful and unique nautical design
Looks like a ship's porthole
Holds up to 4 ounces
Durable and long lasting stainless steel construction
Screw on cap
– Anthony Dawson
Best Budget Flask
The Original Shot Flask
This unique and original flask has an added feature of a hidden shot glass that allows you to pour a 2 ounce shot whenever you want. The shot glass can be flattened for easy storage and expanded whenever you're ready for a drink. The beautiful stainless steel and bonded leather wrapped flask holds 8 ounces of liquor or water and the design makes it eye catching and attractive and will draw attention and compliments from whoever sees it. If you're looking for a unique and elegant gift for someone who loves a bit of "cowboy history" this original shot flask will be a perfect choice. It's very easy to clean and carry and comes with a 1 year manufacturer's warranty.
Holds 8 ounces of liquor or water
Stainless steel collapsible shot glass hides in the flask's front
Shot glass holds 2 ounces
First shot glass with a built in shot glass
Easy to clean
– Anthony Dawson