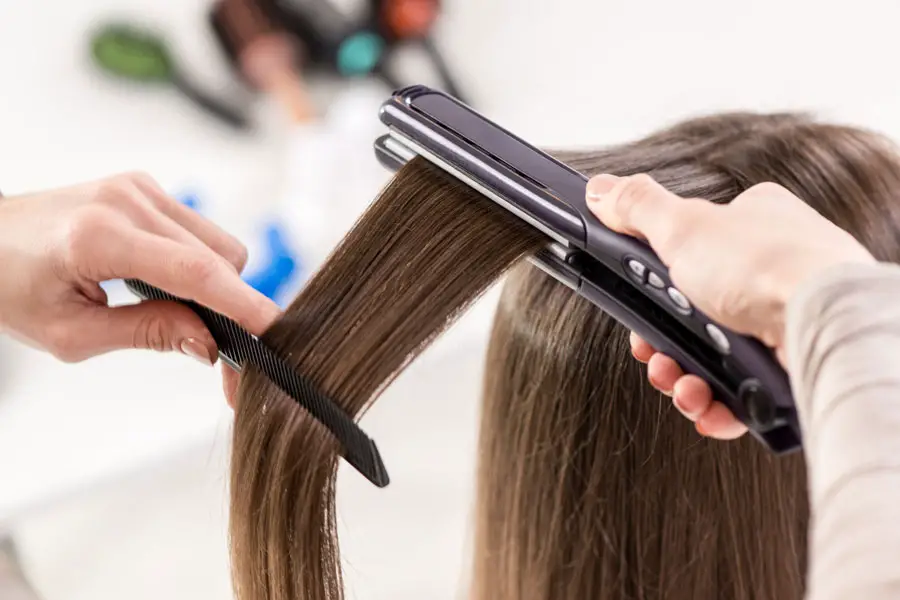 Flat Iron Reviews
Gone are the days where a single woman needs to own a handful of different hot tools. Curling irons of all sizes have been replaced by the modern, sleek design of today's flat iron hair straighteners. Professional, salon-quality flat irons are readily available for creating gorgeous hairstyles in the comfort of one's own home. A top quality flat iron can turn even the most stubborn, coarse or thick hair into a sleek, smooth style. Adjustable heat settings are optimal for use on different hair types, and allow for faster results without damaging the hair. However, hair straighteners aren't just used to straighten the hair – this all-in-one hot tool can be used to create any style imaginable. With just a flick of the wrist, flat irons can create any type of curl or wave, making this tool an absolute must-have addition in any beauty bag.
Most Popular Flat Iron
INFINITIPRO
Take hair to the next level using The INFINITIPRO Ceramic Flat Iron. 1-inch ceramic plates heat up within seconds and cool down just as fast, with far-infrared and negative ion energy that is effective in smoothing even the most difficult hair with ease. Multi-coated ceramic dual floating plates glide over hair effortlessly without pulling or catching, creating a sleek and polished look. Temperatures are displayed digitally and adjustable between 140F and 455F, which encompasses all hair types and desired styling effects, including Brazilian keratin treatments. This flat iron boasts a 30-minute auto shut-off safety feature and a 4-year warranty for peace of mind. Lightweight body and elliptical barrel are perfect for creating all hairstyles, including curls, flips and waves, leaving a sleek and glossy finish.
1-inch ceramic dual floating plates
Super fast heating and cool down with adjustable temperature up to 455F
30-minute auto shut-off feature
Lightweight body and elliptical barrel for creating a range of styles
– Anthony Dawson
Best Overall Flat Iron
BaBylissPRO
At just 1-inch wide, the BaBylissPRO Nano Ultra Thin Flat Iron is one of the most versatile hair tools available. Super-slim profile allows for smoothing and curling even the shortest hair, such as bangs or pixie hairstyles, and is remarkably lightweight. Negative ions are used to reverse damage on hair by neutralizing the charge and closing the hair follicles, which results in a smoother style. Adjustable heat settings reach as high as 450 degrees Fahrenheit, suitable for turning the most stubborn, frizzy hair into a sleek, polished style. Bright LED light makes it easy to see when the flat iron is turned on, and Nano titanium plates heat up quickly. At 5-inches long, there's room between the plates for smoothing a wider section of hair for fast and efficient styling ability.
Ultra-slim, ultra-lightweight design
Negative Ion technology for the smoothest styles
Easily adjustable heat settings up to 450F
Extra-long 5-inch titanium plates for faster styling
– Anthony Dawson
Best Budget Flat Iron
HSI PROFESSIONAL
The HSI Professional 1 Ceramic Tourmaline Ionic Flat Iron is a professional, salon-quality hot tool that makes it easy to achieve the most dynamic hairstyles at home and on the go. Included travel features like a bonus carry case, and the ability to switch between 110v and 220v for worldwide accessibility makes this the perfect hot tool for the busy jet setter. Tourmaline plates seal moisture into the hair, reducing frizzy and flyaway hair, creating a silky and refined look. Lightening-fast heating means this flat iron is ready to use within seconds, and adjustable temperature between 240F to 410F is displayed on a digital LCD screen, and perfect for hair of all types. A swivelcord and an ergonomic grip makethis a practical and easy-to-use flat iron, ready to straighten, curl and flip hair effortlessly.
Ceramic tourmaline plates heat up quickly and evenly
Adjustable temperature between 240F and 410F with digital LCD display
Includes carry case and heat-resistant glove
110v and 220v capability for worldwide use
– Anthony Dawson
Flat Iron Buying Guide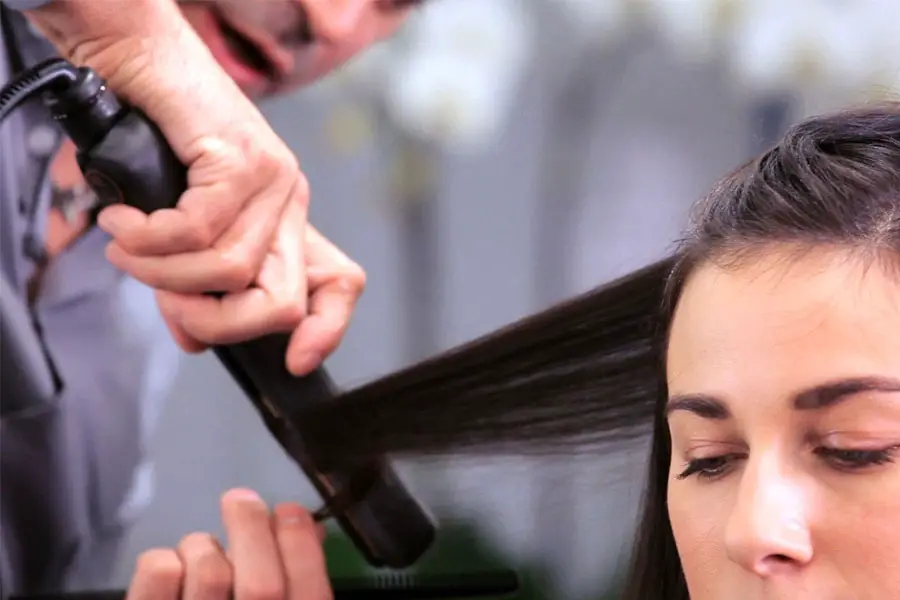 Curly hair can be difficult to straighten, but having the right flat iron can make all the difference. There are several different brands, styles and models available on the market. This can make choosing the best one a difficult task, unless you know what it is you are looking for. This guide has been prepared to help you to more easily make the best selection by providing you with useful information about what to look for in a flat iron.
Identify Your Hair Type
Your hair type, believe it or not, can make the difference in the type of flat iron that will work best for straightening your hair. For example, if your hair is fairly straight to begin with, and just has a few waves here or there, the task will take less heat and pressure. For curlier hair, the tightness of the curls in combination with the texture of your hair can make it much more difficult to straighten, requiring a flat iron that performs at the maximum capacity.
In addition to this, some flat irons can damage hair, especially if the hair has already sustained damage and is dry. In order to get the best results from your flat iron, you need to take into consideration the texture, length, amount of curl and condition that your hair is currently in, and match it with a compatible flat iron.
Types of Flat Irons and their Function
Professional Flat Irons
Professional grade flat irons produce a more consistent temperature and possess features such as temperature controls for using higher or lower heat settings. These are the models that produce salon quality results in hair styling. This is not to say that you must select the most expensive flat iron on the market. Many of the lower to moderately priced irons produce the same results as some of the higher end editions that are marked up.
Titanium Plates
Flat irons that are constructed with titanium plates are excellent choices for coarse textured hair because of the intense heat that they produce. Coarse hair is one of the most difficult textures to straighten.
Nano Titanium
Nano is a form of technology that is infused directly into the titanium flat iron plates and it helps to provide a smoothing effect on hair. This can be helpful when dealing with especially unruly and hard to straighten hair textures.
Ceramic Plates
Flat irons that are made of ceramic plates and use infrared heating are the best choice for fine hair as the general rule of thumb is that the finer the hair, the more quickly it responds to the application of heat and it is far easier it is to straighten. Ceramic flat irons work by producing negative ions which diffuses the heat and does a great job of sealing the hair follicle and provides a shiny appearance to the hair, with less frizz.
Tourmaline Flat Irons
Flat irons constructed with tourmaline plates are comparable to ceramic flat irons. These irons are also better for finer hair textures up through medium, but do not work as well for thick or coarse hair. Tourmaline is a gemstone of the semi precious classification. The infusion of this gemstone into ceramic plates is effective in providing shinier and straighter results when styling hair.
Some models of flat irons use different types of heat generation. Ionic irons work on the basis of generating heat through the collision of negative and positive ions. Since hair carries with it, positive ionic charges, ionic flat irons help to counter this by creating negative ions and increasing smoothness and shininess in the appearance of the hair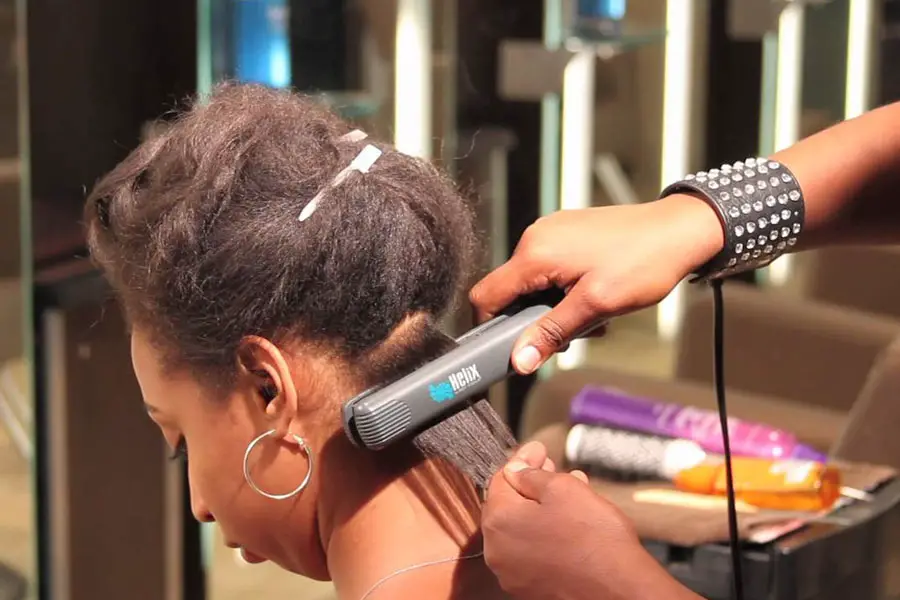 Infrared heating is a very gentle method of heating that actually penetrates the hair shaft, but does not cause damage to the hair itself. This type of heat generation is recommended for hair that has been previously damaged, or is more easily susceptible because of a finer texture or being overly dry.
Be Cautious When Selecting the Most Appropriate Flat Iron to Avoid Damage
Hair that is thin, fine or that grows in naturally straight does not usually require the application of intense heat for styling. In fact, using irons that are too hot can cause damage to the condition of the hair. When you have this hair type, choose an iron that has control settings that will allow you to adjust the heat to lower levels in order to avoid problems after use. A good rule to live by when it comes to flat irons is that the finer your hair is, the less heat you will need for styling. Begin styling with the lowest heat possible and gradually turn up the heat until you find the lowest setting that works well. If you notice that there is a change in the health and appearance of your hair after use, you may need to use a lower setting even if it takes a little longer to complete the styling process.
What to Look for in A Flat Iron
You don't need to spend a lot of money to find a quality flat iron that will provide you with the results that you want. The most expensive models are not always the best. Look for a flat iron that will first, meet your individual styling needs based upon the texture, length, consistency and condition of your hair. The next consideration is the type of heat generation you prefer, either ionic or infrared. The type or style should also be consistent with the match with your hair type. Find a moderately priced flat iron that offers a reasonable warranty as companies with confidence in the quality of their products usually issue some type of a guarantee of quality.
Conclusion
When you know what you are looking for, finding the best flat iron becomes much simpler. Knowing your hair type and which style of flat iron is the most appropriate will help to keep you on the right track. By following the tips and recommendations provided in this buying guide, you have the information that you need to make the best selection.