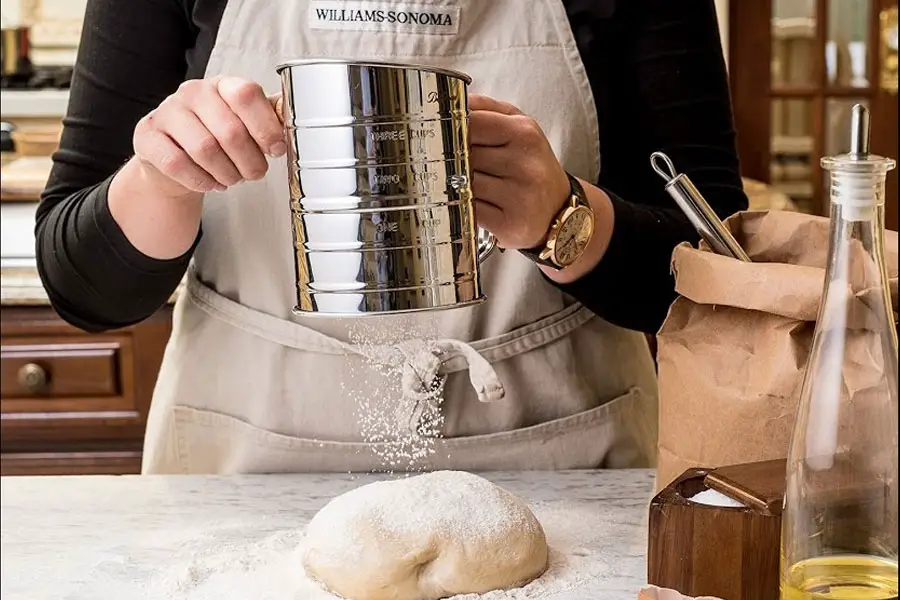 Flour Sifters Reviews
Often when baking, you need to sift dry ingredients like flour or cocoa powder. Most of these ingredients don't seem to need to need sifting, but often clumps will appear, and sifting is what you need to do to make sure all your ingredients mix well. This is especially a problem in humid climates. Sifting also aerates the ingredients, making them fluffier and lighter. This can help with your baking mix. Sifting also has another role, and that is to speed mixing. When mixing multiple ingredients together, pre-sifting can give you a more even distribution. This can speed up the work and you won't have to stir things together as much. Sifting is very important for when you add salt or small amounts of seasoning to a large amount of mix. It will distribute the salt much better than simply stirring or whisking it into the mix. Most types of flour sifters use a squeeze handle or crank to spin 2 or 4 wires inside that stir the flour over the bottom screen. Another type of sifter method some manufacturers use is a rotary sifting wire. These are 4 or more wires, in a barrel shape, that rotate, stirring the flour in two directions. The construction of these flour sifters are usually aluminum or stainless steel. That makes them lightweight, and easy to clean. They also last a long time. Simply rinse then clean in warm, soapy water. Some stainless steel models are dishwasher safe, and can be washed with your regular dishes.
Most Popular Flour Sifters
Mrs. Anderson's Baking
If you need a good basic sifter, Mrs. Anderson has one just for you! Forget the fancy ones with decorator looks – this sifter is just like the one your own Mother used. It is a standard 3 cup design, which is a perfect size for most any job. It has a stainless steel body that won't stain or rust. 2 wire agitators thoroughly sift and mix whatever you need sifted, and the stainless steel mesh screen ensures you don't have any lumps or clumps. Simply crank the handle on the side to mix, sift, and aerate your ingredients for a perfectly sifted mixture.
Comes in a 3 cup size, as well as 1 and 5 cup sizes
All Stainless steel body, with stainless steel 2 wire agitator and stainless steel mesh screen
Volume markings are clearly marked on the outside of the sifter body
Sturdy crank handle
Lightweight and easy to clean
– Anthony Dawson
Best Overall Flour Sifters
Norpro
An improvement on the squeeze handle sifter your Mother had! This Norpro Stainless Steel Crank Flour Sifter has a smooth and easy sifting action, and sifts the entire contents, with no leftovers at the bottom. It holds a full 3 cups of ingredients and the outside and inside have volume markings to make measuring easy. This sifter has a two wire agitator that spins easily with the hand crank.
Cleaning this sifter is a breeze. The stainless steel body wipes off quickly. Clean the rest with warm soapy water and air dry. With proper care and cleaning, you can have this sifter for years.
Volume markings on both the outside and inside to make measuring easier
2 wire agitator thoroughly agitates, aerates, and sifts
3 cup capacity
All stainless steel components
Hand washing recommended
– Anthony Dawson
Best Budget Flour Sifters
RSVP International
The RSVP Endurance Crank Style Flour Sifter has a different sifting mechanism than most sifters. Most have 2 wires that sift the flour, but the RSVP Endurance has 4 rotary wires that sift in two directions at the same time. This mixes the flour better as it sifts it and aerates it as well. This makes it virtually impossible to clog up. This sifter is all stainless steel, and is dishwasher safe. It's a larger sifter, with a full 5 cup capacity, and stands 6 ¼" high.
Extra large 5 cup capacity so you fill less often
Crank style handle makes it easy to sift
Made of dishwasher safe stainless steel
Rotary wire sifters sift better
4 rotary wire sifting action mixes better
– Anthony Dawson