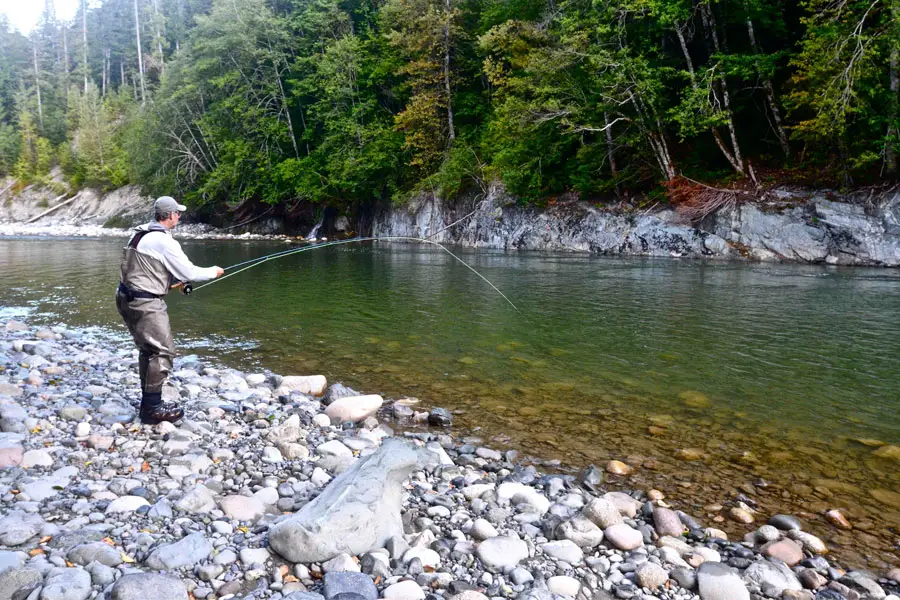 Fly Fishing Line Reviews
Fishing is a complicated sport no matter what style you prefer. Rods, reels, lines, hooks, lures, and tackle are among the many pieces needed to assemble the most basic fishing rig. Fly fishing requires a much more complicated set up and unique technique to master, both of which are largely dictated by the set up of your rig. One of the most important, but also one of the most technically complex, pieces of fly equipment is the fly line. At its essence a fly line is a thick piece of string coated in plastic. Unlike other styles of fishing where the lure/bait carries the line when casted, when fly fishing you cast the heavy line, which drags the lightweight fly behind it. All types of fly line will work for most fly fishing situations, though there are different styles designed to meet individual needs. The most commonly used type of fly line is the weight forward line, where a thick forward portion tapers to a thin running line for most of the length of the line. Floating fly lines are also commonly used, as most fly fishermen are after surface-dwelling fish, though intermediate and heavy sinking lines exist for deeper waters.
Most Popular Fly Fishing Line
Scientific Anglers Mastery
The Mastery Fly Line by Scientific Anglers is a high-quality floating fly line suited for nearly all fly fishing applications. The Supra Floating Line is available in weight forward or double taper varieties, both of which excel with most flies. The line features a supple-braided multifilament nylon core with PVC integrated coating incorporating SA's Advanced Shooting Technology. The line works well in all weather conditions and fishing environments and is designed to cast with the ultimate ease. A built-in loop makes the Supra fly line easy to connect a braided leader line to customize your rig. The line is available in three colors: yellow, sunrise, and buckskin, which decrease in visibility respectively. The Mastery Fly Line is relatively lightweight in relation to comparable styles of line, making it most ideal for 3-6 weight rods.
PVC coating with SA Advanced Shooting Technology for easy casting
2 available colors including highly-visible yellow and discreet buckskin
Casts in all weather conditions and floats on smooth and running water
Built-in loop for connecting leader lines
– Anthony Dawson
Best Overall Fly Fishing Line
Rio
Look no further than the Rio Gold Fly Line for the ultimate trout fishing line. But whether you're after trout, salmon, steelhead, or bass, the Rio Gold line offers a revolutionary taper design and unique weight distribution offering ideal line stability and easy casting. A weight forward, front taper design allow the Rio Gold Fly Line to deliver perfect turnover for fly sizes ranging from #22 to #2. The lengthy rear taper allows for easy single-handed casting, while the color change between the head and running line allow you to find the ideal load point for each cast. The line features Rio's Extreme Sickness Technology for a smooth, dirt-repelling surface, alongwith their signature Agent X high-floatation inner core. A welded loop at the front end of the line allows you to change and customize your leader line as conditions dictate. Gold is the name of the series, but this line comes in a variety of colors including orange, lumalux, melon/grey, and yellow/mosshead.
Lengthy 80-100 foot line with revolutionary taper design
Available in two-toned color schemes with welded front loop
Employs Rio Extreme Slickness Technology and Agent X
– Anthony Dawson
Best Budget Fly Fishing Line
Scientific Anglers
The Scientific Anglers Floating Fly Line is one of the most widely-used and dependable floating lines in the world of fly fishing. Like most other SA fly lines, the Scientific Anglers Floating Line is a braided multifilament nylon core coated with an integrated PVC shell that features special internal lubricants to increase the line's slickness and enhance the flow and distance of your cast. The low-memory line, designed to perform in all weather conditions and fishing environments, features integrated UV inhibitors to increase the line's durability. A mid-length head and extra long tapered belly on a line already shorter than most make the Scientific Anglers great for short/medium length casts on streams and ponds. The line is available in weight forward and double taper styles, both of which offer great line control even at long range.
Double taper or weight forward fly line in highly visible yellow
PVC with special lubricants to increase line slickness
High floatability and low memory in all conditions
Short line capable of long range control
– Anthony Dawson
Fly Fishing Line Buying Guide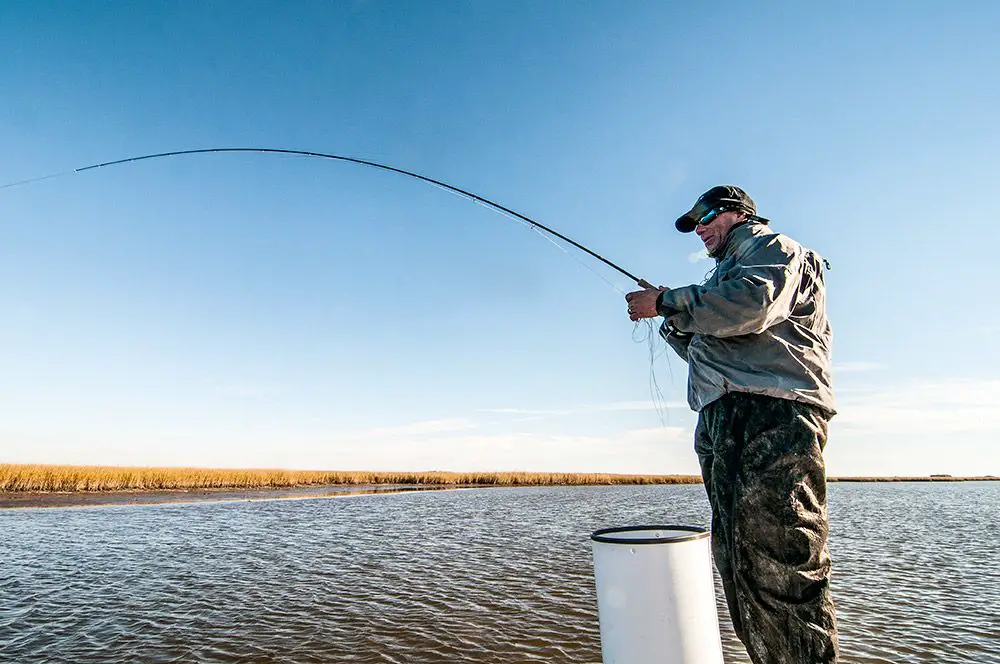 Choosing a fly fishing line can sometimes be a difficult and confusing task. This is because of the wide range of varieties and sizes available in the market. Narrowing down the choices requires some research and a better understanding of what your needs are. Whether you're a seasoned veteran or a beginner, below are some top tips that will help you choose the right fly fishing line:
Points to Consider
1. Weight
Fly fishing lines come in different weights that range from 1-15. The more popular weights vary between 4-8. If you carefully check your fly rod, you'll see the recommended weight line. In other words, it gives line weight that can be cast by your fly rod. In most cases, experienced anglers can use both heavier and lighter fly fishing lines than their rods state, although it can sometimes affect their casting. Weight can also affect the type of fishing you're doing. Heavier weights are usually designed for bigger fish and flies. On the other hand, lighter weights are ideal for smaller fish and flies.
2. Sinking or Floating
Fly fishing lines can either be sinking or floating. Floating lines tend to be the best option for most applications. However, if you need to get the bait down deep in water, you require the sinking lines. In case you do the fishing on weedy lakes or choppy waters, you may consider intermediate fly fishing lines since they sink slowly and allow the line to stay a few meters below the water surface.
3. Color
Most fly fishing lines usually come in bright colors such as orange and yellow which makes their visibility easy. However, there's no superior bright color than the other; it depends on your taste and preference. The bright fly fishing lines are ideal especially when fishing with floating lines. On the other hand, it's recommended to get a subdued color like dark green or brown if you're fishing using sinking a sinking line.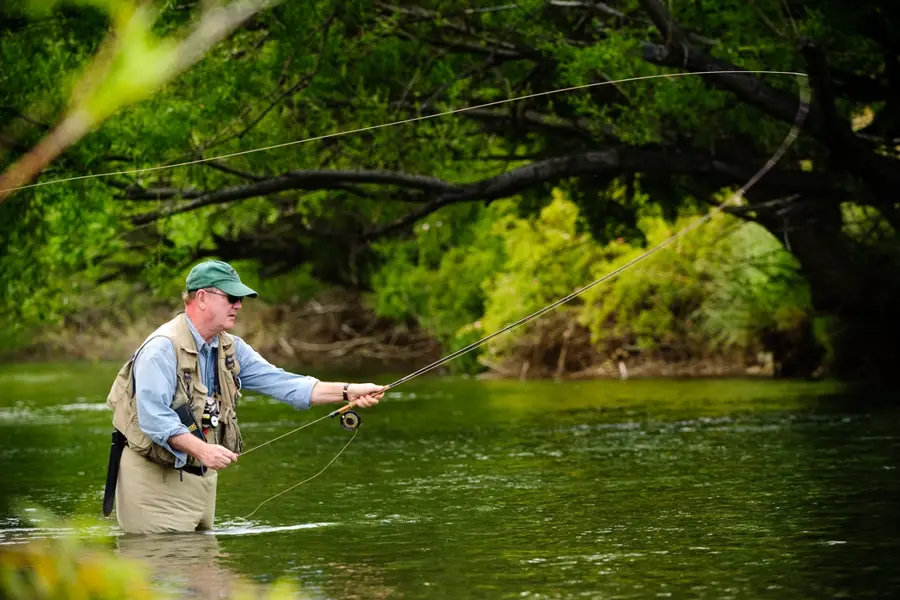 4. Taper
Due to the wide variety of tapers in fly fishing lines, choosing the best can be confusing especially for beginners. Usually, tapers determine how energy dissipated and transmitted during the casting process. Most fly anglers prefer a weight forward taper. This is because it's the perfect option for most casting situations in both still and moving water. Double tapers are also gaining popularity although they're limited for short and medium cats in moving waters only.
5. Casting Distance
This feature can be analyzed in two ways which are the size and the material used in making the fly fishing line. Huge and thick fly fishing lines can't cast long distances compared to thin and light lines. Depending on your casting ability, choose a fly fishing line made of a lighter material.
6. Durability
The coating on a fly fishing line determines its longevity. Majority of the manufacturers apply PVC coating which is flexible, soft and durable. Other manufacturers apply polyurethane as a base material, and it's more resistant to cracking and durable. Polyethene coating can also be used.
7. The Fish You're Planning to Pursue
Although the size of the fly fishing line you choose should come first, the fish type you're planning to pursue has a significant impact on your selection. There're fish types that require heavier fly fishing lines. For instance, trout requires a heavier fly fishing line. Apart from the type of fish, the size also affects the line to purchase. Huge and heavy fish types require heavier fly fishing lines compared to the light and small fish types.
Conclusion
In conclusion, these are some of the top tips to help you choose the best fly fishing line. Understanding the basics is the first step that makes the selection process easier. You should also consider the prices of different fly fishing lines. The climatic condition can also influence the type of fly fishing line you choose.
For instance, in very hot areas where the temperatures are much higher, the PVC lines might become too soft causing them to limb and tangle more, which makes shooting a challenge. It's recommended that it's a wise idea to purchase the most expensive fly fishing lines since they're worth the investment and are designed and manufactured in a better way using durable materials. Getting the right fly fishing line will make your entire fishing activity more enjoyable without any hassles.