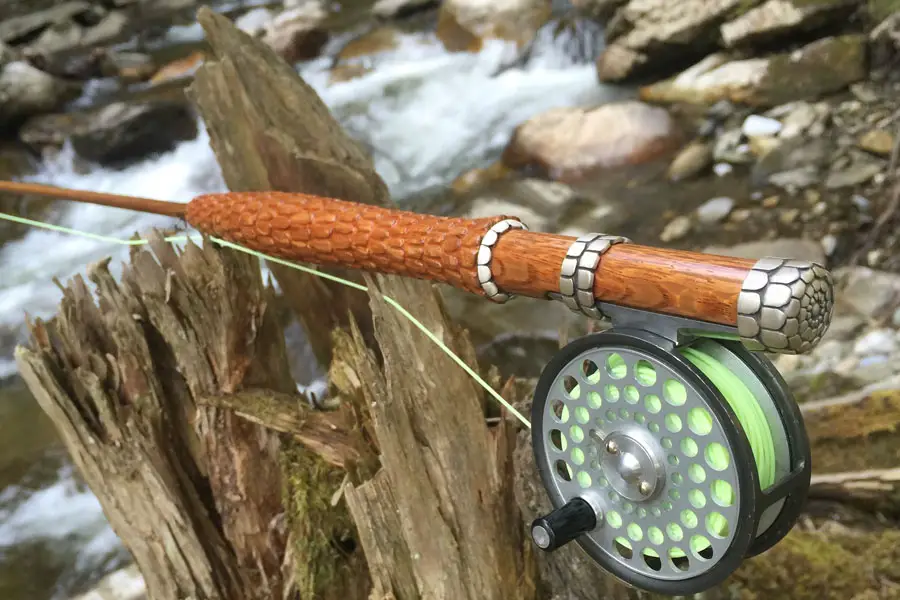 Fly Fishing Rod Reviews
Unless you tie a string to a hook and simply toss it in the water, fishing is a complicated sport that requires specialized equipment. More so than other styles of fishing, fly fishing requires a mastering of technique that can only be achieved with the proper gear. Whether you're a novice getting into the sport for the first time or an experienced angler looking to haul in the big fish, your fly rod is centerpiece of your rig. Fly fishing can be done in fresh or salt water on lakes, ponds, streams, rivers, bays, and even open ocean. Regardless of where you fish, your rod needs to match the type of fish you're after. Considerations include rod material, weight, length, taper, and grip, all of which affect the rod's action and dictate the ease of casting. As you'd expect, heavier weight rods are typically geared toward fishing larger species like tarpon and salmon, though no one rod will work for all situations. Generally speaking, a longer rod is better, as they provide longer casts and better line control.
Most Popular Fly Fishing Rod
KastKing
The KastKing Fly Fishing Rod Collection is exactly what any beginner needs to learn the basics of fly fishing. The package includes an instructional DVD to teach you the techniques of the sport, along with all the needed equipment to get out and reel in a big catch. The Plunge package includes a KastKing 4-piece, medium-fast action graphite fly rod–a strong and lightweight rod capable of handling most fishing conditions. Also included is a large Arbor fly reel designed to increase your reeling retrieval speed and reduce stress on the line when a fish is hooked. A green, floating fly line with backing and tapered leader, along with an Umpqua fly assortment complete the setup. In preparation of any snags in the field, the KastKing Plunge Collection also includes a tool kit with 5-inch back forceps, retractor tool, leader line straightener, along with a fly box and travel case that allows you to keep the reel on the rod for travel and storage.
Entire rod package with DVD perfect for beginners
Included tool kit for on-site repairs
Travel cases allows for reel on rod travel/storage
Medium-fast action rod suited for novices and experienced anglers alike
Easy to Setup
– Anthony Dawson
Best Overall Fly Fishing Rod
Wild Water
If you're looking to get into fly fishing for the first time or want to give an eager angler the perfect gift, all without breaking the bank, the Wild Water Fly Fishing Complete 5/6 Starter Package has everything you're looking for. The package includes a 4-piece rod measuring 9-feet available in 4 and 5 weights, great for panfish, pike, and bass alike. The rod features a slow-action, mix-flex design that's great for learning the techniques of fly fishing. The setup also includes a large, aluminum Arbor reel with drag control and a preinstalled weight-forward, floating line with backing and leader. Also included in the starter package are three (each) black winged ant flies, Parachute Adams flies, and gold-ribbed hare's ears flies, along with a durable fly box. For safekeeping during travel and storage, the Wild Water Starter Package includes a rod sack and lightweight carrying case.
Slow-action, mid-flex design is forgiving for beginners and appreciated by pros
Easy to pack for trips into the woods or storing in the garage
Smooth operating aluminum Arbor reel
Included fly box and 9 starter flies
1 year warranty
– Anthony Dawson
Best Budget Fly Fishing Rod
Okuma
The Okuma SLV Graphite 4-Piece Fly Rod available in a variety of weights and lengths to meet the needs of every style of fly fishing. The lightweight graphite rod is 8-9 feet long (depending on model) and delivers a medium-fast action for long distance casting. The Okuma SLV comes in 6,7,8, and 10 weight fitted with a full Wells cork grip and 3,4, and 5 weight with a half Wells grip. The rig features an aluminum reel seat and hood, titanium-oxide stripper guides, and stainless steel snake guides designed for optimal line delivery and flow. The rod's 4-piece construction allows it to be broken down and stored in the included Okuma rod bag for travel and storage. Whether fishing for trout on small streams, salmon on big Western rivers, or bonefish on saltwater flats, the Okuma SLV rod guarantees to get the fish biting.
4-piece graphite rod available in 4-10 weights
Wells cork grip designed for power and comfort
Titanium-oxide stripper and stainless steel snake guides optimize line flow
Rod includes Okuma storage bag for protective storage and travel
Easy to Use
– Anthony Dawson
Fly Fishing Rod Buying Guide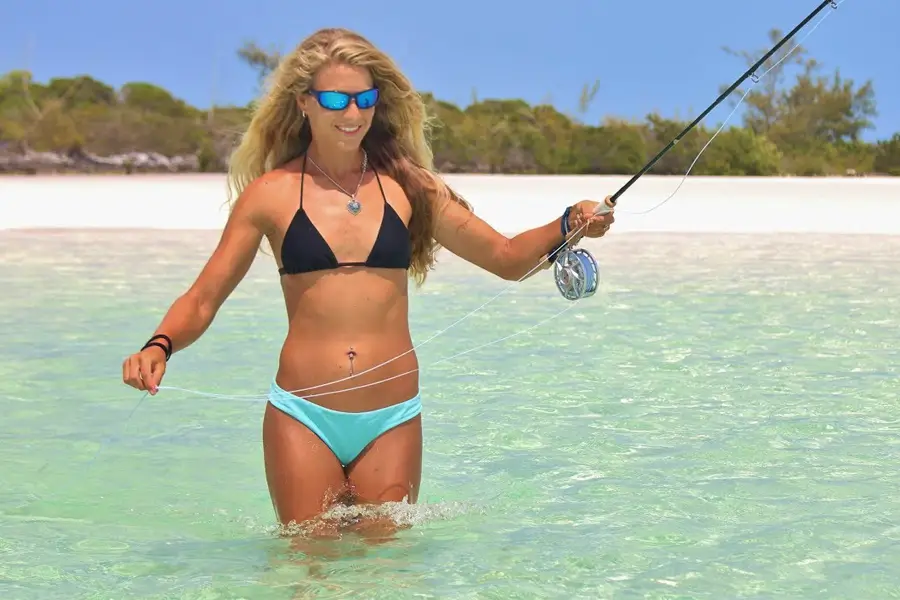 Fly fishing is a more technical angling style than regular fishing. In fly fishing, a fly is used to lure and catch your fish. Many anglers like fly fishing because of its simplicity. You simply sink your fly and wait for a bite. If you are using traditional fishing methods you might want to consider trying fly fishing to mix up the fun. Fly fishing rods are long, lean and flexible. Flexibility is needed for angling a featherweight fly. Fly fishing rods are usually made from ceramic, bamboo or graphite.
Fly fishing rods have one line with more prominent loops than other rod styles. This restrains the fly line. To cast your lure efficiently, fly fishing rods have a handle that spreads past the fly reel. That being said, how do you decide what style of fly fishing rod is perfect for you? First, think about the length, weight, and purpose of the rod. Then think about the type of fish, water and the surroundings you will likely encounter. To break with the confusion that often accompanies buying a fly rod, we've developed this buyers guide. Hopefully, it will help you to gain additional ideas about what kind of fly rod to get, and why.
Steps to Consider while Purchasing
First Step – Determine What You Fishing
What kind of fish do your generally fish for? You have to answer this question frankly because your answer determines everything that follows. For example, you need a different kind of fly rod to fish for trout compared to large bass or small panfish. Also, note that a freshwater fly rod is the wrong choice for saltwater fishing.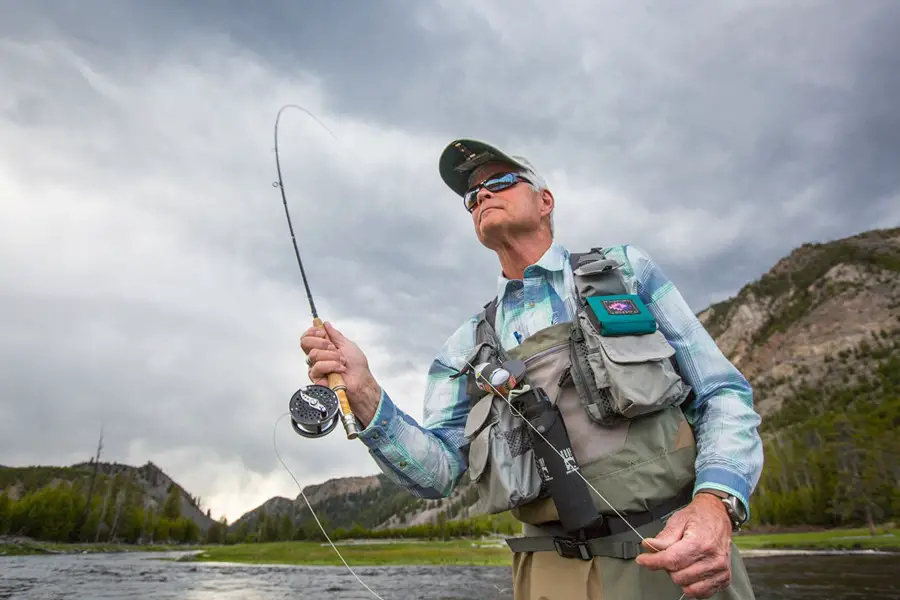 Understanding Fly Rod Action
There are a few things even more confusing in the sport of fly fishing than fly rod action alone. So let us clarify things – it's really quite straightforward. The action of a fly rod describes how flexible the fly rod is. In the event you forget everything else, then try to keep in mind this. The activity of a fly rod is merely an unusual step of how flexible the fly rod is.
With that in mind, there are three distinct kinds of fly rods a new angler should know about. The three different forms of fly rods have been distinguished by the amount of bend at the fly rod. As you can see, it is clearly evident how understanding fly rod action plays a crucial role when you are purchasing a fly fishing rod.
Other Fly Rod Considerations
Here are some additional factors to consider when buying a fly rod.
How Many Pieces? : If you intend to travel frequently, carrying a long fly rod that just breaks down to two portions can pose a problem. For frequent travelers, particularly those who travel by plane, consider obtaining a "travel rod" that divides to four or more parts. This permits the rod to slide easily into a little suitcase or to one of the numerous fly fishing bag pieces intended for airline travel.

Fly Rod Construction: While they're now quite rare, fiberglass fly sticks do exist – typically found in the large container stores. If you need a fly rod for your children, I suggest avoiding them and obtaining what nearly all of the fly rods are made from which is graphite. Graphite is lighter than fiberglass and is much more durable, too.
Consider Acquiring a Fly Rod Combo: It comprises of the fly reel, the fly rod, and the fly (already placed around the bolt). For beginners, a fly rod combo is the way to go.
Conclusion
For all those looking forward to buying a fly fishing rod, you need to consider your applications. If you would like something for smaller rivers and streams, a slow-action rod is a superb selection, whereas individuals seeking to earn larger fish from open water might have to think about something a little bit faster. Equally, the duration of the rod is going to be set by the sort of fish you're catching and the entire body of water you are operating within. Always keep in mind that the status of the fabric of the rod will determine its lifespan and durability, so always search for hints about this when picking a rod.