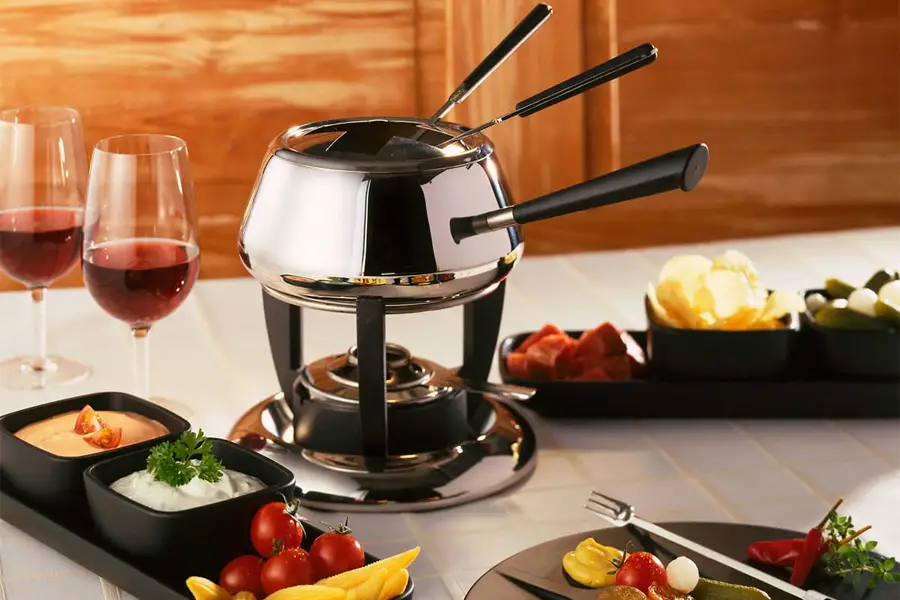 Fondue Sets Reviews
Fondue is a unique and fun way to cook and serve various types of food. It is mostly used for dipping pieces of bread in melted cheese, pieces of fruit into melted chocolate and you can even cook pieces of meat in oil. If you want to have dinner parties that are sure to be remembered, then getting a fondue set will help you accomplish that. Most people do not even realize the versatility that you can have with the great kitchen cooking sets. When you use a fondue set, there are a few things you can remember that will make it much safer to use them and ensure that no one suffers any burns.
When having a fondue dinner party, keep in mind that since hot oil and hot melted foods are going to be used and keep your guest list restricted to teens and adults. Let you guests know before the fondue dinner party that it will last the whole evening. This is not your typical dinner party and everything takes a lot longer to cook, so kick back and relax and look forward to a great evening of delicious tasting food dipped in all kinds of melted goodness. Your family and friends will ask for those dinner invitations again and again.
Most Popular Fondue Set
Nostalgia
If you want a unique and fun way to serve a special meal or snack, look no further than Nostalgia Electrics Electric Fondue Set. Includes a set of 6 color coded fondue forks so no one gets confused about which one is theirs and a fork rest ring too. The gorgeous stainless steel finish looks beautiful in any kitchen. Perfect for melting cheese and chocolate and heating oil or broth to create interesting and great tasting meals for your family and friends. The cool touch handles are an added safety bonus. The temperature control is adjustable for maximum control over your cooking process.
Beautiful stainless steel finish
Includes 6 color coded forks and rest ring
Handles stay cool to the touch
Easy to use
Temperature adjusts easily
– Anthony Dawson
Best Overall Fondue Set
Cuisinart
You will love the sleek and stylish look of this #1 fondue set, the Cuisinart Electric Fondue Set. This pot can be used with cheese, chocolate, broth and oil. The stainless steel bowl holds up to 3 quarts and I lined with a non stick coating that makes food release easy. Everything comes apart easily making cleaning simple and fast, and it goes back together just as easily. This style of this fondue set looks great in any kitchen with its brushed finish on the bowl and ring and mirrored finish on the handles and stand. Included in this great set is the base, cooking bowl, fork rack, 8 fondue forks and a temperature probe. Adjustable heat control too!
Stainless steel construction for long lasting durability
Electric control makes it easier to use
Brushed and mirrored finish for stylish appeal
Great for oil, chocolate, cheese, and broth
Holds up to 3 quarts
– Anthony Dawson
Best Budget Fondue Set
Rival
Rival's stainless steel fondue set is electric, bringing convenience to a fun way to cook food. Holds up to 3 quarts and has a really attractive design that looks great in any kitchen. The bowl has 8 notches in it for the 8 fondue forks to sit in and each one has a different color so no one gets confused as to which fork is theirs. Adjustable heat up to 400 degrees.
If you take of the power cord and the temperature gauge the whole pot can go into the sink for easier washing. A mirror like finish on the outside of the fondue bowl adds style to your kitchen. This Rival fondue set has a great safety feature which is a breakaway plug that is magnetic and disconnects if the power cord is pulled on or tugged. This prevents the pot from being pulled onto the floor, potentially spilling hot oil or cheese on someone.
Notched sides hold the 8 fondue forks
Color-coded forks included
Holds up to 3 quarts
Stainless steel construction
Stylish mirror finish
– Anthony Dawson