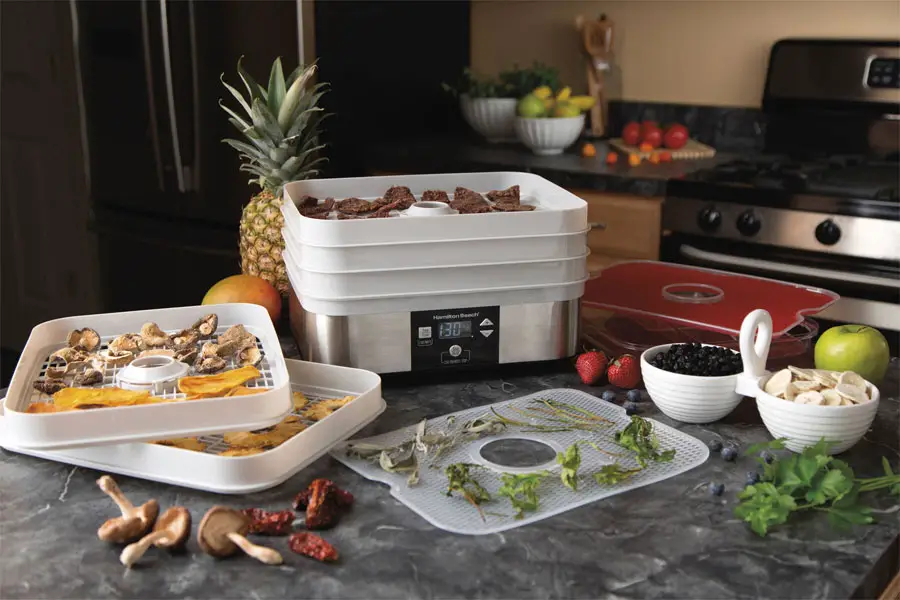 Food Dehydrator Reviews
There are many reasons why it is wise to invest in a food dehydrator. These ingenious appliances are great at helping you save money and to reduce the amount of food wasted. In addition, you can preserve vegetables, fruits and herbs by drying them out and you can store them for months. Not to mention how dehydration retains virtually 100% of the nutritional content of the food and it prevents the growth of bacteria. Not only are these great for food but you can also use it to create potpourri that will leave your home smelling like heaven. Below are our top three pick that we are sure will exceed your needs.
Most Popular Food Dehydrator
Nesco FD-75A
Want an affordable, reliable, safe, and easy dehydrator? Then look no further. This compact and sleek dehydrator packs the strength and quality that you deserve. This unit offers you 600 watts of power and you can adjust the temperature between 95 to 160 degrees to ensure even drying. Create delicious fruit roll ups, dried fruits, and even jerkies. Don't know any recipes? Do not worry as this unit comes with an easy to follow recipe book. It even comes with three spice packets for your jerkies. Do not let the size deceive you. This incredible appliance comes with five trays that can be expanded to twelve if you need more room.
Unit made out of materials to prevent bacteria from growing
Includes: recipe book, two solid and mesh sheets, and three jerky spice packets.
Does not need to be rotated as the top-mounted fan distribute heat evenly.
Unit weight: 9 lbs
Measurements: 13 x 13 x 10 inches
– Anthony Dawson
Best Overall Food Dehydrator
Nesco FD-61WHC
This aluminum all-in-one kit has five trays to make the process of dehydration faster and more convenient for you. This sleek appliance even lets you add up to 12 trays if needed (not included). You can also make delicious snacks such as fruit roll-ups; just follow the steps in the recipe and user guide booklet. The temperature can be adjusted from 95 to 160 degrees to give you the flexibility to dehydrate at the optimal drying result. This dehydrator is made out of materials especially designed to block light that can jeopardize the nutritional content of the food being dehydrated. With this affordable, sleek appliance you will be able to dehydrate your vegetables, venison/beef jerky, and fruits in a matter of hours.
Comes with a fan mounted on top to protect the drier from drippings
500 watts to dry fruit, vegetables and jerky rapidly and uniformly
One year limited warranty
Weighs: 8.76 lbs.
Included in the kit: fruit roll-sheet, screen sheets for drying herbs or fruits
– Anthony Dawson
Best Budget Food Dehydrator
Nesco FD-80A
With 700 watts of power you are guaranteed fast and perfect dehydrated, fruit, veggies, and jerkies. Its square shape gives you plenty of room for all your favorite ingredients. It also includes a screen sheet to be used to dehydrate sticky food. You can even make healthy snacks such as fruit roll-ups with the round roll sheet. This incredible dehydrator comes with spices and accessories to help you flavor and shape your jerkies evenly. It also comes with adjustable thermostat to help you get evenly dehydrated food that will delight your palate without having to worry about rotating your trays. It comes with four trays so you can dehydrate more than one food at a time. Need more trays? Do not worry because you can expand it up to eight trays if needed. This dehydrator is guaranteed to meet all your needs without risking the quality, flavor, and nutritional value of all your dehydrated food.
Comes with a fan mounted on top to ensure even and fast drying.
Includes instruction manual, and two cure and spice packet for jerkies.
Adjustable thermostat to fit the required temperature of different foods.
Parts are all dishwasher-safe.
Dimensions: 14.5 x 14.5 x 9.63 inches and 9.9 lbs.
– Anthony Dawson
Food Dehydrator Buying Guide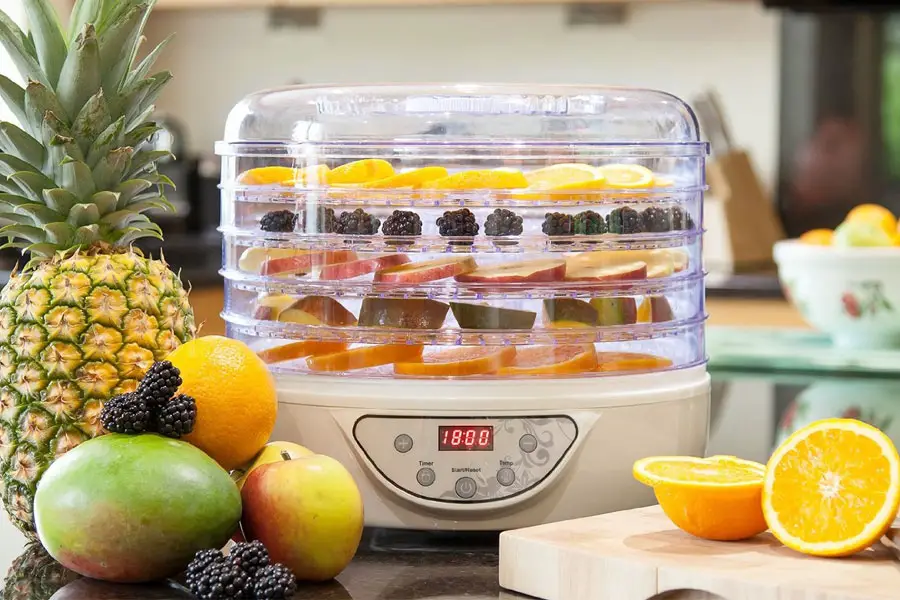 People are taking good care of themselves now more than ever. Many people are starting to embrace healthy eating habits. A lot of them eat raw and uncooked fruits and vegetables. If you are planning to go on a raw diet, it is best to prepare your food using a food dehydrator.
A food dehydrator can preserve fruit, vegetables, and meat by removing moisture. Dehydrating your food can extend its shelf life. Preserving your food will give you an opportunity to buy fruits that are available this season in bulk. Food dehydrators will allow you to consume seasonal fruits and vegetables anytime of the year.
When you dehydrate your food, its natural flavor is concentrated because of the removal of its water content. This means that dehydrated foods are more flavorful. Studies also show that dehydrated foods are more nutritious as the vitamins contained in any fruit or vegetable can be found in the flesh and not in the water content. Food dehydration also restrains bacteria from growing and spoiling your fruits and vegetables.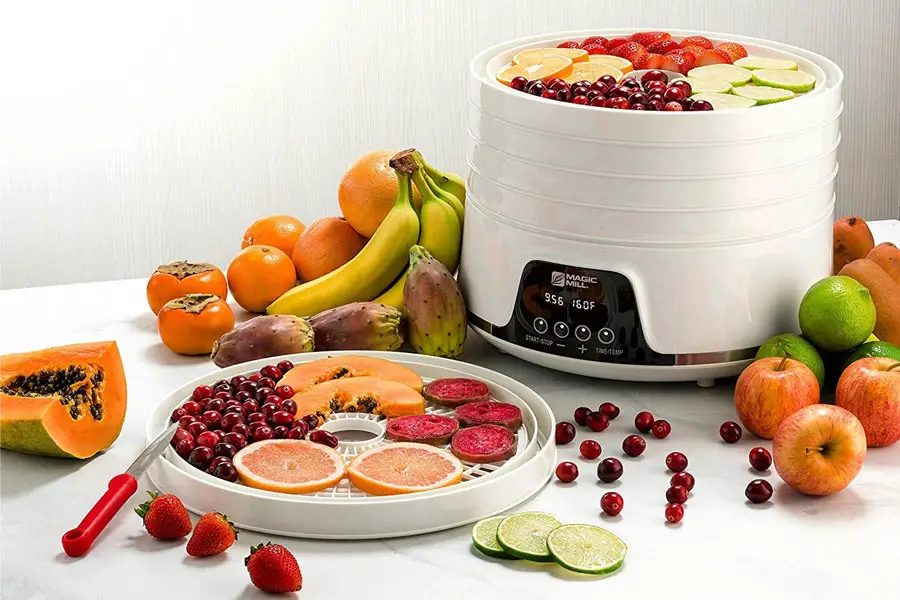 Dehydrators Available in the Market
There are many Dehydrators available in the market today. Here's the list of the most efficient and most cost effective food dehydrators. Read on and choose what is best for you.
Excalibur 3900
The Excalibur 3900 food dehydrator is great if you want to dehydrate multiple food items at the same time. It is reliable and has features that will allow you to have high quality dried foods.
This food dehydrator tray is easy to maintain and clean. It has a space- saving design. Aside from the fact that it allows you to dry different food items at the same time, it also uses optional non stick sheets.
The Excalibur 3900 is economical and hassle free. The food dehydration process is quick so you will save a lot of time and energy. It also comes with a recipe book so you can start cooking different dishes to support your healthy lifestyle.
Nesco FD 61 Snackmaster Encore
The FD 61 has 500 watts of drying power. It dries in food in just a few hours. The FD 61 has adjustable thermostat that enables you to dry multiple kinds of food at proper temperature. It also has a powerful top mounted fan.
The FD 61 has four trays but it is expandable to 12 trays. All you need to do is purchase an accessory called Add-A-Trays. This food dehydrator is also durable and can last for a very long time. The product is easy to use and a lot of people who have used it are deeply satisfied with its performance.
Red Head 10-Tray Dehydrator
This item is superb and it produces great dried food products. It has 10 removable trays and has a total of 1,700 square inches drying capacity. It also has a very powerful 800-watt heating element. It has a LED digital timer that you can set up to 40 hours.
It can dry different kinds of fruits, vegetables and more. It is also user friendly and very convenient to operate.
If you are after large drying capacity, this machine is the right dehydrator for you.
Sausage Maker D-5
The D-5 is one of the most powerful and reliable food dehydrators in the market today. It is more compact than other dehydrators. It has a rear-mounted fan that maximizes moisture removal. It has a color coded temperature control and a temperature range of 90 to 155 degrees. It also has an intense 800 watt heating element and has a 27 hour timer.
TSM Harvest Dehydrator
For those who are just starting to dehydrate foods, the TSM Harvest dehydrator is a great choice.
It hasten square feet of space.It has ample space for your fruits, vegetables, herbs, grains, and other fresh foods. This dehydrator is lightweight and its sleek exterior can go well with your other kitchen appliances.
The TSM Harvest dehydrator is easy to maintain and clean. It is convenient to use. It also has 1 year manufacturer's warranty.
Sedona Digitally Controlled Food Dehydrator (SD 9000)
The Sedona SD-9000 food dehydrator is a sleek dehydrator. It is designed to look like a counter top microwave. It is one of the high end food dehydrators on the market today. It has a set of digital controls and it has high technology features. The glass front door enables you to monitor the progress of the food dehydration process without opening the door. The Sedona has computer controlled temperature that protects it from overheating. This ensures that the temperature will not exceed the programmed temperature. This is one of the reasons why the Sedona SD-9000 is preferred by vegetarians and raw food aficionados.
Nesco American Harvest FD-80 Square Dehydrator
The FD-80 is easy to use and has a very compact design. It has 4 trays and it can dehydrate 3 to 4 pounds of vegetables and fruits. You can also buy additional trays as it can hold up to 8 trays. It has a top mounted heating unit that stops liquid from dripping into the heating chamber. It has a 700-watt heating element, Converga-Flow system, and a 2400RMP fan.
This dehydrator has a built-in adjustable thermostat that enables you to set the temperature between 95 degrees to 160 degrees. The Nesco American Harvest FD-80 dehydrator dries the vegetables, meat, and fruits equally and evenly.
The FD-80 is perfect if you love to make beef jerky. A lot of its users are satisfied with the quality of the beef jerky this machine produces. It also dries vegetables and fruits thoroughly so it is also perfect for those who have decided to go on raw food diet.
This dehydrator is best for middle-sized and small families. The FD-80 is convenient and easy to operate. Itis also very easy to clean. You can just remove the trays. You can even wash and clean this machine using your dishwasher.
Some dehydrators are loud and noisy. Fortunately, the FD -80 is relatively silent compared to other dehydrators. You can dehydrate your food without having to worry about the noise. It also comes with a one year manufacturer's warranty. Plus,Nesco is also known for having great support representatives that assist users if they have concerns or queries.