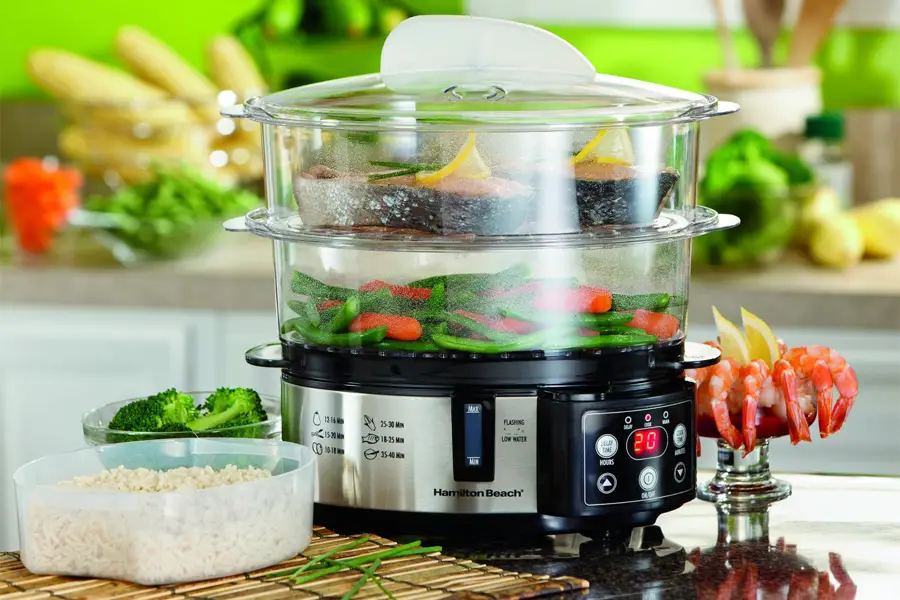 Food Steamer Reviews
When it comes to choosing the right food steamer, there are so many options and it's easy to feel overwhelmed. You and your family deserve only the best, so to make your choice easier, we've tested and reviewed our favourite models below.
Most Popular Food Steamer
Oster Double
If you're looking for the steamer big enough and powerful enough to handle the needs of the whole family, your search ends here. The Oster 5712's two tiers allow you to cook two different foods simultaneously without having to worry about that undesirable crossover of flavours. Add to that the hefty six-quart volume of the Oster 5712 and you have the perfect family steamer.
Not only does its size pack a punch, but the Oster 5712 is also quick and simple to use. At the push of a button steaming begins immediately. Additionally, the steamer's user-friendly digital display and push-button control panel system make dinnertime steaming a breeze. It also has a keep-warm function so that you can continue putting the finishing touches on dinner for up to an hour without worrying about your steamed food getting cold.
With all the conveniences of the Oster 5712, there's no excuse – this steamer is an essential investment towards your family's health.
Easy to use
Easy to clean
Tasty results
Large capacity
Value for money
– Anthony Dawson
Best Overall Food Steamer
Aroma Housewares
With the fast-paced lives we live in the digital age, eating properly can become a chore. Don't allow this to tempt you to put your health on the back-burner – rather, get the best of both worlds with the Aroma Digital Rice Cooker and Steamer. It's easy to operate and allows for low maintenance one-pot cooking with delicious results. Rice can be cooked below while a tray above holds meat and vegetables for steaming. Your steamer can simply be left to cook your dinner while you go off and do something else. Plus, features like the programmable 15-hour delay timer up the convenience factor even more. Why bother preparing a meal after a long, exhausting day when you could simply fill your steamer in advance and come home to a hot, fresh dinner?
Despite its compact size, this little steamer shows that great things come in small packages. Perfect if you're cooking for just one or two, the Aroma Digital Rice Cooker and Steamer takes up hardly any counter space, allowing you to enjoy your kitchen without the clutter and your dinner without the fuss.
Reliable cooking time
Simple to use
Takes up minimal counter space
Cooks both white and brown rice
Budget friendly
– Anthony Dawson
Best Budget Food Steamer
Oster
For a versatile steamer that gives you the best of both worlds, look no further. The Oster CKSTSTMD5-W is the Goldilocks of steamers; not too big, not too small, but just right. Because it is tall rather than wide, it takes up hardly any counter space and doesn't compromise on meal size. It also works quickly so that you can conveniently enjoy your dinner as soon as possible before continuing with your evening. In addition to this, once everything has been cooked and enjoyed, this steamer is incredibly easy to clean either by hand or in the dishwasher.
Budget friendly
Not too bulky
Convenient
Great for medium-sized meals
Easy to clean
– Anthony Dawson