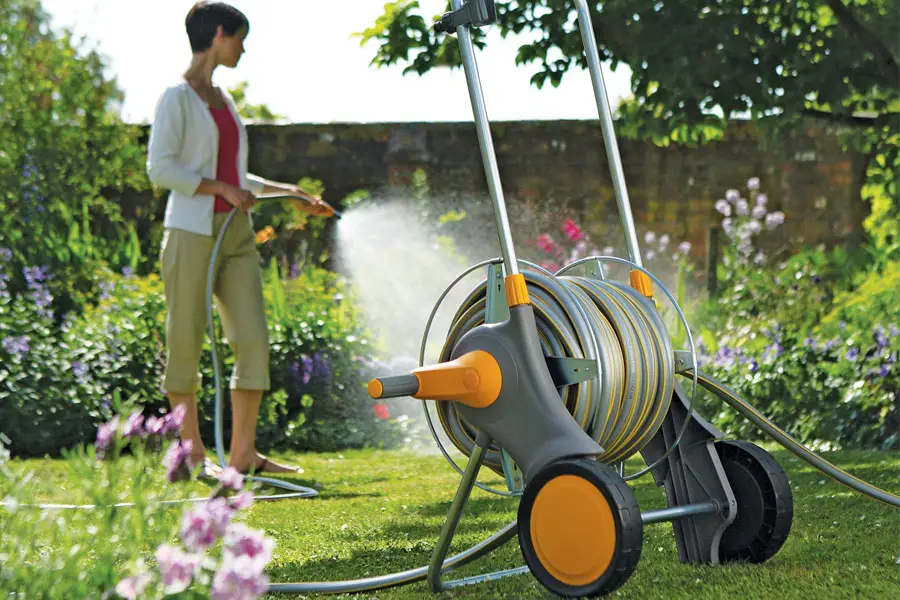 Garden Hose Reel Reviews
There's nothing more daunting for a gardening enthusiast than a tangled, disheveled hose. Wrangling a hose securely and neatly is important for making the landscaping experience more enjoyable and easy. There are numerous types of hose reels, and which one is best for you will depend upon what kind of hose you have, and where you intend to store it when not in use. The standalone hose holder is a great option if you don't want to attach any real to the side of a wall, or if you're looking for a box holder that has a retractable system. Typically a standalone is capable of holding 50 to 225 feet of hose. A cart hose holder is incredibly convenient should you wish to move the holder to different locations. Also, if you don't want to leave the hose in the garden, the cart holder makes it easy to roll inside a shed or garage. Lastly, the wall mount hose holder is the cheapest option and comes in a traditional half crescent shape that allows you to securely wind the hose in an oval shape
Most Popular Garden Hose Reel
Liberty Garden Products 708
A quality wall mount garden hose reel is the tried and true method of storing a hose all year long in a secure place, and keeping it orderly and ready to use again. This model from Eley is constructed of diecast aluminum, and its attractive bronze finish looks nice with any wall color. You can choose to mount it either parallel or perpendicular, dependent upon the size and texture of your external wall. It comes with a polyurethane inlet hose, mounting hardware, as well as full-flow brass swivel. You also have the choice of whether to set the mount up for right hand or left hand use. It's backed by a fantastic 10 year warranty, and should you need help, Eley is known for their superior customer service. This can hold up to 125 feet of hose, which makes it ideal for medium size gardens and landscapes. A perfect hose mount for those who want something that is simple and effective, and they can trust will last for years to come.
Made of ultra durable Diecast aluminum
Can be mounted on the wall either parallel or perpendicular
10 year warranty against leaks and breakage
Accommodates 125 feet of hose
– Anthony Dawson
Best Overall Garden Hose Reel
Liberty Garden Products 870
When you need your watering projects to be easy and quick, this industrial grade hose reel cart from Liberty Garden is a fantastic choice. It is made of durable 13 gauge steel and has an extra smooth reel that makes it easy to pull out as much hose as you need, and then quickly wind it back. The fixtures on this cart are brass and galvanized, so you know that they are incredibly durable. You can fit up to 300 feet of hose on the cart, and the special low gravity design ensures that the cart will never tip. Whether you are a professional gardener, or enjoy commercial or home landscaping, you'll find this cart from Liberty Garden to be the best choice for adding more ease and enjoyment to your outdoor experience. There's also a 5 foot inlet hose included. This is one of the best cart reels on the market, and the lovely tan color makes it fit into the natural landscape of your garden without sticking out like a soar thumb.
Holds up to 300 feet of hose
Keeps everything neat and ready to use
13 gauge steel construction
Ultra durable powder coat finish
Comes with 5 foot inlet hose
– Anthony Dawson
Best Budget Garden Hose Reel
Suncast
After a long, hot day in the garden, perhaps the task that people dread most is wrangling the hose. It can be tiring and time consuming, but the Suncast Swivel Hose Hideaway is a great solution for making the process easier. Because of its innovative design, it automatically tracks hose neatly back onto the wheel, and the wonderful swivel base allows you to point the reel in whatever direction you're pulling out hose. The stakes that come included secure the reel to the ground, so there's no more tipping and awkward pulling to try to get the hose out. It also has an extra large capacity for 225 feet of hose. The design of this hose reel is simply perfect for those who work a lot in the garden, and are tired of the effort that it takes to wind the hose around a traditional wall mount. If you hate winding up a hose or coming to work outdoors and seeing a messy hose, then this reel from Suncast can change all of that.
Holds up to 225 feet of hose
Automatic reel and storage system
Swivel base makes unwinding a snap
Stakes hold the bast secure
– Anthony Dawson
Garden Hose Reel Buying Guide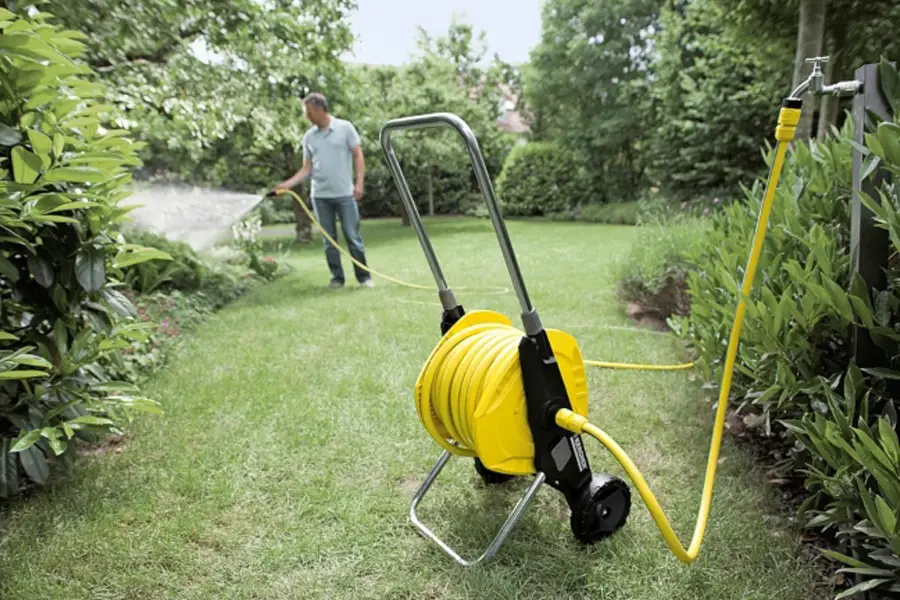 If you need a comfortable and efficient way of watering your garden, you should invest in a garden hose reel. It's very convenient and saves time compared to the use of a watering can. The primary use of a garden hose reel is to keep the hose neat. Coiling your hose on a hose reel will reduce the chances of it getting tangled up. A hose reel has a button switch also known as a crank that allows easy coiling and uncoiling. You won't have to carry a heavy hose every time you need to water your garden or store it afterward. However, hose reels come in a wide variety of types and sizes from different manufacturers. Below is a guide to help you choose the right garden hose reel:
Point to Consider
1. Hose included or not
You will find garden hose reels already equipped with a hose in the market today. However, they're more costly compared to the ones without the hose. Depending on your skill level, you'll decide the one that suits you. For instance, if you've some experience in hose reel installation, you can purchase the one without. It's recommended that beginners should purchase reels that come equipped with a hose. It saves a lot of time and enables you to maintain your garden without any hassles.
2. Portability
This is an essential thing to consider although it depends on some factors such as how large your garden is, and even the distance from the storage facility to the garden. Getting a hose reel cart is the best option. It consists of 4 strong wheels that help you move the hose around the garden. It's also easier to clean all affected areas and water your plants as required. Before purchasing a portable hose reel, make sure you check the quality of its handles. Check for rust presence and also comfort in terms of how they fit in your hands.
3. Length and Width
The length of a garden hose can be 100 to 400ft. In case you just want one for basic projects where you're required to be closer to the spigot, a 75 to 100ft can be ideal. Choose a garden hose reel depending on the length or even type of hose. On the other hand, the width is the diameter of the reel. You can choose a 3/4th hose which is suitable for intensive gardening tasks like applying mulch, re-soiling plants and landscaping.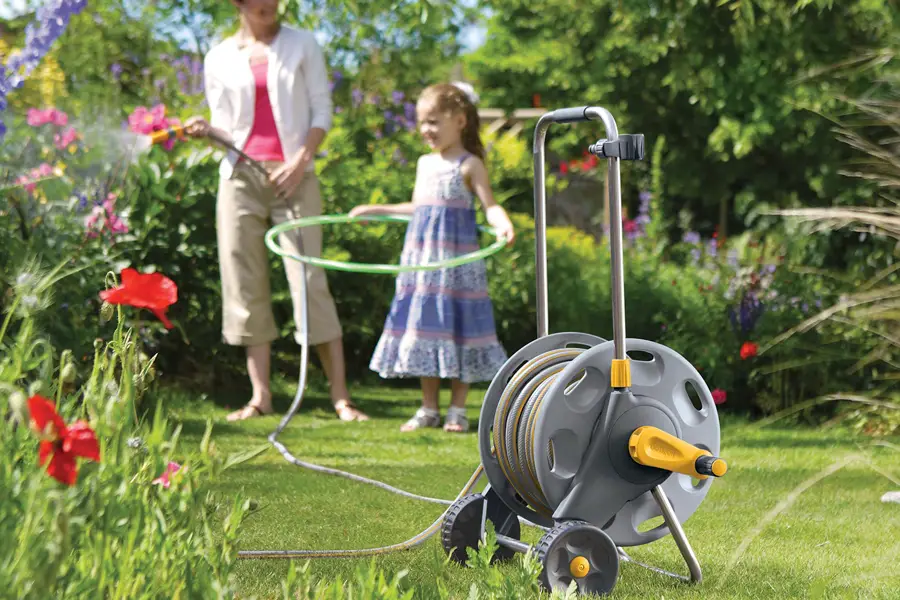 4. Durability
This is another essential feature to consider when looking for a garden hose reel. Those made of steel, stainless steel and aluminum can last longer when compared to other materials. However, rust can occur in hose reels made of these materials. Proper maintenance is required, and you should also store it properly after use to ensure it remains in good condition.
5. Ease of use
A hose reel doesn't have to be complicated in any way. There're different types of manual and electrically powered reels. The manual hose reels are ideal for lawn care, pest care, and agriculture. Electrically powered reels are easy to operate, more efficient, and time-saving. However, choose the best type depending on your budget.
6. Retractable option
This feature is usually associated with automatic hose reels. It makes it easy for one to reel in the garden hose faster without manually winding it. If you're inexperienced in winding up a hose, simply get a retractable hose reel to keep your hose organized.
7. Budget
The design, materials used, and function of a garden hose reel are significant factors that determine how cheap or costly it is. In case you have a limited budget, make sure you carefully research the best options in a particular category. You can end up getting a very affordable hose reel that has fine quality. Be careful since the most expensive hose reels aren't always the best.
Conclusion
In conclusion, these are some of the top things to consider when choosing a garden hose reel. Ensure you pay attention to what other past users are saying about a particular hose reel. Check both the positive and negative customer reviews of each option and then weigh between the pros and cons of each before deciding which one best suits your needs.