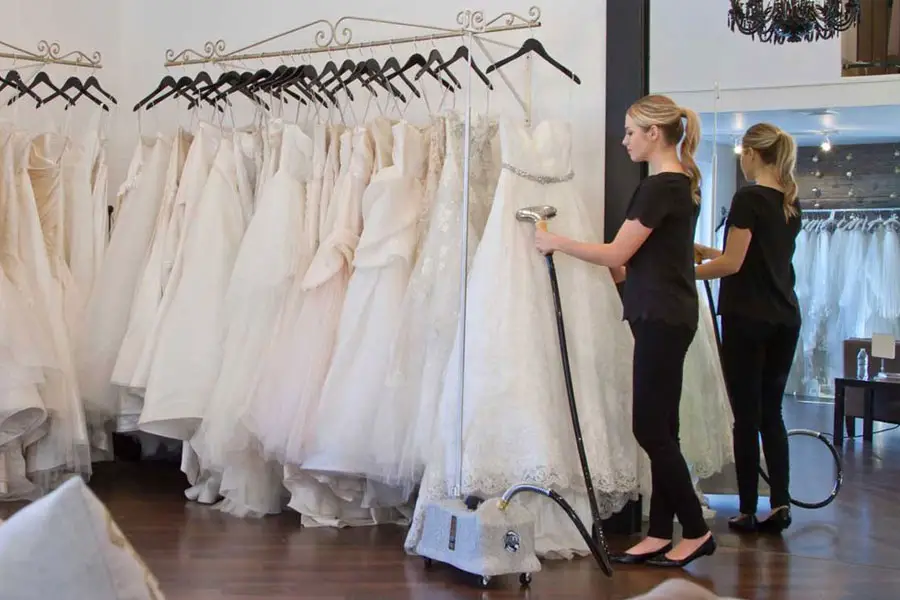 Garment Steamer Reviews
Garment steamers have been popular in a commercial setting for many years. New products have made steamers convenient and popular for consumers. Garment steamers allow for wrinkle free clothes without the harsh effects of ironing. Using steamers is easier that ironing and makes clothes last longer. There are many clothes steamers available on the market. We have selected the best steamers to meet your needs.
Most Popular Garment Steamer
Jiffy Garment J-2000
The J 2000 Jiffy Garment Steamer is a smaller version of the J400. It has a 1300 watt heating element and is mostly for consumer use as opposed to commercial use. With a 2 minute heat up, this garment steamer is ready quickly. The steamer is gentler on clothes than an iron. It relaxes the fabric rather than crushing it, like an iron does. It does not leave a shine or scorch fabrics and it steams delicate fabrics like silk to bulky fabrics like wool and everything in between. The large water tank can provide enough steam for 1.5 hours' worth of use. The J-2000-Jiffy-Garment-Steamer has a 5 ½ foot hose and a 6″ steam head, making it easy to use. You can have wrinkle free clothes, drapes or upholstery. The removable water tank makes re-fills quick and simple. There is also an auto shut off for safety. If the water runs out the steamer will shut off. The J-2000-Jiffy-Garment-Steamer comes with a 1 year warranty and is made in the USA.
1300 Watt heating element
2 Minute heat up and 1.5 hours of operation
5 ½ foot hose and 6″ steam handle
1 Year Warranty
Made in the USA
– Anthony Dawson
Best Overall Garment Steamer
Jiffy Garment J-4000
The J 4000 Jiffy Garment Steamer has a 1500 watt heating element for professional level of garment steaming. This is also an excellent product for cleaning upholstery and draperies and even does an excellent job on car interiors. The J4000 is a workhorse and is strong enough for commercial use. The outer housing is made of die cast aluminum and is built to last. The water tank is made of a corrosion proof stainless steel material. The large tank provides up to 2 hours of steam time, per fill up. The J-4000-Jiffy-Garment-Steamer includes an easy to read water gauge. Settings include both pre-heat and steam. It comes with an auto shut off as a safety feature. The J-4000-Jiffy-Garment-Steamer comes with a 5 ½ foot hose and a 6″ steam head. The long hose makes it easy to clean garments and larger items like draperies. It also includes hose attachment options available for different steaming jobs. The J-4000-Jiffy-Garment-Steamer is made in the USA.
1500 Watt heating element
Continuous steam for up to 2 hours
Pre-heat and steam settings
5 ½ Foot hose and 6″ steam head
Made in the USA
– Anthony Dawson
Best Budget Garment Steamer
Steamfast
The Steamfast SF 435 Compact Fabric Steamer is a compact garment steamer that can be used in the home or for travel. If you hate ironing this steamer is the perfect replacement of the iron and ironing board. The unit provides 800 watts of power to steam wrinkles out of clothes quickly. The fabric steamer holds 7 ounces of water and will steam continuously for up to 12 minutes. The Steamfast-SF-435-Compact-Fabric-Steamer heats up in 2 minutes and provides wrinkle free clothes. The Steamfast-SF-435-Compact-Fabric-Steamer is easy to use. Simply fill the tank with tap water and in 2 minutes it is ready to use. It is gentler on fabrics that an iron in removing both wrinkles and odors. The Steamfast-SF-435-Compact-Fabric-Steamer can be used on clothes, linens, curtains and upholstery. It includes a fabric brush, lint remover, and a rubber accessory for easy storage.
800 Watts of power
Holds 7 ounces of water and heats in 2 minutes
Continuous steaming for up to 12 minutes
Removes both wrinkles and odors
Compact and lightweight
– Anthony Dawson
Garment Steamer Buying Guide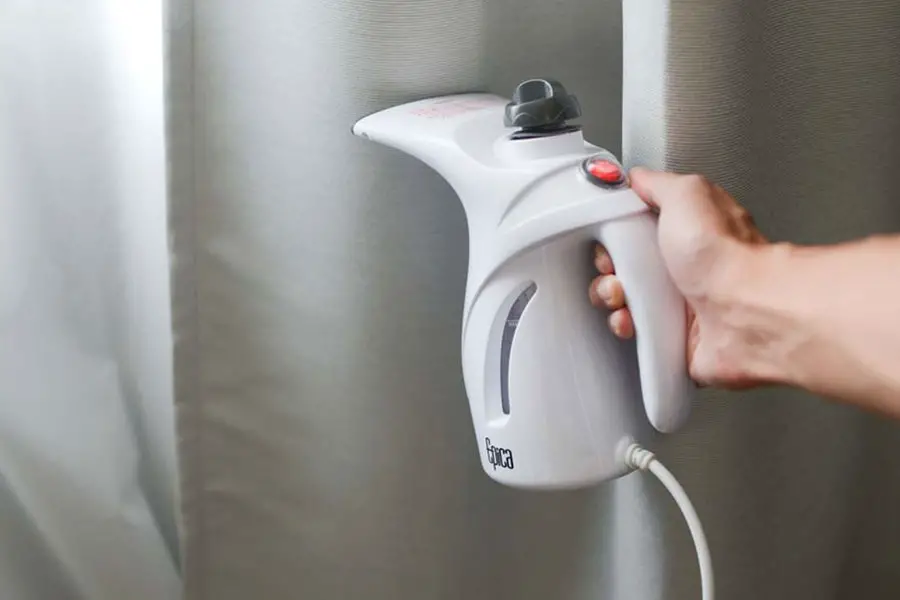 You may have seen commercials and print ads about garment steamers. Maybe you are planning to get one for home or personal use. If this is the first time that you will be getting a garment steamer then there is a need for a guide to help with the deluge of choices in the market. With so many different kinds out there you might end up buying a clothes steamer that does not suit your needs.
What Is a Garment Steamer, Exactly
This is an alternative way of removing wrinkles from clothes, instead of the traditional iron. A garment steamer holds water. Then it heats the water to produce steam which is then sprayed on the fabric. The result is wrinkle-free clothing in a few minutes. This seems like a very exciting thing to buy but don't be too much in a hurry. Here are answers to questions that will guide you in making an educated choice in buying a garment steamer.
Why Use a Garment Steamer Instead of the Iron
Not everybody loves to iron clothes. There are some who despise the entire process. Only a few like to take out the ironing board, put the wrinkled clothes on that board and then use up all energy while working with a hot iron in your hand. Not to mention the effort and the time spent. But take note that only an iron can provide the creases that some clothes need for that stylish or professional look. There are also types of fabrics that steamers cannot handle easily like denim and cotton.
With a garment steamer all you have to do is hang the clothes, run the steamer over the wrinkles and you're good to go. A garment steamer cannot replace the iron but most people prefer it because of the convenience that it gives. What's also great about the clothes steamer is that it can be used on all types of fabrics. Steam is always gentle on fabrics. Remember those times when the dial said silk but the fabric was scorched? Using a garment steamer saves the fabric and eliminates frustrations similar to that.
So if the garment steamer will be a replacement for the iron, check the ones with more power. The ones with greater and hotter steam can remove hard-to-smooth-out fabric wrinkles. Keep in mind that these heavy duty steamers take longer time to heat up the water which means wrinkle-removal will not be as quick compared to the regular steamer.
There might be concerns about safety. Well, burns are burns. Steam burns pose the same danger as iron burns. The key is to follow instructions.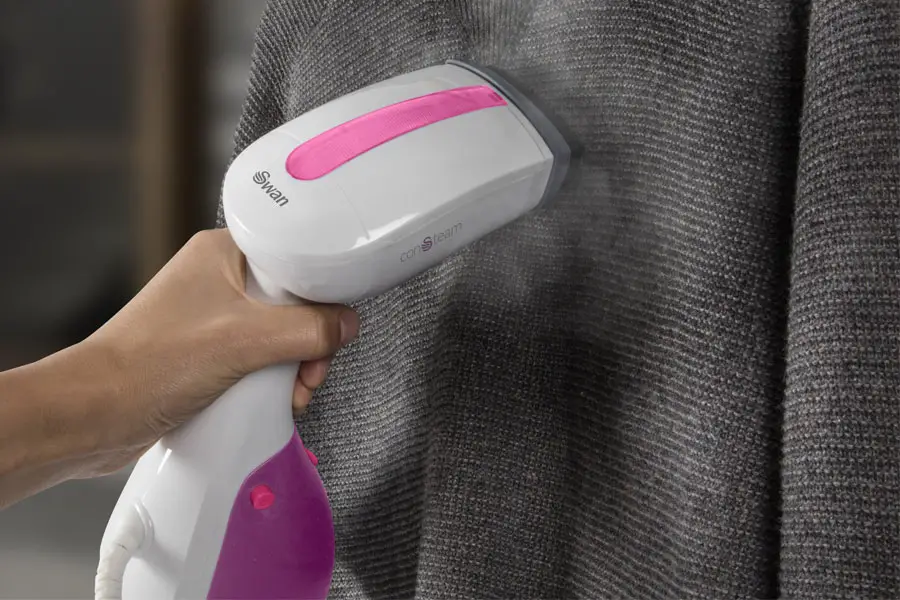 Features of The Garment Steamer
Size
The most compact one is the travel steamer. There is also the professional garment steamer (for household or commercial use) that comes in two different sizes. A full size unit is the one that can be toted around on wheels. Attached to the base is a hose with a nozzle at the end. This type has more features than a hand-held steamer. The hand-held unit is a carry-anywhere type but requires frequent water refill.
Weight
the most ideal for limited spaces is the compact version. This portable steamer is smaller and lighter; the perfect solution to small-space dilemma. There are also the professional-sized ones. These are bulky but hold more water which means less number of refills. Keep in mind that every time there is a need for refill, there will be a wait time to heat up the water enough to produce steam. More refills, longer wrinkle removal time.  The professional garment steamer is a match for families who need clothes steaming a lot.
Energy Consumption
Look for steamers with lower wattage to avoid having to foot huge electric bills. Regarding wattage, the range is usually between 1200-2000 watts. Higher wattage could mean increased consumption. But also consider the fact that with more wattage there is hotter steam. That also means less working time. For travel steamers, the common wattage is 200-1000 watts.
Other Features
Add-ons that should also count are those that come with the unit as steaming aids. Some have press pads that keep fabrics in place. These also prevent scalding. Other brands will include lint removers, brush for upholstery and even a crease tool. Most portable steamers and hand-held units come with travel pouch, fabric brush and lint pad. Another feature to consider is the energy-saving feature. Although, most on the market operate on higher wattage to produce hotter steam, there are some that do not. Some versions have been tested to produce hotter and more steam, at low wattage.
How Will You Use the Clothes Steamer
Before buying a garment steamer, determine the needs first. Also, where the garment steamer will be mainly used determines the design and size needed. If wrinkle-removal is a primary concern but you are always traveling, an iron should not be a choice for pressing clothes. The best thing to have is a travel steamer. The travel steamer is portable, light and compact. It is meant for those who are always on the road. If it is for home use intended to replace ironing the good choice is a garment steamer with more power to handle the clothes for the whole family. This means that the garment steamer will be the bulky kind. A professional garment steamer meant for home use is the best choice. This type is usually mistaken for commercial garment steamer because both have a base and a boiler. For business purposes, a professional steamer for commercial or industrial use is recommended. Commercial steamers are more powerful and bulkier than the home type. These are designed for very heavy fabrics like drapes, curtains and upholstery.
What Is the Best Type of Garment Steamer for You
The best garment steamer for you will always depend on your needs, lifestyle and budget. If still unable to make that decision to switch to garment steaming, then don't. But if the ironing board is already tucked away in the basement, then, by all means, hit the stores now. In case you are still apprehensive in buying that garment steamer , start small. Get a small budget-friendly clothes steamer. When already comfortable with it, that's the perfect time to assess if there's a need for a new one.