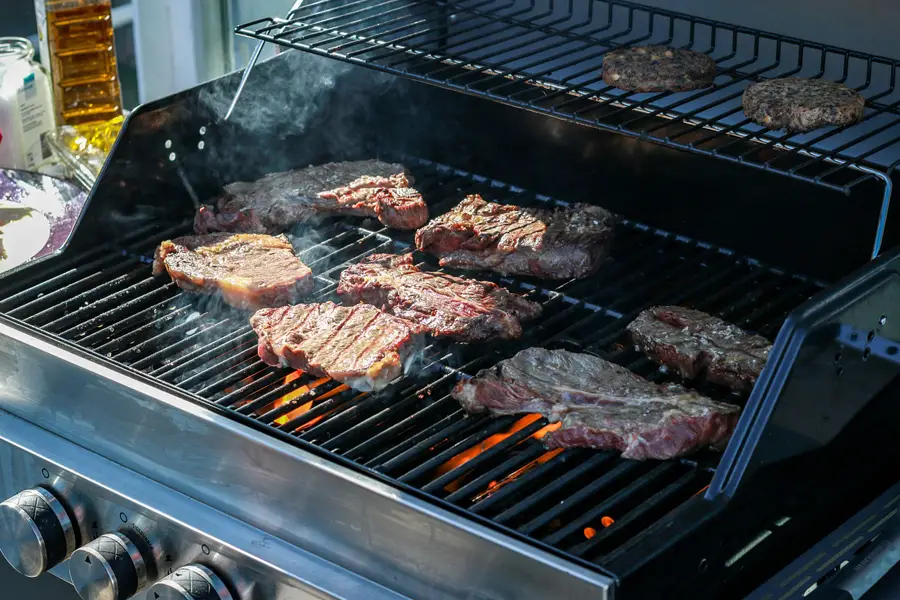 Gas BBQ Grill Reviews
Outdoor grilling is a favorite American pastime. It is right up there with baseball and apple pie. There are grills that come in all shapes and sizes whether you are looking for a simple table top grill for camping or a more upscale grill that can be used in the backyard for entertaining. When it comes to the outdoors we love our grills.When looking for a backyard grill that will provide enough room and heat to feed the crowd, there is a wide selection to choose from. We have selected grills that have a great reputation for providing many years of backyard fun and enjoyment, with top quality build and materials that will withstand the elements.
Most Popular BBQ Gas Grill
Weber
The Weber-46100001-Spirit-Propane-Stainless steel grill uses propane heat and two stainless steel burners. It has a cooking area of 360 square inches along with 90 square inches for the warming area. This provides a total cooking area of 450 square inches. The Weber-46100001-Spirit-Propane-Stainless steel grill has both a great design and a sleek look that will withstand the elements that occur from being stored outdoors. The propane tank is stored in a closed stainless steel cabinet. The 4 caster wheels provide for easy mobility and the front two wheels have a locking mechanism providing stability. There is an electronic crossover ignition that allows for a push button start. This unit is very easy to operate and comes with a fuel gauge and a mounted thermometer. The control knobs are found on the front of the grill for ease in controlling the temperatures. There are two stainless steel tables that fold down on either side, when the grill is not in use. This makes for compact and easy storage, yet you have the workroom needed, when it comes time to fire up the grill. There are also 6 tool hooks on the fold down tables, enabling you can keep all the grilling essentials together. There are two porcelain enameled cast iron cooking grates that provide excellent heat retention and even cooking surface. The Weber-46100001-Spirit-Propane-Stainless steel grill has flavor bars which help capture the drippings and create a smoke that flavors the food. What is not captured by the flavor bars drops into a grease drawer that pulls out for easy cleaning.
450 Square inches of grilling surface
2 Stainless steel burners
2 Porcelain enameled cast iron cooking grates
Propane fuel gauge and mounted thermometer
Stainless Steel grill with 2 fold down tables
– Anthony Dawson
Best Overall Gas BBQ Grill
Coleman
The Coleman-9949-750-Road-Trip-Grill is a great portable grill for the home or on the road. The grill itself is 36 inches. It comes with Scissor legs that have two wheels on one end and a wide handle on the other. The grill breaks down so it is easy to transport and easy to set up. There are two removable side tables creating a work area while you are grilling and they fit conveniently under the grill during storage or travel. So whether you are camping or tailgating, this grill will make grilling on the road convenient. The Coleman-9949-750-Road-Trip-Grill has 285 square inches of grilling space. It has a high and low temperature setting with two burners to allow for cooking items at different temperatures. The full size grill will operate for around 2 hours on high and around 4 ½ hours on low with a 16.4 ounce disposable propane tank. You can also purchase an adapter to fit a full size propane tank for longer cooking needs. Other available accessories include a griddle and a stove making the Road Trip Grill very versatile. There is a slide out grease tray for easy cleanup. The porcelain coated cast iron grates clean easily and heat food evening. The Coleman-9949-750-Road-Trip-Grill has an Instastart electronic ignition for a push button start. It also comes with a 5 year warranty.
285 Square Inches of grilling surface
2 Burners and porcelain coated cast iron grates
Towing handles and collapsible full size grill for easy portability
Operates with 16.4 ounce disposable propane, can convert to full propane tank
5 Year warranty
– Anthony Dawson
Best Budget Gas BBQ Grill
Char-Broil
The Char-Broil-3-Burner-Grill-Square-Burner has 3 independent burners and temperature controls. The two burners are over the grates and the third is on the left side of the grill for heating sauces or buns. The right side of the grill has a prep table. There is a total of 550 square inches of cooking surface. 380 square inches over the grates and 170 square inches in a warming grate for slow cooking. The Char-Broil-3-Burner-Grill-Square-Burner is made of a durable porcelain stainless steel lid and fire box. It has metal shelves and porcelain coated wire grates for even cooking and easy clean up. There is a storage area for the propane tank as well as storage for tools. It has a built in temperature gauge for consistent cooking and temperature control and knobs on the front of the grill make it easy to set and adjust the three burners. The Char-Broil-3-Burner-Grill-Square-Burner comes with a piezo push button igniter for easy start up. There are also 2 six inch wheels for easy mobility.
550 Square inches of grilling surface
3 Independent burners
Porcelain coated wire grates for even cooking and easy cleanup
Built in temperature gauge
Storage for propane tank and tools

– Anthony Dawson
Gas BBQ Grill Buying Guide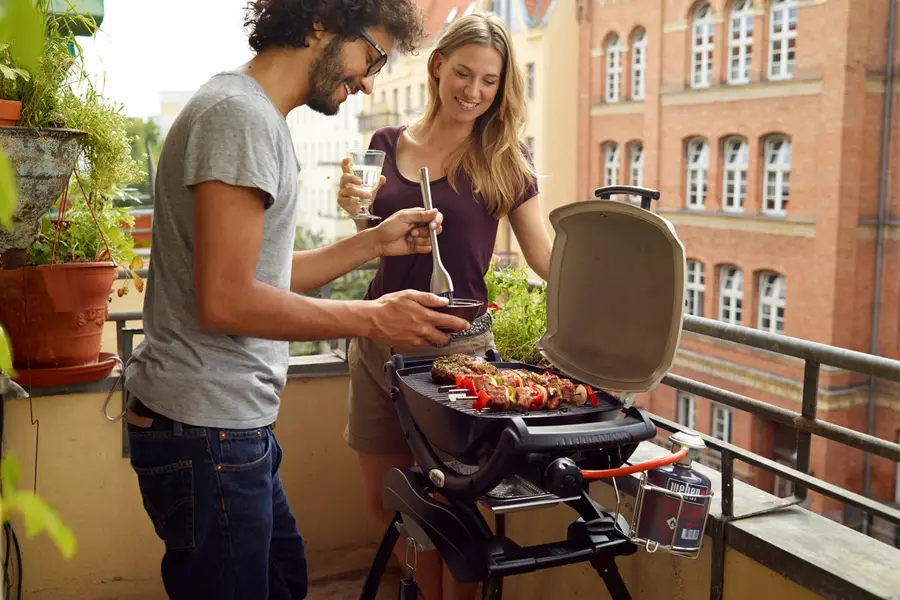 Barbeque parties bring family and friends together. It's one great time to relax and get away from the hustles and bustles of everyday life. This is why everybody loves and enjoys grilling. Grill a steak, beef, and fish, name it and you'll surely pleasure not just on the savory taste of it but also in the delicious aroma floating in the air. This makes every household want to have its own outdoor grill. Many would now prefer gas bbq grills from the traditional/conventional charcoal grill, because of its many advantages. Gas BBQ grills is more convenient and easy to use. It is time saving and cooks food faster than charcoal grills. And lastly, cleaning is much easier. So if you want to upgrade your conventional bbq grill or get yourself a new one, these are the seven things to consider in buying.
Things to Consider When Buying a Gas BBQ Grill
Barbeque Grill Price
Set your budget first and stick to it. How much are you willing to spend for a gas bbq grill? Set the maximum amount of money you can afford for a new grill. Prices would range from as low as $250 to as high as over $4000. The price would vary depending on the size, features, quality, and even the brand. You can buy gas grills from many places. You can find it from the local market, from the hardware store, specialty product stores, and even grocery store. Compare the prices each offers for products with the same qualities. Consider what other extras are offered. Are there any perks?
Space and Size
Where do you want to place your bbq grill? Would it look good in the patio, the deck? How wide is the space you can spare for it? How wide do you want your cooking area will be? Make sure that you can comfortably move around. Consider also the size of the BBQ grill you want. How small? How big? Do you want a grill that you can use for the family only, or you want something a bit bigger that can also be used for gatherings where it can hold more food.
Natural or Propane BBQ Grills
Would you want a refillable tank of propane gas? Or you'd rather have a natural gas pipeline from your house to the grill installed? Which do you think is more convenient? Propane gas is said to have more cooking energy compared to natural gas. Since there's no pipeline connection, you can roll or move your grill around. Just make sure though to always have an extra full tank in case you ran out of propane gas while grilling. For natural gas, consider the extra cost of your pipeline installation. Nevertheless, some advantages for it are; it's cheaper, you'd never fear running out of gas leaving your grilled food raw because there is a continuous supply from your pipeline, and no need to refill.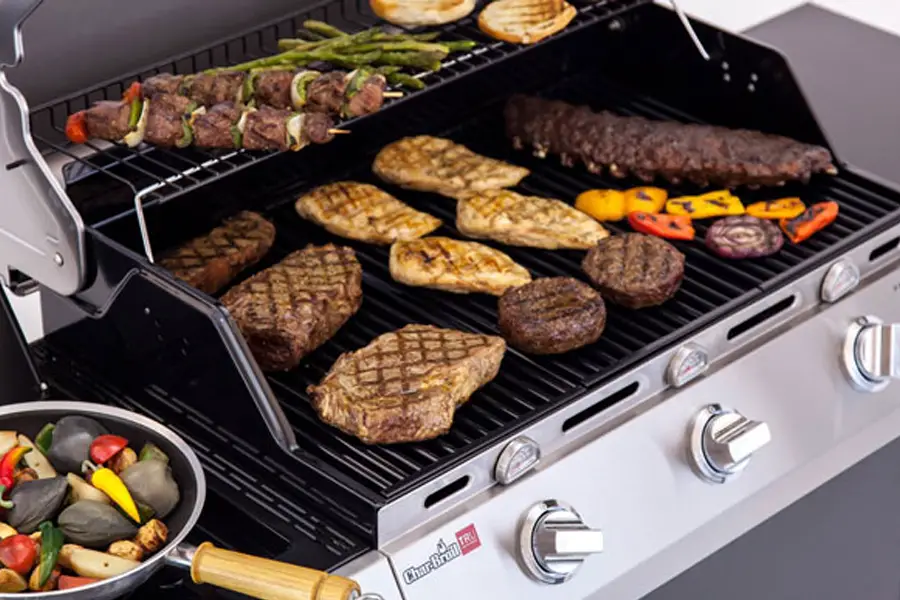 Features
What are you looking for in a gas BBQ grill? Remember that most products that offer more features are more expensive. Furthermore, not all features that are offered are actually necessary. So, it's good to identify what basics you need in a gas bbq grill. Customers who purchased a BBQ Gas Grill are also interested in BBQ Tool Sets.
Burners – The burners are the primary source of heat for your grill. So, the number of burners will also have to do something on the equal distribution of heat and temperature to make sure food is grilled well. Do you just need a standard burner or a multiple burner grill? Standard grills have two burners and this is good for simple grilling purposes. But if you want to be able to do something more, you can have a rotisserie, side burners, but this would usually cost extra.
BTU (British thermal unit) – Check the Btu of the grill. This is the measuring unit of the heat needed to raise the temperature of your grill. BBQ grills with higher BTU's would consume more gas but can cook your food faster, but, make sure the grill has good temperature controls or you'll burn your food. So basically, BTU tells you how fast is your gas consumption.
There are other more features like the availability of shelves, cart and wheels, smoker box, lights, among many others. But, you have to just buy the features that you want and are actually necessary.
Quality and Warranty
In buying products, we always want quality. So you need to check the materials used in the construction of the grill you want. Is it sturdy and durable? Would it last longer? Gas BBQ grills can be made of stainless steels, cast iron, and porcelain coated, to name a few. But regardless as to what material they are made of make sure that the grill is perfectly welded, and the seams are highly polished. Gas BBQ grills that has a warranty is a plus. The longer the warranty period is the better. It's also good to know what are covered with the warranty.
Ease of Cleaning
The life of your gas bbq grill would also greatly depend on how you take care of it. Leaving your grill clean and dry every after use definitely would make it look new a bit longer and more importantly, rust and dirt would not easily develop. However, cleaning your grill is usually challenging, so it's better for you to choose a grill that is very convenient and easy to clean.
Brand Name
Considering the brand of gas bbq grill you want to buy is one thing you may want to do. Check the ratings or the quality status of different brands. A particular brand stays at the top of the rank for good reasons. Check for testimonies from users. Buying gas bbq grills with branded names is also better because this would usually offer warranties. It has service centers, and parts and accessories are also easily available.
After carefully putting all of this thing into consideration, it should be easier for you now to find the best gas bbq grill that would perfectly fit your wants and needs. Ask questions from your seller, they should be able to explain and elaborate on the details of the product. So again, consider asking yourself these 7 questions when buying:
What is my Budget?
How much space would I need?
What fuel is more convenient?
What are the necessary features I should look for?
Does the product offer quality and warranty?
Would it be easy and convenient to clean?
What brand should I pick?