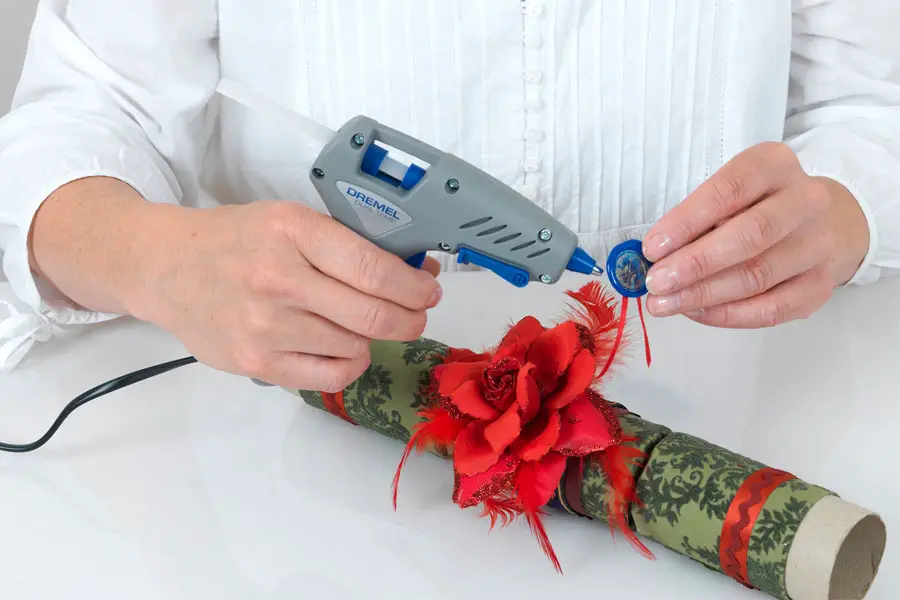 Glue Gun Reviews
Glue guns have been used for years for arts and craft projects. The challenge with working with hot glue is that it is easy to get burned or to have a flood of hot glue that must be dealt with quickly. Better quality glue guns offer precise glue applications and no mess guns. We have selected the best glue guns on the market that will provide even flows and easier application for all your gluing needs.
Most Popular Glue Gun
ARROW FASTENER
Stanley
The Arrow-TR550-Lever-Feed-Glue gun is a heavy duty gun that has a lot of convenient features that makes it easier to. The nozzle is a non-drip design, allowing you to work without dripping glue into other surfaces. It also has a built in stand with a drip tray which will hold the glue gun upright while you work. The drip tray will capture any residual glue that is left on the tip after application. The heavy duty cord is 6 feet long and the circuitry is built to last. There is exact control over the glue volume enabling you to make precise gluing for intricate projects. The melting chamber has a high temperature to create an even flow and fast heat up. The trigger application and comfort grip makes the glue gun easy to use. The Arrow-TR550-Lever-Feed-Glue is a professional grade gun. It comes with a storage box for storing both the gun and additional glue sticks. The gun has a clutch design that will prevent glue from backing up into the glue gun.
Drip tray and stand included
Storage case included
Professional grade gun for even heating and steady flow of glue
Precise applications and high temperature melting chamber
Non drip design
– Anthony Dawson
Best Overall Glue Gun
3M
The 3M-Scotch-Weld-Hot-Melt-Applicator is operated with the use of a trigger. This makes for easy application of the specific amount of glue desired. The lightweight design is very easy to use and easy to store. The contoured grip is built for comfort and provides excellent and exact control over where the liquid glue is placed. The 3M-Scotch-Weld-Hot-Melt-Applicator fits ½ inch glue sticks which are readily available in craft stores. Scotch makes glue sticks for their glue guns as well. The Scotch Weld AE sticks are ½ inch by 12 inches in size. This glue gun must be plugged in. It heats up quickly and is ready to use in minutes. The gun will provide smooth application of the melted glue for whatever project you have.
Lightweight design
Fits ½ inch glue sticks
Electric plug in unit
Comfort grip provides precision gluing
Trigger operations with high output
– Anthony Dawson
Best Budget Glue Gun
Stanley
The Stanley-GR20K-Trigger-Feed-Melt glue gun offers a trigger application. This allows the user to control the flow of the hot glue to precise amounts. The Stanley-GR20K-Trigger-Feed-Melt has a fast heat up time and bonds materials in less than 60 seconds. It will bond to nearly any material, from fabric, plastic, glass to wood, making it very useful for many projects and household applications. This glue gum uses standard glue sticks that can be found in any local craft store. 12 glue sticks are included with the kit giving you everything you need to get started. The Stanley glue gun is perfect for arts and crafts and will provide reliable performance use after use. The glue gun only weighs 1 pound and comes with a limited lifetime warranty.
Trigger handle for precise application
Fast heat up time and bonds material in 60 seconds
Includes 12 glue sticks.
Fits standard hot melt dual temperature glue sticks
Comes with a limited lifetime warranty
– Anthony Dawson
Glue Gun Buying Guide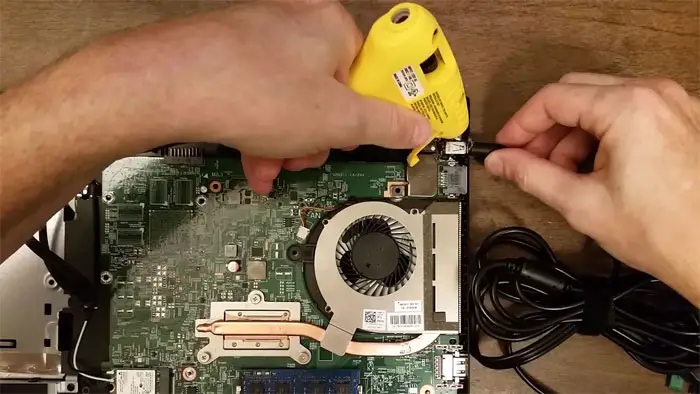 Anyone who enjoys arts and crafts knows how indispensable a glue gun can be. Glue guns are a staple of the crafting community, helping millions of projects become possible. Glue guns are effective in bonding a wide range of materials, including wood, metal, paper, and even lace. The best thing about glue guns is that they're inexpensive, as are the refill glue sticks required to use them. Their low cost, ease of use, and effectiveness makes them a favorite among crafters.
How do Glue Guns Work?
Glue guns work by heating a stick of glue using a heating element inside the hand-held body. The solid glue stick is fed into the tool, and once melted, the adhesive flows out of the gun's metal tip and onto the bonding surface. When the glue cools, an adhesive seal is created, bonding the material. Learn more about how to use a glue gun.
High Temperature vs. Low Temperature Glue Guns
An important factor to consider when purchasing a glue gun is whether you want a high-temperature or a low-temperature gun. Low-temperature guns are a safer option for those who have children or pets, or who are working with delicate materials. Low-temperature glue guns melt glue sticks at around 250 degrees. High-temperature guns melt glue at 380 degrees, and are more suited for difficult-to-bond materials like wood. As you can see, there is quite a wide range between the two temperatures, so it's important to know which types of materials you'll likely be working with. Another option is to buy a dual-temperature glue gun, which combines the benefits of both high-temperature and low-temperature guns. Dual-temperature glue guns tend to run slightly more expensive than other types of guns.
Trigger Feed vs. Manual Feed
Glue guns feature either a trigger feed or a push feed (manual). With a trigger-fed gun, the glue is distributed by pulling on a trigger. With push-fed models, you insert the glue stick into the hole at the back of the tool and apply pressure to it with your thumb to feed the glue through the nozzle. Both types of glue guns are available in a variety of sizes, from miniature to industrial type models with a pistol grip. A few manufacturers offer glue guns that operate with batteries. Most other models operate via a standard electrical cord.
Mini Glue Gun vs. Full-Sized Glue Gun
Another decision you'll need to make is whether you want a mini glue gun or a full-sized glue gun. Mini glue guns are easy to hold, and great for use in tight or hard-to-reach spaces. The glue sticks used with mini glue guns tend not to last as long as other types, but they are also less expensive and easier to find – sometimes they can even be purchased at a dollar store.
Full-sized guns, on the other hand, expel much more glue than miniature versions. Their larger size can make them impractical for projects where control and precision is required. Full-size glue sticks are more expensive and can be harder to find.
Industrial-sized glue guns use glue that is strong enough to bond siding onto a house. They are also available in fine-tipped varieties for creating thin, clean lines.
Benefits of Glue Guns

The glue gun's biggest advantage is its price. Some models are available for as little as a dollar or two, and the glue sticks are equally cost-effective. Glue guns have almost infinite uses – they can help speed up home repair jobs, bone together arts and crafts materials, and can be used to bond just about anything in the home or workplace. Their ease of use – just point and press – makes them especially attractive as an all-around tool.
The glue used in glue guns is surprisingly strong, and provides great durability and wear. Even when used in harsh temperatures, the glue from glue guns bonds materials immediately and cools to the touch quickly. For crafters, decorative glue sticks are available, featuring vibrant colors and even glitter.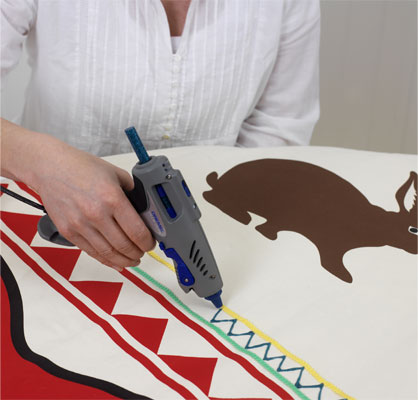 Glue Gun Uses
Glue guns have many common and everyday uses. Among the many tasks they can help with:
– Affixing beads and decorations to wood, glass, stone, ceramics, metal, brick, or other materials.
– Creating dried-flower or silk-flower crafts.
– Making holiday decorations.
– Reupholstering old furniture for a new look.
– Decorating photo frames with sea shells or other embellishments.
– Adding finishing touches to Halloween costumes.
Glue Gun Safety Tips
It's important to practice safety when using glue guns. The melted glue that comes out of the glue gun's tip – even if you're using a low-temperature model – can cause serious burns if it comes into contact with skin. It's best not to underestimate the heat of even low-heat guns, as they can cause anything from temporary discomfort to painful blisters. Make sure to keep the tip directed away from your skin at all times, and don't touch any of the glue until it has cooled (this should take about a minute). Even when you're nut pressing the glue gun trigger or pushing down on the glue stick manually, glue may continue to drip from the nozzle. Make sure to set the gun on a piece of paper or cardboard when not in use to prevent damage to the underlying surface.
With the wide range of glue gun models to consider, choosing the best one for your needs can be overwhelming. The above information should give you a good idea of the pros and cons of each type so you can make the best decision for your project or craft.