Golf Cart Bag Reviews
Some golfers prefer to ride in a cart rather than walk the length of an 18-hole course. Whether its because they have leg or back problems or because they simply prefer the luxury of being able to drive straight to the spot of each lie, these golfers find an advantage in four wheels over two legs. With that said, the main difference between the golfer that walks and the golfer that drives is how he carries (or does not carry) his/her clubs. Golfers that walk the course are burdened with having to carry their clubs on their shoulder or back, or otherwise wheel them around in a cart. Golfers that stick to the cart have the advantage of leaving their clubs upright in the back of the cart, pulling up to the spot of their lie, and pulling the appropriate club straight out of the bag to make their next shot. They can then put the club right back into the bag and drive onto the next lie. The downside of these bags are their lack of versatility, as they typically do not feature straps for carrying or stands to keep them upright on the ground.
Most Popular Golf Cart Bag
TaylorMade
Available in brilliant silver or royal blue, the TaylorMade Cart Bag has everything a golfer, whether man or woman, could need in a stand-up cart bag. The 9.5-inch oval top with 14-way full-length divider system allows for easy placement, organization, and accessibility of each of your clubs while providing the utmost in protection while bumping along the course. The M9 has a dual-function strap locking system that's easy to access with integrated easy-grip handles that allow for easy manipulation of the bag. The bag is made of dual-density anti-slip material that helps prevent the bag from moving around in the back of the cart, regardless of terrain conditions. Accessory features include an oversized towel loop, glove patch, and pen sleeve. Additionally, there are nine storage pockets, 7 of which are zippered, including a protective cell-phone mold pocket and fleece-lined valuables pocket that's great for keeping sunglasses, jewelry, or electronics safe and secure. An insulated cooler pocket allows you to take your lunch on the go, while full-length apparel and accessory pockets give more than enough room for whatever else you need to carry on the course.
14-way full-length divider system has room for every club imaginable
Dual-function strap locking system and anti-slip construction ensure stability in the back of the cart
Nine storage pockets including integrated cell phone mold and fleece-lined valuables compartment
– Anthony Dawson
Best Overall Golf Cart Bag
Callaway Golf Bag
The Callaway Golf Bag has the look and features of a tour-ready bag available at a price the average golfer can appreciate. The bag has a 10-inch, 14-way stadium-style top that uses molded TPR dividers that never lose their rigidity and always keep your clubs protected and in their proper place. High-strength aluminum bars with TPR handles make it easy to lift the bag on and off the back of the cart with full control. On the outside of the bag are 12 forward-facing pockets, one of which is lined with a velour interior to keep your personal valuables safe and dry. At the top of the bag facing forward is an integrated putter slot with a TPR lining that won't let one of your most valuable clubs shake and rattle around with its counterparts. The Callaway Golf Bag also has an insulated cooler pocket so you can keep your lunch separate and chilled without having to bring along an extra cooler.
TPR strap tunnel uses Cart Bite technology to prevent the bag from twisting and turning on the cart
Side mesh water bottle pockets and insulated cooler storage
Tee holder, glove patch, elastic towel cord, pen holder
TPR molding throughout offers stability and protection for clubs and gear
– Anthony Dawson
Best Budget Golf Cart Bag
Hot-Z Golf
The Hot-Z Golf 4.5 Cart Bag from Hot-Z Golf is offered in red, black, royal, silver, and mossy oak camo, for those that like to blend golfing and hunting (if such folks exist). The bag has a 14-way divider top that gives easy access to all of your clubs without allowing them to move about or pop out while driving along the course. Two oversized tubes on the front-facing part of the bag can be designated to hold a putter, wedge, or even an umbrella. The Hot-Z Golf features six easily accessibly pockets for keeping your gear and valuables, while an insulated beverage compartment allows you to keep a cool drink on hand to hydrate between holes. For those that don't mind golfing in a light rain, or for the average golfer who occasionally gets caught out in a rain shower, the Hot-Z Golf cart bag includes an integrated rain hood to keep your clubs and most of the bag dry in the elements.
Two external tubes allow placement for putter(s) or wedge
Six pockets including valuables pocket and insulated beverage compartment
Affordable price and five great color choices
– Anthony Dawson
Golf Cart Bag Buying Guide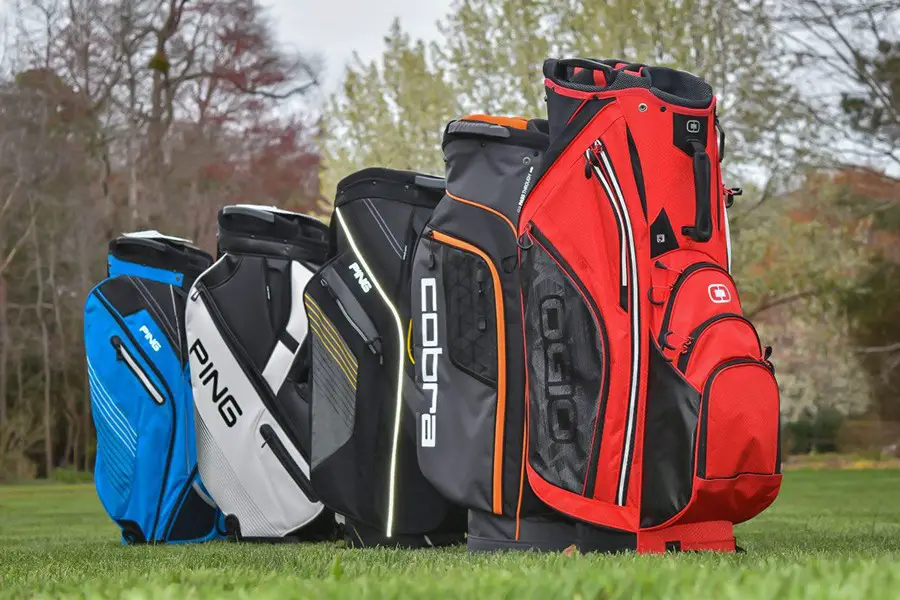 A golf cart bag is a bag that is primarily designed to hold golf clubs. There are many options available with multiple color choices. If you are searching for the best bag, you may be surprised to learn that most golf cart bags are standard; the only thing that sets them apart is the color scheme.
Most of what determines which golf cart bag is the best comes down to personal choice. However, there are a few things you may want to consider before deciding on a final purchase, such as what exactly you will be using it for.
Understanding Bag Types
One thing you don't want to do is think of all golfing bags the same. There are four specific types, as follows:
Stand bags are full-size bags that have a sturdy structure. There are hooks included for hanging towels and other accessories. They also have numerous pockets for storing smaller items (like extra golf balls and tees).
Cart bags are built similarly to Stand bags, but they are on wheels.
Carry bags, on the other hand, are much smaller in build. They are more lightweight and don't offer as many pockets for storing accessories.
Travel bags are merely used for storing golf clubs while traveling. These bags may be on rollers and usually are made of canvas and/or mesh. They do not offer any sort of protection for your clubs.
Check the Strap
Usually, golf cart bags only have one strap. They are designed to be carried around on the golf course, so they don't have the capability to sit upright like a stand bag. The strap is available in two options: tie-down or sleeve style. What one works best is a personal choice. They both serve the same purpose.
Pockets
Pocket placement on a golf cart bag is always forward-facing. This way, all of the pockets are easily accessible when strapped to a cart. Pockets are designed to be opened easily with the use of zippers. No one has the time or patience to deal with buttons and snaps. More importantly, zippers offer more security than any other form of closure.
Dividers
One nice feature about golf cart bags is the club dividers. The dividers make accessing golf clubs a lot easier. They also help keep your clubs organized, so you don't have to waste a moment of your game time searching for your lucky club.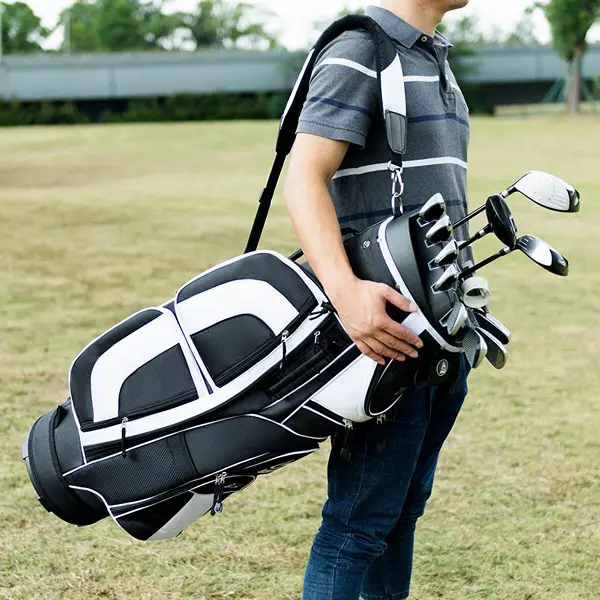 Brand Name vs. Not Brand Name
Is it important to stick with an expensive brand name versus a product from a smaller company? Not really. Golf Cart bags are designed to be strapped to a golf cart for transportation, so the bags themselves are fairly universal. Choosing a cart bag that is name brand won't necessarily get you a high-quality product. Still, if you would rather spend the extra, there are some sleek new designs that may be worth the cost if it's in the budget. They are great if you are a serious player, but for recreational use, it might be best to avoid the markup.
Insulated Pockets
Pockets are a great way to stash things like extra golf balls and tees, as well as paper and pen. The real question is, should the pockets be insulated or not? Less expensive versions of this bag style will not come with insulated pockets. The higher-end products will not only have things like magnetic closures for those pockets but are also lined in fleece as well.
The more expensive golf cart bags will also feature larger pockets for things such as apparel, drinks, and more. If it's a particularly hot day, an insulated pocket would be a great place to store a cold beverage with an ice pack.
Consider Play Style
If you prefer to walk most of the course, you may not want to lug around a cart bag. Instead, you may want to purchase a carry bag. This is important to determine before making your final purchase. Otherwise, you could end up with a golf bag you will hardly use, and that would just be a waste of money.
How to choose the ideal golf cart bag is really a series of personal choices. If you love to ride a cart around the course, a golf cart bag will help make your journey across the course a little easier. Multiple pockets are a great storage option when you don't want to set your jacket down on a cold spring day.
However, you may find that a simpler approach – buying a bag with fewer pockets – suits your taste more. The choice is yours. There are a wide number of options available to suit any style.