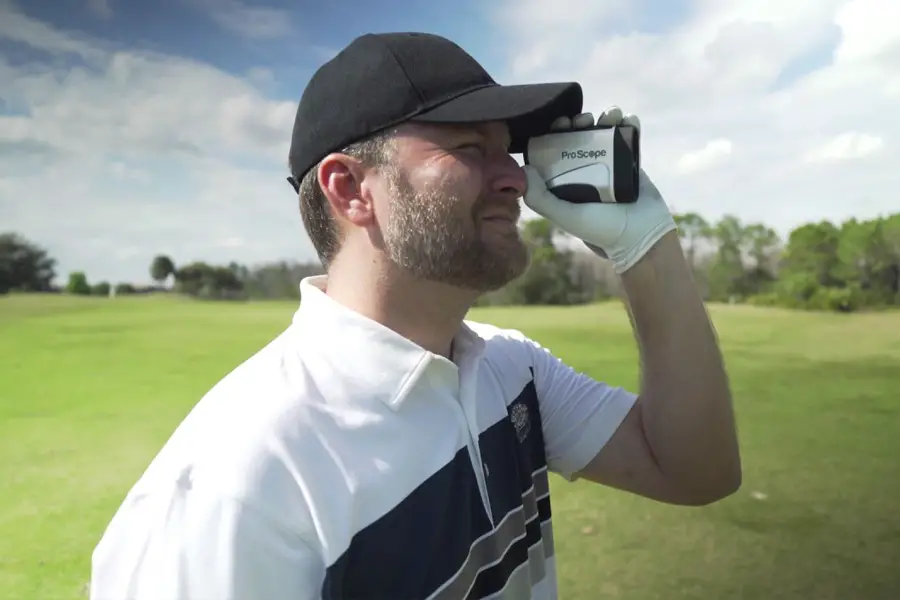 Golf Rangefinder Reviews
Would you like to improve your skills on the golf range? If so, then you need one of these devices. These rangefinders will help you to improve your golfing ability by letting you know how far you are away from the hole. This is important information that will help you choose the correct club for the distance. Provide the tools needed to become a better golfer with this device. The following reviews are of the best rangefinders on the market and will provide accurate distances every time.
Most Popular Golf Rangefinder
Callaway
The Callaway's 300 laser rangefinder will improve your game by helping you know the distance between the ball and the hole. This golf rangefinder is capable of telling you how far your target is from you within eight seconds by simply pushing one button. This device is compact and light allowing you to carry it easily. The golf rangefinder is waterproof and fog proof allowing you to play in all types of weather without worrying about damaging the rangefinder. The diopter will focus based on your needs by simply twisting the eye piece. The Callaway's 300 laser rangefinder has a new in-round case design that is made of rubberized material making it easy to grip. This golf rangefinder runs on CR2 Lithium batteries that will last for approximately 10K ranging sessions helping you to be confident in your devices ability
Within eight seconds you will know your distance
Compact and light
Water proof and fog proof
Diopter will focus based on your needs
Runs on CR2 Lithium batteries
– Anthony Dawson
Best Overall Golf Rangefinder
Bushnell
The Bushnell Tour V3 Slope Edition Golf Laser Rangefinder is a device that is certain to help you improve your game. This golf rangefinder can be operated vertically with only one hand. The device has five times the magnification with a 24mm objective. With this precise and extended magnification you will be able to see the hole clearly and accurately making your shot more precise. The gold rangefinder has a range finding performance of 10 to 1,000 yards with 300 yards to flag +/- one yard of accuracy. With the Pin Seeker technology this golf rangefinder has jolt vibration that will automatically activate once the Pin Seeker is initiated. The golf rangefinder also has a SCAN mode that will provide you with continuously updated LCD display as you scope the landscape you are golfing. With the slope compensation feature you will be able to measure and align your swing yardage based on the degree of the slope. The Bushnell Tour V3 Slope Edition Golf Laser Rangefinder, White is a condensed design that is easy to grip. When you purchase this golf rangefinder you will also receive a carrying case, 3 volt battery, along with a 2 year warranty.
Operated vertically with one hand
Five times the magnification
24mm objective
10 to 1,000 yards with +/- one yard of accuracy
SCAN mode with LCD display
– Anthony Dawson
Best Budget Golf Rangefinder
Simmons
The Simmons LRF 600 Laser Rangefinder is available in two different colors. With the in-view LCD display, this device will provide you with the exact distance from you to your target from 10 to 60 yards allowing you to make the best choice when deciding what club to use. The golf rangefinder has four times the magnification giving you a clear, crisp image of your target due to the bright, precision clear optics. The Simmons LRF 600 Laser Rangefinder is accurate +/- one yard making the device very reliable. The golf rangefinder is used vertically and is made with you in mind with a simple one button operation. It is weather resistant and will allow you to use the device in all-weather different conditions. The Simmons LRF 600 Laser Rangefinder weighs only 9.8 ounces using a 9-volt battery. When you purchase this golf rangefinder you will also receive a carrying case.
Up to different colors available
Four times the magnification
+/- one yard accuracy
Weather resistant
Uses a 9 volt battery
– Anthony Dawson
Golf Rangefinder Buying Guide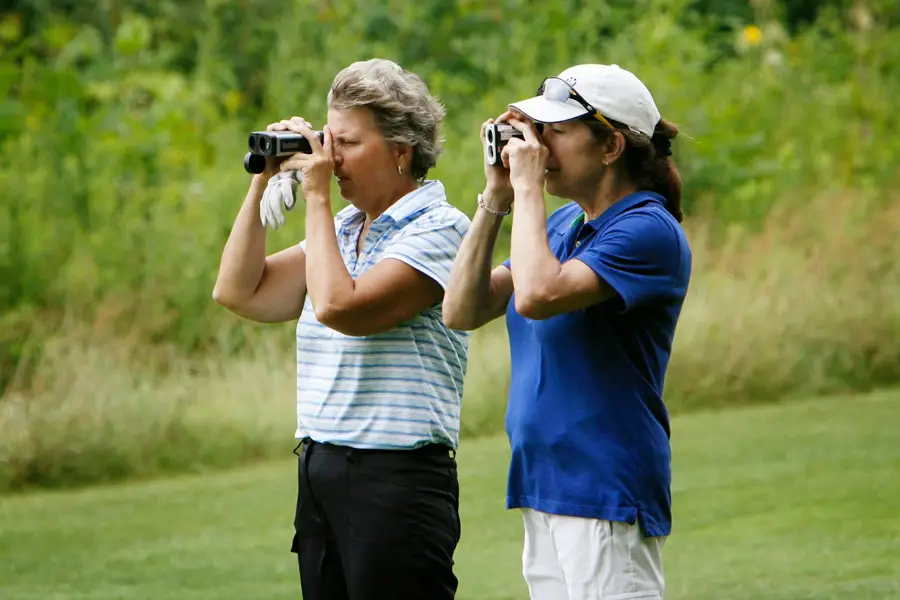 Golf is both a game and a hobby. One great way to spend your free time and stay healthy is to get involved in golf. There are different tools developed over the years to help golf players develop and improve the game. One of such important tools includes golf rangefinders. The technology was introduced in golf some years ago and it has revolutionized the game. Today, there is no way you can play golf without the instrument, whether you are skilled or an amateur golfer. Because of its relevance in the game, golf rangefinders are in top demand. Many varieties are available on the market and this is not making it easy for buyers to make a choice. This article will provide some useful information that would guide you to purchase golf rangefinders.
How to Purchase Golf Rangefinders
Why Do You Need Golf Rangefinders
The most important question you must ask yourself before you shop for the instrument is why you need it. The answer to the question will help you in purchasing the right golf rangefinder that would fit your purpose. There are different types of rangefinders and they include laser rangefinder, GPS rangefinder, rangefinder watch as well as hybrid rangefinder. Type of golfing activity determines the most suitable products in the market that suit your needs.
How Accurate Is the Golf Rangefinder Reading
The major aim of getting the rangefinders in the first place is to take an accurate reading of your golfing activities. Accuracy is the most important factor you must always bear in mind while shopping for rangefinders. The most accurate rangefinder for golfers is the laser rangefinder. The tool must be accurate with a certain couple of yards. If it is not accurate, then it is not useful for you, what you should do is just to return them to where you purchased it. Accuracy is the most important factor that should guide you.
Ease of Use
You have to buy a golf rangefinder you can easily use without relying on others help. Different types of rangefinders need a certain degree of knowledge before you can use them effectively. If you are not technically inclined, you may opt for laser golf rangefinder. If you were technically inclined, you would be better off with GPS golf rangefinders. Many people opt for laser rangefinders because it is easier and simpler to use and it offers an accurate reading than other tools.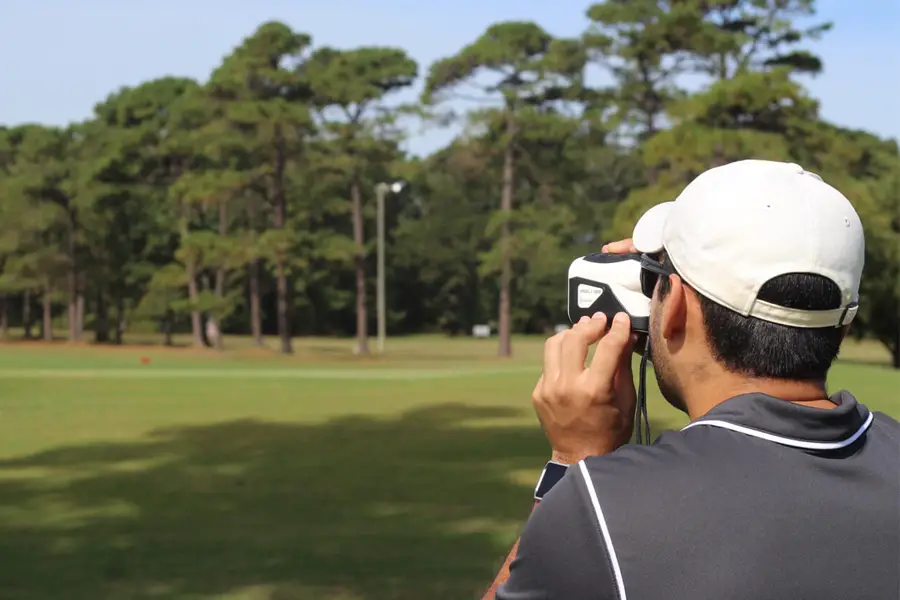 Battery Life of Golf Rangefinder
This is an indispensable point you have to consider. Regardless of your technological know how level, you certainly need a golf rangefinder that has a lasting battery life. Laser has a superior battery life than the other tools out there for golfers. It appears that the major challenge people have about rangefinders is the limited battery life of most of the products.
Golf Course Adaptability
There are different golf courses. You have to look for the tool that could easily adapt to the different courses. Golf rangefinders like GPS rangefinders would require that you load the specific courses you play on the device. You have to decide whether the tool is adaptable to different courses, you will play.
Budget – How Much Are You Looking To Spend On a Golf Rangefinder?
You have to set out your cost for the golf rangefinders. There is different product that would always suit your budget, but you have to decide whether what you can afford could actually satisfy your needs. The cost should not be the major factor that guides you in making a choice whether to buy a laser or GPS rangefinders, rather you have to think of the level of technology embedded in each product. Differences in costs might be negligible.
Slope
You must think anytime you shop for a golf rangefinder about this important factor. You should decide whether you should buy a product with a slope or not. You may consider slope if you do not want to engage in a competition because it is not a rule in golf competition. It will help you as a trainer and helps to improve your performance before you face a competition.
Magnification
You have to consider the rangefinder magnification before you buy. It is better to get a product with better magnification because it will help you to get your target. Laser golf rangefinders have various magnification ranges from zero to seven and above. Always consider a rangefinder with a better magnification as it would help you to improve on your performance.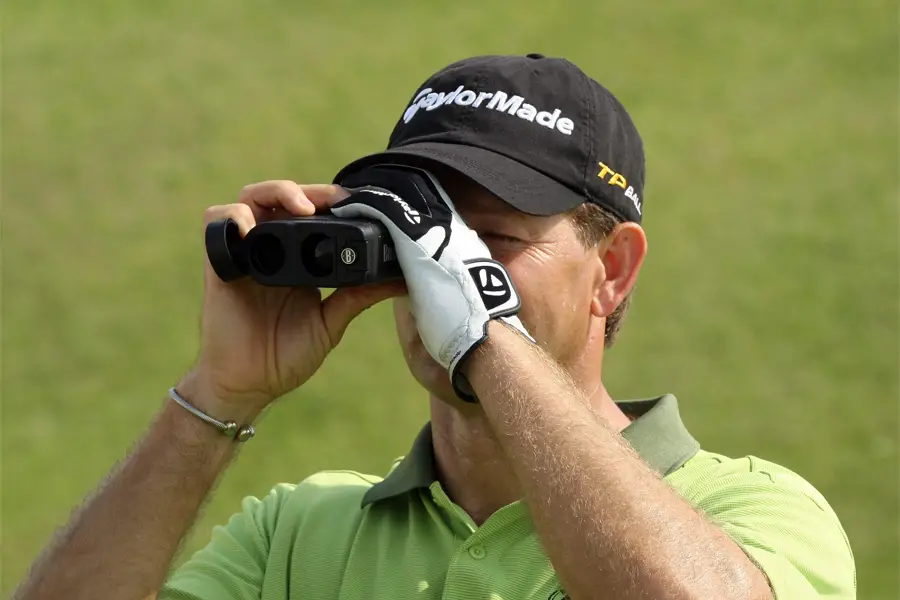 Size of Golf Rangefinder
This is another important factor you must pay attention to as you shop for your golf rangefinders. It is better to look for products that are not too small. A small rangefinder can be a problem for the golfer because it could be extremely difficult to hold them with the two hands. Rangefinders you can comfortably hold with your two hands are the best.
Scan Mode
You have to consider the scan mode of golf rangefinder you want to buy. Different models you can find on the market today have scan mode fitted on them, it is better to get a product that has its scan mode turned on. It will help you to scan your target before you hit it and it would help you to achieve your target. It is easier, faster, and better for you. If you cannot scan the target that you are ranging, it will be hard for you to hit that target.
Readability
There is not much difference in readability between the major models in the market. However, many golfers prefer rangefinders with red numbers. These are easier to see and read than those without red numbers. The problem here is that the prices paid for them are higher. If you can afford the price, you can get it, as it would help you.
Conclusion
You will not find it difficult making a choice between the leading golf rangefinders in the market if you follow this advice. There are different outlets you can buy them; this information would help you secure the best product.