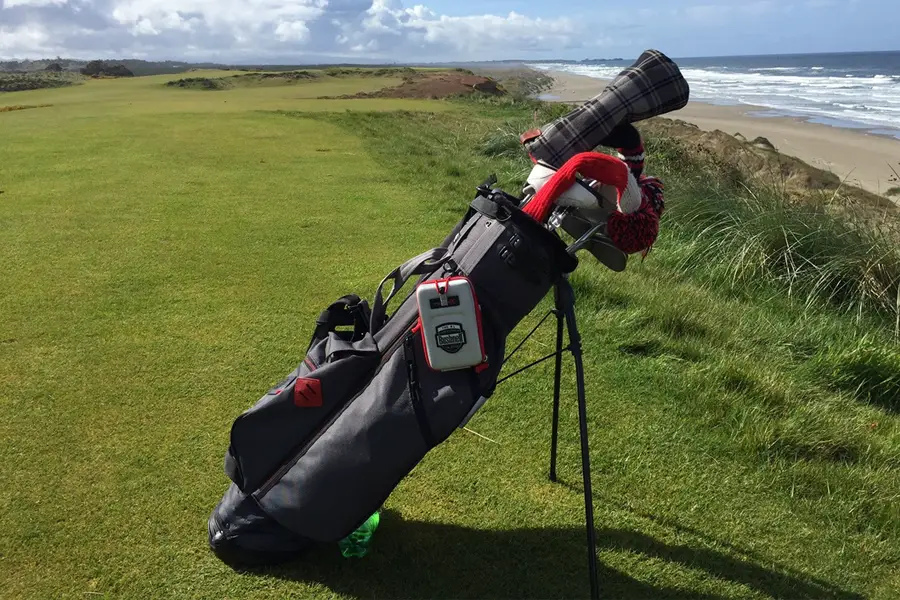 Golf Stand Bag Reviews
Every golfer needs a quality bag to store his/her clubs and accessories. After all, with upwards of 12 or more clubs in a set, you can't walk eighteen holes with them all in your hands. Golf bags were invented so that golfers could walk to course while toting their clubs around in a bag slung over their shoulder. Today, bags have been made to be significantly lighter and more comfortable to carry. They also now feature a variety of pockets, pouches, and other storage areas designated for certain types of gear. They may also feature built-in coolers, leg stands, and mounts for GPS systems and other accessories. Golfers who tend to stay in the cart for most of the round may find advantage in a cart bag, which is designed to rest securely in the back of the golf cart for the duration of the round. Those that like to get out and walk will likely prefer a stand-up bag that has built-in legs that allow the bag to hold itself upright while you're in play.
Most Popular Golf Stand Bag
Taylor Made Flextech Lite Stand Bag
At nearly 6-pounds, the TaylorMade Supreme Lite Bag is not the most lightweight bag on the market, but it is one of the more comfortable and dynamic. A new stadium-style top features an integrated handle for transferring the bag from cart to path, or for a quick transfer from one spot to the next. The bag also features quick-release dual shoulder straps that allow the bag to be carried backpack-style for the utmost in comfort while walking an entire round of 18. The Supreme Lite Bag has an anti-split stand system that allows the bag to stand with club accessibility without teetering over. Also included is an oversized insulated cooler compartment for keeping snacks and drinks cool on the course, complete with drainage ports to prevent condensation from dripping into the bag. Expandable, accordion-style side pockets with full-length dividers allow plenty of storage space for all of your extra apparel and gear.
Comfortable, quick-release strap system with hip accessory pocket
Stadium style top has 14 club slots and 3 full length dividers
Cooler pocket with drainage ports and accordion-style side pockets
– Anthony Dawson
Best Overall Golf Stand Bag
Callaway
Available in sport red and varsity royal, the Callaway Golf Capital Stand Bag looks and feels the part of an athletic style bag designed for walking the course. The bag has a dual-durometer design that makes it extra wide to allow space for all of your clubs inside, plus space for your tees, balls, brushes, and towels in the storage pockets. The 9.5-inch oval top gives way to 14 individual slots for your clubs, while the sides feature 10 strategically placed pockets, 8 of which are zippered. One of the pockets is a waterproof fleece-lined pocket designated for stashing your valuables. There's also a full-length apparel pocket with room for a rain jacket and more, and an insulated cooler pocket for drinks and snacks. Other unique features include a tee holder integrated into the top of the bag, an accessible pen sleeve for keeping score, and a handy Velcro patch for attaching your gloves.
9.5 inch oval top offers up 14 slots for club placement and organization
10 strategically placed pockets throughout bag for apparel, gear, and snacks
Pen sleeve, glove patch, and tee holder keep the essentials easily accessible
Lightweight and comfortable with Callaway Max Air cushioning straps
– Anthony Dawson
Best Budget Golf Stand Bag
AmazonBasics
Available in black, red, and navy, the AmazonBasics Carry Golf Bag is perfect for women who prefer walking the course to riding in the cart. The top opening is 8 x 9.5-inches and includes six dividers for storing and organizing all of your clubs in the manner of your choice. The AmazonBasics Carry bag employs the use of 3-stay construction using tough and durable diamond-polyester fabric that prevents the bag from showing signs of wear whether dropped off the back of the cart or carried through a patch of thickets. Five separate and closed pockets provide more than ample storage space for all of your golfing necessities. Included are two large side pockets, one velour interior valuables pocket, one large bottom pocket, and an added side pocket. The bag has a padded double shoulder strap to make lugging all of your clubs a comfortable breeze, while an insulated water bottle sleeve allow you to keep a beverage on hand to stay hydrated on hot days on the course. Other features include a rain hood for keeping your clubs dry, an umbrella holder (for keeping you dry), a towel/glove ring, and an easy-action stand that won't fall over even in strong winds.
3-stay construction with diamond polyester fabric makes the back extremely durable
Features include insulated water bottle pocket, umbrella holder, and rain hood
Five pockets provide plenty of storage space for clothing, accessories, balls, and tees
– Anthony Dawson