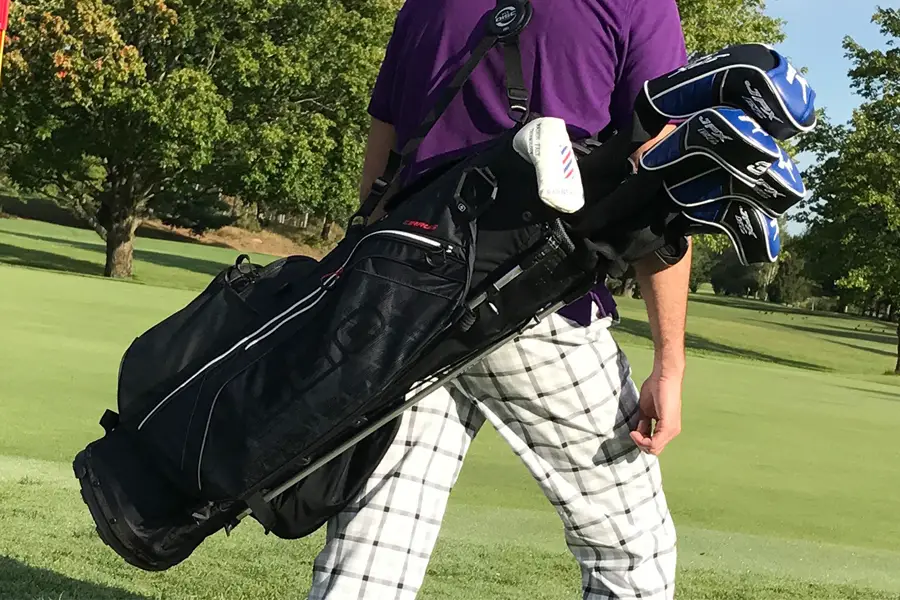 Golf Travel Bag Reviews
Some golfers go to extreme lengths to fulfill their need to play as much golf as possible. This may mean taking a drive to a different state to play a popular course, or going to the lengths of flying across whole continents and oceans to play world-renowned courses. Those that are forced to travel by plane, boat, or bus to get to their golfing destination typically cannot walk onto the vehicle with a carry or cart bag in their hands. More often than not, a travel bag or case is required to fully protect your clubs and gear while in transit. These can either be soft cases with a bit of padding to cover the entirety of your existing golf bag, or a hard-shelled box resembling an instrument case that makes it easy to transport your clubs like a piece of luggage, and also makes it easily identifiable as a set of traveling golf clubs.
Most Popular Golf Travel Bag
Samsonite Golf
The Samsonite Hardside Golf Travel Case is made of a durable plastic in either silver or black finish and is designed for maximum protection of your entire golf bag. The ABS shell is incredibly strong yet surprisingly lightweight and is designed to fully protect your clubs and gear from the rigors of both air and land travel. The dimensions of the case are 54 x 16 x 12-inches, which provides more than enough room for most golf bags with 10.5-inch tops and 48-inch clubs. Inside the bag is a quilted, padded foam cushioning that prevents your clubs and bag from rattling around inside the Hardside case. Also inside the case are internal compression straps to aid in keeping the bag in place while in transit. The case is constructed to allow for a stable upright position, making it easy for airport staff to work with, and a combination of multi-directional spinner wheels and in-line skate wheels make it super easy to push and pull the bag on hard floors. To make traveling with the Hardside case a little easier, two plastic injected handles make it easy to lift and carry the case, while an attached ID tag make it easy to identify, as if it didn't stand out enough already.
Solid ABS shell construction with padded foam interior
Internal compression straps hold the bag in place while in transit
In-line skate and directional roller wheels allow for flawless mobility
– Anthony Dawson
Best Overall Golf Travel Bag
Club Glove XL Tour
Available in all black or neon-accented acid color schemes, the nylon-constructed Club Glove Last Bag XL Tour Pro Golf Travel Bag has everything you need to transport your clubs from home to mass transit to course. A large main compartment makes it easy to fully insert the entirety of your golf bag, zipper it closed, and secure it with three adjustable buckle straps. The Club Glove Last bag uses Structural Load Equalizing Deck, or SLED, technology that makes the bag easy to handle and treats it as a heavy-duty nylon duffle that's resistant to tears and abrasions. Oversized urethane wheels make it easy to roll the Club Glove through the airport and are large enough to take off-road if needed. Two fully padded side compartments allow storage for your golf accessories that cannot otherwise fit in the bag, which are partially secured by one of the buckle straps.
SLED assistance and urethane wheels make handling and maneuverability a breeze
Fully-padded single storage compartment is secured with full length zipper and three adjustable buckle straps
Ample storage space for fully-loaded golf bag and extra clothes
– Anthony Dawson
Best Budget Golf Travel Bag
Club Glove Large Pro
The Club Glove Golf Travel Bag is available in 18 unique colors so you can match it with your other luggage or pick something that will stand out among other luggage on an airport carousel or train station luggage car. The bag accommodates clubs up to 47-inches in length, which is plenty enough to fit most-sized drivers, especially for lady golfers. One thing to feel good about is the entire Club Glove Travel Bag is made in the USA with durable CORDURA fabric. At the base of the bag are two shoe pockets for keeping dirty golf spikes separate from your clubs and other gear, and two bags are included to further isolate them. The Last Bag features a high-impact inline wheelbase for easy mobility, while the integrated two-piece handle make it easy to transport in and out of cars and onto the airport weigh station. The included limited lifetime warranty can be upgraded to Club Glove's "unconditional" lifetime warranty, which seems unnecessary as the Last Bag is already one of the most continuously used bags on the LPGA tour.
18 colors allow for luggage coordination/easy identification
Inline skate wheels make it easy to roll in and out of airports, train, and bus stations
CORDURA fabric construction made 100% in the USA
– Anthony Dawson