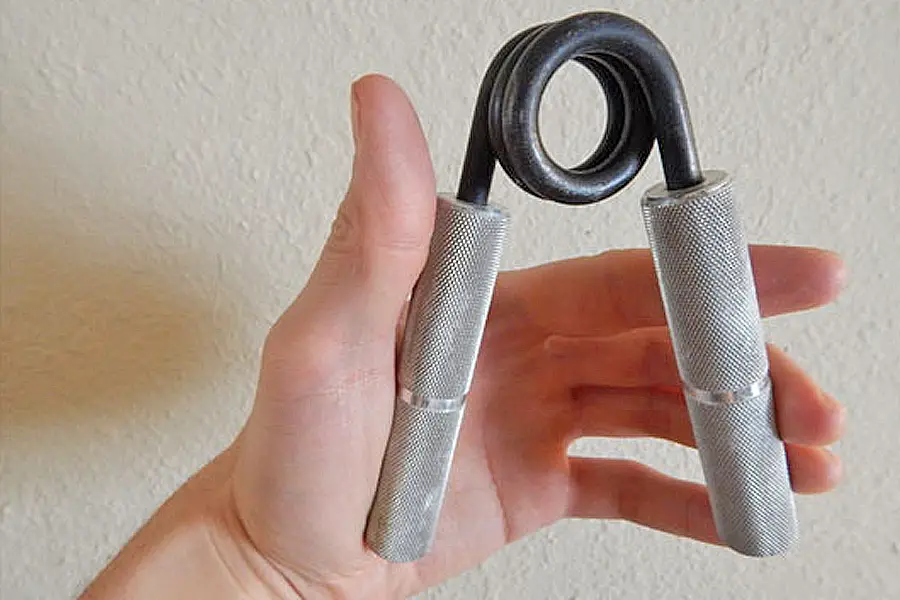 Hand Exerciser Reviews
The human hand has 18 muscles; 9 for opening and spreading the hand and 9 for closing the hand. Just like any other muscle in the body, it is equally important for you to exercise those in the hand. Other reasons that may make you want to consider exercising the hand is if you have previously suffered an injury or some type of trauma. In such a case, you would need to exercise and rehabilitate the hand to restore proper functionality. For whatever reason you may need to exercise your hands, the handiest tool for doing this is a hand exerciser. A hand exerciser is a tool used to exercise hand muscles and is good for strength training as well as improving blood flow. Hand exercisers come in a variety of sizes and designs depending on user preferences as well as functionality requirements. The hand exerciser is a great tool to improve your grip and to improve the overall strength of your hands.
Most Popular Hand Exerciser
GRIP MASTER
This Gripmaster from Prohands is a great tool for improving strength in the forearms, wrists as well as the hand in general. This product is useful for strengthening fingers that may be weaker and allows better fielding, throwing and hitting in various sports. The tool offers a strong tension at 9lbs per finger and uses a patented technology to provide challenges for each finger individually. This is actually the only hand exerciser that offers this. The package comes with a complete program for exercising and strength training the fingers, the Gripmaster is great for climbers, golfers, tennis players and many other activities that place great strain on the hands. This exerciser is for use both on the right hand as well as the left. The exerciser is quite small, in fact pocket sized for easy portability.
The device is made of durable hard plastic material
The exerciser provides for exercise in each finder individually
The product is lightweight and portable
It fits both hands meaning you won't have to buy 2 separate products
The tension provided is more than enough for a serious workout
– Anthony Dawson
Best Overall Hand Exerciser
IronMind
The Captains of Crush hand gripper from Ironmind is a top rated tool for hand training. The gripper is quite good-looking, precise and durable. It features a construction of an alloy of steel and billet aluminum, and has eleven varied strengths for all levels of training. This is a quality Made in the USA product. The Gripper can be used as a standalone or may be used in conjunction with other exercise products. The hand gripper comes with training information that is complete and designed for use by all from professional athletes to the average home user. If you are in need of a hand exerciser this one will be a perfect fit will exceed your expectations.
Quality grips made in the USA that are definitely built to last
The handle offers a solid grip that helps to avoid injury
Great product that delivers results
The varied levels offer beginner through advanced training
The tool is easy to use by all be it amateurs or professionals
– Anthony Dawson
Best Budget Hand Exerciser
Gaiam
The Gaiam kit is a wonderful hand exerciser, not only is it good for hand rehabilitation, it is also good for regular hand exercise. The kit is great for every day strengthening and has 3 color-coded balls that have varied resistance. The kit is good for keeping forearms, hands and fingers strong and in top form. The kit includes an exercise guide that is color-coded and includes 1 soft, 1 medium and 1 hard therapy ball. The product is designed to increase strength, ease tension in the muscles, reduce stress, prevent stiffness and increase flexibility. An important item to note is that you should use the kit when hands are dry and do not strain yourself too much. Also, dry the balls after use.
There is good variety in the level of resistance
The balls are efficient at building strength in the hands evenly
The product is a solid choice for rehabilitation exercises
The balls are easy to handle and are not sticky like other models
The product fits nicely in the hand
– Anthony Dawson
Hand Exerciser Buying Guide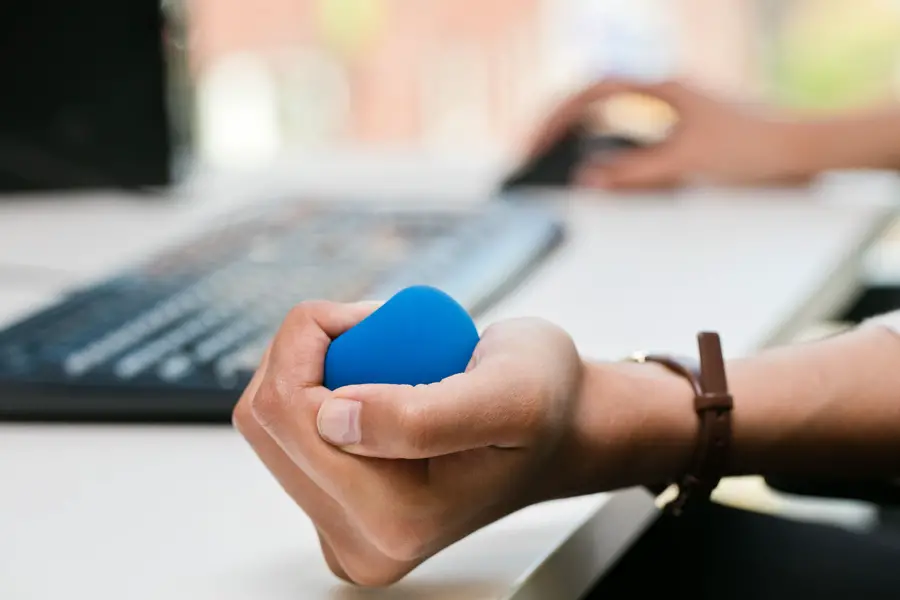 Having a hard time opening that jar of peanut butter?
We use our hands in almost every single task that requires effort (except sleeping!) Simple tasks such as washing dishes, typing, or texting on your mobile involves a lot of gripping and muscles working all at the same time within your hands.
Hand injuries, pain and loss of strength or hand movement is therefore a major concern for a lot of working people and one of the best ways to prevent and improve hand flexibility is by using hand exercisers.
There are numerous toys and new-fangled inventions that appear to be good tools i.e. stress balls, massagers and whatnot, but how do you know which product to buy and use? What really works? Here are some steps that may help you choose the best among the many hand exercisers in the market today:
Need a Hand
First, evaluate what hand issues you are currently experiencing.
There are 9 different muscles at work in your hands for different activities. Strong, balanced, hand muscles are vital for finger, thumb, hand, wrist, carpal tunnel and elbow performance. Knowing what activities affect your hand's mobility will help future injury prevention.
Repetitive Stress Injuries (RSI's) are common in most workplaces where the following activities are normally practiced:  1) aggressive gripping, 2) long periods of gripping without break, 3) gripping with vibration, 4) palm down position while gripping, and 5) small or large tool gripping.
Among those workplaces that have typical RSI's would include: Computer workers, assembly line workers, surgeons, dentists, dental hygienists or dental assistants and dental technicians.
Workers in the fields of carpentry, builders or trades professionals are likewise prone to RSI's, especially those serving as police officers, firefighters, and soldiers, especially those in field artillery units.
Even service employees such as cashiers, clerks, servers, bartenders, hairstylists, barbers and beauticians,massage therapists, athletic trainers and chiropractors are not exempt from RSI's.
Grip-related professionals such as crafts, seamstress and fabric workers are also victims to RSI's.
Mechanics, heavy duty mechanics, auto-body mechanics, truckers and motorcycle drivers can also exhibit RSI's.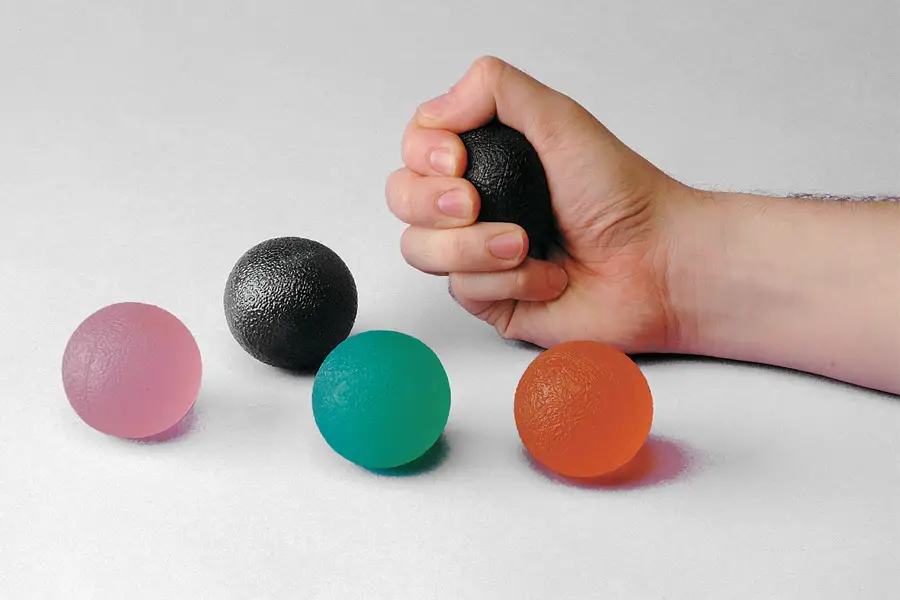 Doctors Orders
Have you been diagnosed with any of the following?
Carpal Tunnel Syndrome – Repetitive flexing& gripping result in tunnel collapse, tunnel pressure and/or inflamed flexor tendons resulting in joint misalignment, muscular imbalance or swelling which precipitates a decrease in the space of the carpal tunnel where the median nerve is affected.
Tennis Elbow or Golfer's Elbow – Overuse or direct injury occurs to the tendon(s) of a finger and/or wrist extensor muscle.
Osteoarthritis or Osteoporosis – (former) Joint inflammation including overuse, traumatic, metabolic & genetic origins. (latter) Decrease bone density resulting from factors such as metabolic factors, sedentary lifestyle, aging, emotional stress and poor diet.
These conditions are just some of the examples where hand exercise is a must. Athletes and sports enthusiasts are also advised to use hand exercisers for flexibility and to prevent injuries. Most common sports include Ball Sports (basketball, volleyball, etc.), Rock climbing, Jet skiing, Windsurfing, Kite-surfing, Gymnastics, Archery, Yachting, Kayaking, Lacrosse, Hockey, Motocross, Martial Arts and even, Bowling.
Even artists and musicians are prone to hand injuries and require some form of hand exercise. Painters, Guitar and String Instrument players, Pianists and Organists, Wind Instrument players (saxophone, trumpet, etc), Drummers and DJ's need to exercise their hands, wrists, forearms and elbows.
Regardless of the cause of your hand problems, what is important is that you consult your doctor or health professional before taking further steps.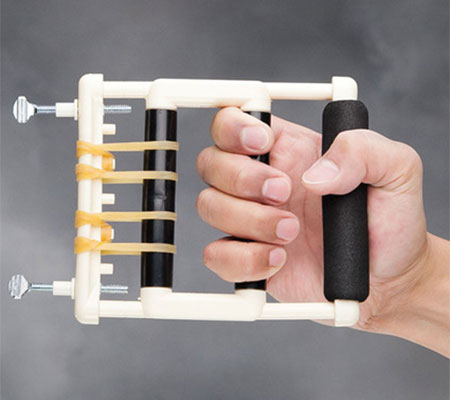 Aim for That Target
Identify your goals to be able to choose the right product among the different hand exercisers available.
With the help of your doctor, now that you know what type of injury to treat, check what strengthening and flexibility options you need to address most.
To Strengthen Your Grip
Use a hand exerciser that covers the motion to close the hand. This type of exerciser wields the tension in the opposite direction when closing the fingers.
Using stress and resistance balls is another option as they are easy to use and convenient to keep on hand so you can exercise whenever you have a chance.
To Strengthen Your Wrists and Forearms
Use a hand exerciser that offers quite a bit of resistance.These tools use a resistance mechanism by way of a metal spring. You can exercise your wrists and forearms with doing reps to help build muscle mass or use the squeeze and then hold motion to facilitate endurance.
To Strengthen Hand Dexterity and Hand Coordination
Use a hand exerciser that boosts the circulation of the blood while acting to relax joints and muscles. Common disorders such as hypertension, arthritis of the fingers and wrists, as well as numbness and trembling of the hands can be prevented and improved through the use of Chinese Health Balls or Baoding Balls.
Baoding balls are made from different light materials to make them easy to carry. They are hollow and made from chrome-plated steel, with most containing a chime within the balls. To use them for exercise, place two Baoding balls on your palms and slowly rotate them clockwise and counter clockwise. Gravity will help you keep on controlling the balls.
To Strengthen Your Fingers
Use a hand exerciser that builds muscle strength in the hands, wrists, fingers and forearms in order to elevate muscle imbalance and prevent injury.  Choose an exerciser that isolates each individual finger and challenges each finger using spring-loaded finger piston technology to improve hand, wrist, and forearm strength.
Exercise your fingertips by pushing each spring individually, exercise your thumb and exercise the lower part of your finger by squeezing like a trigger, or squeezing all the buttons at once to exercise the fingers and forearm.
To Strengthen Your Finger Extensions
Finger extension is often the missing link even in serious grip training. Your grip can only be so strong if your extension is weak. Choose a hand exerciser that addresses full reciprocal muscle group workout for hands through full, natural planes of motion.
These are just some handy tips on making sure you buy the proper tool for your hand issues. The best tool hand exerciser should improve strength, balance, coordination, speed, and blood flow.
What's important is we consult with a professional, choose the proper tool and use it consistently to gain a quicker recovery.