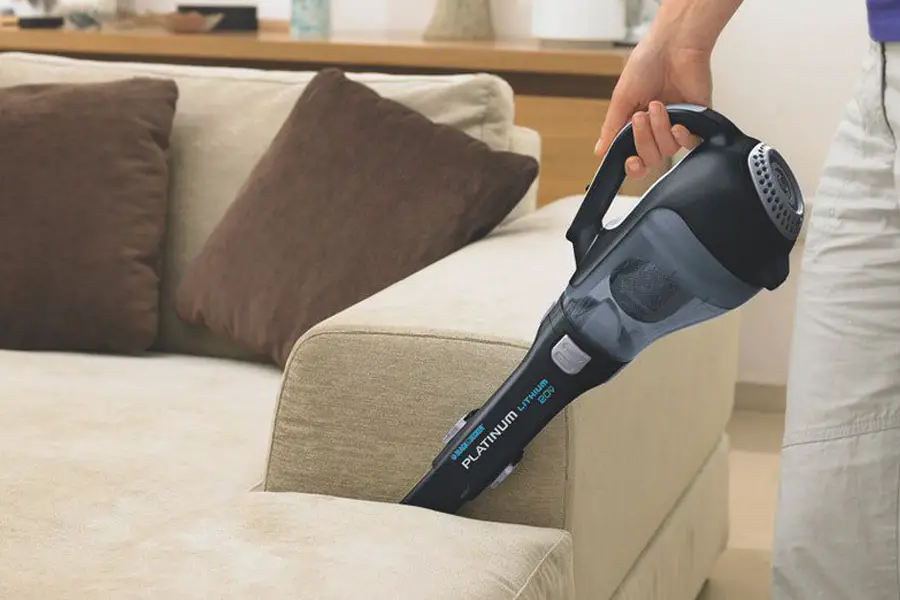 Handheld Vacuum Reviews
Handheld vacuums come in both cordless and corded models. The cordless models are charged and then used anywhere, without needing an outlet, so the battery is a very important feature to cordless models. Corded models tend to have better suction but must be within a few feet of an outlet. Both units are popular with customers because they are compact and great for cleaning up small spills and getting to hard to reach places. Their lightweight compact features make hand held vacuums a great addition to your cleaning arsenal. Having trouble selecting for the many models available on the market? Here are a few that stand out from the crowd with both suction power and performance.
Most Popular Handheld Vacuum
Eureka
The Eureka-EasyClean-Hand-Held-Vacuum-71Bhas 5.5 amps of suction power for small cleaning jobs. This hand held vacuum has 2 motors, one motor to operate the rotating brush and the other motor to operate the suction power. There is a stretch hose attached to the unit, which is three times the length of the unit. This allows you to reach tight spaces and further away, like cleaning dust in ceiling corners. The 25 foot cord allows the unit to reach long distances and wraps around the unit for convenient storage. There is an on board crevice tool for reaching small tight spaces like in between upholstery cushions. The Eureka-EasyClean-Hand-Held-Vacuum-71B also has a riser visor. The plastic visor stays down when completing horizontal jobs and rises when cleaning vertical jobs, like carpeted stairs. The clear Bagless debris bowl is easy to empty and the unit is very compact for easy storage. The Eureka-EasyClean-Hand-Held-Vacuum-71B comes with a 1 year warranty.
5.5 Amp motor: 2 motors one operating the rotating brush and the 2nd for suction
25 foot cord and stretch hose for mobility
Riser Visor which allows for cleaning both horizontal and vertical spaces
Bagless debris bowl that is easy to clean
1 Year Warranty
– Anthony Dawson
Best Overall Handheld Vacuum
Black & Decker
The Black-Decker-BDH2000L 20-Volt Max Lithium Ion Battery Cordless handheld vacuum is a cordless Dustbuster with cyclonic action. The cyclonic action allows the Dustbuster to retain its power and suction longer than a traditional Dustbuster. The Black-Decker-BDH2000L 20-Volt also has a 50% longer reach than most Dustbusters, allowing you to clean hard to reach places. This Dustbuster has a brush and crevice tool which is attached to the unit. No more loosing accessories. Simply flip the brush up and you are ready to use the attachment. The rotating slim nozzle allows for the targeting in tight spaces and getting dirt out from more places. The wide mouth picks up larger items and dirt. The Black-Decker-BDH2000L 20-Volt has cyclonic action and spins dirt away from the filter. This allows the unit to have more suction longer. This lightweight portable unit is perfect for cleaning out the car or used in a garage. The washable dirt bowl and washable filter make for easy clean up and the 3 stage filtration system creates less clogging and a cleaner exhaust.
Cordless with cyclonic action for more suction
50% longer reach with both brush and crevice tools
Rotating nozzle for tight spaces, wide mouth for getting large debris
20 Volt Motor
3 Stage filtration system for less clogging and less exhaust
– Anthony Dawson
Best Budget Handheld Vacuum
Dirt Devil
The Dirt Devil Portable Cordless Wet Dry for Home Pet/Car has an 100 volt motor that creates a lot of power in this high performing motor. The patented nozzle pivots in every direction, making it easier to get dirt from tight spaces. Whether you are cleaning out crevices found in your car or cleaning off an air filter from the ceiling, this Dustbuster will get to where you need. The cyclonic action provides better suction. This action pulls dirt and debris away from the filter allowing the motor to remain stronger for a longer period of time. The 3 stage filtration system includes a pre-filter and a filter near the exhaust, preventing dirt and debris from escaping out of the back of the Dustbuster. The long nozzle allows you to pick up dirt in tight spaces and the wide mouth allows for the pick-up of larger items and debris. Both the filter and the dust bowl are washable making cleanup easy. The on board brush and crevice tool are attached to the unit so there is no worry about keeping up with parts that could get lost.
100 Volt Motor
Cordless with cyclonic action for more suction
Filter and Dust Bowl are removable and washable for easy clean up
Patented Pivot nozzle for tight spaces, wide mouth for getting large debris
3 Stage filtration system for less clogging and less exhaust
Has a built-in LED light, a great helper for dark places cleaning and night cleaning
– Anthony Dawson
Handheld Vacuum Buying Guide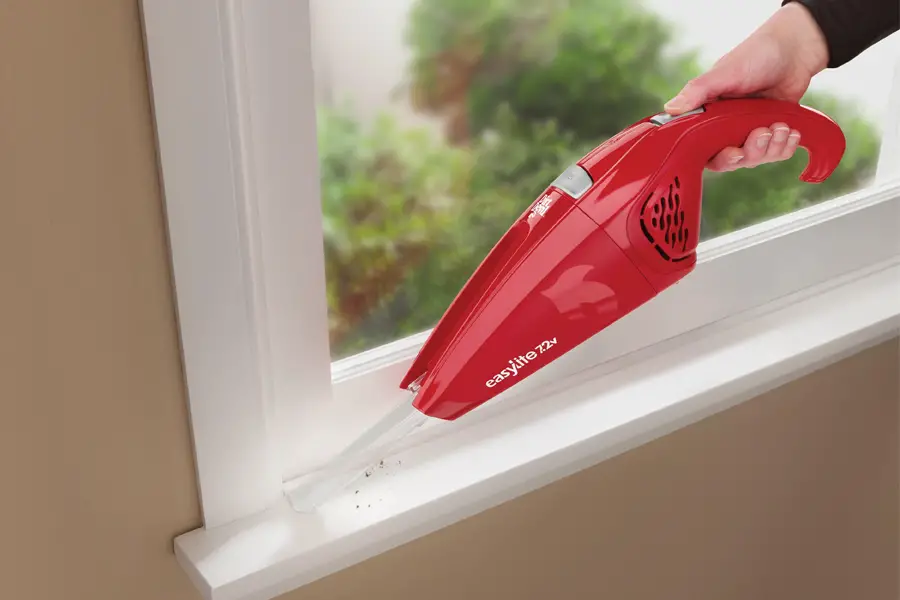 Handheld vacuum cleaners can access areas and corners that large, regular-sized vacuum cleaners cannot reach. These small-type vacuum cleaners have different nozzles and detachable hoses that could suck dirt and dust in virtually every area of your house. These are the top reasons why many homeowners prefer a handheld vacuum over the larger ones.
Not all handheld vacuum cleaners have the same quality. Nevertheless, there are general similarities in every device. When buying your handheld vacuum, it is important to familiarize yourself with the basic features
Corded/Cordless Handheld Vacuum
Portability and ease of use is not the only difference between corded and cordless handheld vacuum cleaners. While cordless vacuum cleaners are easier to use without the limitations of a power cord, they compromise power and torque.
It is better to think of power cords in relation to the power source. Corded handheld vacuum cleaners get their power from an AC source, which can deliver higher amounts of electricity. These higher amounts of power would convert to greater performance and better torque.
Cordless handheld vacuum cleaners, on the other hand, depend on internal power sources. Nevertheless, this doesn't mean that cordless handheld vacuum cleaners are automatically inferior from corded ones. New cordless, compact models have improved power capabilities that can rival that of corded ones, but with an additional cost.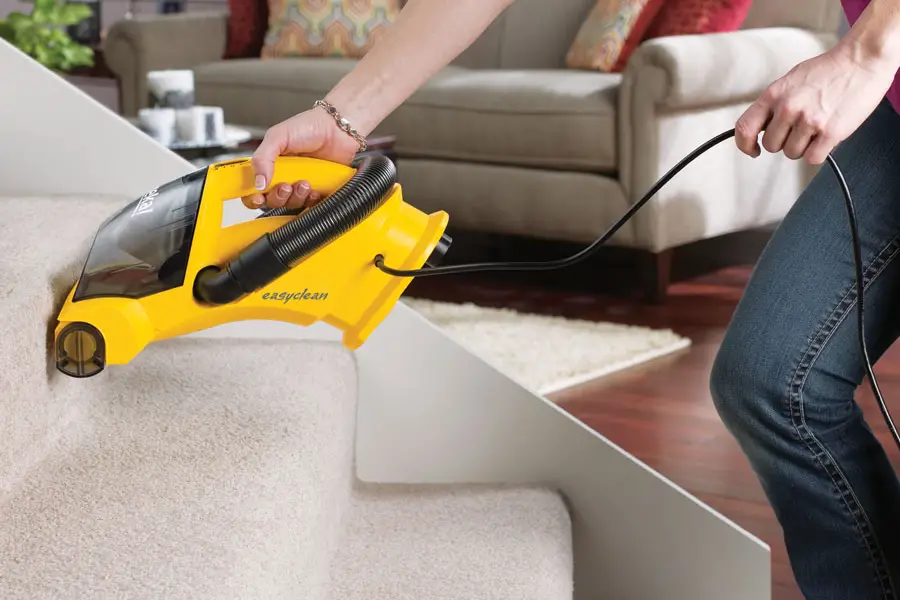 Features to Consider
Weight
Handheld vacuum cleaners tend to be a little heavy. The vacuuming mechanism and a motor are both packed inside, so that the machine could work as a handheld device. Some would say that bigger and heavier handheld vacuum cleaners have superior power, because power is proportionate to the size of the machine. While this is true in some cases, it doesn't mean that you should endure the burden of a heavy handheld vacuum cleaner on your arms and shoulders.
Many handheld vacuum cleaners are especially designed to have minimal weight. Manufacturers can change the material of the outer case to reduce the weight of the machine. Some handheld vacuum cleaners are also designed with comfortable handles so that your hands still feel comfortable after a long day's worth of housekeeping. A heavy motor and better power is good, but keep sure that you wouldn't get too tired by simply picking up your handheld vacuum cleaner.
Vacuum Battery and Power Performance
If you decide to buy a cordless version, make sure that the battery performance of your handheld vacuum cleaner is excellent. It is important to have a long lasting or replaceable battery pack, so that you will be able to use your handheld vacuum for a long time, in the long run. Some handheld vacuum cleaners end up in the trash after only several months because of poor batteries.
Also, make sure that your cordless vacuum cleaner doesn't take too long to charge. Some batteries charge up for half an hour, but they end up performing for only several minutes.
Power performance is also a quality greatly affected by battery performance. There tends to be a compromise between the two. Sometimes, shorter battery life means greater power capabilities for your handheld vacuum.
Great power performance tends to drain batteries faster, while long-lasting batteries signify less power. Therefore, it is important to check the power and wattage specifications of your handheld vacuum to make sure that it performs according to your needs.
Vacuum Cleaning Capacity
Product designs affect the cleaning capacity of handheld vacuum cleaners. Larger designs make room for a larger dirt bag, which will allow you to suck up more dirt and dust before having to clean or empty the device. However, the product design or cleaning capacity will also affect the weight of your vacuum cleaner as well as its power.
If you regularly use your handheld vacuum cleaner, you wouldn't need a very large cleaning capacity. You can have a vacuum cleaner with a lightweight design but less power capabilities. However, if you are always up for heavy-duty cleaning, you must consider the cleaning capacity of your handheld vacuum above all else. Make sure that it is built for heavy duty cleaning.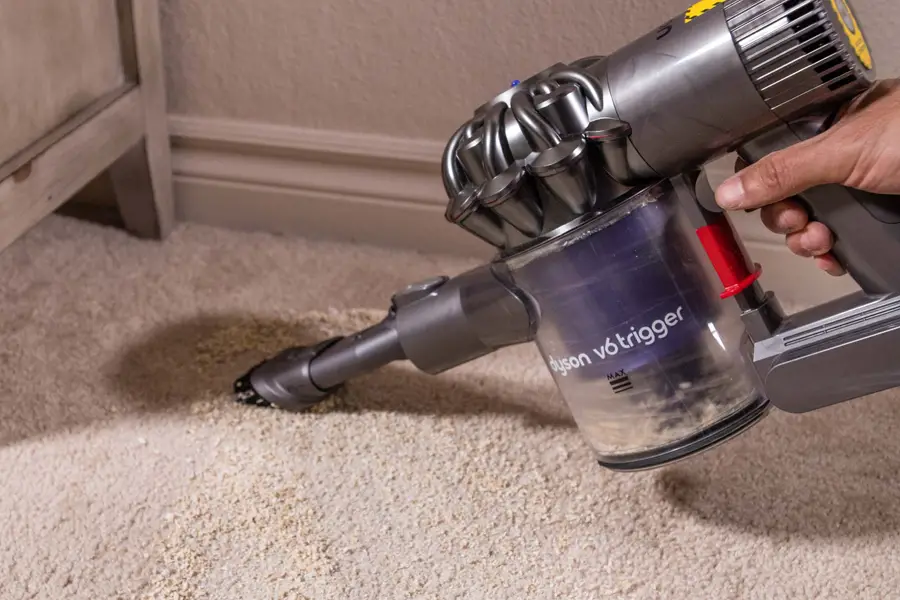 Accessories
Handheld vacuum cleaners often come in a package. As mentioned earlier, they must have several detachable nozzles and hoses to make sure that they are able to perform the job that they were designed to do – clean hard-to-reach areas. If you're going to purchase a handheld vacuum, it is very important to check for attachments, tools, and wands that come with the device.
Warranty seal
Compared to full-sized vacuum cleaners, handheld designs do not tend to last several years. The compact design tends to make the vacuum mechanism and the motor more fragile and vulnerable to damage.
However, this is not supposed to justify handheld vacuum cleaners that fail to last within at least a couple of years. When buying a brand new unit, always check for the warranty seal of your device, because chances are high that you would need to take advantage of it.
Price of Handheld Vacuum
How much money are you willing to spend? There are countless varieties and designs for handheld vacuum cleaners, and the prices are as diverse, too, ranging from below 20$ to grater than 100$. The prices depend on the quality of features that have been listed above, but it doesn't immediately mean that you are advised to buy the expensive ones.
Check the features first before looking at the price tag. Expensive handheld vacuum cleaners are not automatically the top-performing ones, or the ones that fit the needs of your household. Some homeowners are already more than happy with their 50$ handheld vacuum cleaners and are able to keep their homes clean and dust-free. On the other hand, some consumers aren't content with a 120$ handheld vacuum, complaining that they are too heavy and take too long to charge.
Conclusion
Before you buy a handheld vacuum cleaner, you must know first the needs and demands of household. If you already know the kind of work that needs to be done, it will be easier to look for the handheld vacuum cleaner that could do the job effectively.