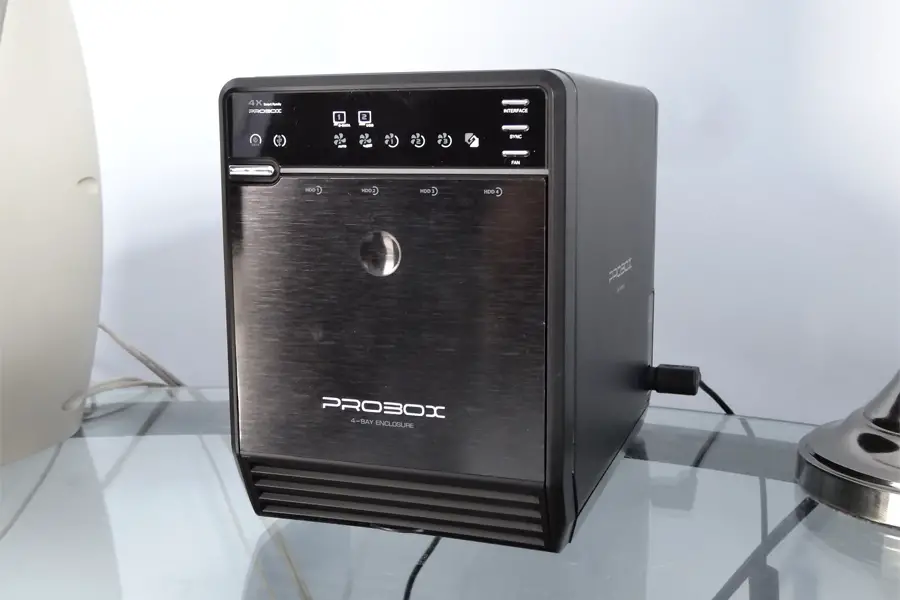 Hard Drive Enclosure Reviews
Think of your hard drive enclosure as the house under whose roof all your most precious data and memories will live. You want this house to be secure, efficient, and well-protected. Perhaps the disk inside the enclosure is what gets all the attention, because it has all the data saved on it, but the enclosure does a tremendous amount of work and finding the right one takes a little research. The enclosure is also the "brain" behind backup, because it has a built in mechanism that allows it to communicate between multiple computers. Most enclosures are pretty affordable, and they all have similar features, but dependent upon what kind of computer you have, it's good to see what's out there before you purchase, so you can find the right fit. Also, it should be noted that the appearance of your enclosure is something you should consider! After all, it will most likely sit on your desk, and you'll spend countless hours staring at it.
Most Popular Hard Drive Enclosure
Mediasonic ProBox HF2
This 4 bay hard drive from Mediasonic is ridiculously fast. You'll have two interfaces to choose from: eSATA 6 GB and USB 3.0, which are both incredibly speedy and efficient. Setting up the hardware can be done in a flash, and most customers find the Mediasonic to be quite intuitive and simple. It also should be noted that the design of this enclosure is quite pleasing to the eye. The blue indicator lights are a nice color, and the case is sleek and attractive. The power cable offers a little added security because it can bend up to 90 degrees without being damaged. Right out of the box you have everything you need to get starting, including all the cables and power adaptors, and there's no need to set up with any software. The instructions inside the box are quite thorough and easy to follow for first time users. The power supply is fantastic, and offers enough juice to keep all 4 drives going, even when they're all active at the same time.
Up to 4 TB per drive
Switch from eSATA to USB 3.0 at the touch of a button
Smart Fan function with Thermal-Sensor
Incredibly fast transfer rates
– Anthony Dawson
Best Overall Hard Drive Enclosure
Mediasonic ProBox
This enclosure from Mediasonic has some added features that make it stand out from other enclosures. Not only can it instantly convert 3.5″ SATA hard disk drives to external drives in a snap, it also has a fantastic portable plug-and-play solution. The ProBox works great with either Mac or PC, and has lightning fast transfer speeds of up to 5 Gbps with USB 3.0. Keep in mind that this enclosure can also work with USB 2.0. Like the other enclosures, you can enjoy a fantastic additional amount of storage space for all your photos, music, books, movies and more. Inside the box you're provided with everything you need to get the Mediasonic working on your own, and a handy instruction manual that is quite clear and easy to follow. All in all, the price is on-point, and the Mediasonic is a great choice when you're on the market for a rock-solid, efficient hard drive enclosure.
Speedy USB 3.0 connectivity
Maximum transfer rates up to 5 Gbps
Compatible with USB 2.0
Plug and Play feature
Supports all 3.5″ SATA drives
– Anthony Dawson
Best Budget Hard Drive Enclosure
Rosewill
The Rosewill external enclosure allows you to convert any 3.5″ SATA hard drive into a lovely-looking external drive. It's very handy for storing all your documents and data, like photos, movies, and music, free-ing up extra space on your already taxed computer. Powered by USB 2.0, you get some great speed with the Rosewill, but perhaps not up to par with the 3.0 models. That being said, the enclosure is elegant in design, with its aluminum construction, slim, glossy appearance, and pretty LED lights. With the USB 2.0 connectivity, you can reach speeds of up to 480Mbps. Because of the light aluminum casing, you're getting excellent temperature control and heat dissipation. The body of the enclosure is also tough and durable, protecting your data from any physical mishaps. All in all, the Rosewill is great if you're looking for a fast USB 2.0 device that has ample storage space, and a cool, pleasant design.
Great portability thanks to a light, small design
Heat dissipation from aluminum construction
Transfer rates up to 480 Mbps
LED lights
Compatible with both USB 2.0 and 1.1
– Anthony Dawson
Hard Drive Enclosure Buying Guide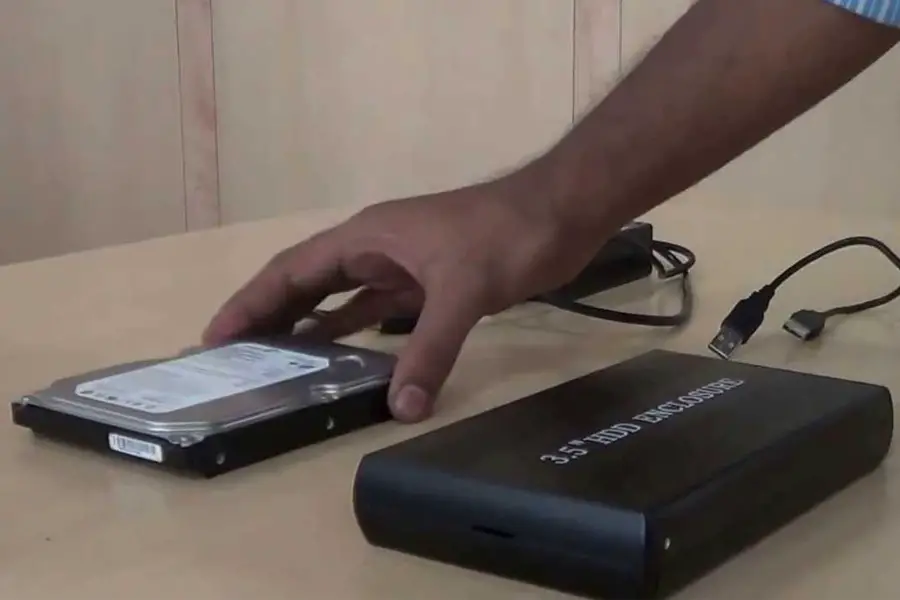 A hard drive enclosure is a great idea if you have an internal hard drive that you wish to convert to an external hard drive. External hard drives provide the benefits of being both portable and a handy backup system for your data. External drives also allow you to free up memory on your primary drive. All of these are great reasons to invest in an inexpensive hard drive enclosure to convert your existing drive to an external one.
Benefits of Hard Drive Enclosures
Below, you'll find some of the advantages of using a hard drive enclosure.
Additional storage space for laptops, small form factor computers, and sealed embedded systems like digital video recorders.
Having a backup source with its own power supply prevents data loss from computer crashes.
Easier data transfer between non-networked computers.
Faster recovery of data from a broken or damaged computer.
Your sensitive data is protected from viruses that may attack your computer.
The ability to add more drives to a server or workstation than the chassis can accommodate.
The ability to reuse hardware designed for internal use, lowering the cost of removable storage.
Features of External Hard Drive Enclosures
When shopping for a hard drive enclosure, you'll have a few features to consider. The most important things you'll need to take into account are the materials the enclosure is made from, the size of the enclosure, the hard drive enclosure connection type, and the interface.
Materials
Hard drive enclosures are made from a variety of materials. They can be made from plastic, aluminum, metal, or a combination of all of these materials.
Interface
There are two different interfaces available with hard drive enclosures: IDE and SATA. SATA hard drives are more commonly used than IDE drives. SATA based drives offer better performance in terms of transfer rates, memory cache size, and RPMs (Rotations Per Minute). If you have a SATA based hard drive, you'll need to use a SATA hard drive enclosure.
Connection Type
External hard drives generally connect to computers through either USB 2.0, USB 1.1, or FireWire. Before buying an external hard drive case, check the types of ports you have available and consider the system you're using – Windows or Mac. If you have both types of ports available, you'll have a choice of which connectivity to use. USB has a higher theoretical bandwidth than FireWire, but transfer speeds between the two are comparable. Some Mac Pro machines have a slightly faster FireWire interface. A few external hard drives offer this connector. USB is the most cost-efficient choice, as this type of connector is offered by most computer systems.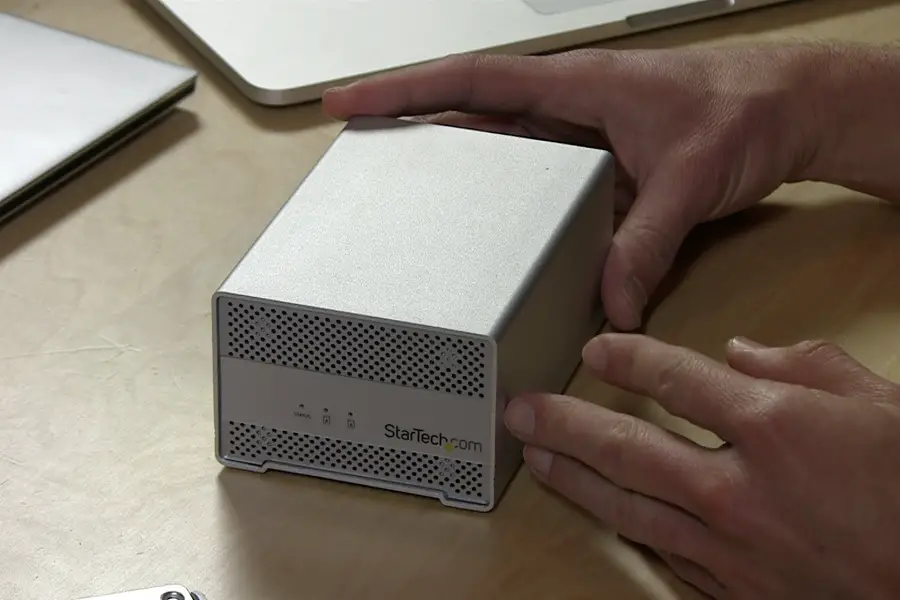 Number of Bays
When shopping for a hard drive enclosure, you'll [find single and dual bay varieties. Dual layer enclosures can accommodate two internal hard drives instead of only one. This is a handy feature for people who use their computer heavily and require a lot of portable disk space. For most users, a dual layer enclosure isn't necessary, as you can easily buy a second hard drive enclosure if you need more space in the future.
Hard Drive Enclosure Size
Computer hard drives come in two physical sizes: 3.5 inches, which are used in desktops, and 2.5 inch hard drives, which are used in laptop computers. Larger hard drives are faster and less expensive, than their smaller counterparts, but the small hard drives are necessary for notebooks. The size of your hard drive will determine what size hard drive enclosure you'll need.
How to Use an External Hard Drive Enclosure
Once you've purchased the right hard drive enclosure for you based on the above information, it'll be time to assemble your assemble your enclosure. Follow the basic steps below to assemble your drive and enclosure.
If you have several connection types available to you – USB, FireWire, etc., decide which type of connection you'll use.
Open up the enclosure and place the internal hard drive inside it.
Connect any necessary cables. Begin by connecting the hard drive enclosure to the hard drive. Next, connect the power source or cable for the enclosure. Finally, connect the enclosure to your computer.
That's all there is to it! External hard drive enclosures are meant to transform your existing internal hard drive in to a plug-and-play external device. You can now use it whenever your system is running and enjoy the benefits of having a removable storage drive.
If you've been looking for a less expensive option to purchasing an additional external drive, consider converting your existing drive with the help of a hard drive enclosure. With the added portability and backup safety net they provide, hard drive cases are well worth the investment.