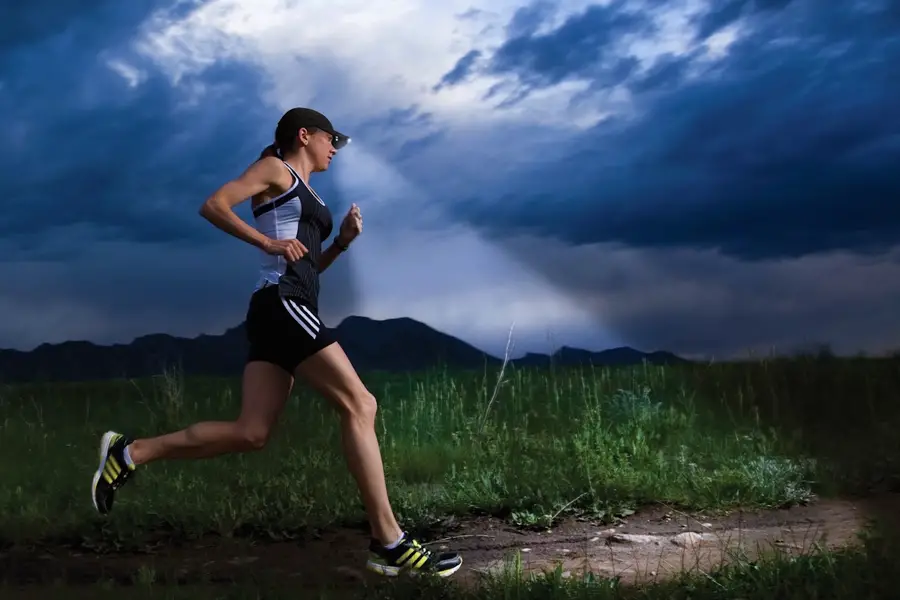 Headlamp Reviews
Headlamps are an awesome tool for the night adventurer in us all. Whether you run trails at night, bike home from the night shift, journey through caves, fish after dark, or just want a headlamp in case of an emergency late night tire-change, having one of these things is handy, safe, and just a lot of fun. There are some features out there that you want to look for that will make your shopping experience so much easier. For instance, look at the lumens. This tells you how intensely light is coming from the source. But you also need to look past the lumens. Almost more important is how long your lamp is going to shine light on the subject. Not everyone is going to need a blazing 350 lumens, so look for other qualities like beam distance, battery life, size and weight of the headlamp, and of course price. No one wants to wear a heavy, power-guzzling lamp on their head, so efficiency is key.
Most Popular Headlamp
Elmchee
The Elmchee is a wonderfully innovative lamp that provides new features that make it stand out from the pack. Not only does it have extreme luminosity, it also allows you to focus the light, and the swiveling head makes it easy to switch the light's direction. There's a universal fastener included that allows you to use the lamp in all sorts of ways, and expands the possibilities for application of the Elmchee. There are three straps on the headlamp, and this extra strap provides so much more stability, which gives you the freedom to really move around without worrying about the lamp falling out of place. The portable lights are made by Leatherman Tool Group, and their brightness and long-life make them some of the best. The vibrance of this light is praised by consumers and has been compared to daylight in its intensity. They run on AA batteries, but if you're looking to save a little money then you can use rechargeable.
2 energy modes include Energy Saving and Constant Current
Multiple beam positions thanks to Advanced Focus System
8 different light output modes to choose from
Universal fastener for customizable mounting
– Anthony Dawson
Best Overall Headlamp
Black Diamond
When you need some bright light, even in harsh conditions, you can definitely rely on Black Diamond's Storm headlamp to get you through the darkness. With its 100 lumens of brightness, you'll feel safe and secure on the trail, in the woods, on a boat, or wherever the night takes you. You get to choose between strobe mode, distance mode, and proximity mode, so that you can best shed a light on the subject. There's also the awesome added feature of having two red LEDs to preserve your night vision. Just another wonderful innovation that really makes this headlamp stand out. When the lamp is stored in your pack it automatically goes into lock mode, so there's no unnecessary drain on your battery. The design is sleek and lightweight, and comfortable to wear on your head for hours. It runs on 4 AAA batteries for up to 200 hours of powerful LED light.
High-quality pleather headset
Completely waterproof with an IPX 7 rating
TripePower LED and 2 SinglePower LEDs for 100 lumens
Three-level power meter
– Anthony Dawson
Best Budget Headlamp
Foxelli
This is a newer version of the praised Foxelli, and it provides innovations such as the new red filter that makes the light discrete and helps to preserve night vision. The ultra-light 3-LED headlamp comes with 3 different brightness settings, as well as a blinking mode, so you choose the quality of light that you need. The battery life will give you vibrant light for up to 150 hours on its regular setting. The water resistant, comfortable design makes this headlamp super easy to wear. An adjustable elastic headband ensures that it fits on all sizes, and has an extra secure fit. 3 AAA batteries come included with your purchase. Not only is this model from Foxelli comfortable, affordable, and dependable, but it's also backed by a 3 year guarantee. This is a fantastic purchase if your'e someone who loves to camp, hike, or just venture out into the darkness. Light enough for night-runners to wear on their heads. No trip into the night is complete without these.
LED headlamp from Foxelli
Included 3 AAA batteries
Three lighting modes plus red filter
3 year warranty
– Anthony Dawson
Headlamp Buying Guide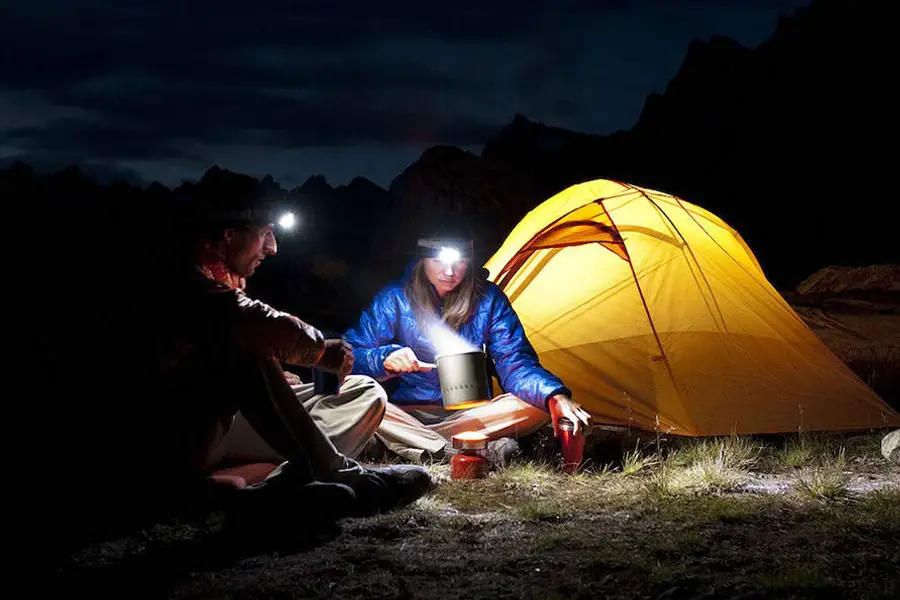 Headlamps inspire images of coal miners coming in out of the mine shaft with their lights on top of their hard hats. The truth of the matter is that these versatile devices have multiple uses. Sportsmen will have an easier time outdoors with the use of a headlamp. These convenient lighting solutions can light up dark areas while leaving the hands free for completing other tasks. They have many different applications and uses. If you are considering purchasing a headlamp, there are several different types and sizes available. This guide is designed to provide you with the information about head lamps, to help you to more quickly and easily find the best headlamp that will be suited to your needs.
Figure Out What You Will Use the Headlamp For
In determining what kind of headlamp you should purchase, first think about what you will be using it for. It is helpful for lighting up dark areas and can help you find your way or locate lost items. For example, if you drop your car keys in the dark, a headlamp can help by lighting up the area while leaving your hands free for searching and other activities. Sportsmen can use it to set up or tear down their camps in the dark, for investigating strange noises or for locating gear left in their rigs at night time.
People who explore caves, caverns and other dark areas increase their safety by using headlamps to light their way. The use of this device can be a lifesaver in certain situations. They are much handier than a regular flashlight because they allow you to illuminate an area without taking up space in the hands, allowing more freedom to complete other tasks.
Another consideration to be made prior to selecting a headlamp is how large of an area you will need to have illuminated. This will help you to determine the brightness that is needed in the headlamp and the size you require. Dimmer lights are good for small areas, but will not have a good range for seeing objects that are outside of the illuminated area.
Different Types of Headlamps
There are a variety of headlamp bulbs which affect the intensity and type of light that is generated. LED, incandescent and halogen are the three main types of headlamp bulbs and each have their own characteristics and intended uses.
Incandescent
Incandescent bulbs require a lot of energy when they are first igniting. They tend to drain battery sources fairly quickly. The beam strength is also lower than the other options. The one benefit is that they are the least expensive option and the light that is produced is warm which is useful in some situations.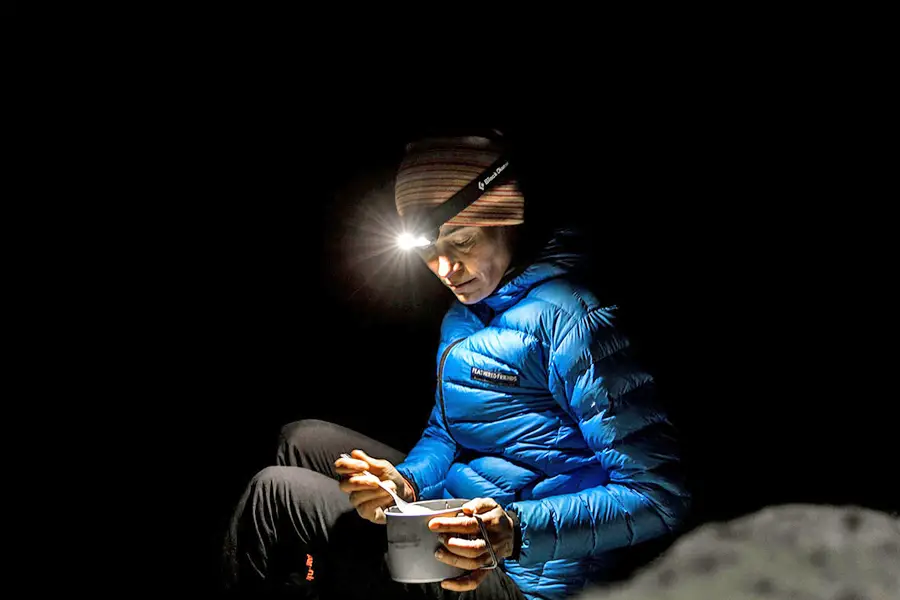 Halogen Bulbs
Halogen bulbs use the incandescent format and infuse halogen which makes the bulb burn at a high temperature and increases the glow and the strength of the beam. In other words, they produce a brighter light than standard incandescent bulbs. The main drawback to using halogen bulbs is that they burn much hotter and can become a burn or fire hazard. The bulbs also have a tendency to explode when touched. Halogen bulbs are higher in price than incandescent bulbs. Although one of the most dangerous bulbs, they produce a superior beam of light that travels further in larger areas for better lighting.
LED Headlamps
LED light bulbs do not burn at a hot temperature which makes them far safer than halogen or even incandescent. If you touch them, they will neither burn you nor explode in your face. They are becoming a more popular choice for campers as the bulbs have a higher longevity and they are more reliable than either incandescent or halogen. In addition to this, they do not use as much battery power. The downside to LED bulbs is that the coloring of the light is tinted with a bluish hue. They have a tendency to distort colors so if this creates a problem with any tasks that you are trying to accomplish, they may not be the best choice.
LED lights are intended for short range illumination as the light that they generate does not reach as far into the distance as a halogen bulb.
What to Look For In a Headlamp
If you are using the headlamp outdoors in inclement weather such as snow, rain, drizzle or are exposed to other types of moisture such as high humidity, you'll want to make sure that the headlamp you purchase includes the added feature of being weather proof and moisture resistant. Look for the type that provides the type and intensity of light that matches the activities you will be conducting. Take into consideration the range, brightness and battery life that are needed from your headlamp and proceed accordingly.
Conclusion
There is a little more than meets the eye when it comes to selecting the best headlamp to meet your illumination needs. First, you must determine what the lamp will be used for. Obviously, lighting dark areas, but how large the area is will tell you how bright the light should be. You'll need to decide which type of bulb will work best for the activities you'll be involved in. The choices are incandescent, halogen and LED. Each has their own pros and cons. Halogen produces the brightest light that travels the furthest distance, but it can present a fire and burn hazard and must be handled with care. Incandescent uses a high amount of battery power and LED does not travel as far. Taking all of these things into consideration will help you to choose the option that will best suit your needs.
Regardless of the kinds of activities that you are planning on doing, there is a headlamp out there that is designed to meet your specific needs. By following the tips and recommendations for use, as found in this product guide, you will be able to determine which style, type and features that will be the most beneficial for you.