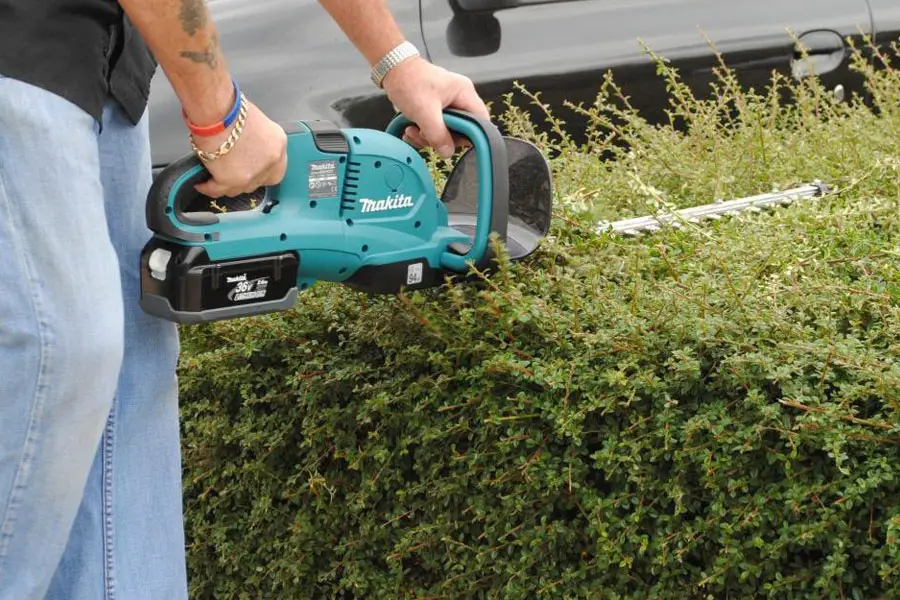 Hedge Trimmer Reviews
Electric hedge trimmers save time and give your yard a professional look. It is quick and easy to take out an electric hedge trimmer and have every bush and hedge in the yard trimmed and looking great in no time flat. Compare that to the hours of labor it takes to complete the job manually. If you are a homeowner a hedge trimmer will help to take your landscaping to the next level without the labor.There are many different hedge trimmers on the market today of varying qualities. It is important to purchase a hedge trimmer that will function efficiently from season to season. We have taken the best available trimmer included corded and cordless models that will get the job done leaving your yard looking amazing every time.
Most Popular Hedge Trimmer
BLACK+DECKER HH2455
The Black-Decker-HH2455-HedgeHog-Rotating hedge trimmer is a corded trimmer which was created with an in line motor design which results in improved balance making the trimmer lightweight and easy to use for precision cutting. The 24 inch pre-hardened stainless blades are great for cutting taller and wider hedges and shrubs. This creates an extended reach and even cutting even with vertical and sculpting jobs. The Black-Decker-HH2455-HedgeHog has a rotating handle that can rotate 180 degrees and lock in 5 different positions. This provides safer and easier cutting at angles. The shearing dual action blades will cut branches up to ¾" thick and provide 40% less vibration than standard hedge trimmers. It also provides for faster and more efficient trimming. There is a soft rubber grip which provides comfort when using the trimmer. The 3.3 amp motor provides enough power to complete any household job. The Black-Decker-HH2455-HedgeHog-Rotating hedge trimmer has a lock on switch which allows for continuous trimming. It also has a lock off switch which prevents accidental starts. The Black-Decker-HH2455-HedgeHog-Rotating trimmer comes with a 2 year warranty.
24" Inch stainless dual action cutting blade
Rotating handle up to 180 degrees with 5 positions
3.3 Amp motor with inline motor design for balanced weight
Lock on and Lock off safety switches
2 Year Warranty
– Anthony Dawson
Best Overall Hedge Trimmer
BLACK+DECKER LHT2436
The Black-Decker-LHT2436-24-Inch-Cordless hedge trimmer has a 24" dual action cutting blade to cut bushes and shrubs of all sizes and shapes. It cuts branches up to ¾" thick and has a comfort hand grip for easier movement and more precision cutting. The Black-Decker-LHT2436-24-Inch-Cordless hedge trimmer comes with a 36 volt lithium battery which provides a fast charge and longer run time. The unit charges in about an hour and provides up to 6000 square feet of hedge trimming ability on one charge. The lithium ion batteries hold a charge five times longer than the NiCAD batteries and last twice as long before needed replacement. The lithium batteries are also interchangeable with other Black and Decker cordless products. The exclusive power drive transmission provides less vibration and more power allowing you to trim twice as many hedges without interruption from the trimmer. The Black-Decker-LHT2436-24-Inch-Cordless hedge trimmer comes with a 2 year limited warranty.
24" Inch dual action cutting blade
Cuts branches up to ¾" thick
36V Lithium Ion battery for longer run time
Charges in 1 Hour and cuts 6000 square feet of hedges
2 Year Warranty
– Anthony Dawson
Best Budget Hedge Trimmer
BLACK+DECKER LHT2240CFF
The Black-Decker-LHT2240CFF-Cordless hedge trimmer has a 22" inch dual action blade and a 20 Volt MAX lithium-ion battery. The 22" blade creates a blade long enough to trim hedges around the house creating a professional look. The lightweight unit makes it easy to cut both vertical and horizontal trimming. The Lithium batteries are tested to run twice as long as similar volt NiCAD batteries. The lithium batteries charge in about an hour and will trim up to 3000 square feet of hedges and bushes. The dual action blades provide 40% less vibration than similar brands. The Black-Decker-LHT2240CFF-Cordless hedge trimmer will cut branches up to ¾" thick and provide professional looking results in half the time of standard trimmers. The comfortable hand grip provides great control and precision cutting. The Black-Decker-LHT2240CFF-Cordless trimmer comes with a 2 year warranty, which includes the battery. If you are looking for a lightweight trimmer that will get the job done, give the Black and Decker LHT2220 a try.
22" Inch dual action cutting blade with 40% less vibration
Cuts branches up to ¾" thick
20V Lithium Ion battery for longer run time
Battery Charges in 1 Hour and cuts 3000 square feet of hedges per charge
2 Year Warranty
– Anthony Dawson
Hedge Trimmer Buying Guide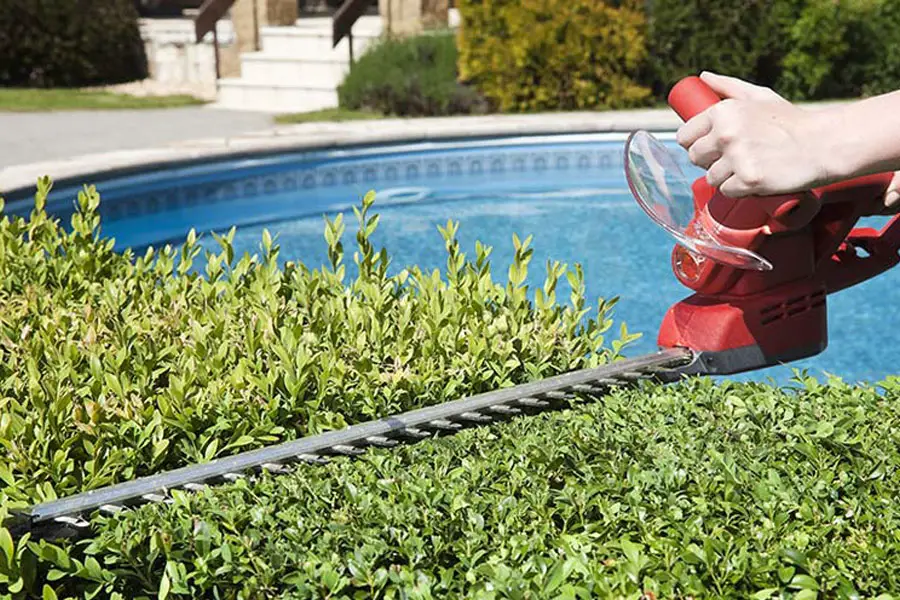 5 Step Buying Guide for Hedge Trimmer
Instead of concrete walls or wooden fences on your lawns, a perfect line of hedges are really a refreshing sight. It can even be an attraction right in front of your home. You can have it trimmed to create mazes and different topiaries. Hedges really make your front/back yards, and gardens really look beautiful. But then, to maintain its beauty, these bushes need regular grooming and trimming. A regular clipper would do the job, but it would definitely not make it easy for you, especially if you have tall and long lines of hedges. It is best to use a hedge trimmer because it's easier and more convenient to use. It makes the work done faster and so it saves you a lot of time. Here's your 5-step guide in buying a new hedge trimmer: Know the different type of hedge trimmers and how it works, Identify the best blade for the hedge trimmer, Choose the length, weight, and size that would work for you, what safety features should you be looking for, and lastly, know how much money you'll have to spend. Details for your buying guides are below.
Type/Power Source
There usually are three types of hedge trimmers. It's now up to you which of these three you would pick.
Petrol/Gasoline Hedge Trimmer

Best to use in landscaping and large areas of trimming jobs. Since its power source is fuel, this type is cordless and portable. This is the most powerful type. It cuts hedges the fastest and gives the cleanest trim. It's also safe to use even on wet hedges because, it doesn't use electricity. However, this type is the heaviest, most expensive, noisiest, and it requires you to mix gas and oil in its tank because it has a 2-cycle engine. But over-all, this gives the best trimming capabilities.

Electric/Corded Hedge Trimmer

Best for small to medium sized hedge area. Commonly used by homeowners. This is the lightest in weight, smallest in size, and cheapest in price. It is the easiest to operate, and does not create much noise. It also has powerful cutting capabilities but not like the gasoline models. Since it's corded, your work is limited on the distance of reach from your power source to your hedges. It would also be difficult to go around bushes because of the cord.

Battery-operated/Cordless Hedge Trimmer

These type has the quality of portability and convenience. It is the quietest among all types. It is best for small area and light hedges. Since its battery operated, it definitely is energy saving. However, you have to make sure you have spare batteries to use.
Blade
The blade to use would depend on the skill level of the user. Beginners usually use single sided blades because it is safer to use. Double-sided blades are for people who have more skills in handling hedge trimmers. This type of blades also helps make work faster because it cuts in both directions. This also provides a cleaner finish on your trims. Also consider the length of the blade. The longer the blade the faster you cut hedges, because the length of the blade is also the length of hedge you are able to cut in one sweep. However, consider that the longer the blade, the more difficult it is to handle the hedge trimmer. The tooth spacing of the blade will let you know how thick and large of a branch it can cut. The wider the tooth gap is the more capable it is in cutting thicker branches. Blades with small tooth spacing are for light and thin hedges, and the wider tooth spacing is for thick and heavy hedges.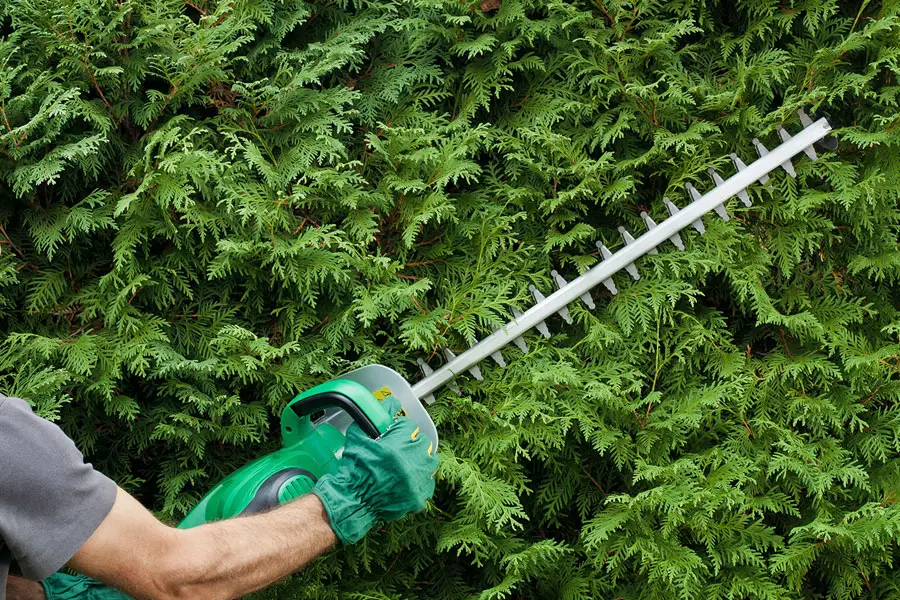 Length/Weight/Size
Trimming your hedges would require a lot of your energy and time, so always consider the length of blade to use. The length of your blade adds to the weight of the hedge trimmer itself. The manageability of handling the trimmer is affected by the blades' length. The shorter the blade the easier it is to use. You will be carrying the trimmer all throughout, so make sure to consider the weight that you can handle. Electric trimmers weigh the least at 5.5 – 12lbs. Battery trimmers weigh a bit heavier at 5-12.5lbs, and the gas trimmers weigh heaviest at 10-16lbs. Among all three types of trimmers, smallest in size would be the electric trimmers and the most bulky is the gas model. It's also best for you to know your own height, weight and size to know which type of trimmer you can actually handle.
Safety Features
It is very important what safety features are available, especially that hedge trimmers require caution and utmost carefulness because there are dangers that can happen in one mistake of handling it. Some safety features to consider is the availability of: Auto power shutdown buttons, Hands/arms shield, blade locks, cable holder for electric trimmers, and others. All these safety features is a must, however, it is also important to follow all safety precautions, follow safety instructions, and always have an alert mind.
Price
After checking on all the type of hedge trimmers, the blades you can use, the safety features it offers, you can go ahead and compare the prices and weigh your options. What hedge trimmer can give you what you want and need at the price that you can afford? The price would range from $40 to $100 for electric hedge trimmers. The battery operated would cost a bit higher with price ranging from 45$ to $200. And the most expensive gas trimmer has a price from $200 to $600. Please consider though that these prices are subject to change and are just approximations. The price may also show some difference between generic brands and those branded names. The price is a big factor in your buying decision but it's also important to look at quality, durability, and warranty. Make sure to get what your money's worth.
Following these five step guideline in buying your hedge trimmer should help you in choosing the right item to buy. Your decision making is now easier by simply having some knowledge on these five basic things; Types/Power source, types of blades, length/weight/size, safety features, and price.