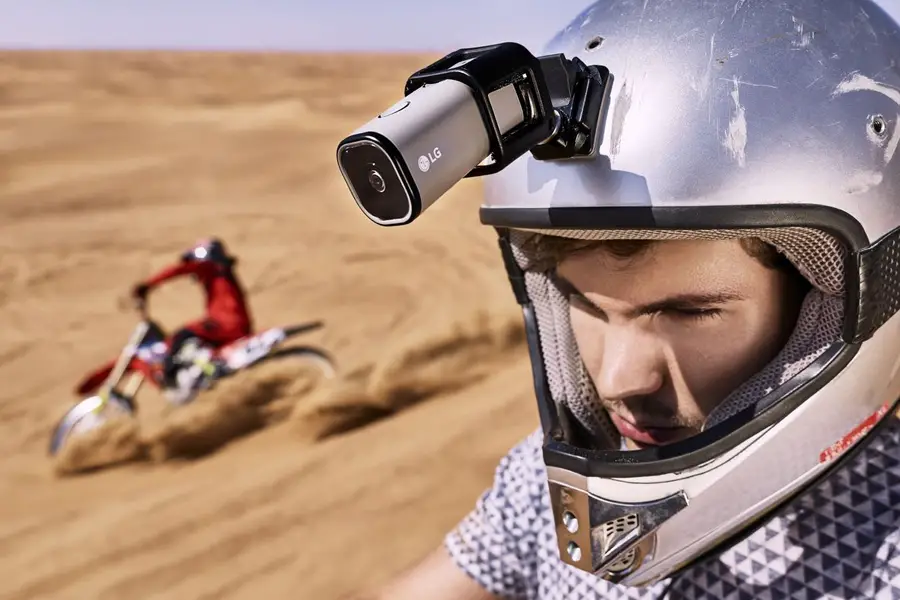 Helmet Camera Reviews
There are some amazing things that can be captured by a helmet camera. If you love to bike, rock climb, go kayaking, or simply want to capture any adventure without needing to use your hands, a helmet camera is definitely the way to go. There are a number of different models out there, and many of them are a little on the expensive side. Be sure to keep in mind what kind of mounting you'll need. Many of these cameras require you to purchase a specific kind of helmet and mount, and that will effect your decision about what camera you choose. Also, consider what kind of sport you'll be using the camera for. For instance, if the sport involves water, then you'll certainly need to purchase a camera that is waterproof. If you intend to ski with your camera, then you need to find a model that can easily withstand the cold. Lastly, the price of the camera is important. It's essential that you steer clear of the cheaper versions because often they just can't stand up against the rigor of sports.
Most Popular Helmet Camera
Drift Innovation
This lightweight camera from Drift provides HD quality in a compact design. In fact, the whole camera only weights 4.23 ounces and is 4.1 inches long. With a size that small, there's really no end to all the adventures you can take this little device on. It also has an array of stunning features that makes it one of the best performers on the market. There are so many mounting options as well, and that means that it's possible to attach the camera to whatever part of your body gives you the best angle. There's also a handy goggle strap included. The playback LCD screen allows you to see exactly what you filmed, and the rotating lens allows you to get the exact angle you need for the best footage. The internal power pack accessory is just an added bonus, and provides up to 20 hours of continuous recording time without needing to be recharged. The camera comes with a remote control, goggle mount, curved and flat adhesive mounts, as well as clip, strap, battery, and USB cable.
Professional HD quality camera
Incredibly lightweight and compact in design
LCD playback screen
External power pack for up to 20 hours of recording
– Anthony Dawson
Best Overall Helmet Camera
GoPro
GoPro has created one of the best performing wearable 4K HD video and 12MP photo cameras you can imagine. Imagine capturing your heroic sporting journeys with full HD clarity. The HERO also has the versatility to offer three different HD resolutions, allowing you to capture the very best angle for the given moment. It is also perfect for taking 5 photos at a time, automatically. You can also set it to take a single shot if you're looking to take a more traditional picture. The HERO has undergone some "obsessive audio engineering" so all you hear is the sound of your skis in the snow, and not the howling of the wind. In fact, GoPro has put more effort into improving their sound system than any other company. They're seriously devoted to making hands-free filming an enjoyable, state-of-the-art experience. The camera is completely shock proof and waterproof, so you know that it will stand the test of time.
Professional-quality HD video up to 4K
An amazing 60 frames per second with smooth resolution
Slow motion playback
Easy to edit videos on iMovie and Windows Movie Maker
– Anthony Dawson
Best Budget Helmet Camera
AKASO
AKASO has not only revolutionized camera helmets, they also happened to have invented the first one. Since they created that first revolutionary camera, they're kept the innovations coming, and that makes them one of the most trusted names in action cameras. The incredible wide-angle lens and simple one button operation make this camera a no-brainer. The dual laser alignment makes for tremendously smooth footage with quality and precision that you can't beat. The easy-to-use software is great to not only film, but also play and share with all your friends. AKASO's online social community is a wonderful place to upload your videos and see what other adventures are being captured by other Contour users. The body is totally water resistant, so this is a great choice if you're looking for a helmet camera to capture your next white water rafting experience or kayaking journey. All in all, Contour has set all kinds of industry standards that the competition are always trying to catch up to.
Professional HD recording with up to 4K
Durable internal microphone
20 megapixel sensor
Tough aluminum and fiberglass body
– Anthony Dawson
Helmet Camera Buying Guide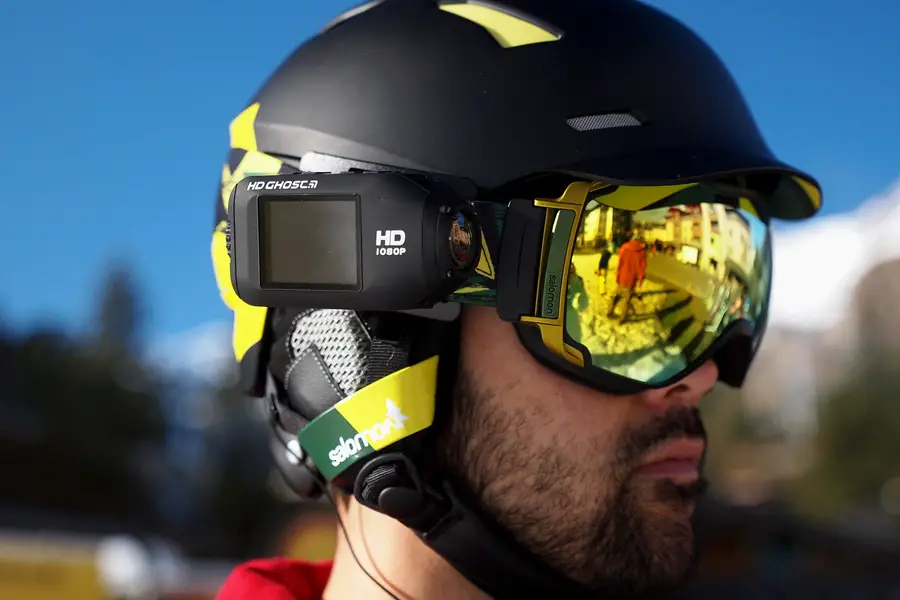 Hands free helmet camera technology has come a long way. The resolution, ease of use, reasonable prices, and fun make personal action cameras within reach for outdoor enthusiasts and adrenaline junkies of all types. Since new models keep arriving, helmet camera reviews are outdated almost as soon as they are made. Here's a helmet camera guide to show the way.
The activities that you want to do, and how you will watch your videos, are the keys to choosing the best helmet camera for your lifestyle.
Activities speak to features and accessories. For snow sports, waterproofing and temperature range will be important. Skydivers may be interested in altimeter triggers, while SCUBA divers will want to explore waterproofing depth and light sensitivity. Shock resistance for a rough landing or fireproof for rescue workers are also demands that will filter out unsuitable choices.
Features of Helmet Camera
Body Shape
Most wearable cameras come in a cylinder (AKA lipstick or bullet) or rectangle shape. Others, less suited to helmet use, come in a button or other shapes with much less support for accessories.
A rectangle is more likely to have a built in viewer so you can see your videos immediately. Most are LCD, a few are touchscreens.
If you will be wearing gloves during use, be sure the controls are manageable.
Resolution
The quality of your video is a combination of resolution and frame speed.
A resolution under 720×480 will be noticeably pixelated. Helmet camera HD videos must have a 16:9 aspect ratio, specific frame rates, and resolutions of 1080 or 720 horizontal lines to be official. Quad HD, ultra HD, or cinema quality 4k resolutions are available, too.
Frames per second (fps) is the number of sequential pictures used to create one second of video. This can vary within a camera, depending on the resolution selected. The normal playback rate is 30 fps.
60/30 fps means it films at 30 fps then shows each frame twice. Real 60 fps is noticeably smoother and 60 fps, or more, allows for slow motion. 120 fps is for super slow-mo.
Resolution for still images is measured separately, in megapixels.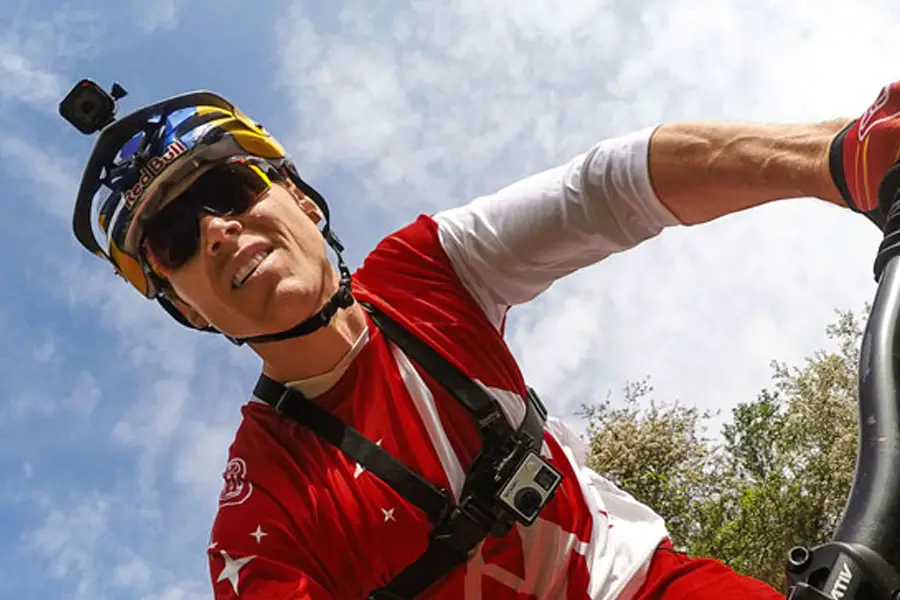 Lens
The field of view, AKA degree of angle, measures how much of the environment around you is captured. More is better, until it's not. For example, a "fisheye" lens of 170° can cause barrel distortion, where lines are no longer straight.
Some models can handle extremely low light conditions and a few even have infrared or other night vision technologies. Others have troubles balancing the darks and brights of a normal scene, and should be avoided.
Digital zoom and image rotation is only available in some models.
Sound
A helmet camera external microphone accessory or a built-in microphone can provide sound for your video. Pay attention to mono versus stereo recording.
Helmet Camera Battery Life
Most batteries are rechargeable and often last one to ten hours. Battery life tends to be exaggerated more than any other specification, so test your device under a variety of conditions before an event that can't be recreated.
Removable backup batteries are a good idea until you get a clear idea on how long your device will keep running. Temperature also has a significant impact on battery life.
Weight
Camera weight tends to be just a matter of ounces. Often the batteries and accessories weigh more than the actual device.
Data Storage And Output
Because internal memory would be too limiting, a removable data card or micro memory stick (sold separately, in most cases) is usually supported to record your videos. Check the class and maximum size of the removable memory.
You also need to get the movie out of your camera. Aside from the memory card or stick, options include different sizes of USB or HDMI cable, and WiFi.
Remote Functions and Preview
Some models allow for remote monitoring or control using wrist-mounted equipment or smartphone. This can be quite handy.
If, however, the camera is on your helmet and you are looking at a remote monitor or controller then that's filmed, too. This works better if you either mount the camera away from your head or if a friend manages the remote. If someone else is helping, check the connectivity distance specifications.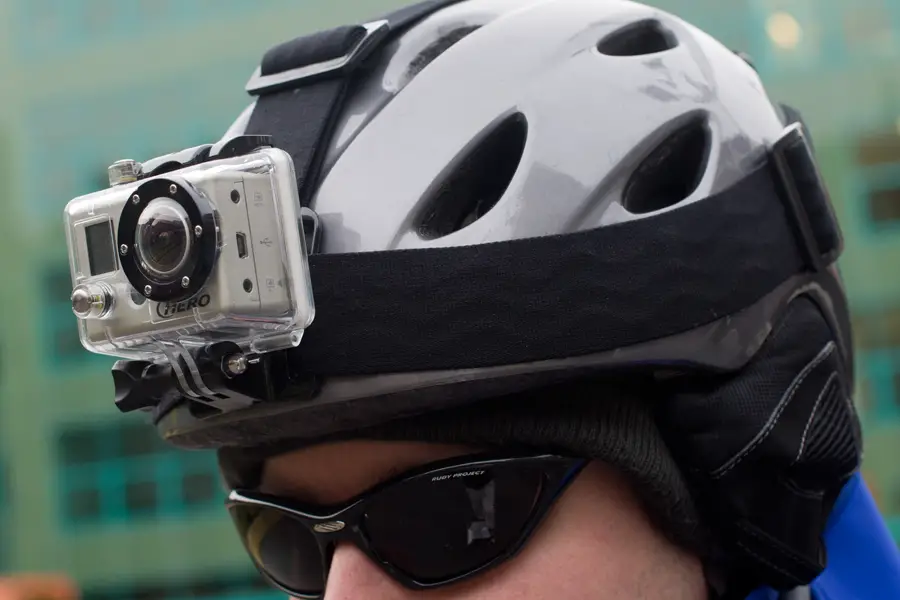 Helmet Camera Mount
Attaching your camera to a helmet comes with a variety of choices to meet every activity. Compatibility with common brands is the way to maximize your possibilities.
Helmet camera side mount or top mount is an early choice to make. Protect against things that might routinely brush your helmet like branches or rope. Mounting location is also a factor based on your point of view, for example, on the left side in a counterclockwise race.
Mounting hardware to fit various helmets comes in a truly dazzling array of options based on straps, clips, double-faced tape, or some combination thereof.
If you take the occasional break from activities requiring a helmet, alternative mounting options are virtually unlimited. Shop for a shoulder, wrist, foot, chest, or even pet harness. Action camera mounts also span nearly every mode of transportation from air to sea, including cars and bikes.
Protection From The Elements
The majority of cameras are at least somewhat weather resistant, but most will need a case for protection. If you expect to be near water, snow or rain, it's a good investment. Be certain one is available for your style of camera and maximum water depth before the camera purchase.
Be advised, the sealed environment will reduce your sound quality and limit accessories that plug in to your camera.
Helmet Camera Options
Helmet camera kits can be augmented with any number of accessories, but some upgrades like an altimeter only come built-in.
A helmet camera stabilizer can either be software that minimizes the appearance of shaking or an actual accessory like a helmet camera gimbal that manages physical position.
If built-in, helmet camera GPS telemetry can track your location and speed. This is great for sports where your finish location may be variable due to currents, or for safety in case of an accident.