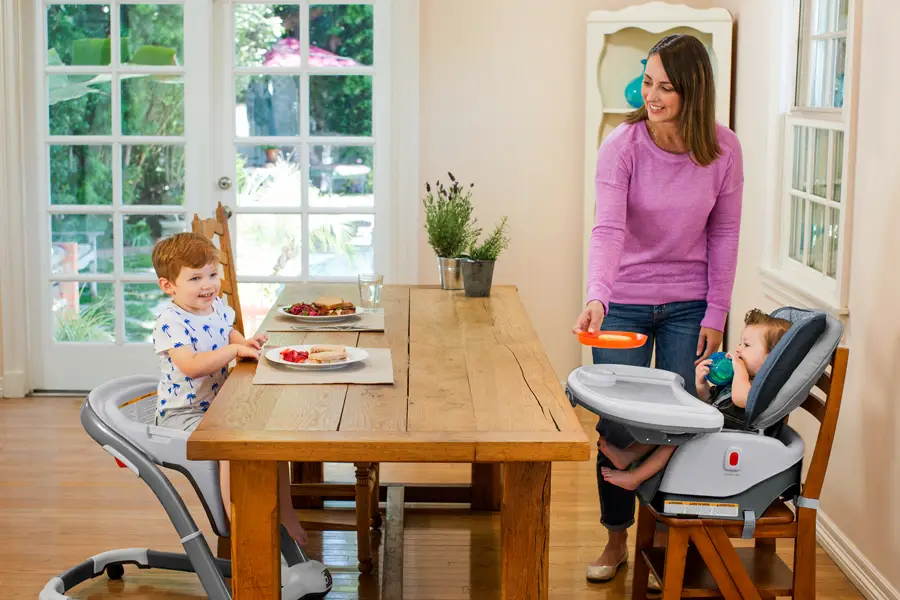 High Chair Reviews
Finding the right high chair is essential for keeping your child safe and comfortable at mealtime or anytime. Putting your baby in a secure seat is a great way to keep your hands free while also keeping your baby entertained and safe. Many high chairs feature toys and other added features that help your child to have fun. Be sure to find a design that has a removable tray that is easy to clean in the dishwasher. You'll also want to find a design that fits with your decor and tastes. Many high chairs are meant to be portable and easy to break down and take on the go. Find something that is convertible, so it's easy to take the seat with you and adjust it to your baby's size. In fact, finding a high chair that has many height adjustments ensures that your high chair will fit perfectly at any size table. There are some seats that are very expensive out there, so first decide what your budget is going to be and purchase a high chair that fits that price.
Most Popular High Chair
Cosco
This 2-in-1 high chair booster from Cosco comes with a charming Little Hoot design that kids really love. If you're a busy mom or dad, you want to find a safe and fun place for your child to be while your'e getting things done around the house, and that's where this wonderful high chair comes into place. This is literally two products in one, and is incredibly adjustable, as all Cosco products are. The 3-position reclining seat is remarkably comfortable for your baby, while the removable seat cushion is easy to clean. There is also convenient leg storage built into the high chair so you can keep all the Cosco toys and features in one unit. The security harness ensures that your child will be safe at all times, and the Little Hoot fashion comes in a pleasing chocolate brown color, with pale blue and cream owls perching on whimsical branches. There's also a solid brown and fine blue tile pattern.
Convenient 2-in-1 high chair and booster
Easy to clean and maintain
Keeps baby comfortable with 3 reclining positions
Security harness
Charming Little Hoot owl design
– Anthony Dawson
Best Overall High Chair
Graco 6-in-1 High Chair
There's nothing more fundamental than finding the right high chair for your baby, and this design from Graco is a fantastic choice for its versatility and style. Graco understands that your child grows up quickly and that's why it has four different modes that make it easy to adjust to your child's growing size. There are 6 different height positions to choose from, as well as 3 comfortable recline levels. You'll always get the right fit with this chair, and it will work no matter what height your table is. Let your high chair grow with your child, from infant, to toddler, and finally to 'big kid'. Help your child to always comfortably enjoy their meal, and make your life easier with the easy-to-clean seat. This chair is also incredibly portable, so it's easy to carry on the go and throw in the car. The sophisticated style is what we've all come to expect from Graco, and the neutral colors fit in with any decor. The embossed textures and comfy fabrics also help to bring comfort to your baby.
Fully adjustable with 6 different height settings
A high chair that grows with your child
Neutral colors that fit with any decor
Sophisticated design
3 different comfortable recline positions
– Anthony Dawson
Best Budget High Chair
OXO
This great high chair from OXO is easy to keep clean, and helps to keep your child entertained while you're preparing a meal. Not only is this chair comfortable but it's also fun, with its rainforest design which gives your child a number of things to play with. Simply snap the fun toy onto the high chair tray, and your baby will have delightful rainforest animals to keep them company. Enjoy special features such as one-handed tray removal, five different height adjustments, and a dishwasher safe insert tray. Large buttons are comfortable and intuitive for easy, tool-free high chair assembly and adjustments. The tray is incredibly easy to clean, as is the seat cover of the high chair. The lights and brightly covered activities bring the mystery of the rainforest to your child, and help to reinforce visual skills.
Charming rainforest design comes with toys and lights
Removable and washable cover and tray
5 height adjustments keep your child comfortable
3 levels of reclining adjustability grows
Maximum Weight: 45 lbs
– Anthony Dawson