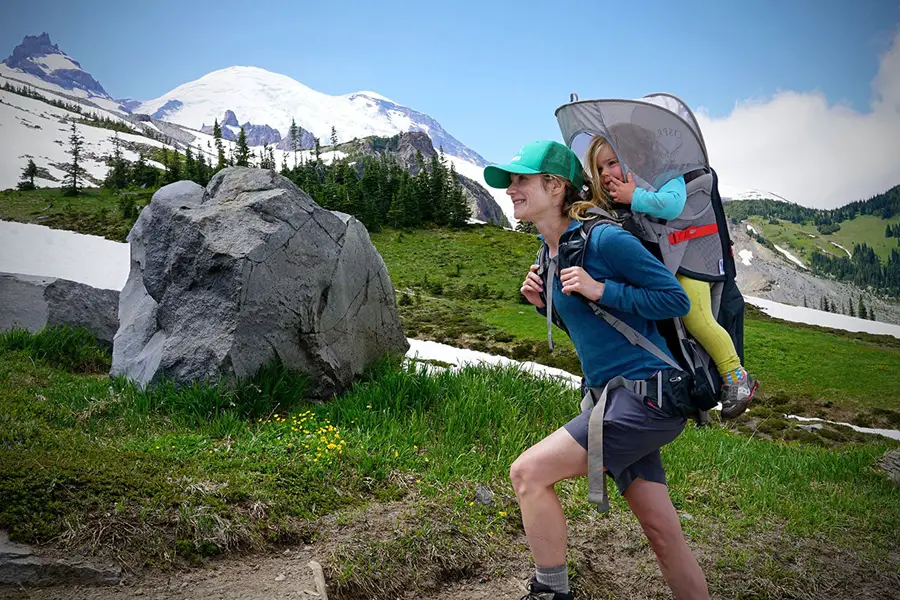 Hiking Baby Carrier Reviews
For active, adventure-loving parents, a backpack baby carrier is great gear for those nature trail hikes and outdoor trips when you want your kids in tow. Backpack carriers are perfect to navigate around when children are already old enough to sit on their own and already have full neck and head control. This can be typically used when the baby is about 6 months and beyond, although there are some types of baby carriers that come with full neck and head support. In which case, these can be used for babies as young as 3 months, with a doctor's approval. Most baby carriers for hiking are constructed with an aluminium alloy frame or aluminium and are designed to distribute baby's weight along the back, hipsand shoulders instead of just the neck and shoulders. When shopping for a baby carrier for hiking, it is generally recommended to choose one that comes with a padded hip belt for superior comfort. If possible, you will also want one with a built-in stand, which makes it easier to mount or load the baby in.
Most Popular Hiking Baby Carrier
Kelty
The Journey PerfectFIT Elite Child Carrier offers a premium frame carrier that is specifically designed to offer optimum comfort and safety for you and your child. Featuring an easy access suspension system that can be adjusted for comfort, it can present a perfect fit for mom and dad.
The carrier is designed with a 5-point harness to ensure your tot stays in place and leg secure straps for ample support. Ergonomically designed for optimum comfort, the carrier comes with a torso adjustment located at the hips and not at the shoulders so your child is strategically positioned lower.
Other convenient features include a diaper changing pad, a zip-off day pack along with a hydration compartment, all of which can prove to be very convenient during backcountry excursions. The carrier weighs 7 pounds.
Highly versatile backpack baby carrier can be used for hiking, shopping and even gardening
Offers lots of storage space
Comes with a detachable bag that can be used for various purpose
Comfortable design and easy to use
Comes with webbing on belt area, which can be used to hold mobile phone
– Anthony Dawson
Best Overall Hiking Baby Carrier
Osprey
Made with sturdy polyester construction, the Osprey Packs Poco is designed with a 5-point harness to provide sturdy support and protection for your little child. It also comes with an adjustable suspension system, padded seat that can be adjusted and sun hood to keep off the harsh sun rays.
Designed for active wear, this modern-day baby carrier is designed with a diaper changing pad, a zip-off day pack, an underseat storage system as well as a hydration ready compartment.
The adjustable waist belt can be adjusted to fit torso between 15 to 19 inches. This ensures great comfort for parents especially during long hikes. In addition, the aluminium frame is lightweight yet extremely sturdy.
Well-thought off ergonomic design
Easy to adjust harness for maximum comfort
Solid, durable construction
Good weight distribution, easy to balance
Ample storage space compartment for personal effects
– Anthony Dawson
Best Budget Hiking Baby Carrier
ClevrPlus Cross Country
A versatile and reasonably priced child carrier, ClevrPlus Cross Country came up with one that offers superb ventilation to complement its exceptionally sturdy frame. Featuring a revised carrier system, this one is also equipped with ultra comfortable waist belts, all designed to provide maximum comfort for both child and parent.
This child carrier is constructed with a 5-point safety harness and a soft headrest specifically designed to take into account the child's proportions. For enhanced visibility during limited light conditions, this one features a reflective loop.
For personal effects and baby accessories, the carrier also comes with a large storage pocket with zipper and an external mesh compartment that allows easy access to maps, caps or water bottles.Total weight of this carrier is 5 pounds and 5 ounces.
Great weight distribution and can be adjusted for enhanced comfort
Comes with seat height that can be adjusted as the baby grows
Features a sun shade that offers great protection for babies
Compact, lightweight and can be easily stowed away inside the vehicle
Offers good value at reasonable price
– Anthony Dawson
Hiking Baby Carrier Buying Guide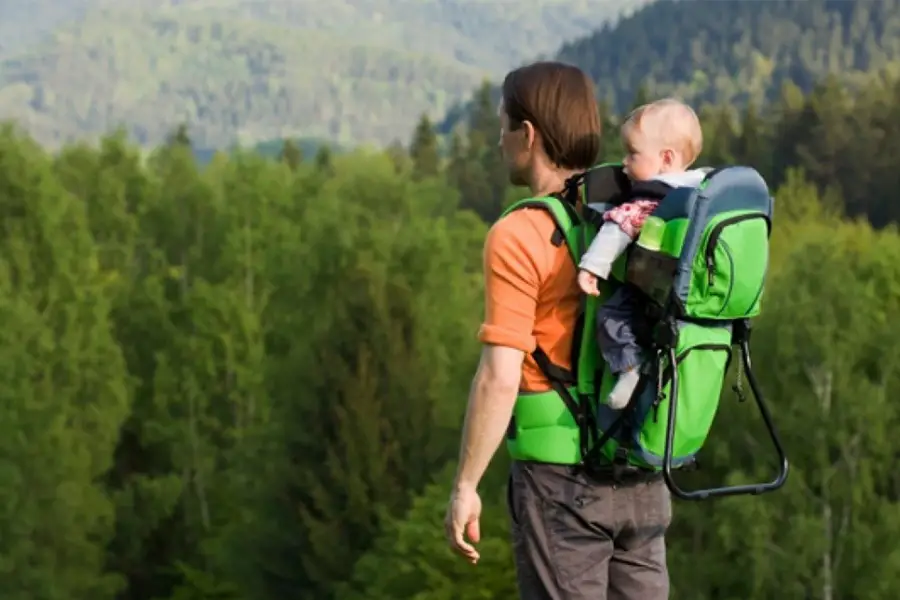 There's nothing like the great outdoors. When a new member of the family arrives, it creates the need to be creative to ensure that baby is included in all of the family fun and activities. Purchasing a hiking baby carrier helps to provide for the comfort and added safety of baby when mom and dad are heading out on a fun filled hiking adventure. In addition to hiking, these carriers are useful for many different activities. There are quite a few different carriers available on the market, due to their popularity and practicality. Finding the best one can be somewhat of a challenge, unless you know just what you're looking for. This guide is designed to help take the guess work out of identifying the best choice for you and your family. We've provided the information and tips that will help you to be prepared to more easily and quickly find the best choice to meet the needs of you and your baby.
Consider the Age, Size and Weight of the Baby
The weight, size, age and physical capability of your child will help you to determine which type of hiking baby carrier will be the most appropriate. The carrier must not only keep your child safe from harm, but also be strong enough the support the baby's weight while providing a good fitting and comfortable area that gives shelter from the elements when needed. The harnessing system should be adequately padded while providing security for preventing falls and other types of accidents.
Types of Hiking Baby Carriers
Different types and models are intended for a variety of different uses with children of varying sizes and ages.
Framed Carriers
Framed carriers are constructed from heavy duty aluminum frames and are generally built to hold a maximum of 50 pounds including the child and any gear that is packed. Some models will accommodate more or less weight with the larger models maxing out at 70 pounds total weight.
Front Carriers
This type of baby carrier is worn with the child in the front of the adult wearing the carrier. Although it is easier to monitor the child's activities, it can become uncomfortable and burdensome on the parent. These carriers are more commonly available in rear facing styles.
Lightweight Carriers
This type of carrier is recommended when a baby carrier will be used frequently. They come in handy for shopping trips or field trips. They offer adequate support for baby but are less bulky and lighter than traditional framed/backpack carriers. These models may be worn either in the front or back.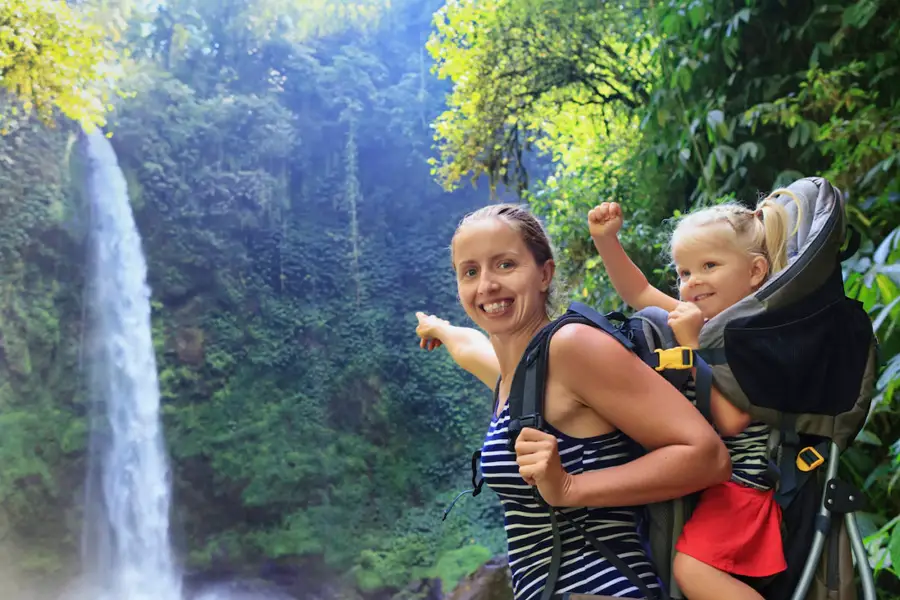 Backpack Carriers
These carriers are worn by the adult like a backpack and come in both front facing and rear facing styles.
Features of Hiking Baby Carrier
There are a variety of different features available in baby carriers. Some of these features include extra padding to ensure that both the child and the parent are comfortable, storage compartments of varying sizes to accommodate supplies for both baby and parent and different styles that feature more compact or lightweight designs. The best features to select are the ones that will be the most practical for both you and your child.
Some carriers have a removable liner such as the cockpit model. This is a roomier type that provides additional support and padding for the comfort of the child. Sun weather shields are also available to help shelter the baby from intense sunlight, wind, or other weather related elements.
Ventilated backs are a feature which most parents will appreciate as it helps to prevent a buildup of moisture and perspiration when in use for extended periods of time. Padding on the belt area and where the pack comes into contact with the adult is a feature that is strongly recommended as the combination of weight and activity can cause discomfort for the person who is wearing the baby carrier.
Harnessing Systems also vary among the different styles and models. Five point harnesses are recommended over a lap belt that provides less safety and security for the child. There is not only a danger that the child can slip through lap belts, but in certain conditions, the belt can cause injury to the child.
What to Look For In a Hiking Baby Carrier
First and foremost, examine the carrier to ensure that the materials which are used are of a durable and high quality. Next, inspect the way that it is constructed. Check for any loose threads or weak zippers.
Quality in workmanship is a requirement as your child's safety depends upon it. Check the straps to ensure that both the straps that hold the carrier on you and that are securing your child inside are well constructed and sturdy.
Make sure that the maximum weight limit is adequate for carrying your child and any supplies that will be needed.
After this, comes padding for comfort. You don't want to place your child in a carrier that will prove to be uncomfortable. The carrier should be a good fit for your child with a 5 point harness system for safety, and adjustable straps to ensure that a good fit is achievable.
Look for the features that may be necessary to protect your child from the elements, such as a sun and weather guard. This is necessary if you plan on hiking around on sunny days and too much sunlight can cause injury to a baby's delicate skin.
Finally, shop around and compare prices on the models that have features that meet with your requirements. You don't have to purchase the most expensive baby carrier to obtain a high quality and usable one.
Conclusion
By observing the tips and recommendations provided in this buyers' guide, you will know exactly what you are looking for in a hiking baby carrier. With the safety and comfort of both your child and you in mind, you can more easily select a model with comes fully equipped with the features and the qualities that you require. When you are out shopping for your new baby carrier, keep in mind that the most expensive is not necessarily the best.