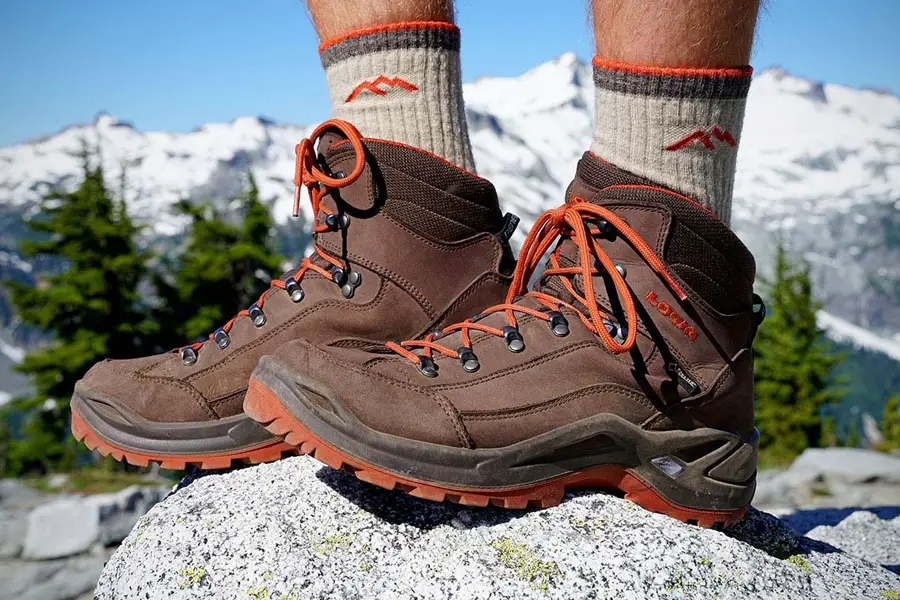 Hiking Boot Reviews
When you want to see beautiful landscapes either close or far from home, getting off the beaten path is essential. While there is a lot of great scenery that can be seen from the car, but taking a walk in the woods will provide an experience worth so much more. In order to hike along uneven terrain and really see nature as it was meant to be seen, you need the proper shoes. By getting proper footwear you can focus on the scenery and not the terrain. You will be able to go where you want to go without worrying about injuries. The following hiking shoes are top quality and will provide you a comfortable experience wherever you decide to take your adventure.
Most Popular Hiking Boot
Timberland
The Timberland MensChocorua Trail Gore-Tex Mid Hiking Boot will support all of your hiking needs without weighing you down. This hiking boot comes in Brown/Brown and offers many different size options. The hiking boot is made out of leather that will allow the boot to be extremely durable, while holding its shape and color through heavy and rugged wear. The sole is rubber which allows you to grip the terrain with ease while not having to worry about clean-up process when hiking in dirtier or wet terrain. The hiking boot's shaft is approximately 5 inches from the arch and the heel is approximately one inch in size. The Timberland MensChocorua Trail Gore-Tex Mid Hiking Boot is made of premium nubuck leather for comfort, durability, and long-lasting wear. The exclusive anti-fatigue comfort technology provides all day comfort and has 400 grams of Primaloft insulation for superior warmth and comfort allowing your hiking experience to be exceptional.
Made out of leather
Rubber sole
Boots shaft is 5 inches from arch
Heel in 1 inch in size
Anti-fatigue comfort technology
– Anthony Dawson
Best Overall Hiking Boot
Salomon
The Salomon Men's Quest 4D GTX Backpacking Boot is a very comfortable and suitable hiking boots for any outdoor adventure. This hiking boot comes in four different colors allowing you to pick a color that matches your outdoor gear and comes in a variety of sizes. The Salomon Men's Quest 4D GTX Backpacking Boot is made with leather and rubber textile. The leather allows the hiking boot to hold its shape and color even in the dirtiest or roughest terrains. The rubber sole allows this hiking boot to be easily cleaned and provides a better grip that will allow you to hike and climb any mountain without slipping even on wet surfaces. The gusseted tongue locks out debris that you may come along during your adventure keeping debris out of the boot. The Salomon Men's Quest 4D GTX Backpacking Boot is waterproof and has breathable Fore-Tex Performance Comfort. This hiking boot also has a Control Flex feature that reduces ankle strain due to the stability in the boot.
4 different color choices
Made with leather and textile
Rubber sole
Gusseted tongue locks out debris
Waterproof
– Anthony Dawson
Best Budget Hiking Boot
Vasque
The Vasque Men's Bitterroot GTX GTX Waterproof Boot will allow you to hike anywhere you wish without trouble. This hiking boot is made out of leather, which will keep your boot durable and hold its shape even with heavy use and various conditions. The hiking boot is waterproof and breathable with its Gore-Tex membrane. The Vasque Men's Bitterroot GTX GTX Waterproof Boot is built on the Summit last using the heel from the Arc Tempo with a straighter forefoot. This hiking boot also has an EVA chassis with TPU armor providing rigidity and cushioning. This hiking boot is 3 pounds 18 ounces allowing you to move easily with a sturdy boot that is also lightweight. The TheVasque Men's Bitterroot GTX GTX Waterproof Boot has a vibram sole. With the knit nylon lining and volume-fill insole the hiking boot will cradle and support you with every step you take.
Made out of leather
Waterproof and breathable
Summit last using the heel from Arc Tempo
3 lbs 18 ounces
Vibram sole
– Anthony Dawson
Hiking Boot Buying Guide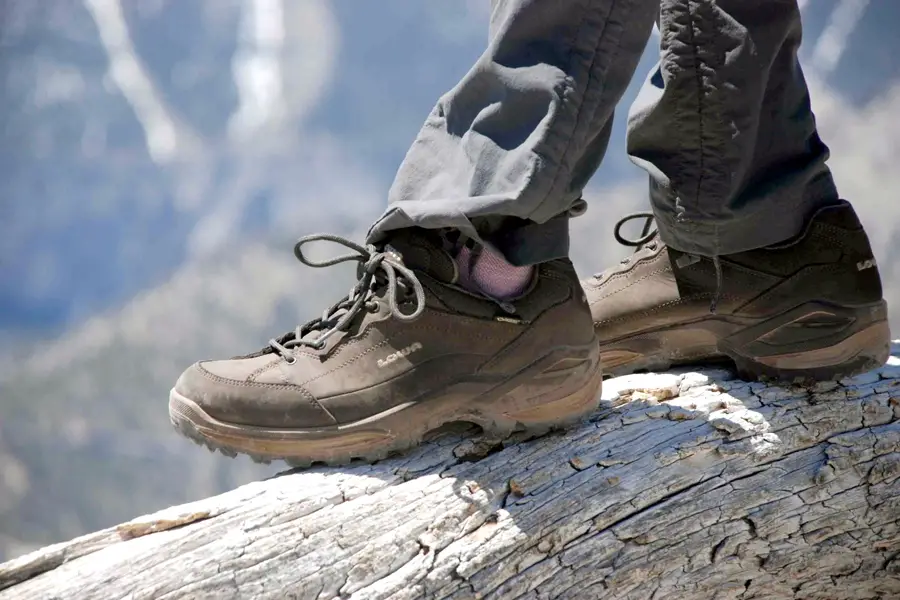 Picking the right hiking boot can be tricky. There are a lot of things to consider and sometimes tough decisions have to be made when picking between different brands of boots. It is like a process of matchmaking. A match between the user and his needs with the hiking boot firmly planted in between.
Identifying the Types of Hiking Boots
There are many different kinds of hiking boots. It is important that the boot fit the purpose of the activity. The hiking boot is specifically designed for specific activities and these activities range from simple or light hiking, hiking, backpacking to mountaineering.
Light Hiking
Light hiking boots are like sturdy running shoes which are low-cut models that also have flexible midsoles. They are great for hiking during the day. Some hikers may even wear them for long distance journeys as they are light to the feet and comfortable to the soles.
Hiking Boots
Hiking boots are usually mid to high cut models that are often used for weekend backpacking trips that have light loads or day hikes.
These boots can be flexed easily and require very little break-in time but lack durability compared to backpacking boots.
Backpacking Boots
Backpacking boots are designed for carrying heavier loads for multiday trips deep into the outback areas. These boots are known to have stiff midsoles compared to the hiking variety but are known to be more durable and supportive. They are suitable for hikes that are on a trail or off it.
Mountaineering Boots
Mountaineering boots are the heavy weights of the boot category. They are, quite literally, on the heavy side and are designed to accept crampons for travel in glacial areas as well as to accommodate heavy loads. These boots are designed with stiff midsoles and are very tough and durable.
Boot Cuts
Boot cuts are classified as low, mid or high. It is important that the boot cut matches what is expected from the activity. For example, if mountaineering boots, which have high cuts, are used for a light hike, the unnecessary weight will be a burden on the user's feet and the boot cut will actually be a deterrent for getting the most out of the boot.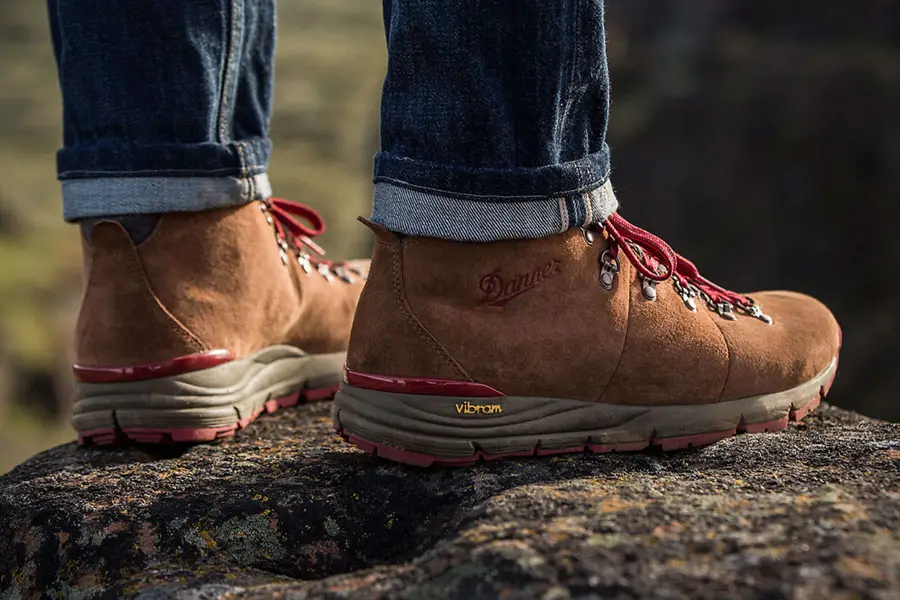 Low-Cut Boots
These are usually used for light travel although they provide less roll resistance for ankles.
This leaves the feet more vulnerable to debris invasion from sand or mud. It is a good choice for light loads and ideal for using on maintained trails.
Mid-Cut Boots
They wrap around ankles and also offer buffer from debris.
They are usually designed for moderate loads and also provide some protection against water entering the boot.
High-Cut Boots
They are designed to enhance balance and ankle support especially on rough terrain and trails.
These are mainly used for carrying very heavy loads or off trail hiking. It is important to note that these boots should be thoroughly broken in before a long distance travel.
Performance of Hiking Boot
Once the type of boot has been determined, it is time to start looking into the other aspects of what the boot can offer. Performance is one of the most important aspects of what to look for in a boot. The last thing anyone wants is to have boots that break down in the middle of a hike or mountain escapade. Things to look out for in terms of performance should be things like breathability of the boots, how fast the boots dry and traction. Traction is especially important as it could be the difference between a safe hop onto a rock or a nasty slide.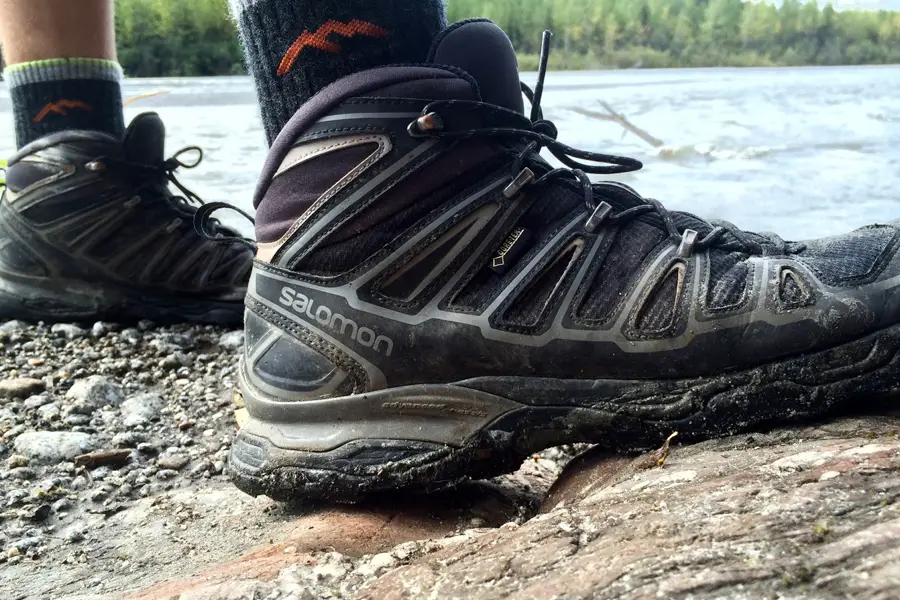 Durability of Hiking Boot
Durability also plays a very important role when deciding to pick the right boot. Since hiking is not a regular walk in the park, the boot should be able to handle the type of activity it is to be purchased for. The places that hiking enthusiasts go to will most likely not have any stores that sell replacement boots or even any stores at all for that matter. It is important that the user of the boot has the peace of mind knowing that it will last and that it will be able to do what it was designed to do. There will always be wear and tear when using a boot for hiking as the boot gets exposed to environments that can easily speed up its deterioration. The user should always pay close attention to this as well and make sure that the boot is well maintained.
Fit of Hiking Boot
How a boot fits the user's feet is another very important aspect in picking out the right boot for hiking. Things to consider should be length, width and volume.
Length
Toes should be able to wiggle easily inside the boot. This is even more important for people with hammer toes or those that have some kind of toe sensitivity like neuroma.
Width
Feet should be firm inside the boot. There should be no sliding of the feet nor should it be too compressed from each side.
Volume
The majority of the foot should fit in nicely and securely inside the interior of the boot.
Matching the volume of the boot to the user's foot is the most crucial point in finding a good fit. This prevents the user from getting blisters as well as black to nails. When a boot is the right fit, it should feel as though a big hand is holding the foot over the instep. The foot should feel very secure when walking.
For some people, the best fit for them is to have the foot snug in tightly in the boot while for others it would be to have the size be half a size bigger. This boils down to preference but what is important to remember is that the boot should fit to how the user wants it to and still provide the right and optimal support.
Comfort of Hiking boot
Then there's comfort. Comfort is the most important thing to look for when picking the right boot for hiking. At the end of the day, this is the feature that saves the user's soles from blisters as well as saving the feet from swelling after long days of hiking
More Tips
All these things should be taken into consideration when looking for the right boot for hiking. It is important to invest some time and effort to make sure that the chosen boot fits the need and should be comfortable for the user. It also pays to consult the experts like the store owner or store clerk as they can give the right suggestions on what works best.