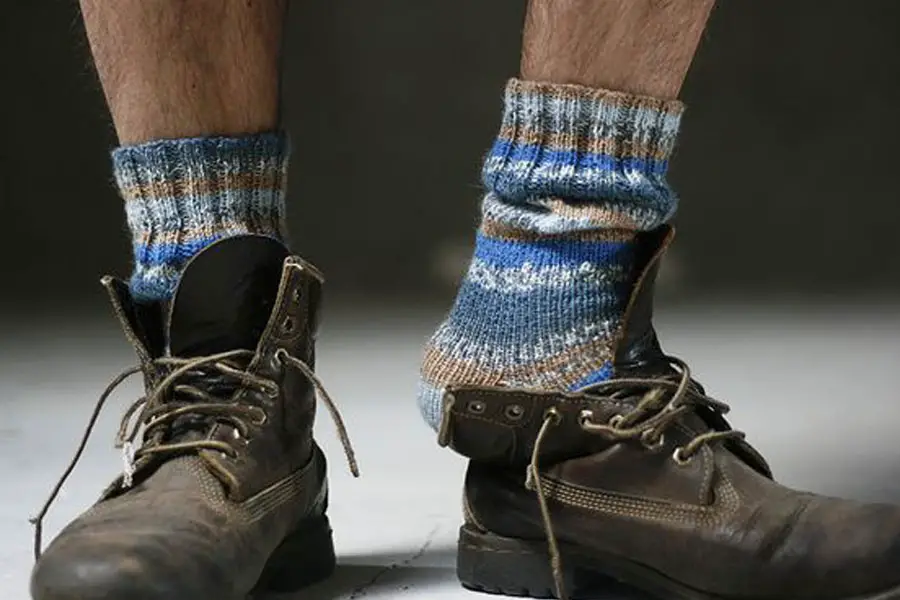 Hiking Sock Reviews
When hiking and climbing in beautiful landscapes, having quality hiking socks can mean the difference between blisters and sore feet, or an enjoyable experience. You will need a sturdy pair of hiking socks to provide comfort during long hikes and outdoor activities. Hiking socks you will protect your feet from scratches, debris, moisture and blisters. If you have ever had a blister, you know how uncomfortable and painful they can be. Prevent them by purchasing a top quality pair of hiking socks. The following reviews provide top brand hiking socks available for your hiking adventures.
Most Popular Hiking Sock
Thorlos Unisex
The Thorlo Men's Wool/Silk Lt Hiker Crew Sock is certain to keep your foot protected as you explore. This sock is available in navy heather or charcoal heather and is available in a couple different size options. The Thorlo Men's Wool/Silk Lt Hiker Crew Sock is made out of 31% wool, 20% THOR-LON Acrylic, 18% insulating hollow-core polyester, 14% nylon, 12% silk, and 5% spandex. This hiking sock has lightweight padding in the heel and ball protecting the foot from shear and impact forces helping to prevent blistering. The spandex and the low-density padding in the arch create a snug fit. The ventilation panel in the socks enhances wicking, keeping your feet dry. The Thorlo Men's Wool/Silk Lt Hiker Crew Sock is machine washable in warm or cold water with like colors. It is highly recommended to use non-chlorine bleach only and tumble on dry low. These hiking socks are great for warm or cold weather hiking.
Available in two colors
Lightweight padding in heel and ball
Low-density padding in arch for snug fit
Ventilation panel that enhances wicking
Machine washable
– Anthony Dawson
Best Overall Hiking Sock
Kirkland Signature
The Kirkland Signature Outdoor Trail Sock Merino Wool Blend (Large-Pack of 6) is a pack of great hiking socks that will protect your feet during your adventures. This hiking sock is made out of a merino wool blend allowing you to keep your feet warm. The hiking sock is made out of 70% merino wool, 18% nylon, 10% polyester, and 2% spandex. The Kirkland Signature Outdoor Trail Sock Merino Wool Blend is made in the USA. The hiking sock is cushioned throughout and reinforced from heel to toe for maximum comfort and durability. This hiking sock has a moisture management fiber in the bottom of the sock that wicks moisture and maintains cushion. The merino wool allows the sock to be naturally comfortable for all seasons and with a Lycra arch the sock will fit to your foot perfectly.
Made in USA
Cushioned throughout
Reinforced from heel to toe for maximum comfort
Moisture management fiber
Comfortable for all seasons
– Anthony Dawson
Best Budget Hiking Sock
Thorlos Unisex KLT
The Thorlo Unisex Wool/Thorlon Thick Cushion Hiking Sock comes in grey/black and dark blue. This hiking sock will allow you to hike in comfort and they will last for a long time. This hiking sock is made out of 53% THOR-LON Acrylic, 33% Wool, 11% stretch nylon, and 3% nylon. The Thorlo Unisex Wool/Thorlon Thick Cushion Hiking Sock has midweight padding in the heel and ball to protect the foot from shear and impact forces. This feature will help prevent painful blisters on your feet. The lace pad on this hiking sock will protect the top of the foot against boot lace pressure and ventilation panel enhancing wicking. This hiking sock is available in several sizes providing hiking comfort for all adults. The Thorlo Unisex Wool/Thorlon Thick Cushion Hiking Sock can be machine washed with warm or cold water with like colors. It is recommended to use non-chlorine bleach only and tumble dry on low.
Two colors available
Midweight padding in heel and ball
Lace pad protects top of foot
Ventilation panel to enhance wicking
Machine washable
– Anthony Dawson
Hiking Sock Buying Guide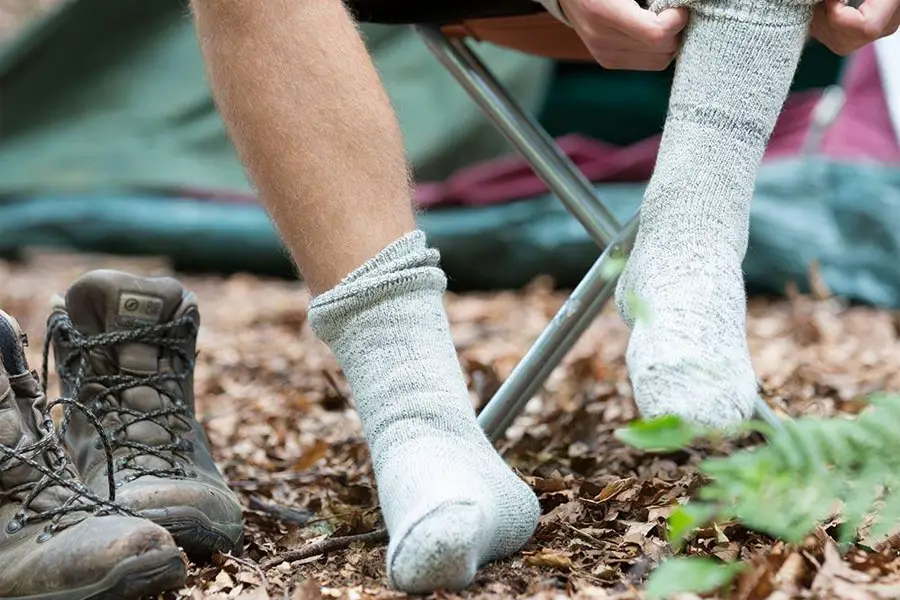 What to Look for in a Hiking Sock
No matter what kind of activity, whether it is taking a long walk through a standard trail or mountain trekking by the snow in the Alps, there will always be a particular type of hiking sock that fits the bill. These socks are available at a number of stores like sport shops or shoe stores or even online retailer shops. Hiking socks are available in a number of different specifications like weight and materials. These differences should be taken into consideration as different materials are fit for different needs like different climates, terrains or conditions.
Weight of Socks
When going through normal or easy terrain with warm weather, it is ideal to use lightweight socks as they provide the limited cushion that is needed. Middleweight socks are socks that are for moderately cold conditions with moderate terrain. Heavyweight socks are socks that are to be used in the extreme cold or in terrain that is hard and rugged. Maximum cushioning is required for these socks. These socks also have sock liners that provide extra protection, comfort, and moisture removal.
Once the ideal weight of the socks for hiking is determined to match the particular outdoor activity, buyers should also consider looking into the various types of materials that are used in making hiking socks. Hiking socks are available in a wide variety of fabrics ranging from synthetic blends to the popular wool.
Number of Socks
People have different preferences and that also applies when using a hiking sock. There are people who are comfortable using just a single pair of socks while others like to use the double sock method where the wearer uses a very thin sock liner against the foot. The liners are often made out of a synthetic blend of polyester and some natural fibers and are designed to remove any moisture away from the feet. This, in turn, prevents the feet from being damp or wet. A combination of damp feet and wet socks can create an increased number of friction spots that can cause blisters, sores, and irritation.
These sock liners are to be worn with socks on top of them. With the addition of a second layer, the fiction generated by the motion of the shoe is significantly reduced. By decreasing the source of the friction, the likelihood of getting soreness or blisters is also lessened because the shoe rubs against the outer sock which in turn rubs against the sock liner instead of against the foot directly.
For those who prefer a single sock, it is important to choose a sock that is designed for lone use. There should be appropriate cushions on areas where the user has a tendency to develop sores. Since each person is different, not all parts that have tendencies to develop sores can be covered although the common areas like the ball of the foot, the side of the big toe, the heel, and the little toe should get the necessary protection. To offset the shortcomings of the hiking sock, the right pair of hiking boots should be used that complements the socks by providing the extra support and cushioning needed in specific problem areas. Materials that are used by the single sock are even more important because there isn't any other sock that this sock complements unlike that of the double sock. The materials used should have the increased ability to wick away moisture from the foot onto the outer layer of the sock while being appropriately insulated and breathable.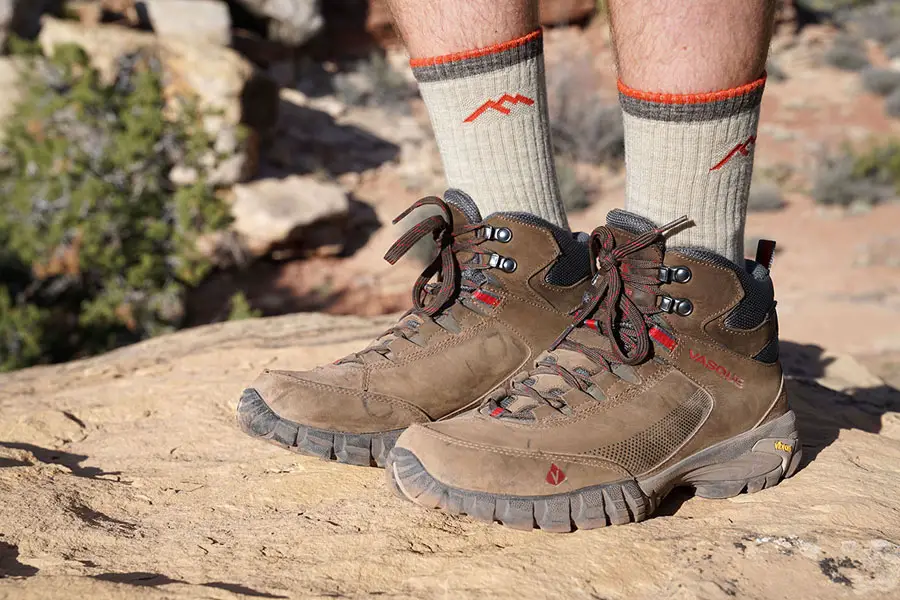 Sizes of Hiking Socks
Hiking socks come in different sizes and cuts and can vary greatly between manufacturers. It is important that the fit of the sock be just right as socks that are too tight can cause constriction or nipping at the feet which can increase the likelihood of developing blisters and sores. On the other hand, socks that are too loose have a tendency to clump up inside the shoes making it very uncomfortable for the user to walk and can even potentially increase the chances of developing sore spots in certain problem areas. It is ideal to try on and fit the socks before using them for extended periods of time. Socks should fit snugly on the foot without being skintight. Socks should also not be too loose as to not appear like it's falling down.
Hiking Sock Thickness
A sock's thickness is determined by the activity it is going to be used for. Users should make sure that the sock's thickness is appropriate for the climate or condition they should be used in. Socks with light or medium thickness are not used for extremely cold conditions and would only result in the user having really cold feet that are extremely uncomfortable. This can even lead to frostbite or chilblain. When hiking in these conditions, it is best to use socks that are really thick. On the flip side, these thick socks aren't suitable for use in warm conditions as they would make the feet get really hot and even socks that are known for their wicking ability won't be able to keep up with the excessive moisture that's generated on the user's feet.
Sock Materials
The right material that is used in hiking socks should also be among one of the important criteria to consider. Different materials also have different properties. Wool, for example, is a very popular material in hiking socks because it is very comfortable and naturally draws out moisture away from the skin. Wool is also extremely warm and is commonly used in middleweight to heavyweight type hiking socks. Socks made out of wool are also usually combined with some other synthetic fibers that help increase the lifespan of the socks and further increase the wicking properties as well as the breathability.
Cotton is another material that is used although in a more limited capacity. It is more commonly used in lightweight hiking socks to provide the necessary added comfort and breathability. Although cotton is really comfortable, it also has a very absorbent property which can irritate the skin when the socks get wet.
Tips
When picking out the right type of socks for hiking, it is important to know the purpose the sock is going to be used for. There are various types of socks that are for various types of activities. Other things to consider include the weight, thickness, materials and most importantly, the fit of the sock on to the foot. When looking for socks for hiking, it would be good to also consult with sales clerks or resident experts as they can also provide insight into what types of socks work best for the user.