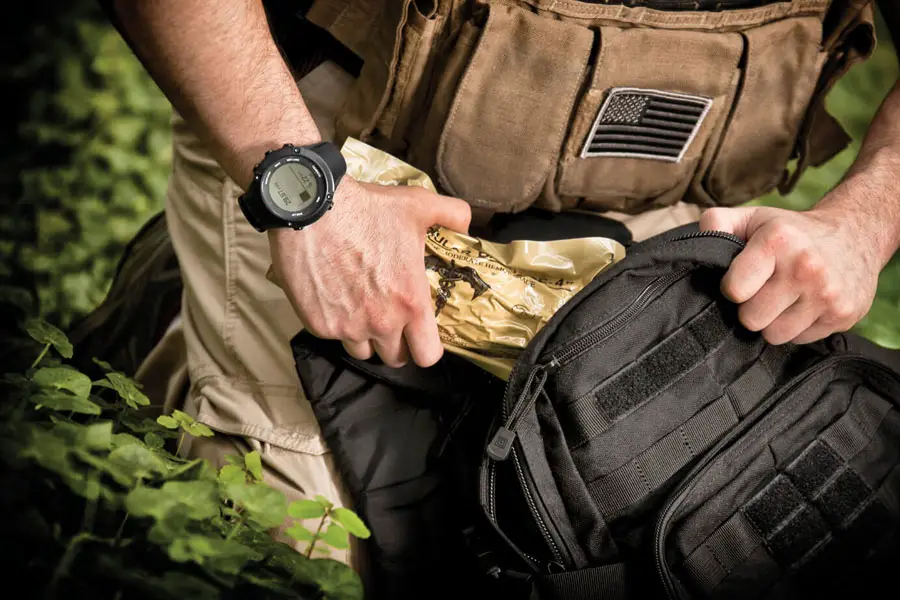 Hiking Watch Reviews
Watches do so many things these days that it is almost hard to find a watch that just simply tells the time. For those who love to hike, finding a timepiece that is accurate and serves many functions can be of great assistance. Models that have a built-in GPS system are incredibly ideal, and many of these allow you to chart your favorite hiking routes and remember them for future use. There are also watches that can gauge your speed and how many steps you've taken. A digital watch that serves many functions is almost like a Swiss Army knife that holds many features in one compact device. When you're ready to find that perfect hiking watch, begin by asking yourself how much you're willing to spend. There are some very expensive models out there, but it might not be necessary to spend the extra cash on all those bells and whistles. It's pretty amazing to have technology around your wrist that tells you the time, topography, weather, and distance you've traveled.
Most Popular Hiking Watch
Garmin
This timepiece from Garmin provides all the amazing features that one comes to expect from this exceptional brand. It's incredibly durable, and will certainly last you for years to come. The lightweight design contains a high-sensitivity GPS receiver, as well as the added benefit of HotFix. It's simple to store the memory of various different routes, waypoints, and tracks. You can view your current location in a multitude of formats thanks to the technology of the dual position readout. It also has its own built-in trip computer, hunting and fishing information, compass, and barometric altimeter. This device is the perfect way to carry all the information you need right on your wrist. Who needs a smart phone when your watch is smarter than anything? Garmin is the most trusted name in GPS and outdoors-oriented electronic devices. This is a perfect addition to their already amazing line of products.
Built-in, highly sensitive GPS receiver
Improved performance with HotFix
TracBack helps you to retrace your favorite treks
Easy-to-read, vivid LCD display
– Anthony Dawson
Best Overall Hiking Watch
Casio
This watch from Casio is a new addition to the Slim Design series, and aside from being so lightweight and attractive, it also has a duplex LCD screen for exceptional visibility. It comes equipped with automatic time adjustment, as well as sunset and sunrise data, and the incredibly innovative Triple Sensor Solar technology. All outdoor enthusiasts agree that this is a tremendously powerful tool to carry-along on your trek through the outdoors. There are some other built-in features that make this device stand out from the rest, like a day and month calendar, altimeter, and stunning Afterglow technology that provides a backlit display. The watch is lightweight, but built of rugged titanium with a classic buckle clasp and state-of-the-art titanium bezel. The device is completely water resistant and is equipped with 6 atomic timekeeping technology. The power saving function ensures that this watch will keep going strong for endless timekeeping.
Operates on World Time
Contains a digital compass, barometer, thermometer, and altimeter
Water resistant
EL backlight with Afterglow technology
– Anthony Dawson
Best Budget Hiking Watch
Suunto
The Suunto Core Brushed Steel Altimeter Watch not only outperforms the competition, it just plain looks amazing. Perfect for mountain climbers, the watch works beautifully at elevations as high as 29,500 feet. Not not only that, but it can also dip down as low as -1,600 feet. So, whether you're climbing Everest or snorkeling down below, you have one watch that will be with you every step of the way. The brushed steel looks simply fantastic, and is also ultra-durable. The built-in barometer, altimeter, weather indicator, and compass give you all the information you need to know exactly what is happening in your environment. Is there a storm approaching? You're probably going to be the first to know, aside from the weatherman, with this Suunto watch on your wrist. Predict changing conditioners even before you feel the first drop, or see the first ray of light coming out from the clouds.
Built-in compass, altimeter, barometer, and weather indicator
Predict changes in conditions before anyone else can
All black finish is elegant and durable
Works in extremely high and low altitudes
A perfect watch for snorkeling, rock-climbing, and hiking
– Anthony Dawson
Hiking Watch Buying Guide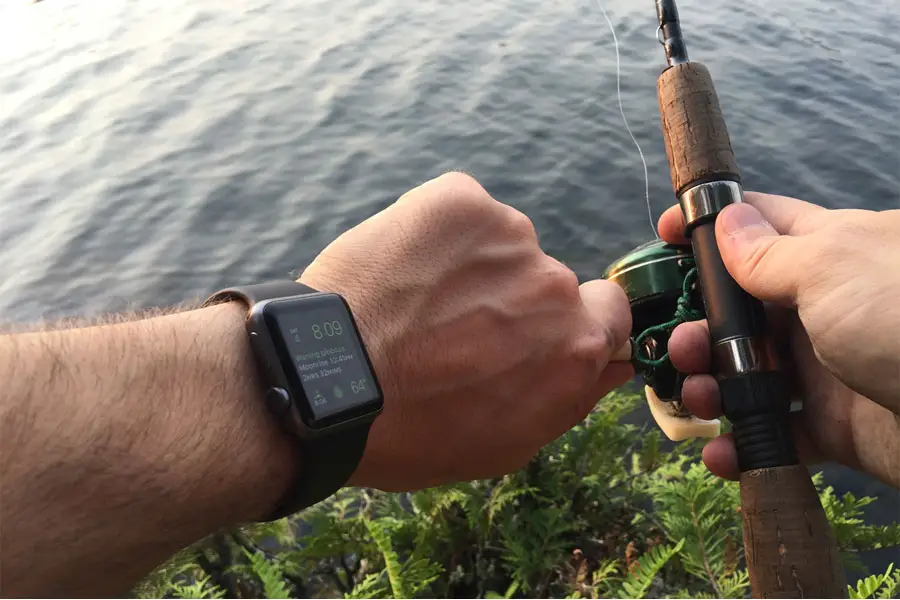 Watches have come a long way since your grandfather's day. Today a hiking watch can forecast weather, plot routes, or provide tide tables. And yes, they still tell time!
The difference between a good hiking watch and the best hiking watch for the money is not found in hiking watch reviews, but in how it meets your personal goals and seamlessly integrates with your active lifestyle.
First Things First
Decide if you want a hiking computer watch or something simpler. An analog hiking watch will be sturdy, weather resistant, and reliably provide basic functions like time and date, often with luminous features. Some have a moon phase indicator or rotating bezel that allows the hands to act as a timer. There are automatic-wind and manual-wind styles.
Beyond analog, digital watches seem like they can do almost anything but make coffee. Features, however, can reduce battery life to hours or days, instead of months. For longer trips determine if a solar hiking watch will get enough sun to stay charged or a user replaceable battery with spares is better.
If you choose a digital option for the rich features, decide if the displayed data needs to be retrievable after your hike. Some models will download to your computer, smartphone, or other compatible devices, like a handheld GPS.
This may seem a little obvious, but it bears stating. Figure out if you want a hiking wrist watch, or if you want a hiking pocket watch, carabiner clip, or other sporty style. In deciding this, consider the following facts.
If temperature is an important function to you, the closer the watch is to your body the more it will react to your body heat.
If choosing a carabiner style, only use it to clip the watch to your clothing or gear; do not trust it to support real loads like climbing.
Connect the watch to you or your gear somehow. If a loose fob escapes an open pocket then all the functions you were relying on to get you home may wind up broken at the bottom of a canyon.
The ABCs Of Your Hiking Watch
Altimeter, Barometer, and Compass go together on outdoor watches so often that they are commonly called a three feature watch even if it has a hiking watch thermometer and other goodies. Look for increment precision.
A hiking watch with altimeter will obviously report your elevation, but, some also display a graph of your journey. Increment measures may be under 5 feet or over 20. The number of logs and the duration of each log will vary significantly
The barometer measures atmospheric pressure to forecast weather changes. Most will give you a current reading and a trend chart. If you lose four or more millibars over twelve hours, prepare for stormy weather. Keep in mind that as your hike causes elevation changes that will automatically create a change in atmospheric pressure even under stable weather, so factor that in to your predictions.
A hiking watch compass will often show an arrow somewhere within 90° quadrants, which is fine for a quick check, but insufficient for navigation. Ideally, you would get a direction and actual number in degrees. Most compasses need to lay flat for accuracy, but, some have a three-dimensional feature to compensate for tilt. For safety, always carry a quality hiking compass and current map.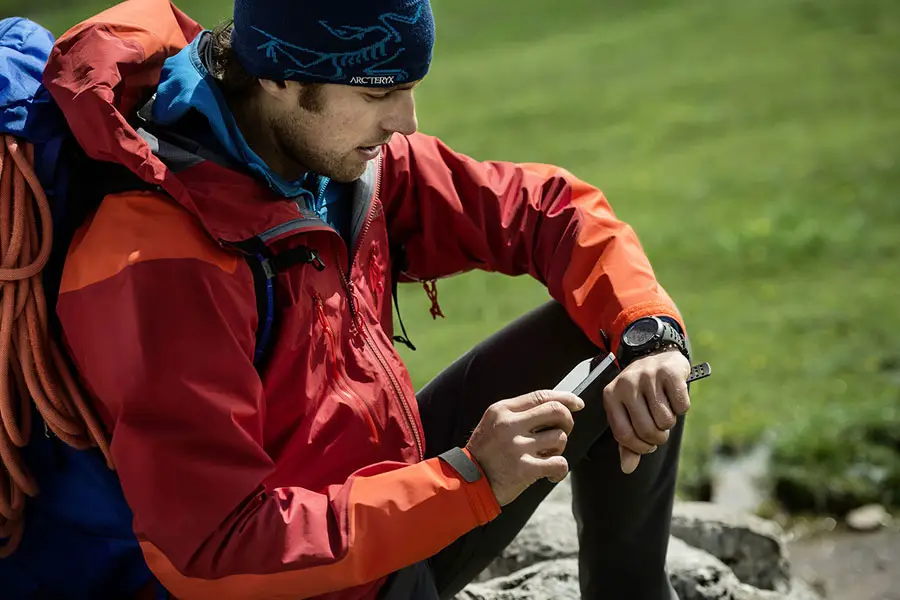 Hiking Watch with GPS
A GPS hiking watch comparison is pointless unless you first decide if you just want the information for training or if you will ever need navigation.
Navigation can be as simple as setting a point for your base camp or car then having a backtrack feature that will bring you there again. More complex is to build a route at home then follow it on your hike. Maps will have poor resolution. Look for a high waypoint and route count.
The best hiking watch with GPS for training will be the one that fits your budget and expectations.
Performance and Hiking Watch With Heart Rate Monitor
A hiking watch with heart rate monitor is rarely built-in; for accuracy it usually will accommodate a chest band (included or sold separately). Since you are interested in heart rate, many other training features may be available. Choose the ones that matter to you.
Average heart rate
Cadence
Countdown timer
Exercise log
Heart rate target zone
Recovery heart rate mode
Speed/Distance
Stopwatch/Timer/Lap timer
Time in target zone
Track calories burned
Track distance
Hiking Watch Bands
It may seem like a simple thing, but, a band has a lot to do with the comfort and durability of a watch. Many watches have replaceable bands, so coordinate watch features and watchband functionality.
A band is more comfortable if it allows for air circulation, without pinching your skin. A band that is woven, has holes, or links will release sweat and dust as you exercise. A solid band, like silicon, traps it along with dust, pollen, and other particles in the environment.
A big watch and a narrow strap will not distribute the weight properly and can allow it to catch more easily on clothing or equipment. Be sure the clasp is sturdy and doesn't pop open if it gets snagged.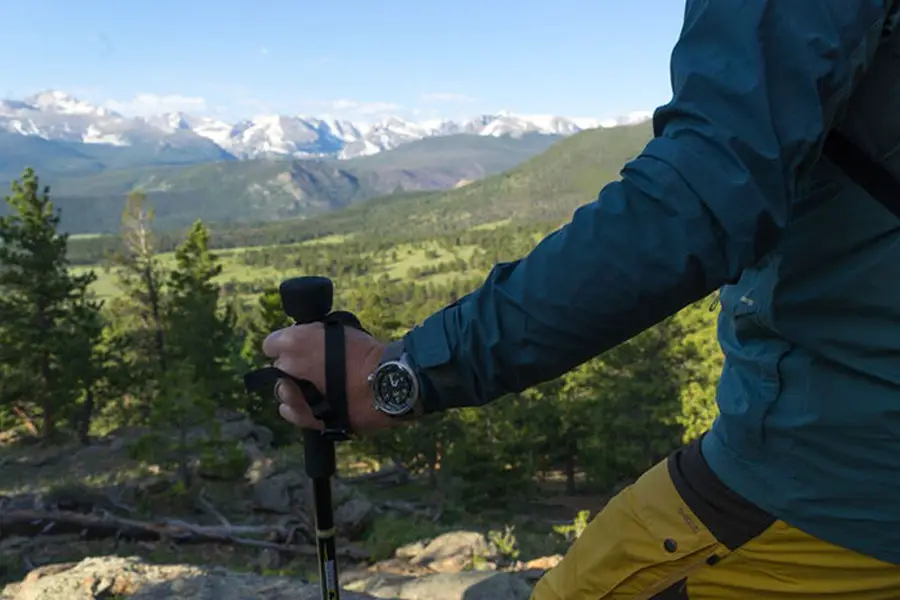 Hiking Watch Data Management
If you want to keep logs for future reference look two major things.
How data is downloaded varies widely. Many models require an Internet connection and store information in a proprietary cloud. Others will download to your computer or compatible equipment.
If you already have training records from a jogging shoe or bicycle computer, pick a watch using the same software for a broader view of your activities all in one place.
Hiking Watch Accessories
Most of us also spend some time indoors, which can take satellite based features like GPS offline. A foot-mounted device can keep track of your indoor distances and monitor foot cadence, step rate, velocity, and other things.
Performance sensors for swimming, diving, biking, and other activities are available depending on the brand and model hiking watch that is best for you.