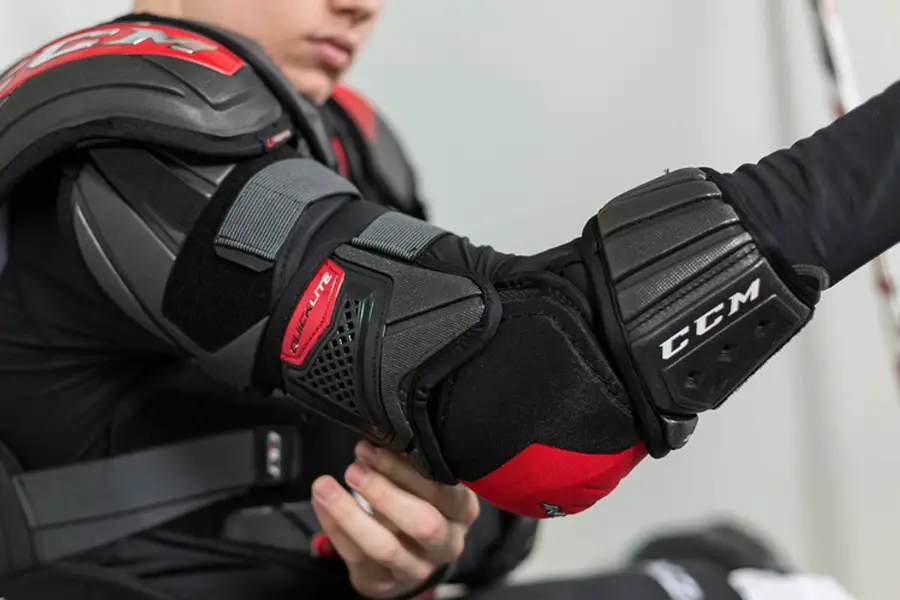 Hockey Elbow Pad Reviews
Hockey can cause many injuries if the player does not have the correct equipment. By purchasing elbow pads, hockey players can stay safe and prevent accidents when being hit by opponents. The following elbow pads will keep your elbows protected in many different situations and are certain to absorb the impact from contact with other players. We have selected the best elbow pads on the market providing you with the protection you need to enjoy the game and prevent injuries.
Most Popular Hockey Elbow Pad
STX
The STX Ice Hockey Stallion Senior Hockey Elbow Pads come in several different sizes allowing any body size to secure your elbows. The elbow pads are certain to remain close to your body during your practices and games. Even with frequent movement, these pads will protect and stay close to your joints preventing potential injuries. In addition to protecting your elbows they will also protect your biceps and forearms. The elbow pad will make playing hockey more comfortable. The STX Ice Hockey Stallion Senior Hockey Elbow Pads have a foam interior that is made of PORON XRD. This allows the elbow pad to absorb any blows that occur. There is also foam in the bicep area that will help the elbow pads mold to your body keeping it securely fit on your forearm and bicep. With the HDPE feature will lessen impacts by 25%. The elbow pads are made of strong material allowing you to have the best elbow protection.
Several different sizes
Will remain close to your body
Protect your biceps and forearms
Foam is PORON XRD
Lessen impacts by 25%
– Anthony Dawson
Best Overall Hockey Elbow Pad
WRSI
The WRSI NRS S-Turn Hockey Elbow Pads is offered in many different sizes allowing you to purchase a piece of equipment that will fit securely to your arms. It has the axysym feature allows the elbow pad will fit offering more protection while being able to move easily. The WRSI NRS S-Turn Hockey Elbow Pads has two different foam areas for more protection. The pads also offer you straps that will secure your arm in the equipment keeping them in place. By having straps you will no longer have to worry about your equipment moving around even upon contact. The liner on the hockey elbow pads will keep you comfortable and sweat-free. The liner was designed to have a specific area for your elbow to be placed making the elbow pads stay in place easier. The polygiene material will prevent odor and kill bacteria.
Many different size options
Axysym feature
Two different foam areas on the elbow
Straps to secure your arm into the elbow pad
Liner will reduce sweat
– Anthony Dawson
Best Budget Hockey Elbow Pad
PowerTek
The PowerTek V5.0 Tek Hockey Hard Elbow Pad is designed for any hockey player wanting to keep their arms protected while playing this contact sport. There are many sizes available allowing any player to purchase equipment that will fit their arms. Easton designs their products to help you move easier and more comfortably while still protecting your body against injuries. These hockey elbow pads will keep you safe while giving you the freedom to move around as needed. The PowerTek V5.0 Tek Hockey Hard Elbow Pad provide the ultimate in flexibility allowing you to make shots, play defensively, and aggressively at your highest potential. Foam can be found on the forearm section and will mold to your body keeping it securely and snuggly fit. The design of these elbow pads will keep you protected from oncoming hockey sticks, and other blows to your arms. You can feel more secure and play at your best by being better protected.
Will help you move easier
Play defensively easier while being protected
Foam on the forearm section
Protection from hockey sticks and other blows
Molds to your arm for custom fit
– Anthony Dawson
Hockey Elbow Pad Buying Guide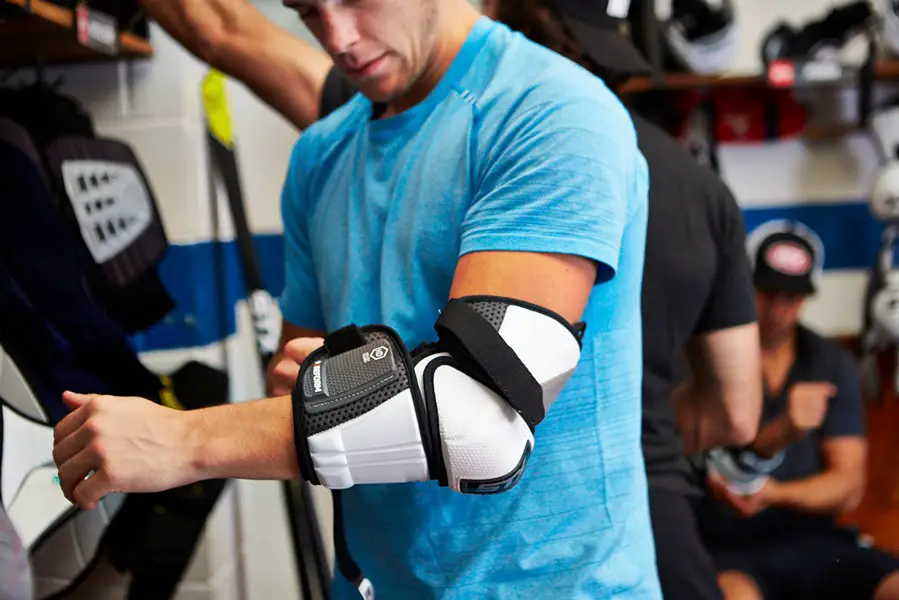 Hockey can be a brutal sport. That's why having protective gear is so important. Investing in things like a good hockey elbow pad is essential whether it's game time or practice. With so many different types it can be difficult to know what to look for in a proper elbow pad.
It's important to remember that purchasing the wrong fitting pads can actually lead to an increase in the risk of an injury. Below is a helpful list of what makes an ideal hockey elbow pad so you don't end up investing in the wrong product.
Proper Fit
Since hockey elbow pads protect your arm from injury and soreness, they must fit correctly. If they are too loose, they will slide around during a game and if they're too tight they could cut off circulation. When searching for an ideal fit, the elbow pads must allow for a full range of motion but not feel loose at the same time.
There are three different types of fit:
Traditional – Best for things like blocking
Contoured – low profile with lots of flexibility
Tapered – Good for players that enjoy doing everything out on the ice
Padding
This is not usually a problem with brand new gear but if purchasing hockey elbow gear used you will want to check the padding. Hockey players spend a great deal of time utilizing their elbows for things like diving, sliding, and leaning. Poorly padded gear will only result in injury eventually if not right away.
New Versus Used Gear
Hockey pads can get pretty expensive. To save money, people will cut the cost by purchasing the gear used. While it does save money, players often get injured more frequently. This can be the result of gear that is improperly fitted, gear that lacks proper padding, or gear that is simply too old to use.
Take the time to really inspect the potential purchase. If you are buying online, don't be afraid to send an email and ask questions. Often, one wrong decision could mean suffering from pain all season long and no one wants that to happen.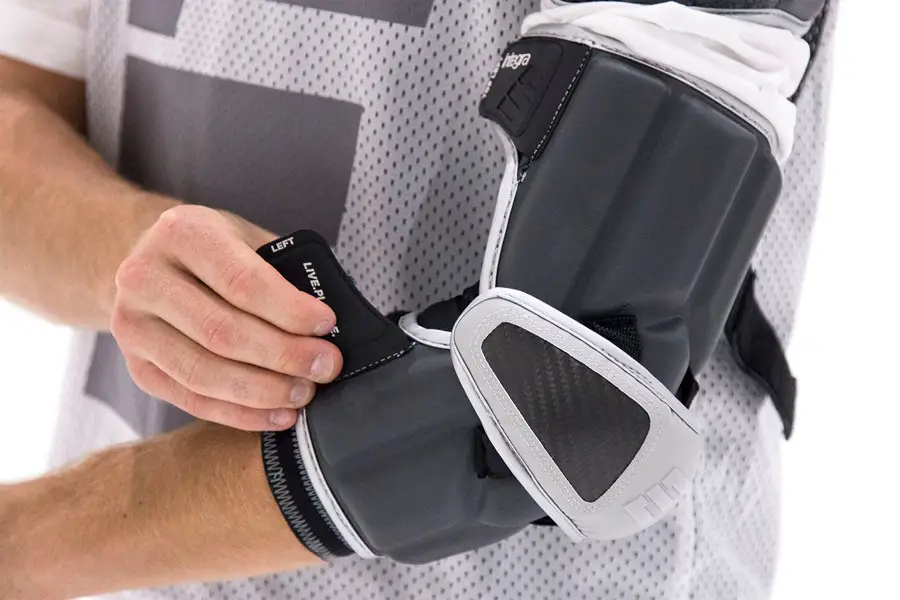 Quick Drying
Practicing on the ice often means investing in pads that are durable and flexible but often times they take forever to dry. Luckily, hockey elbow pads are now designed with quick-drying technology. Quick-drying elbow pads are more lightweight too so movement on the ice feels more natural than ever. Not all brands have this feature so be sure to read all of the product details before making a final decision on anything.
Length
Different designs come in varying lengths. When choosing the right hockey elbow pads, be sure to check and see if it interferes at all with the cuff of the hockey gloves. Never sacrifice a full range of motion with your gloved hands. Being able to move the hockey stick in all directions without resistance is the key to being a good hockey player. It will also increase safety too. Think what would happen if a body collides into you and you can't push back your gloved hand all the way to successfully break a fall?
Play Style
Depending on how often you play hockey will ultimately determine what kind of hockey elbow pad works best for you. For example, someone who seldom plays hockey might want something offering good protection but not necessarily professional lining. Nylon lining works best in this situation. The material helps keep away moisture. This helps the player stay dry all throughout practice or game night. A player that plays more often and is more serious about the game, may decide that microfiber lining is better.
After all, performance players spend far more time on the ice and need a way to stay warm and dry. More elite hockey players may want more than what microfiber has to offer. After all, high physical activity will cause the body to sweat and no one wants smelly gear. Certain brands of hockey elbow pads do include odor wicking technology that removes the stinky smell with an anti-microbial treatment which actually prevents bacteria from forming on the inside of the elbow pad.
Whether it is for recreational use or flexibility play, there is a hockey elbow pad for everyone. Just be sure to read all of the fine print about the product before purchasing to avoid making any potential mistakes. You'll be glad you did.