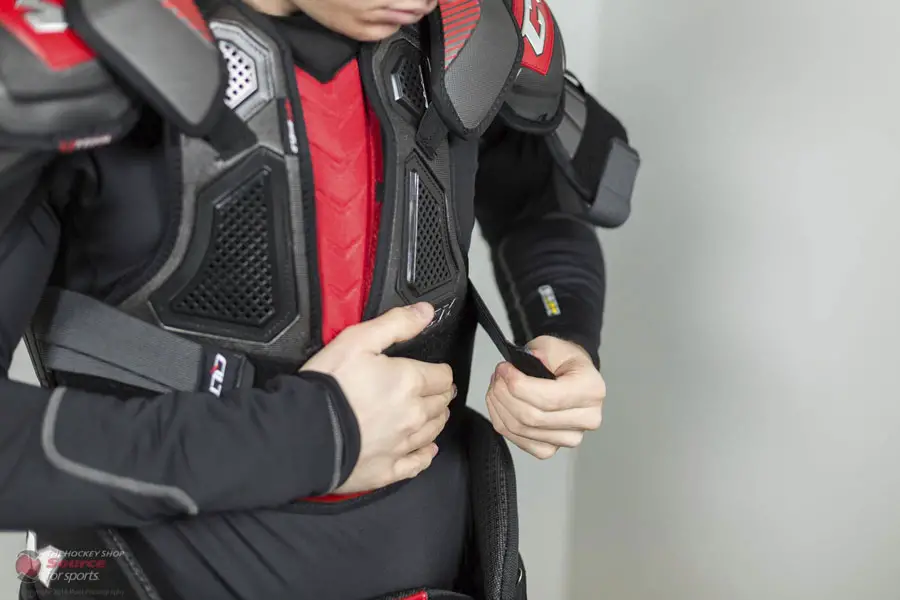 Hockey Shoulder Pad Reviews
Hockey is a contact sport that can cause injuries if you do not have the necessary equipment. Shoulder pads are an important and necessary piece of equipment. They will keep your upper body protected while playing hockey and will keep you safe in many different situations. Whether you are pushed against the sides of the rink or get hit in the middle of the rink shoulder pads will protect you. Having your own shoulder pads provides a proper fit every time and enables you to get comfortable and acquainted with your gear. We have selected the best shoulder pads on the market that will keep you safe and comfortable while you play.
Most Popular Hockey Shoulder Pad
PowerTek
The PowerTek V5.0 Shoulder Pad (Grey/Lime) comes in many different sizes allowing you to purchase equipment that will fit your body type keeping you protected. The hockey shoulder pads have a FitLite design that will allow you to still move freely so your equipment will not slow you down. The shoulder pads are designed to stay close to your body to prevent injuries. This piece of equipment was created to stay firmly in place without moving around making it easier for you to play at your best. With the special PowerTek material, the shoulder pads will absorb and evaporate any moisture that accumulates on your body. By preventing moisture you will stay dry and your equipment will absorb fewer odors. The PowerTek V5.0 Shoulder Pad clavicle portion of the shoulder pads will continue to help you move freely while playing in comfort. The upper arm can be removed and adjusted for a custom fit. By being able to adjust the arms allows the equipment fit perfectly. The chest portions of the pads are also adjustable keeping your entire upper body protected.
Different sizes available
FitLite design
Stays firmly in place
Will absorb and evaporate moisture
Upper arm portions can be removed and adjusted
– Anthony Dawson
Best Overall Hockey Shoulder Pad
STX
The STX Ice Hockey Surgeon RX3.2 Shoulder Pads will help to protect your shoulders and chest while playing the aggressive sport of hockey. The shoulder pads are offered in many different sizes allowing you to find gear that will fit you regardless of what body type you have. The shoulder pads are designed to mold to your body providing security and protection throughout practices and games. The chest area is made of foam material which will help absorb impact if you are hit in the chest, fall, or are pushed against the wall of the rink. Not only will the shoulder pads protect your chest and shoulders, but they will also protect your clavicle and biceps. These pads will prevent potential injuries that can be caused while playing. They are made out of foam and the STX Ice Hockey Surgeon RX3.2 Shoulder Pads can absorb impacts of all levels making it so you can continue performing even after you are hit.
Different size options for a custom fit
Material will mold to your body
Chest is made out of high grade foam material
Will help you absorb impacts
Protects your clavicle and biceps
– Anthony Dawson
Best Budget Hockey Shoulder Pad
Bauer
The Bauer Youth Supreme 150 Hockey Shoulder Pads was created and designed to secure your entire upper body without any gaps. There are several different size options allowing you to purchase shoulder pads that will fit your specific body type. With the axysym feature, the shoulder pads will fit your body securely while being comfortable against your upper body. These features protect you throughout practice and games while being able to move freely. The Bauer Youth Supreme 150 Hockey Shoulder Pads have a strap with 2-timers allowing you to adjust the shoulder straps in several different locations. This feature allows the shoulder straps will fit smoothly and securely against your body without any gaps. The hockey shoulder straps also offer you a liner that is War-Tech allowing the wearer to stay dry. The liner will allow you to stay cool and comfortable even when playing aggressively.
Several different sizes
Axysym feature
Strap with 2-timers
Adjust the shoulder straps easily
Liner on the shoulder straps that is War-Tech
– Anthony Dawson
Hockey Shoulder Pad Buying Guide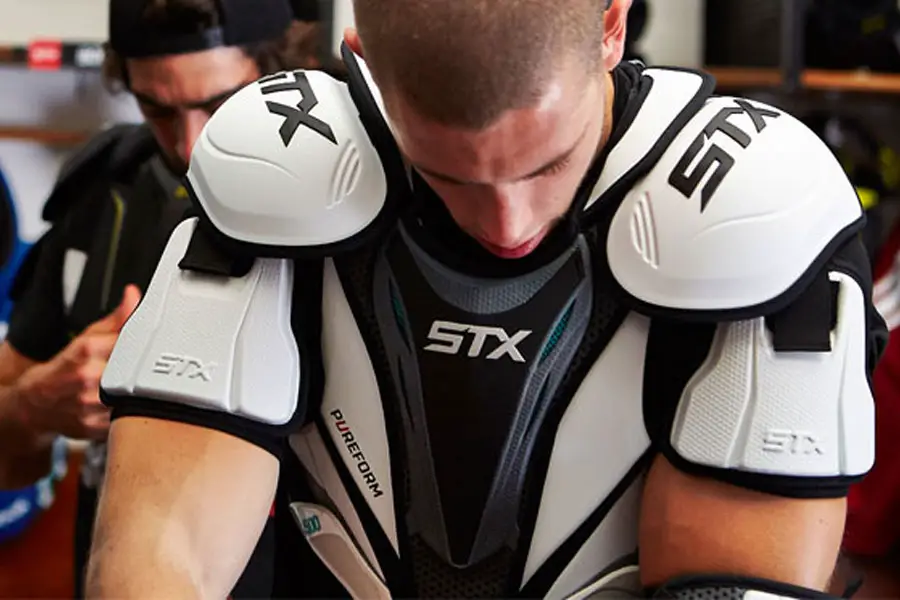 Hockey is an exciting sport that engages the players on a highly physical and dynamic level. A variety of protective gear is required to safely play the game to help prevent injury to all parts of the body. Being a high contact sport, it is necessary to apply padding to specific areas of the body to help lessen the impacts that are a given during play. Each type of padding is designed for certain parts of the body and has its own particular function. There are so many different brands and types available finding the best selection for hockey shoulder pads can become a difficult task, unless you know precisely what it is that you are looking for. This guide has been designed to help point you in the right direction, so you can more easily find the best shoulder pads that will help to keep you safer when playing hockey.
The Purpose of Hockey Shoulder Pads
The purpose of this particular type of protective gear is to help to protect your shoulders from injury during play, but they also extend to other parts of the body. Shoulder pads should be constructed to help protect the upper chest, the back, the upper arms and the collarbone in addition. For example, if you are in a collision with another player and do not have adequate protection, it is easy for your shoulders to become dislocated, sprained or broken, to sustain broken or separated ribs or damage to the collarbone, or to become badly bruised in the chest or back areas. In addition to this, the damage that can be done by a blow from a hockey stick can be devastating because of the sheer force at which the sticks are swung when in play. Pucks also represent an ever present danger as they fly through the air at impressive speeds which can result in significant damage to any human tissue which they may strike.
Determining the Type of Hockey Shoulder Pads Based on Your Position
The position that you play in the game will indicate the type of shoulder pads which will be the most suitable. For example, if you are playing a forward position, you will need to find shoulder pads that are more lightweight and allow you to have more freedom of movement while in play. If you are a playing the position of a defense man, you will need to have larger pads that can provide you with the maximum level of protection from being hit by fast moving hockey pucks. Considering the type and style of playing that is required of you will help to give you a good idea of the type of padding that you will need and the areas of the body which may require additional protection.
Some of the better hockey shoulder pads provide additional padding and protection for the middle chest region in the area of the heart. Some shoulder pads also feature extra protection for the lower back region either as an attachment or as a part of the shoulder pad.
How to Figure Out What Size You Need
Your body type is the biggest determining factor in figuring out what size of shoulder pad will be the best selection for your individual needs. The first step is to measure our upper chest region in circumference just below the armpits. One thing to keep in mind after you've taken your measurements is that different manufacturers may use a different type of sizing chart, so it's wise to not assume that your size requirements for one brand will transfer over to others.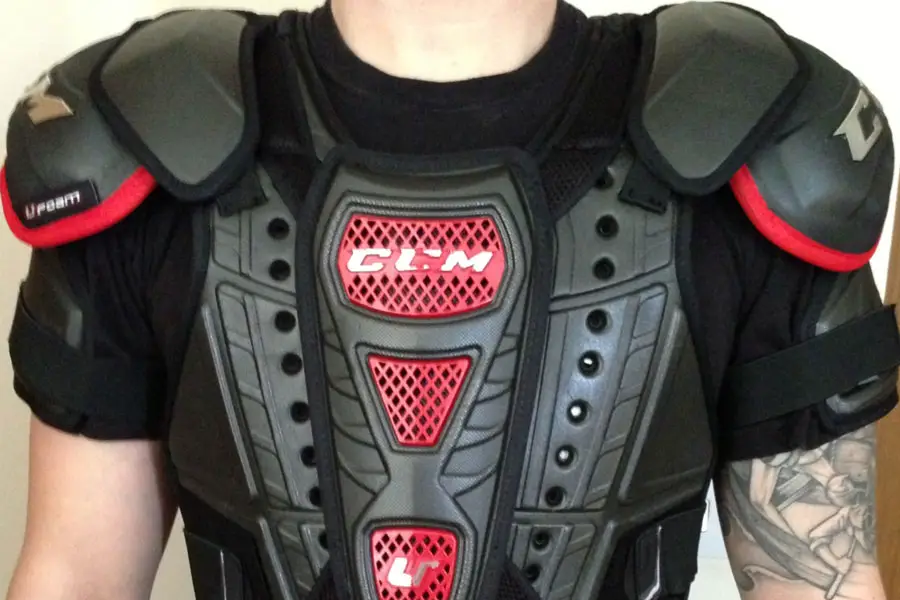 Hockey Shoulder Pad Sizes
Junior sizes are intended for players who are between 22 and 24 inches in chest width. The next sizing is junior – medium which is on average between 24 to 28 inches. Junior large is for 28 to 30 inch chests.
Senior small measurements on average are for 30-32 in chest widths, senior medium, for 32-34 inches, senior large for 36 through 38 inches, and senior extra large for those with chest measurements of between 40 and 42 inches. This, however is a general guide for sizing and it's important to double check the sizing guide that is used for the specific brand and type of shoulder pads that you choose.
The Importance of Getting the Right Size
Regardless of the brand or type of shoulder pads that you choose, getting a good fit is vital to ensuring that you not only have the level of protection that is recommended for the position in which you play, but also for making sure that you have a comfortable fit that allows for the type of movement that will be necessary during play. If the pads are too tight they can restrict mobility and off the blood supply. Pads that fit too loosely will not provide the amount of protection that is needed because of the play in them, or movement that can occur during play and impacts. A snug fit that feels comfortable is what you are looking for in shoulder pads for hockey.
Conclusion
Finding the most suitable padding amounts to determining which type of shoulder pads will provide the level of protection in the areas that are most susceptible to injury in accordance with the position that you are playing. At a minimum, protection for the shoulders, collarbone, chest and ribs and upper arms are required. The thicknesses of the padding and additional coverage areas that some pads provide are a matter of your personal preference in line with safety needs.
The main things to keep in mind are to ensure that you are fully protected but additionally, that you have the ease of movement that your specific job on the field requires. Take some time to check to ensure the shoulder pads are made from high quality materials that are well constructed and have a proper fit. By following the recommendations and tips that are provided in this guide, you now have a good idea of what it is that you need to look for when shopping for hockey shoulder pads.