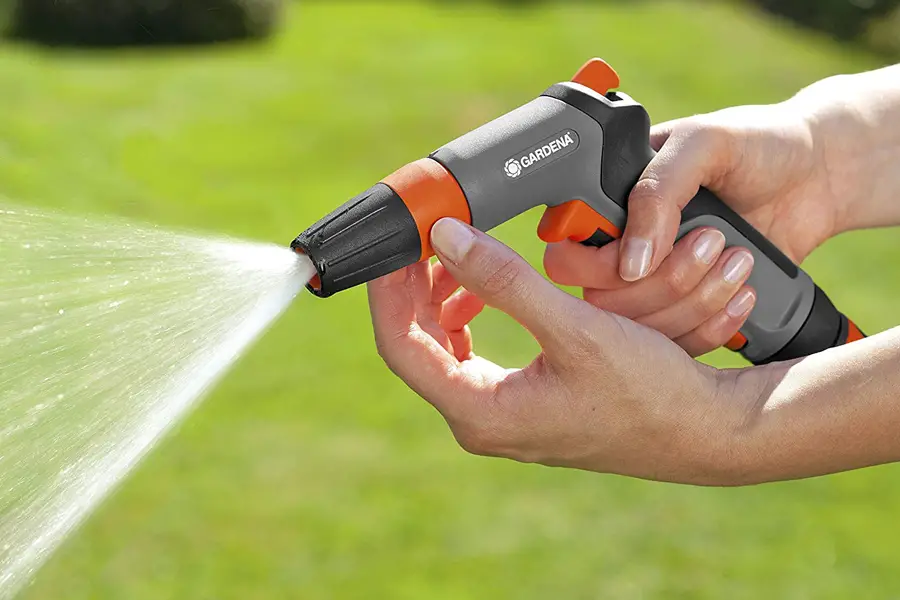 Hose Nozzle Reviews
Few realize how important a good hose nozzle is. When you are fighting to get the hose to spray water gently, it can create a mess because you have to keep putting your hand in front of the flow of water to test it. It's also common for cheap nozzles to constantly break, leak, fail to turn off, or just stop working all together. Spending a little extra money on a quality nozzle can make your watering experience more enjoyable and easy. Begin by asking yourself what kind of projects you'd like to use the hose for. Do you need gentle water flow for flowers? A nice spray that is perfect for larger plants and trees? Will you be watering your lawn, or using the hose to wash your car? In most cases you'll be doing all of these things, so the key is to find a hose that is versatile, durable, and easy to use. Most hose nozzles are made of metal, but there are some on the market these days that are made of plastic as well. With a little searching, you'll be able to find something that works for you.
Most Popular Hose Nozzle
Pretmanns
It's important for everyone these days to conserve water, and finally there's a garden hose nozzle that does a lot of the work for you. Thanks to the 7 spray settings available on this nozzle, you can choose the exact and appropriate amount of water flow that you need. A hose can pour-out up to 10 gallons per minute, and sometimes you just don't need that much water, and feel bad about the waste. This nozzle has a maximum output of 2.5 gallons per minute, which is a fantastic improvement over other hoses. That's a whopping reduction of 75%! Use the soft Mist option when watering delicate seedlings, or set it to Jet to wash away stubborn dirt. Other setting include: Flat, Center, Cone, Full, and Shower. This is the ultimate in gardening versatility, and it's backed by a one year guarantee against any defects of workmanship. Finally, a hose nozzle that is good for your garden and the environment.
7 spray setting for an ultra customized experience
Durable plastic body is rust resistant
Full 1 year warranty
Comfortable pistol grip
– Anthony Dawson
Best Overall Hose Nozzle
Nelson
It's not enough that this Nelson Rezimar nozzle is totally customizable, it also has a construction that is so durable it will stand against even the toughest outdoor conditions year-round. With seven different water patterns to choose from, it's easy to choose just exactly what kind of flow you need in different circumstances. The dual soft grip overmold makes this nozzle incredibly comfortable to hold and easy to get a good grip even when your hands are wet. The easy on and off button works with just one click, and is ergonomically positioned for your comfort and stability. Flow control not only allows you to customize the water output, but it also makes this nozzle good for the environment and conservative. All in all, this is one of the best multiple pattern nozzles on the market, and is great for those who use their hoses for a number of different purposes.
Ultra-durable Rezimar body
7 spray patterns to choose from
Dual soft grip handle
Easy flow control
– Anthony Dawson
Best Budget Hose Nozzle
Viking Car Care
Perfect for any standard hose, the Viking spray nozzle allows for an impressive 8 different patterns of flow. This is more than most other variable hose nozzles, and is perfect when you have a multitude of ways that you need to employ your hose. Not only does it offer this variety, but it's also incredibly durable thanks to its sturdy metal base. Comfortable to grip and easy to control, the nozzle has a soft rubber handle that is ergonomic and provides extra support in the hand. This nozzle from Viking can work with any standard hose, and it's a fantastic way to take your gardening, landscaping, and cleaning to a whole new level, while still being conservative and smart with how you use your water. All in all, this is a fantastic fixture, and once you use it, you're going to wonder how you ever stood for that old nozzle for so long. See what a convenient and customizable experience watering can be.
8 different spray patterns to choose from
Comfortable rubber grip
Secure metal base
Ultra durable and easy to use
– Anthony Dawson