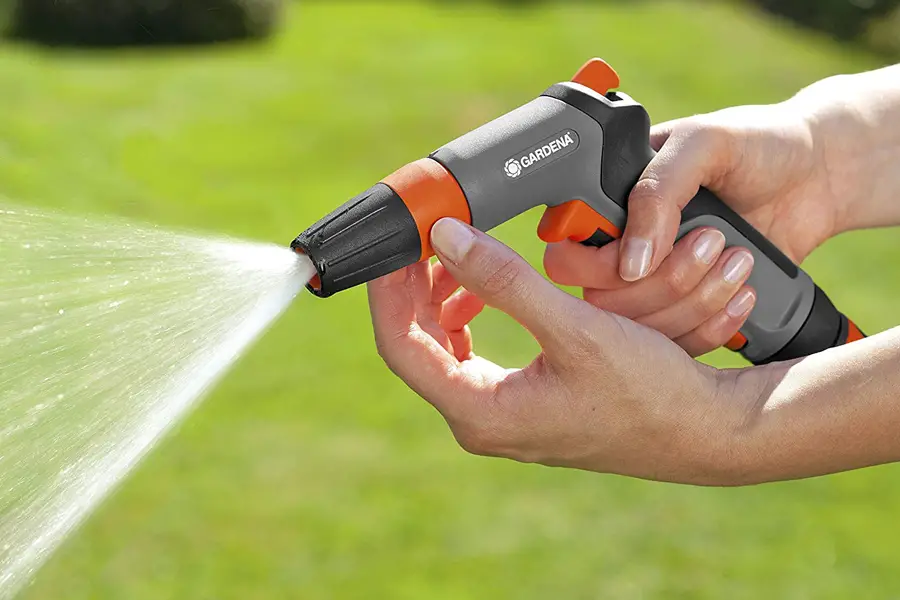 Hose Nozzle Reviews
Few realize how important a good hose nozzle is. When you are fighting to get the hose to spray water gently, it can create a mess because you have to keep putting your hand in front of the flow of water to test it. It's also common for cheap nozzles to constantly break, leak, fail to turn off, or just stop working all together. Spending a little extra money on a quality nozzle can make your watering experience more enjoyable and easy. Begin by asking yourself what kind of projects you'd like to use the hose for. Do you need gentle water flow for flowers? A nice spray that is perfect for larger plants and trees? Will you be watering your lawn, or using the hose to wash your car? In most cases you'll be doing all of these things, so the key is to find a hose that is versatile, durable, and easy to use. Most hose nozzles are made of metal, but there are some on the market these days that are made of plastic as well. With a little searching, you'll be able to find something that works for you.
Most Popular Hose Nozzle
Melnor
It's important for everyone these days to conserve water, and finally there's a garden hose nozzle that does a lot of the work for you. Thanks to the 7 spray settings available on this nozzle, you can choose the exact and appropriate amount of water flow that you need. A hose can pour-out up to 10 gallons per minute, and sometimes you just don't need that much water, and feel bad about the waste. This nozzle has a maximum output of 2.5 gallons per minute, which is a fantastic improvement over other hoses. That's a whopping reduction of 75%! Use the soft Mist option when watering delicate seedlings, or set it to Jet to wash away stubborn dirt. Other setting include: Flat, Center, Cone, Full, and Shower. This is the ultimate in gardening versatility, and it's backed by a one year guarantee against any defects of workmanship. Finally, a hose nozzle that is good for your garden and the environment.
7 spray setting for an ultra customized experience
Durable plastic body is rust resistant
Full 1 year warranty
Comfortable pistol grip
– Anthony Dawson
Best Overall Hose Nozzle
Utensilux
It's not enough that this Utensilux nozzle is totally customizable, it also has a construction that is so durable it will stand against even the toughest outdoor conditions year-round. With seven different water patterns to choose from, it's easy to choose just exactly what kind of flow you need in different circumstances. The dual soft grip overmold makes this nozzle incredibly comfortable to hold and easy to get a good grip even when your hands are wet. The easy on and off button works with just one click, and is ergonomically positioned for your comfort and stability. Flow control not only allows you to customize the water output, but it also makes this nozzle good for the environment and conservative. All in all, this is one of the best multiple pattern nozzles on the market, and is great for those who use their hoses for a number of different purposes.
Ultra-durable body
8 spray patterns to choose from
Dual soft grip handle
Easy flow control
– Anthony Dawson
Best Budget Hose Nozzle
Viking Car Care
Perfect for any standard hose, the Viking spray nozzle allows for an impressive 8 different patterns of flow. This is more than most other variable hose nozzles, and is perfect when you have a multitude of ways that you need to employ your hose. Not only does it offer this variety, but it's also incredibly durable thanks to its sturdy metal base. Comfortable to grip and easy to control, the nozzle has a soft rubber handle that is ergonomic and provides extra support in the hand. This nozzle from Viking can work with any standard hose, and it's a fantastic way to take your gardening, landscaping, and cleaning to a whole new level, while still being conservative and smart with how you use your water. All in all, this is a fantastic fixture, and once you use it, you're going to wonder how you ever stood for that old nozzle for so long. See what a convenient and customizable experience watering can be.
8 different spray patterns to choose from
Comfortable rubber grip
Secure metal base
Ultra durable and easy to use
– Anthony Dawson
Hose Nozzle Buying Guide
One important aspect of garden upkeep is to keep the garden green and healthy even during the hot seasons. One way to be sure that the hose remains green is by watering it. Ensure that you use the right hose nozzle to water the garden.
There are a lot of hose nozzles out there and choosing one can be challenging. Therefore, you need to research before you go out shopping for a nozzle. This guide will help narrow down your options when purchasing a hose nozzle.
3 Benefits of Buying a Hose Nozzle
There are various benefits of buying a hose nozzle. They include:
1. Reduces Water Waste
A hose nozzle ensures that you irrigate the garden without wasting water. It allows you to point a specific plant and focus on it.
2. Prevents Spillage
A good hose nozzle minimizes water spillage and leaks. It allows you to perfectly direct the water to grow healthy plants without messing your clothes.
3. Controls Water Flow
Nozzles have triggers that allow you to control the water flow with ease. You don't have to go back and forth to the source to close or open the water.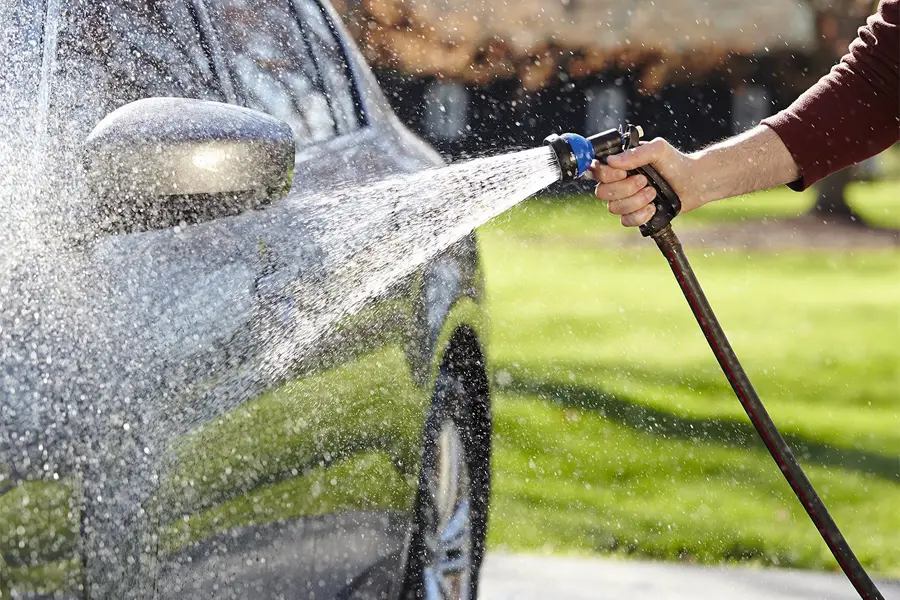 4 Types of Hose Nozzles
1. Pistol Grip Nozzles
As the name suggests this type of nozzle looks like a pistol. It comes with a trigger that releases water when you pull it. You can close the water flow by releasing the trigger. The trigger controls the rate at which the water flows depending on how hard you pull the trigger. These nozzles have several moving parts and can easily break or wear out. Therefore, you should ensure that you purchase a high-quality pistol grip nozzle.
2. Dial hose nozzles
These nozzles come in different styles and allow you to change the spray pattern. The patterns include flood, jet, mist, and shower, among others. They are ideal for people who do close spraying regularly or want to adjust the patterns frequently.
3. Fan Nozzles
These nozzles release water in a mist-like pattern. They do not have water control but can complete tasks in a short time. They emit a lot of water but can be used to delicate water plants because they have a smooth flow.
4. Watering Wands
Watering wands have extended nozzles that enable you to water hard-to-reach plants. You can buy watering wands that have triggers or cut-off valves to help control the water flow. This nozzle is ideal for people with limited mobility.
Other types of nozzles include fireman nozzles used to wash cars and traditional nozzles.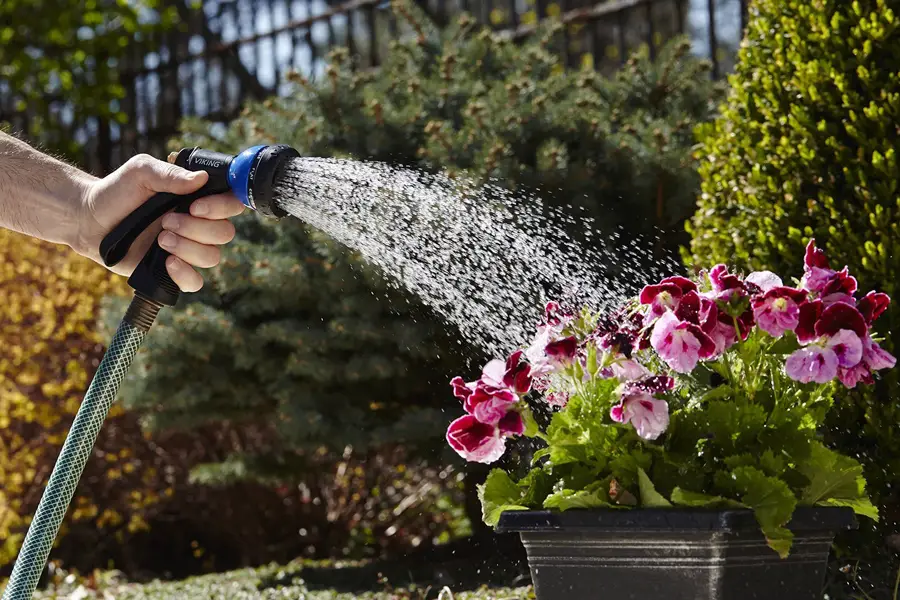 Things to Consider When Purchasing Hose Nozzles
There are several things that you should consider before you settle on a particular hose nozzle. It's a bad idea to buy a nozzle without doing research. Ensure that you keep the following considerations in mind while purchasing hose nozzles.
1. Purpose
Nozzles are designed for different purposes. You should asses your needs before you buy a nozzle. For instance, go for a watering wand if you want to spray raised plants. Buy a fireman nozzle if you're going to wash a car. Knowing the purpose will help you know the type of nozzle that you want.
2. Durability
Nozzles are made from different materials. Note that you will use the nozzle in the harsh outdoor environment. You should buy a metallic horse because it's durable and rustproof. However, metallic nozzles are expensive and heavy. Plastic nozzles are affordable but may crack or break easily.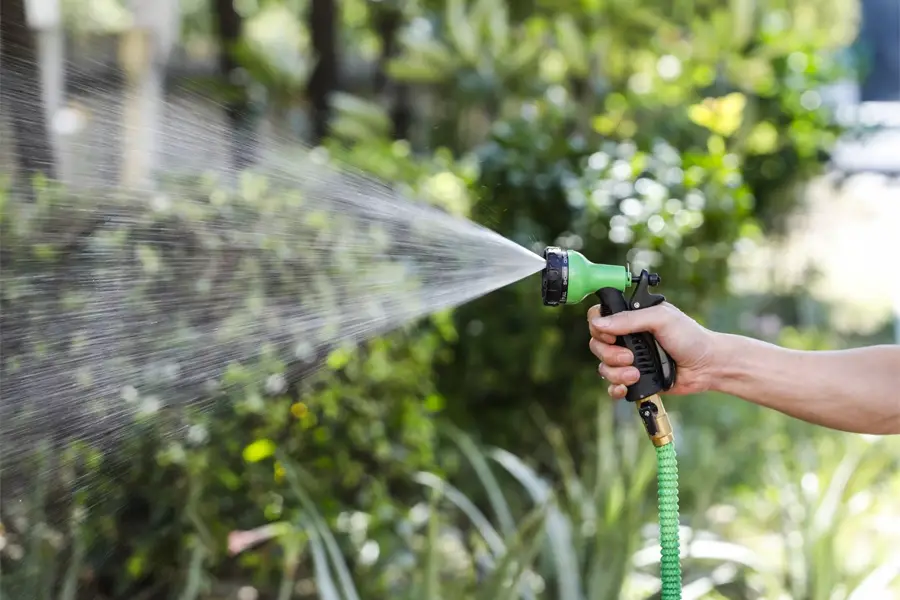 3. Compatibility
Ensure that you purchase a nozzle that fits your hose's diameter. Measure the width of your hose before you buy a nozzle to ensure that you don't end up with a product that is too thin or wide.
4. Grip
No matter the purpose of the nozzle, you will want one that has a comfortable grip. Some have a lock feature that keeps the water flowing even when you are not pulling the trigger. It should have appropriate patterns and curves for comfort.
Conclusion
Purchasing a nozzle is a crucial task for people who own gardens. Note that a nozzle is not something that you change regularly, and there is a high chance that you will stick with the one you choose for several years. Therefore, you should ensure that you get the best nozzle for your needs.