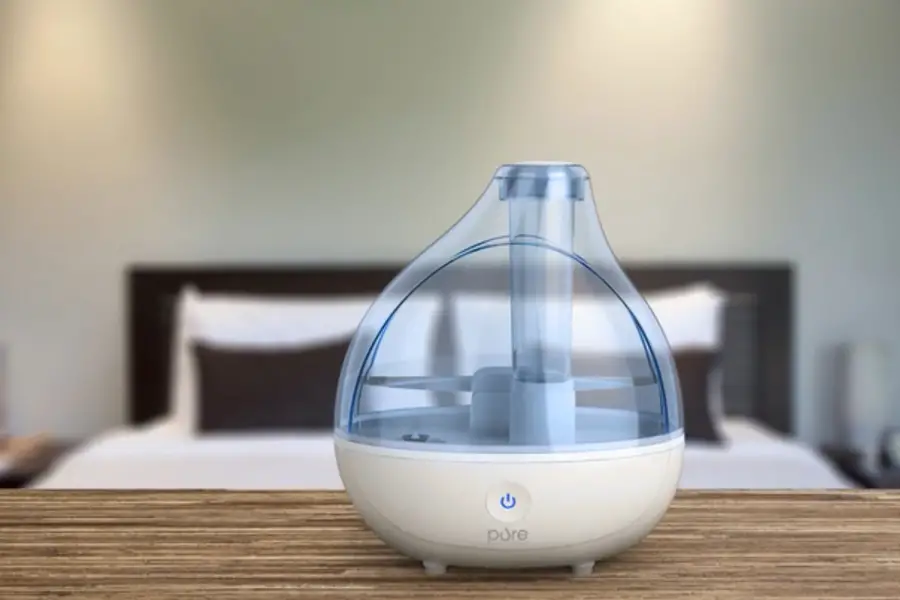 Humidifier Reviews
Humidifiers are often used in the winter months when the dry air from heating systems bring on dry skin, chapped lips and a dry throat. Humidifiers can reduce heating costs. Doctors also recommend humidifiers to fight off cold and flu symptoms. Humidifiers can bring relief for symptoms like nasal congestion, sinus irritation, nose bleeds, coughs, and a running nose. Humidifiers can be used as an alternative to cold and flu medicines, without any side effects. For most effective results use distilled or filtered water rather than tap water. There are many different brands and models of humidifiers with varying degrees of effectiveness. Finding a humidifier that will give you the benefits of moist air without any of the complications of a faulty machine is important for your enjoyment. We have selected the best humidifiers on the market that provide both form and function for you to enjoy. We have brought together all of the top models and narrowed the list down of the ones we think are the best.
Most Popular Humidifier
Crane USA Humidifiers
The Crane-Ultrasonic-Humidifier has a 1 gallon tank. It can create proper levels of humidity for rooms up to 250 square feet. It is simple to operate. Just fill the tank and it will run for up to 24 hours, putting up to 2.3 gallons of moisture into the air per day. There are variable control settings to regulate the amount of humidity needed. The Crane-Ultrasonic-Humidifier has a 360 degree nozzle that produces moisture evenly throughout the room. There are no filters to clean or replace. The Crane-Ultrasonic-Humidifier has ultrasonic technology which allows the unit to operate with very little noise. This humidifier comes with a safety shut off, so the motor and unit are protected once the water tank has been emptied. The Crane-Ultrasonic-Humidifier was a finalist for the 2011 International Housewares Design Awards because if its efficient and compact design and operation. The unit is very energy efficient and uses less energy to operate than a standard light bulb.
1 Gallon Tank
360 degrees nozzle to direct cool mist
Safety auto shut off
Energy efficient
Good for rooms up to 250 square feet
– Anthony Dawson
Best Overall Humidifier
Honeywell Germ Free Cool Mist Humidifier
The Honeywell Germ Free Humidifier HCM 350 has an antimicrobial treated filter that kills 99.9% of bacteria and mold spores in the water. This patented germ killing chamber creates a 99.9% germ free mist, which enhances its ability to fight colds and flu symptoms. The Quiet Care Technology allows the humidifier to operate with 25% less noise than standard humidifiers and creates a very quiet machine that can be operated in any room. The Honeywell-Germ-Free-Humidifier-HCM-350 has a 2 gallon tank that will humidify a medium sized room for 24 hours on one fill. The water tank is dishwasher safe, for easy cleaning and disinfecting. The Honeywell-Germ-Free-Humidifier-HCM-350 includes an auto shut off for safety, and shuts off when the water tank is empty. The auto moisture balance system is built, to maintain the proper moisture in the air for maximum effectiveness. The humidifier comes with a 3 year warranty.
2 Gallon water tank
Antimicrobial filter kills 99.9% of bacteria in water
Quiet Care technology allows the machine to operate 25% quieter
Dishwasher Safe Parts
3 year warranty
– Anthony Dawson
Best Budget Humidifier
Homasy
The Homasy-Warm-Mist-Humidifier has a one gallon water tank and will operate in medium sized rooms. One tank will last up to 24 hours on low and around 12 hours on medium. There are two comfort settings to select from. The Homasy-Warm-Mist-Humidifier works by boiling the water into a steam vapor. This produces around 96% bacteria free mist. The unit releases the warm air mist to create the proper humidity in the room. A unique feature for the Homasy-Warm-Mist-Humidifier is that it includes an attached medicine cup. This allows you to use Homasy vapor stream or Kaz inhalant to create medicated vapors. When it comes to breaking up congestion and relieving cough and cold systems, the inhalants can reduce the symptoms quickly and efficiently. The Homasy-Warm-Mist-Humidifier offers a quiet operation and includes a soft nightlight. It comes with an automatic shut off when the water tank becomes empty. Cleaning is made easy and parts are easy to remove, clean and return to the unit. The Homasy-Warm-Mist-Humidifier comes with a 3 year warranty.
2.2 Liter water tank
Produces warm steam for 96% bacteria free mist
Medicine cup for medicated vapors
Quiet operation with auto shut off
3 year warranty
– Anthony Dawson
Humidifier Buying Guide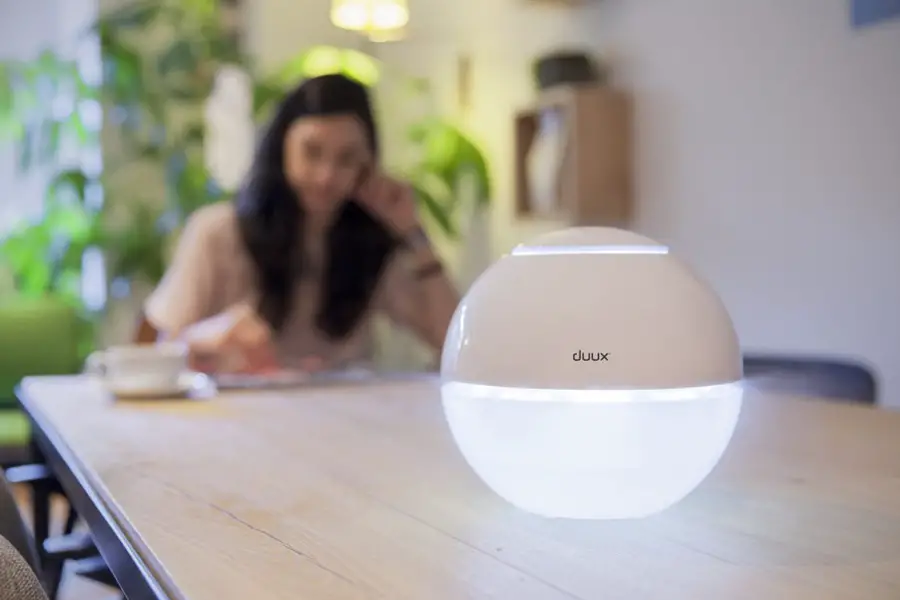 In desert climates, or hot and dry places, low humidity is really a big concern. Low humidity is also a problem in cold winter seasons. The air gets dry whenever the cold outside air is heated with our household heaters. The lack of moisture in the air or low humidity has various health effects. It causes respiratory distress especially to children. The dry air causes throat and nose irritations, can even lead to cough, and alleviates asthma problems. Not only does it pose health risk but it also damages wooden floors, and furniture, especially those that are made of wood. Wood furniture usually shrinks and cracks. It also has same effect to artworks, papers, and books. Dry air causes paper to become brittle. These are the many reasons why many household use humidifiers.
Uses of Humidifiers
Humidifiers are used to maintain normal humidity, which is from 30 to 50 percent. You can also use a hydrostat to check the level of humidity in your home to be able to know when to use them. Humidifiers add moisture to dry air and static electricity. Static electricity causes dirt and dust to cling and stick to electrically charged surfaces. A humidifier helps relieve respiratory problems caused by low humidity. This household appliance can increase humidity in a single room, or the entire household depending on what type you will be using. This article will provide you information with purpose to guide you in buying a household humidifier. You will learn about the types of humidifiers and also some good features to look for in humidifiers.
Types of Humidifiers
There are four major types of humidifiers according to size. These are Table top, Console, Tower, and whole house humidifiers.
Table Top Humidifiers
This is the smallest type. This is also called room humidifiers. It is lightweight and is very portable. This is usually used to humidify a small sized- single room. It usually has small removable water containers for easy refill and cleaning.
Tower Humidifiers
This is also portable and can humidify wider or medium sized rooms or household space. This is great for your master bedroom or living room. This type requires less frequent refilling of its water tank.
Console Humidifiers
Bigger and Heavier but can still be moved around. Usually placed on the floor and centralized home area. This can humidify much bigger spaces in your home. It can cover more than one room. It can cover up to 3,000 square feet. These humidifiers are usually designed to look just like ordinary furniture for it to blend with the house surrounding.
Whole-House Humidifiers
As the name says itself, it humidifies the entire household. This is installed/connected to your HVAC unit and water line. It works with your home cooling and heating system. This is also convenient because it does not require too much maintenance and refilling activities.
You can choose from any of these four types according to the size of your household space and according to your humidifying needs.
Let's further look at the two general types of humidifiers according to how they function. We have the Cool Mist Humidifier and the Warm Mist Humidifier.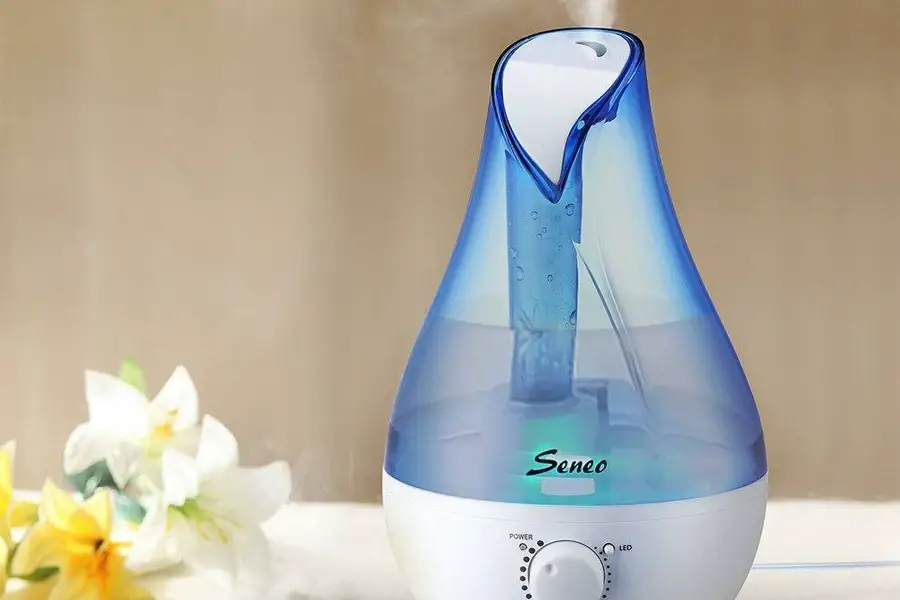 Cool Mist humidifiers
Generally, this type of humidifier has lesser electricity consumption. There are two sub types for cool mist humidifiers.
Evaporative Humidifier: It works with a fan than blows air through a wick and water is absorbed from the tank and evaporates into the air thus increasing humidity. It has air –filtering capabilities to reduce air impurities. This requires regular refilling of the water reservoir or tank and frequent replacement of the wick. This is usually common in whole house humidifiers.
Impeller Humidifier: Uses a spinning disc which propels water to a diffusing screen, and when the water diffuses, the water particles form into tiny droplets diffusing into the air as fine mist. This also requires regular water refilling but no need to replace filters.
Warm Mist Humidifiers
These use heating elements. It works by increasing humidity with a steam. This type consumes less electricity. And this type is quieter than the cool mist humidifier because it does not make use of a fan. It also has a water tank that needs to be refilled and cleaned but no filters to replace.
Once you made your choice whether you would want a cool mist or a warm mist humidifier, it is good to check the special features that your humidifier has.
Water refilling tank
Find a humidifier that has a water container or tank that can be easily removed or detached, for the purpose of easy refilling and cleaning.
Filter System
Look for a filter that has an antimicrobial system or a UV light that can kill germs and bacteria. This is for a cleaner and purified air that gets circulated into your household.
Indicator Light
Find a humidifier that has an indicator light to let you know if the water tank is about to get empty. This would signal you to refill the water reservoir.
Adjustable Humid level
If there is too much or very high humidity dust mites and mildew grow and increase. A sign of this is your wall paint is peeling. Growth of bacteria also increases, thus causing health problems. So it's important to buy the right size of humidifier. Check if a humidistat is available on your humidifier. You should be able to control the level of humidity in your room.
Having all of this basic information about humidifiers, you can now go ahead and choose the most suitable humidifier for you. You can check other helpful tips online, and read on other special features that are available. Most importantly, always maintain the cleanliness of your humidifiers because it is one appliance that spreads impurities in the air. Use it with the proper instructions and proper maintenance for it to function well.
With a humidifier right in your household, the dry or hot climate, and even the cold and dry air brought about by the winter seasons should no longer cause you any discomfort and sickness.