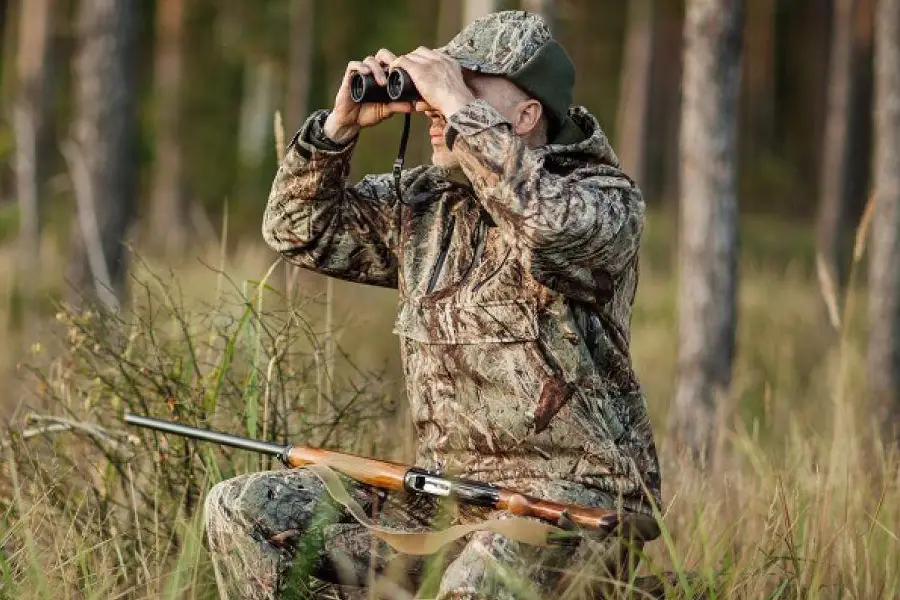 Hunting Binocular Reviews
When researching the different models of binoculars, you'll find that there are only a few high quality binoculars that are affordable. Depending on the purpose you need binoculars for, whether hunting, bird watching, spectator sports, etc,, you will want to make sure you have a set with the proper magnification, size and optics. Binoculars come in a variety of styles as well, and usually the more compact the better. We reviewed a number of binoculars for you, putting quality and durability first. Below is a summary of the binocular we like the best and links to where you can order them from.
Most Popular Hunting Binocular
Bushnell Powerview
These binocular have a better build than most you can view objects that are far ann closer. You are get what you are paying for at a higher price because the warrant, ease of use and quality are exceptions. These PowerView binoculars can get heavy over time and you may want to keep your image steady but they are perfect for recreational and professional use as in astronomy., hunting or bird watching. The are clear and just require you to point to your object and focus. You can have up to a 12x view and the field of view is about 265 which means that if you are looking 1000 feet away, you can clearly see 256 fet of width. They come with a soft, padded case and carrel caps.
Superior brightness and transmission of light
Instant focus system
Shock absorbent and non slip rubber
Light weigh only 30 oz
Lifetime warranty – limited
– Anthony Dawson
Best Overall Hunting Binocular
Celestron
The price is right and for recreational use these binoculars are perfect. The apeature is on the large size (they are 15 x 70) so focusing can be done a bit more accurately and the eye pieces stay in place. Focusing is smooth and they stay on center and done wobble or backlash like some of the other models in the same price range. They are lightweight so they can be used for an extended period of time or they can be mounted to the included tripod. The technolgy behind this unitl is the BAK-4 prims and optics which or multicoated for high contrast. They gather the light you need and are the best pair in this price range by far.
Perfect for evening or dusk stargazing
Larger aperture
Adapter for tripod
Perfect for those who were eye glasses
Fine focus
– Anthony Dawson
Best Budget Hunting Binocular
Bushnell Compact
This line is affordable, durable and of great quality. They are a bit more stylish than others we reviewed and the optics are fully coated providing images that are bright and vivid images. This set includes a neck strap and a convenient carrying case. They come in many different magnification, sizes and styles but they all have in common some advanced options such as fully coated, brighter optics, they are all lightweight and compact and they also have non slip pads which are soft to the touch. The smaller one are definitely multi-purpose and the larger models are rugged and durable for outdoor activities.
Compact
Superior optics for brightness
Shock absorbent and non slip rubber
Not for water or fog use
Contemporary style
– Anthony Dawson
Hunting Binocular Buying Guide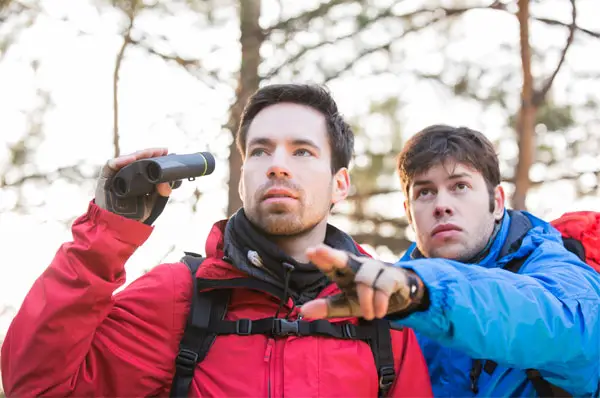 If you are an outdoor enthusiast who wants to get the best view of the wonderful terrain and the clearest sight of the animal that you are hunting, you know how seriously the need to have a hunting binocular is. The use of a proper pair of binoculars will increase the odds of successful hunting and will lessen the chances of accidentally hitting the wrong animal or wildlife species. Just like buying any gadget, you should consider your purpose for the binoculars.  When choosing a hunting binocular, your needs will have to be balanced with your budget.  There are those that cost a lot of money to buy, while there are those that can be purchased at a bargain.  However, since a hunting binocular is a very specific type of outdoor equipment, there are several specifications and qualifications to consider when buying one.
Features to Consider
Light Performance of Hunting Binoculars
Since most of the animals in the hunt come out during dusk or dawn, you will likely be using your binoculars more during this time of the day.  Choose a binocular with a low-light performance. It is recommended for hunters to use a full-sized binocular with 42-50mm objective lenses.
Hunting Binoculars Field of View
You should choose a binocular with a large field of view. The field of view is determined through the diameter of the lenses and magnification power. Binoculars that have a field of view of 8 to 9 degrees would be good for hunting expeditions. Do not let your binocular to deprive you of seeing the best shot of the animal that you are looking at just because of the narrow field of view it has.
The magnification of a binocular and its lens diameter will also help the hunter as to how well he could see a moving animal. However, the clearer you could see a moving object, the heavier your binoculars would be. Since you want the most of your hunting experience, this should not be a big hindrance. Choose the ones that have a low magnification and large objective lens because it would allow you to see far and moving things clearly.
The terrain where you will hunt should also be an important consideration. Lower power binoculars (8x or 7x) is best for scanning agricultural fields and terrains that have many trees in it. Consequently, when hunting in places that do not have many trees to provide cover, a pair of binoculars with the magnification of 10x will give you the best view from a distance. Popular among Western hunters are binoculars that have 15×56 magnification. However, the downside is that you will have trouble holding it steady because of its weight.  A good solution would be to use a tripod with it.
Weight of Hunting Binoculars
Since you will be carrying your binoculars to just about anywhere in the wild, it is important to consider how much weight you could carry without losing the energy which is intended for the hunting itself. However, do not sacrifice the quality of the view that you would be able to see over the weight of the binocular. Binoculars with 8×42 would provide a good light intake and magnification. A 10×42 binocular is the one which is more preferable and more popular because of its flexibility and multipurpose use.
Durability and Ruggedness Go Hunting Binoculars
The rugged quality of a binocular is one of the main features to consider.  You need an equipment that will suit the weather conditions and can withstand other external elements.  Outdoor conditions can change drastically and you should be able to adapt to these changes if you do not want to prematurely pack up your hunt.  Your binoculars should be capable of still giving you the kind of vision that you need to hunt in different conditions.  A roof prism binocular is a good choice since it can handle moisture well.  This kind of binoculars is waterproof and fog proof.
The binoculars' durability is also a top concern since you would really want the best value for your money. The binoculars should be usable for a reasonable span of time.  You want to be able to use your binoculars for a long period of time and enjoy the same quality as if you were using it for the first time.
The fact that you will use your binoculars in a longer span of time during hunting will reinforce the need to have a binocular with a quality glass. Cheap or inferior optics would just cause painful eye strains. Choose a binocular glass which would allow you to look through it without causing you discomfort. The unaided eye should clearly see the things before him without added inconvenience.
Brightness of Hunting Binoculars
The brightness level of a binocular could be determined through the exit pupil size and prisms. For a hunter who wants to use a binocular during low light conditions like dusk and dawn, a porro prism with 7 exit pupil binocular would work best. Roof prisms are suited to be used during bright light conditions.
The capability of the binocular to focus clearly and quickly is one of the main considerations of hunters. A good binocular to choose would be the one that could focus well in a distance of at least 40 feet.
Eye Relief Feature and Other Options
There are binoculars that also cater to the needs of those that are inconveniently using prescription glasses. The eye relief feature and foldable rubber eye cups are very useful since it would help the hunter see the animal clearly without eye strains and headaches.
Binoculars with camouflage coverings are also good so that the hunter could hunt safely without the danger and fear of being attacked by a wild animal.  Some animals can get alerted when they see the binoculars.  It is also important to look for binoculars that are scratch resistant, in case of inevitable events like accidentally falling on rough areas or rubbing on rough tree trunks.
What you need to have is a binocular that would allow you to have a memorable and enjoyable experience in the wild. So, choose the best when you want to see those big animals in their natural habitat or those birds against the glare of the sunlight and bright skies.