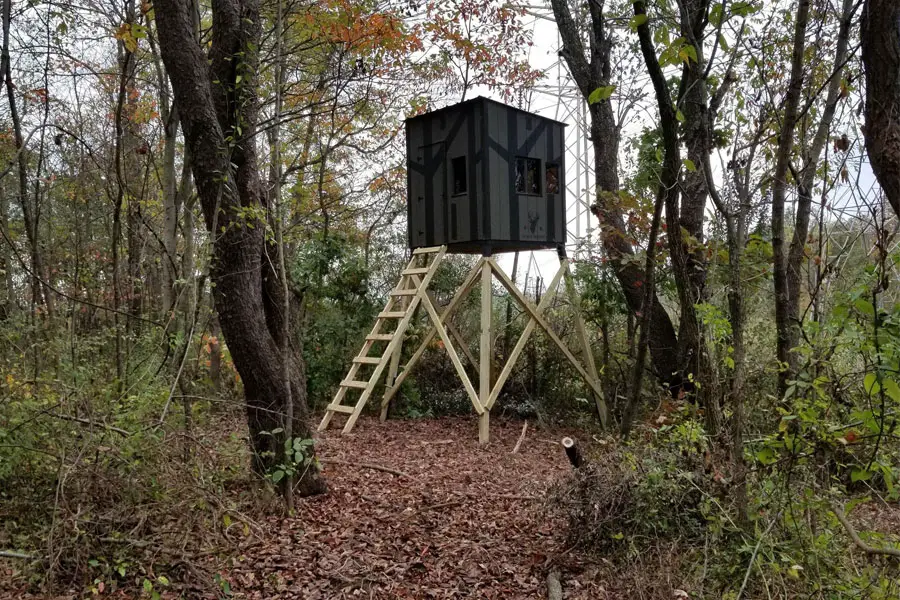 Hunting Blind Reviews
Like their lofty counterpart the tree stand, hunting blinds have become vital components of many hunters' list of equipment. The purpose of a hunting blind is simple: conceal the hunter from his intended prey's senses (eyes, ears, etc.). Blinds of the portable variety offer the hunter the ability to move from place to place in the woods or on the marsh, following the path of his intended harvest. Hunting blinds are used to hunt a variety of animals, including deer, turkey, and various species of waterfowl. Most blinds come in a variety of camo patterns to match the landscapes of different hunting environments, while others come in generic earth tones or reversible patterns for increased versatility. While most hunting blinds are geared toward rifle or shotgun hunting, some offer the space to allow for bow hunting as well.
Most Popular Hunting Blind
Ameristep
At 20-pounds, the Ameristep 2290 AP Realtree Bone Collector features a rugged hub-style design that's lightweight and easy to break down and carry in the included backpack carrying case. The Bone Collector uses Ameristep vertical window technology with shoot through mesh windows featuring a perfectly sized gun port. The blind also features a heat-release roof vent to keep the air flowing on warm afternoon hunts, while the exterior NS fabric reduces shine, noise, and scent from inside the blind. Without being overly large, the Bone Collector is tall enough to allow standing room, while the interior offers enough space for two hunters, their rifles/bows, decoys, and gear bags. Also included with the blind are stakes and tie down ropes to keep the structure in place in the event of wind.
Water-resistant ReelTree camo exterior with scent, shine, and noise reducing fabric
Compact and portable backpack carrying case – 8"x44"
Heat release roof vent and shoot through vertical mesh windows
– Anthony Dawson
Best Overall Hunting Blind
Primos Hunting
The Double Bull Double Wide Easy Entry Ground Blind by Primos boasts the biggestsilent-entry door of any blind on the market. That door would be a 29-inch wide zipperless door that you can enter without rustling the frame of the tent, even when fully loaded with pack and gear. The floor of the blind is 5'x5' with a 70-inch height, offering more than enough room for two bow or gun hunters (plus their gear) to stand and shoot comfortably. From the inside you are granted a full 180-degree view with Primos' Silent-Slide window adjustment system. The exterior is made of a double-bull polyester/cotton composite canvas without any wind flap or sheen finish, further reducing both noise and visibility. The blind employs a powerhub framework for increased durability and comes with four heavy duty ground steaks and tie down ropes to keep it secured in the elements.
Largest silent entry door blind – 29-inch zipperless door
Blackout interior and sheen-free exterior
5'x5' floor space with 70-inches of standing room for two hunters
180-degree viewing portal with adjustable Silent-Slide windows
– Anthony Dawson
Best Budget Hunting Blind
Big Game Treestands
The Big Game Tree Stands Charger Blind is an 11-pound spring-style hunting blind that's lightweight and easy to set up. With dimensions of 66"x66"x64", the Charger Blind offers plenty of floor space to fit two hunters and their gear comfortably and enough headroom to stand and move around inside. The interior is completely blacked out to reduce your visibility, while the exterior fabric is a water-resistant nylon in a realistic woodland camouflage. The blind has an easy access door with a full-length zipper and features silent one-handed release hooks to open the removable shoot-through mesh available on all windows. To keep the Charger Blind secured in the face of the elements, the blind comes with 9 steel stakes and 4 tie down ropes.
Portable, floorless blind – 66"W x 66"L
Easy access door and shoot-through mesh windows
Water resistant exterior and blacked out interior
Room for two hunters and gear – suitable for rifle and bow hunting
– Anthony Dawson
Hunting Blind Buying Guide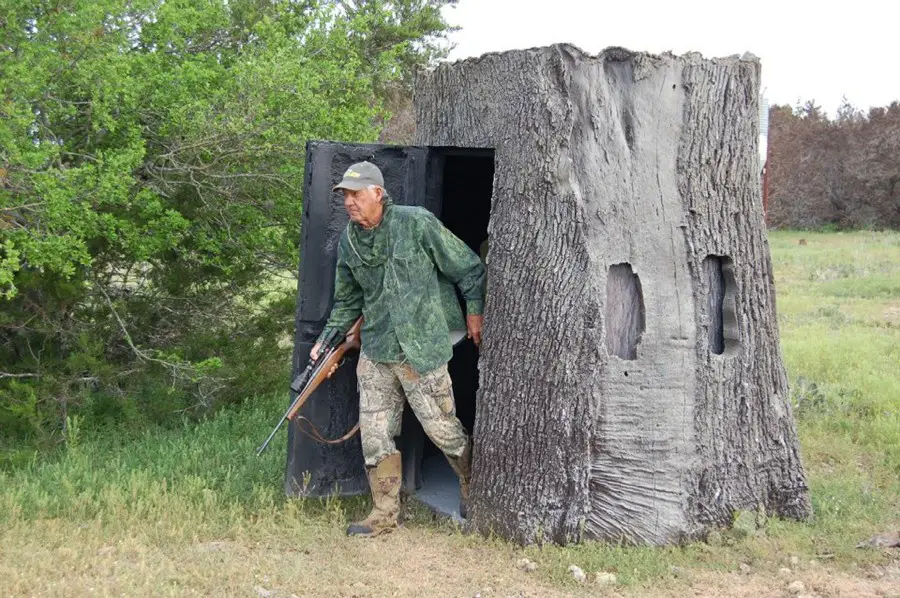 Lately, hunting blinds have seen a tremendous spike in popularity for those who enjoy hunting. Because they offer both concealment and reliability, hunting blinds are a particularly inviting choice for hunters who no longer possess the agility required to climb into a tree stand.
A good option for educating young hunters, a two-person ground blind provides the shelter and stability required to make searching more enjoyable for kids. With additional room and camouflage displays, a ground blind provides some protection against the elements to create comfort while offering refuge to help hide restless kids. If you would like to devote time with your kids to hunting, a portable hunting blind could make it less frustrating and far more pleasurable for both parties involved.
Conveniently mobile, ground blinds also offer hunters speedy setup and take-down which improves freedom and offers the opportunity to relocate when sport animals are on the go instantly. With the capacity to maneuver in a way that a tree stand cannot, when employed correctly, a mobile blind can reevaluate your searching strategies.
Because mobile blinds are popular at this time, the industry is saturated with loads of alternatives. There are many attributes, options, sizes and shapes to select from. It can be tough to understand where to start. The fantastic news is there's a blind to match your hunting requirements, no matter what terrain or game animal you choose to pursue.
Considerations When Selecting a Hunting Blind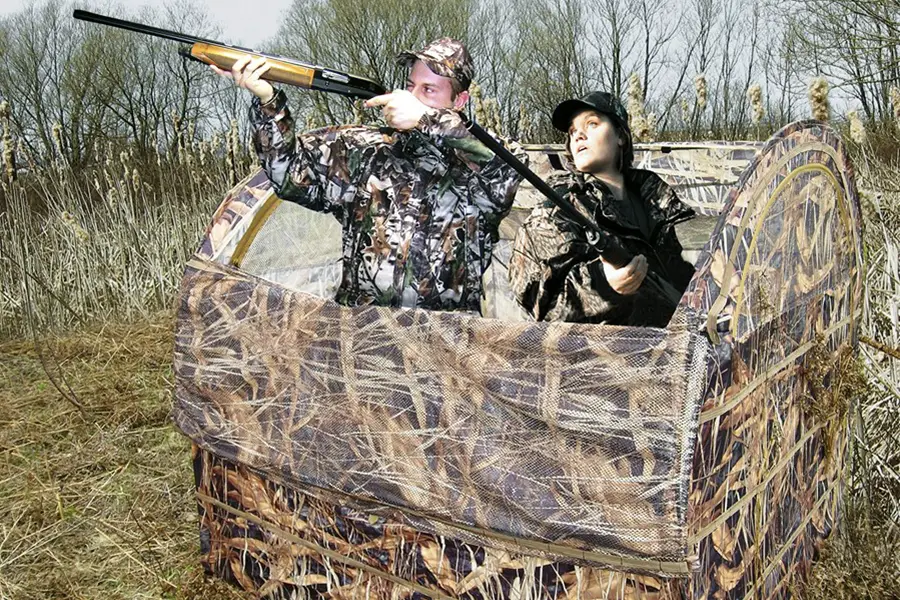 Now arrives the large concern. With so many searching blinds out there available on the current market, it's easy to wind up with something which might not do the job until the amount you'd want. Let's test out how we could come across the fantastic one between plenty of alternatives.
Accessibility
The very first feature to think about is accessibility. Be sure to check if the window has a mesh liner to accommodate the warmth but not let in bugs on a bright day. You should have 360-degree visibility around the blind. Some versions include multiple entryways. Check that the window is at the proper height for your preferred hunting stance and technique.
Fabric Pattern
Choose your color and fabric design depending on the location where you're going to hunt. You'll come across specialized designs that are highly effective for your particular location. Additionally, several designs offer an all-purpose construct, and go really go nicely with any situation you're facing.
Materials
The cloth should stay rugged and powerful to withstand natural occurrences. Possessing an odor-lock system in the blind is a bonus element. It should also have a silent-style Velcro, zippers, and cloth. Pulling Velcro and zippers may alert animals of your position. The blind must be easy to set up, be bug proof, and waterproof. It must protect you from rain and snow. In the event you want to hunt in chilly weather, having room for a mobile heater is a great addition.
Portability
The portability factor is something that can turn into a deciding element for the majority of hunters. Shifting locations increases the chances of finding the animal you're hunting. The most recent models are lightweight but durable. When you need to move, simply fold it up in minutes, put it in your backpack, and head off to your intended place.
Size
Is bigger better? No, not for blinds. Think about the blind's dimensions before making any choices. Too big of a blind can make things difficult for hiding and maneuvering. Before purchasing, write down the dimensions that suit your need and look for one that size. In the event you're bow hunting; it is suggested to maintain the required room to concentrate the bow and let go of your arrow.
Structure
Frame-style or spring-up style, which type will suit you the best? Each has its advantages and disadvantages. Also, the most suitable one for you depends upon the weather and the area you're planning to hunt.
Bottom Line
In truth, hunting blinds have come a long way in only a short period. Unless you want to catch a cold, get soaked, or harmed by bugs, it's crucial to purchase a superb quality hunting blind for your overall comfort.