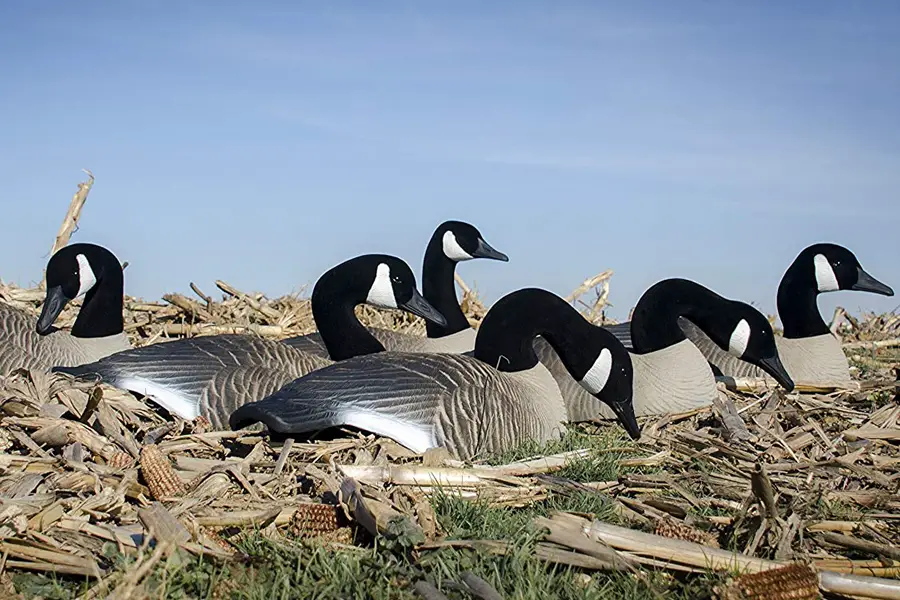 Hunting Decoy Reviews
Hunting requires a lot of patience, but it also takes a lot of practice. Pointing and shooting a rifle or bow is easier said than done on its own, but hitting what may be a moving target in the wild is a whole different animal. Over the years, hunters have found ways to make it easier to snag their prey with the aid of various stands, blinds, and animal calls. However, one of the go to accessories for many hunters, regardless of their animal of choice, is the hunting decoy. Decoys are artificial animals that are used to draw prey into an area where the hunter is in position to take his shot. Among the most commonly used decoys are waterfowl decoys that can be placed on land or on the water to lure duck and geese into an area where a hunter has set up a blind. Turkey and deer decoys, many of which have built-in call systems, are also commonly used to lure their respective prey into a harvest zone.
Most Popular Hunting Decoy
Avian-X
If you're a geese hunter looking to increase your take every time you hit the marsh, there's no better aid then the Avian-X Greenhead Gear Tim Newbold Fully Flocked Canada Lessers Harvester 6-pack. The package includes a full flock of twelve solid geese decoys with 1-piece construction. The snap-back RealLegs construction is one of the most realistic on the market, employing a design that eliminates the nuisance of broken heads and split bodies often incurred with lesser quality decoys. These active and feeder varieties of Lesser Canadian geese come with 18-inch field stakes that use the GHG Real Motion II system for easy setup and breakdown. The Avian-X 6-pack includes a variety of left-neck feeders, right-neck feeders, straight-neck feeders, sentry, rester, walker and stubby-neck sentry Canadian Lessers with incredibly realistic paint schemes and 10 unique body poses. The geese range in size from 17 to 22-inches and rotate on their stakes in the wind for added realism.
6 assorted, realistic Canadian Lesser goose decoys
18-inch stakes firmly plant into ground and rotate with wind for realism
GHG Real Motion II System makes setup and breakdown fast and easy
1-piece construction eliminates breaks and splits
– Anthony Dawson
Best Overall Hunting Decoy
Dakota
Buck hunters have a lot of choices when it comes to selecting a decoy. However, many of these options are of poor quality and unrealistic detail, characteristics that fail to attract the trophy prize. Enter the Dakota Master Series Boss Buck Whitetail decoy, one of the most realistic and effective deer decoys on the market. The decoy was designed in partnership with renowned wildlife sculptor C. W. Schiller, an artist who blends his love for hunting with his artistic skill to develop incredibly realistic decoys. The decoy itself resembles an 8-point whitetail buck with 120-class antlers. Dakota's new twist-locking leg system allows for easy assembly and offers unmatched stability and durability when placed in the field. The limbs, head, and antlers all fit into the body cavity compartment of the decoy allowing for compact transport and storage without getting snagged. The broken down decoy can be slung over the shoulder via the detachable shoulder strap that attaches between the hind quarters and chest. The decoy's rear leg is designed to except scent pads, while the front leg accepts electronic Invisi-Series game calls, both of which can aid in attracting a trophy whitetail.
Realistic design by wildlife sculptor C. W. Schiller
Twist-locking leg system – durable, stable, easy to assemble
Limbs, head, and antlers fit into body cavity, shoulder strap included for carry
Legs designed to accept scent pads and electronic game calls
– Anthony Dawson
Best Budget Hunting Decoy
Primos
Wild turkeys like other wild turkeys, but they also like decoy turkeys that look and move like the real thing. That's why the story behind the Primos B-Mobile decoy will likely entice you into buying one. The folks at Primos got their hands on a real stuffed gobbler that they named Bob and carried into the woods on their turkey hunts. It turns out that Bob attracted a lot of turkeys, so Primos set out to make a decoy resembling Bob that was a lot easier and more practical to carry around in the woods. B-Mobile stands for Bob-Mobile, and is a full-strut gobbler that comes with a fold-up silk fan, B-Mobile fan holder, decoy stake, and carrying bag. The unit also includes an instructional DVD that teaches you how to assemble the decoy and set it up in the field so that it draws in the big gobblers. Though the decoy includes a silk fan, the B-Mobile fan holder can accept a variety of custom fans to suit your environment and conditions.
Foldable decoy designed to replicate a real stuffed turkey
Includes silk fan, fan holder, stake, carrying case, and DVD
Decoy accepts multiple fans to match your hunting needs
– Anthony Dawson