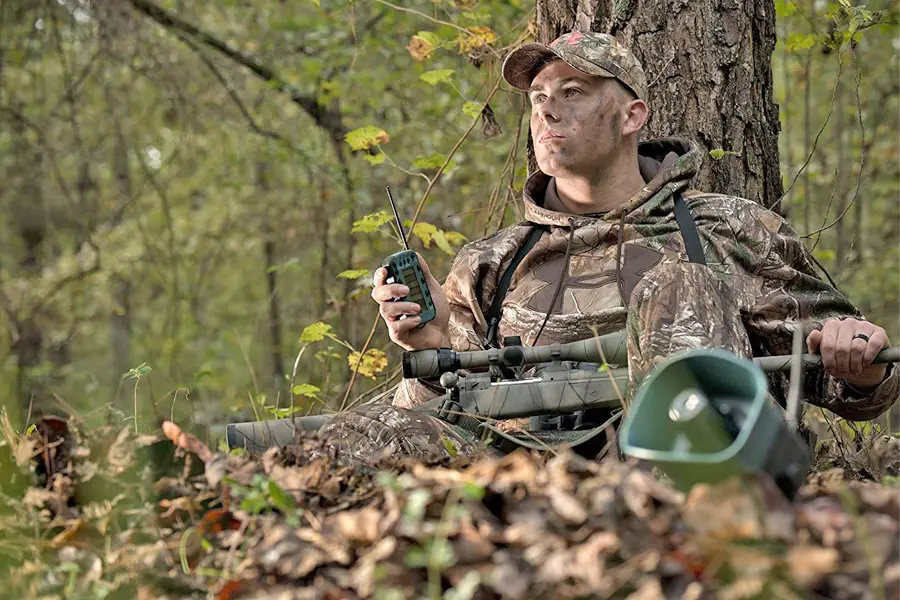 Hunting Game Call Reviews
Hunting calls have evolved a lot over the years. Hand calls, box calls, and push-pull calls have been around for decades, but as technology has progressed manufacturers of hunting equipment have started to introduce electronic game calls onto the market. Using pre-recorded sounds stored on a memory card, electronic game calls can be operated with the push of a button and eliminate the risk of making a sound that could scare or detract your prey, as could happen with a manual call. Since electronic calls don't involve any real skill to use, some hunters consider them to be an unfair advantage. As such, some states and local hunting grounds prohibit their use in the field. However, the ability to store and play a variety of animal calls and operate the call box remotely from a distance make electronic game calls a must-have commodity for many hunters.
Most Popular Hunting Game Call
Icotec
For beginner hunters looking for their first electronic call, or more experienced hunters in need of convenient and compact call, the ICOtec Call of the Wild GC300 Electronic Game Call is an option worth consideration. Durable and compact, the ICOtec Call of the Wild game call includes 12 individual prey sounds provided by Wildlife Technologies. These sounds include: male and female coyote, coyote howl, coyote pup distress, adult bobcat, baby raccoon distress, baby crow distress, baby woodpecker distress, cottontail distress, gray fox distress, fawn distress, and jack rabbit distress. Sounds can be played simultaneously at 120-decibels via the receiver's 15-watt speaker and stopped and started to control shorter or longer calls with the push of a button. The Call of the Wild receiver operates on 4 AA batteries (not included) and the remote control runs on a 23A lithium battery (included).
Preloaded with 12 commonly used sounds for attracting coyotes, bobcat, fox, raccoon, crow, and more
15-watt 120-decibel speaker works against wind in desert and canyon terrain
Can cycle natural animal patterns with 30-40 second ON periods followed by 20-30 second MUTE periods
– Anthony Dawson
Best Overall Hunting Game Call
Foxpro Game Calls
The Foxpro Game Calls Western Rivers Navajo Electronic Caller is compact, lightweight, and stores 300 unique wildlife sounds. The device weighs a mere 1.75-pounds and operates on 2 AA batteries capable of delivering up to 16-hours of use; the remote control uses a single 9V battery that can last for 100-hours. The Navajo emits sound through a dual speaker system that can be activated from 250-feet away via the ergonomic, LDC-backlit remote. The remote powers the caller on and off, selects a speaker, plays and pauses a caller(s), selects and scans through sounds, and controls the caller volume and mute option; it is also capable of syncing to a remote decoy and controlling it's functions. The Navajo offers a complete Orion sound library with 300 animal noises including commonly used deer, turkey, and fowl calls and more obscure sounds like lion and elephant, all with stunning sound quality.
Rugged ABS injection-molded housing
External speaker volume for added volume
I GB storage space holds 300 sounds – can be updated from home computer via external USB port
– Anthony Dawson
Best Budget Hunting Game Call
Extreme Dimension
The Extreme Dimension Phantom Predator Quest Mini Remote Call is a remotely operated, compact device that comes preloaded with the animal sounds hunters use most. The unit comes with two interchangeable Predator sound sticks, each with 5 unique sounds. The wireless remote is capable of operating the device from 150-yards away and can remotely operate up to three receivers and a remote decoy. At 120 decibels, the Quest Mini can play two sounds simultaneously or overlapping. Call sounds include jack distress, mouse squeak, cottontail distress, baby bobcat, and other coax, distress, and squeak sounds. The receiver, powered by 4 AA batteries (not included), features a telescoping antenna to give the control extended range. The unit is encased in a rugged, water resistant ABS housing and features a decoy output port, easy access buttons, large LCD backlit display, and a high-output 15-watt speaker.
Interchangeable sound sticks with simultaneous or overlapping play
Telescoping antenna on receiver increases remote range
High output 15-watt speaker plays at 120 db
– Anthony Dawson