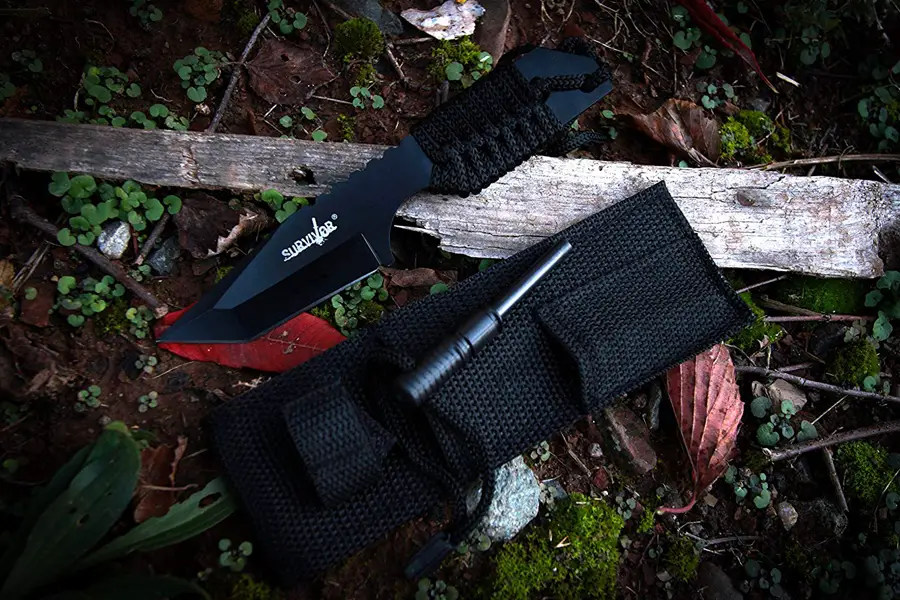 Hunting Knife Reviews
Ask any hunter, angler, or outdoorsman about the most important tool they carry into the woods, and the answer's almost always going to be the fixed-blade knife. Of course a hunter needs his rifle and a fisherman his rod and reel, but those can't be used to harvest the meat of a freshly killed buck or trout pulled right from a stream. But fixed blade knives do a whole lot more than just skin and fillet fish and game. They get rid of branches and brambles in the way of your tree stand or blind, help start fires, and untangle snagged lines and harnesses by way of cutting them clear. Ultimately, a fixed blade knife does a whole lot more than just cut. And when it does cut, it's capable of cutting just about anything you put in the path of its blade.
Most Popular Hunting Knife
Gerber
Though not a fixed-blade, the Bear Grylls Folding Knife by Gerber handles like a quality fixed blade would, and it does come in a fixed-blade option. The blade itself is a partially serrated, high-carbon stainless steel with a traditional drop-point style. Thumb studs on either side of the blade make for ambidextrous opening with the flick of a thumb. The handle features an ergonomic, textured rubber grip designed for comfort and grip retention, even in slippery conditions. Included with the knife is a military-grade nylon sheath with moisture and mildew resistant properties. Since Bear Grylls is known for his experience in the British Special Forces and survival adventures around the world, this knife is designed to stand up to the most brutal of survival conditions. Thus, if there's such thing as a quality, folding hunting knife, it's the Gerber Bear Grylls Folding Sheath Knife.
Bear Grylls name – survival rated knife
Partially serrated high carbon stainless steel blade – razor sharp straight from the box
Ergonomic rubber grip stays in hand even when wet
Includes military-grade nylon sheath and Bear Grylls survival guide
– Anthony Dawson
Best Overall Hunting Knife
Smith & Wesson
Smith & Wesson is a name that has been trusted by law enforcement, military, and civilian hunting communities for decades. Their firearms are among the best in the world, but so too is their tactical gear. One such example is the Bullseye Search and Rescue Fixed Blade Knife, a 10.55-inch knife with a 5.88-inch blade made of 440 stainless steel. The blade features a grooved clip point profile and a non-reflective black coating to maintain its tactical vibe. The hand is protected from contact with the blade via forward-facing steel cross guards, with a butt cap on the end for pommeling. The handle is a rubberized aluminum and the knife comes with a heavy-duty nylon sheath with a synthetic liner to keep the blade protected. Despite the name Search and Rescue, the Bullseye knife has great application in hunting, fishing, and all-around outdoor situations.
5.88-inch straight edge blade – 440 stainless steel
Forward-bending cross guards protect hand and give the knife dagger-like appeal
Limited lifetime manufacturers warranty from a brand you can trust
– Anthony Dawson
Best Budget Hunting Knife
Mossy Oak Outdoor Tanto Knife
The Mossy Oak Outdoor Fixed Blade Knife screams military issue, but that's all the more reason to use it in the field while hunting or fishing. This fixed-blade knife measures 14-inches end-to-end with full-tang, stainless steel construction. The blade is straight edge with a tanto-style point and finished with a black bead blast. No textured handle is featured on the knife, but the handle comes wrapped in a thick, green paracord and lanyard that can be restrung and customized to your preference. Also included with the knife is a magnesium alloy fire starter, which can be struck with the blade of the knife to create a generous-sized spark to ignite kindling and start a fire. Both the knife and the fire starter can be secured in the included nylon belt sheath with Velcro securing strap.
Great first-time fixed-blade or gift knife – very affordable price
14-inch full-tang knife with straight edge tanto-point blade
Included fire starter and belt sheath
– Anthony Dawson