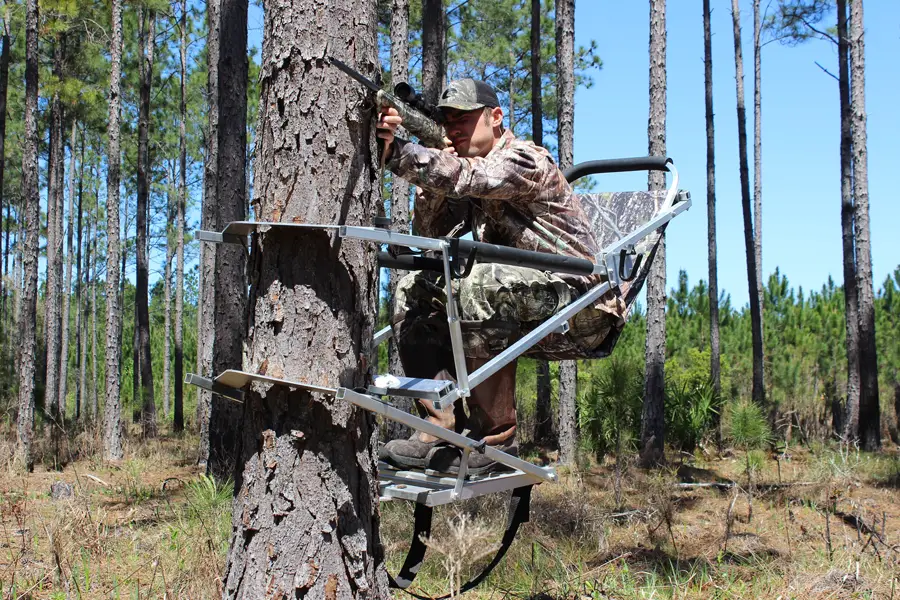 Hunting Tree Stand Reviews
No matter what game you hunt, snagging a kill isn't as easy as lurking around in the woods and shooting anything that moves. Effective hunting takes patience, strategy, and the know-how of where and when to be in the area where the animals are lurking. With that said, rifle and bow hunters alike have found the tree stand to be vital piece of hunting equipment for bagging a variety of game, particularly deer. A tree stand is essentially a platform and/or seat that attaches to the trunk of a tree, giving the hunter a perch to target his prey below. Some tree stands have attached ladders, while others require you to climb the tree yourself using a harness and foot stirrups. Tree stands offer the option of standing, sitting, or kneeling on the platform, which may include cushions, arm bars, and other features to make hunting more comfortable and efficient.
Most Popular Hunting Tree Stand
Summit Treestands
For hunters of larger stature or those that simply want more room to work from while perched in a tree, the Summit 180 Max SD Tree Stand is second to none. The large 6-channel aluminum platform features an adjustable height reversible surround seat with a weight capacity of 350-pounds. The stand works with trees 8-20-inches in diameter, and the package includes a 4-point safety harness with RapidClimb stirrups and all the pads, hardware, ropes, and straps you need to get you to your optimal hunting height. The SD in the name stands for Summit's Sound Deadening technology designed to enhance your concealment by reducing structural sound. Critical parts of the platform are filled with custom engineered expanding foam that hinders unintentional sounds by movement on the platform. The cushioning on the stand is wrapped in SummitSkin camouflage fabric that blends well in most wooded environments. The Summit 180 Max SD weights 23-pounds and is preassembled in the USA and backed by a 5-year limited warranty.
Large platform with 350-pound weight capacity
Included 4-point safety harness with RapidClimb stirrups
Sound Deadening (SD) technology designed to reduce excess noise
Reversible surround seat allows hunter to face or put his back to the tree
– Anthony Dawson
Best Overall Hunting Tree Stand
Summit Treestands Cobra
Whether you're a notice just getting into tree stand hunting or an experienced woodsman looking to lighten your load, the Summit Treestands Cobra SD is a lightweight, comfortable, and versatile tree stand suited for both rifle and bow hunting and all types of game. At 20-pounds, the Cobra  SD offers a 5-channel aluminum platform with a 300-pound weight capacity and plenty of room for such a compact stand. The Cobra SD has a padded, adjustable seat and multi-purpose front bar that aids in climbing and works as a functional gun rest. Like the rest of the SD series of tree stands, the Cobra integrates Summit's Sound Deadening technology to reduce the amount of noise the frame makes as you shift and move about the platform. The Cobra SD works on 8-20-inch diameter trees, climbed by way of the included 4-point safety harness with Rapid Climb stirrups and all necessary climbing gear. 
Portable frame collapses for backpack-style carry
Sound Deadening (SD) technology works to restrict platform noise
Lightweight, roomy, and versatile shooting platform with adjustable seat
Included Full-Body Fall Arrest Harness System and all necessary hardware
– Anthony Dawson
Best Budget Hunting Tree Stand
Lone Wolf
A quality tree stand can be hard to find. An affordable one can also require some searching. Finding a quality tree stand that's affordable; now that could be a nightmare. Enter the Tree Stand Climber Climbing Hunting Deer Bow Game Hunt Portable, a well-constructed, highly-affordable climbing tree stand without all the bells and whistles that does what a tree stand should do: get you safely up a tree and into a secure stationary position where you'll be able to hunt effectively. The stand has a 300-pound weight capacity and a spacious platform with more than enough room for the average-sized hunter and all his gear. The stand includes a safety harness, stirrups, cables, and hardware for climbing trees up to two-feet in diameter. At about 11-pounds the stand is on the light weight side, and it allows for backpack-style carry into the field.
Padded climbing car acts as gun rest
350-pound weight capacity with spacious and stable platform
Sit and climb stand style, fits most size trees
Safety harness, stirrups, and climbing gear included with stand
– Anthony Dawson
Hunting Tree Stand Buying Guide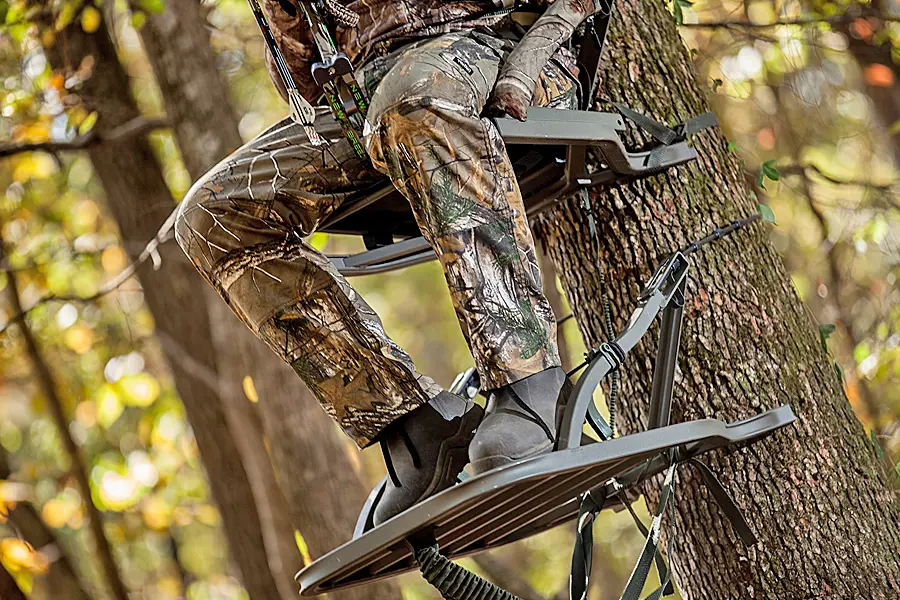 There are various designs of hunting tree stands in the market. Often choosing the right stand can be challenging for a hunter. However, when purchasing a stand, a hunter should understand the area in which he will be hunting to choose the correct stand that suits his or her needs. Usually, a portable hunting stand is safe and environmentally friendly. Buying a commercial stand that is certified, manufactured, or tested to the industrial level can also be a good choice.
Types of Hunting Tree Stands
• Hang-On Stands
These are basic platforms that must be dragged into place and held using chains or belts. Setting up this tree stand can be challenging; however, it will allow you as a hunter to set it on tress with lots of branches.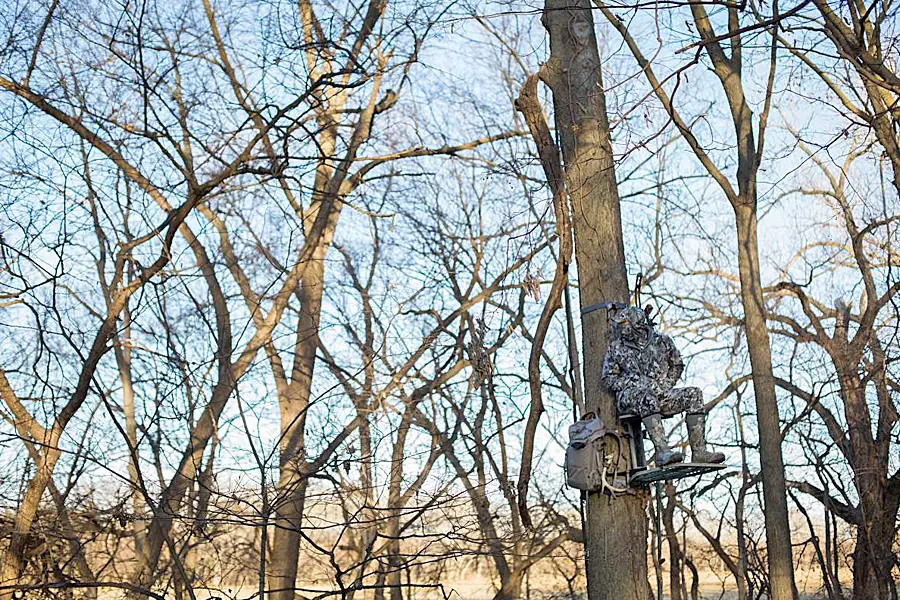 • Self-Climbing Stands
These stands will enable a hunter to walk up a tree. Often these stands are not best for trees with branches between the ground or shaggy bark. The self-climbing stands are the most portable tree stand due to their lightweight design. With climber, you will be able to shift from one place to another quickly.
• Ladder Stands
This stand combines a ladder and a platform. The ladder stand allows a hunter to use on various types of trees when compared to other platforms. Often ladder stands have heights of about 12 to 20 feet. Furthermore, ladder stands are easy to climb, and they provide excellent views for a hunter.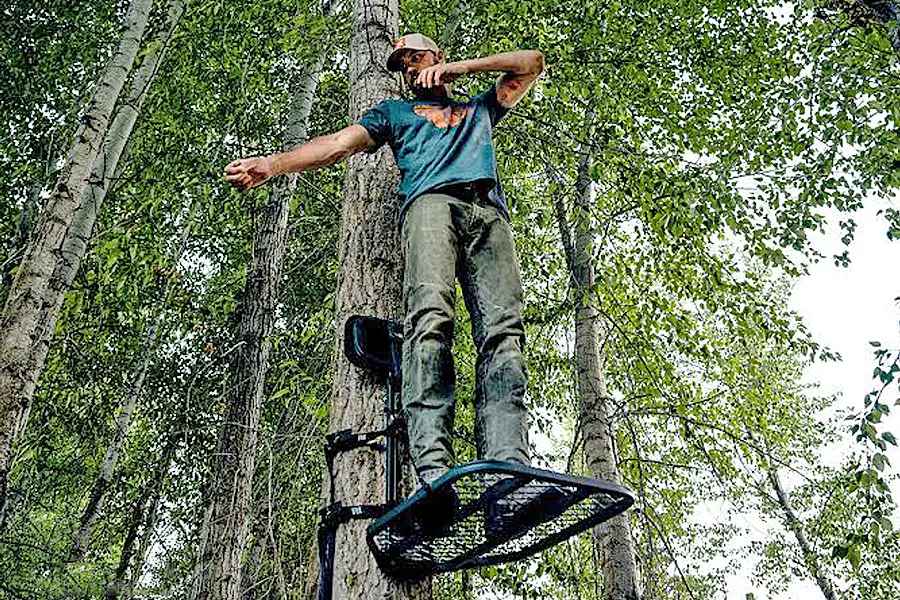 Benefits of a Hunting Tree Stand
Nowadays, tree stands have become essential in hunting. Some tree stand benefits include;
• Higher Ground And Increased Line Of Sight
Sitting on a tree stand increases your line of sight, and it provides more time to set up your shot. Moreover, tree stands place you above the eyelevel of your game which is an advantage to you as a hunter. Often, many herbivores such as deer do not expect danger to come above their heads; rather, they expect it to come from the ground.
• Improved Mobility
Since your target does not expect you to be above its head, you will be able to move around freely while on the tree stand unlike on the ground. Therefore, you will be able to position yourself comfortably before shooting. Nonetheless, tree stands will help you to stay still while aiming.
• Scent Control
You will be able to put your scent above the ground when using a tree stand, especially in level or flat areas. Wild animals are good with smell, but when you are above the ground, you will be able to hide it from them hence increasing the chances for precise aim.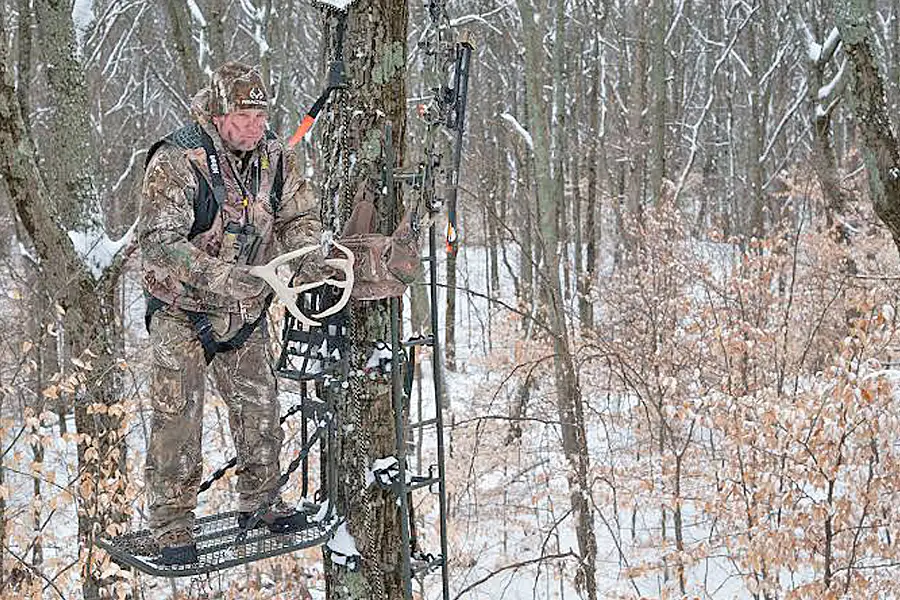 • Choosing a Tree Stand
Ensure you purchase a good if not best tree stand since you will be spending most of your time on it. Here are the key factors you need to consider when choosing a tree stand.
• Safety Over Comfort
When purchasing a tree stand always choose safety first over comfort. Some hunters prefer comfort over safety due to the amount of time spent standing while hunting. Nonetheless, safety always has to come first since you do not want the tree stand to break, resulting in your fall. One way to ensure your safety is to buy tree stands with chains as a cable substitute.
• Comfortable Seat
Always buy a tree stand with a comfortable seat which will allow you to sit for approximately five hours without having to stand. The sling and web style seat are the best when it comes to hunting since they do not apply any pressure on the tailbone. If you stay for long without moving due to discomfort, you will increase your chances of spooking a deer.
• A Tree Stand With Less Noise
Any tree stand that squeaks, pangs or pings should not be part of your hunting equipment. The more sound it produces, the more you reduce your chances of hunting down any game animal.
Conclusion
Given various types of tree stands available in the market, it can be a bit tricky the one best suits your needs. Nevertheless, you will need to consider your hunting ground before purchasing a tree stand.
With tree stands, you are assured improved flexibility, better line of sight and improved aiming. Being high in a tree will help you increase the chances of perfect aim.