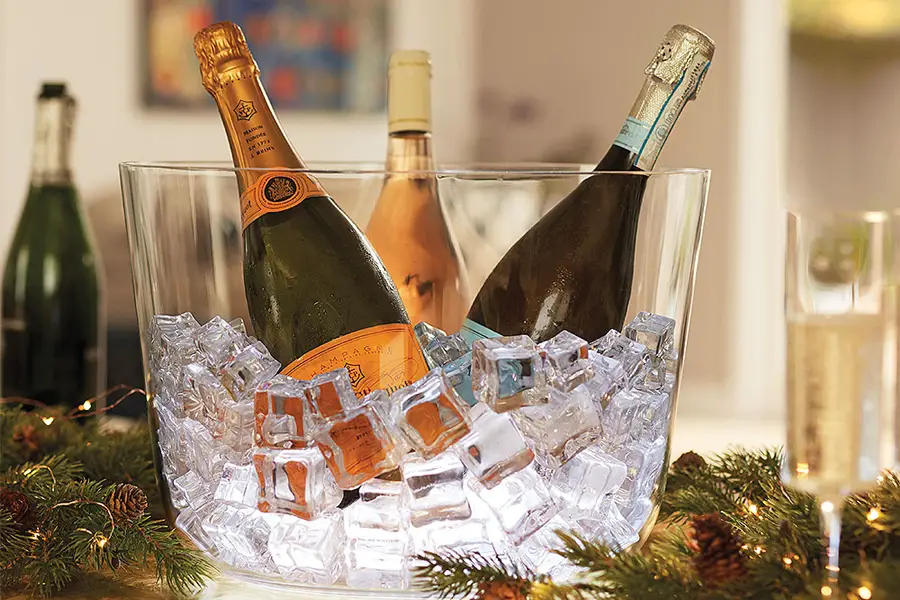 Ice Bucket Reviews
Ice buckets are used to keep ice handy for dinner parties, gatherings and sometimes just because. There doesn't always have to be an occasion to use an ice bucket. If you regularly fix yourself and /or your spouse or S.O. before or after dinner drinks, having a filled ice bucket each evening can make it very convenient to make those drinks. Ice buckets are designed so the ice stays formed into cubes longer than it normally would. The ice will still melt, but it does make it much more convenient to go to the ice bucket rather than have to go to the fridge and mess with ice cube trays every time you want to add ice to your drink.
Ice buckets vary in size, style and materials used to make them. You can get them in plastic, stainless steel and sometimes even glass. The ice buckets below are all good quality and will look great in your home bar or on your kitchen counter when guests come over. Have ice all ready for drinks with these functional and stylish ice buckets. Any of the ones below would be a great addition to your entertaining supplies.
Most Popular Ice Buket
Lenox
This beautifully stylish ice bucket will add elegance to any gathering with its stainless steel bucket that is tarnish free. The pretty design is eye-catching and distinguished without being pretentious. Holds a generous amount of ice cubes for your gatherings. The Lenox Tuscany ice bucket measures 9.25" x 10.25" and has handles on the sides that are both functional and decorative and match the handle on the lid.
The simple rings on the lid and along the bottom of the bucket give it class and style that others will notice. The matching lid completes the look, keeping cubes cold longer. This ice bucket has a lifetime replacement policy if you are ever unhappy with it. If you need to wash it, it is completely dishwasher safe and cleans easily. This ice bucket matches the Tuscany Classics stemware and barware collection making it a great choice for a wedding or housewarming present.
Long lasting stainless steel construction
Matching decorative handles and lid finial
Simple and elegant rings are on lid and along bottom of bucket
Matches the Tuscany stemware and barware collection for expanded gift giving ideas
Dishwasher safe
– Anthony Dawson
Best Overall Ice Buket
OXO Good Grips
OXO is known for its high quality kitchen and cooking supplies as this ice bucket shows with its stainless steel construction that features double-walled insulation that keeps ice cold without condensation buildup on the outside of the bucket. Your ice will stay in cube form longer with the grid of deep channels in the bottom that separates the melted ice from the whole cubes. An easy to open flip top lid allows one handed access that closes securely between trips for fresh cubes.
You'll know when it's time to add more ice to the bucket with the clear lid. Your OXO ice bucket will stay in one place with the non-slip base, and the non-slip handle allows easy transport without worry of it slipping out of your hand even if your hands are wet. Included with this ice bucket is a set of brushed steel tongs that attach to the outside via pegs. The tongs are equipped with sharp teeth making grabbing new cubes much easier.
Brushed stainless steel bucket and tongs
Flip top lid makes easy work of getting new cubes for your drinks
Sharp teeth on the tongs allow for easy grabbing of new cubes
Non-slip base and handle
Tongs attach conveniently to the side of the bucket
– Anthony Dawson
Best Budget Ice Bucket
Mr. Ice Bucket
This simple designed ice bucket is perfect for gatherings, holidays and dinner parties. Holds up to 3 quarts of ice, the insulated bucket can also double to chill wine and champagne. The Mr. Ice Bucket 3 quart ice bucket measures 7.8″ x 7.8″ x 7″ and is double-wall insulated to keep ice cubes colder longer. The simple design goes with any kitchen or home bar décor and it comes in a variety of bright colors to ensure that it fits right in with your kitchen's color scheme.
Double wall insulated keeps ice cold longer
Can color coordinate to match kitchen
Simple design matches décor
Great price
Can be used to chill wine or champagne
– Anthony Dawson