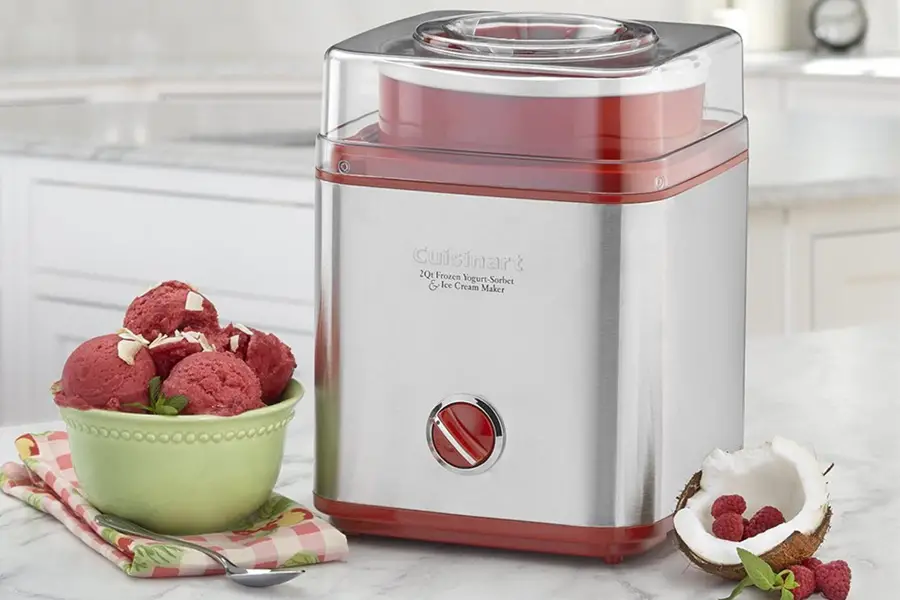 Ice Cream Maker Reviews
Ice Cream is one of America's favorite desserts. It goes with anything, and for hard core ice cream lovers, even the cold weather of winter does not discourage them from enjoying this frozen treat. Years ago when ice cream makers first came on the market, making ice cream meant hand cranking ice cream in a barrel with rock salt. These machines have come a long way and now can be operated with the push of a button. So for all the ice cream lovers out there, here are evaluations on the best models that stand out among the crowd of ice cream making machines.
Most Popular Ice Cream Maker
Maxi-Matic Elite Gourmet
Maxi-Matic Elite gourmet ice cream maker has both electric and manual settings. This pine bucket design creates the nostalgia of old time ice cream making, combined with automatic settings that are easy to use. The Maxi-Matic Elite makes ice cream, gelato, sorbet and yogurt treats. The machine uses ice and rock salt, like the old fashion machines, instead of the double insulated frozen canisters. Users can decide whether to use the electric motor or the hand crank option. If you hand crank the ice cream after the motor has finished making the frozen treats, the ice cream will get harder. The Maxi-Matic Elite makes 4 quarts of ice cream in around 40 minutes. Softer serve frozen treats like sorbet and yogurt take less time. Step back in time, and enjoy some homemade ice cream that will remind you of family picnics and holidays of days gone by, without all the work. The Maxi-Matic Elite provides the best of both worlds.
Pine wood bucket
Manual and automatic options
Makes frozen treats in 40 minutes
4 quart bucket
Easy to clean and operate
– Anthony Dawson
Best Overall Ice Cream Maker
Cuisinart ICE-60W
Cuisinart ICE-60W is a 1 ½ quart fully automated ice cream maker. It also makes sorbets and yogurts in less than 30 minutes. The double insulated freezer bowl allows you to make ice cream and frozen treats with no mess. Just place the bowl in the freezer until there is no movement between the insulated bowls. Then you know the center is frozen. Then add your cold ingredients, press start and watch ice cream being made. The Cuisinart-ICE-60W comes with a clear, easy to lock lid. This enables you to watch the ice cream being made, and to add mix-ins during the end of the process if desired. The clean-up is easy and the frozen treats are creamy and delicious. If you are looking for a fun family activity, or just want to have fresh ice cream while controlling the ingredients, then the Cuisinart-ICE-60W is the ice cream maker to get. The machine comes with a 3 year warranty.
1 ½ quart fully automated
Double insulated freezer
Clear lid with spout for mix-ins
Makes frozen treats in less than 30 minutes
3 year warranty
– Anthony Dawson
Best Budget Ice Cream Maker
Cuisinart ICE-30R
Cuisinart-ICE-30R Indulgence is a fully automatic 2 quart ice cream maker. It makes ice cream, yogurts and sorbets quickly and automatically in about 30 minutes from start to finish. The Cuisinart-ICE-30R Indulgence comes with an ingredient spout for mix-ins. This allows you to make customized ice cream to your families taste. Add in Oreos or M&M's and create a special treat for the family. The Cuisinart-ICE-30R Indulgence is easy to use and comes in a sleek brushed stainless steel housing. With easy clean up and simple instructions your family can be enjoying homemade ice cream in no time. The Cuisinart-ICE-30R Indulgence has a double insulated freezer bowl that must be frozen before use. It is a compact design that can be kept in the freezer between uses, for faster ice cream making. The unit comes with a recipe book that includes no cook recipes and custard based recipes. Add the ice cream cookbook by Ben and Jerry's and you will have the whole neighborhood begging for freshly made ice cream. It comes with a three year warranty.
Make frozen treats in less than 30 minutes
Fully automated
Integrated spout for mix-ins
Double insulated freezer bowl makes 2 quarts of ice cream
3 year warranty
– Anthony Dawson
Ice Cream Maker Buying Guide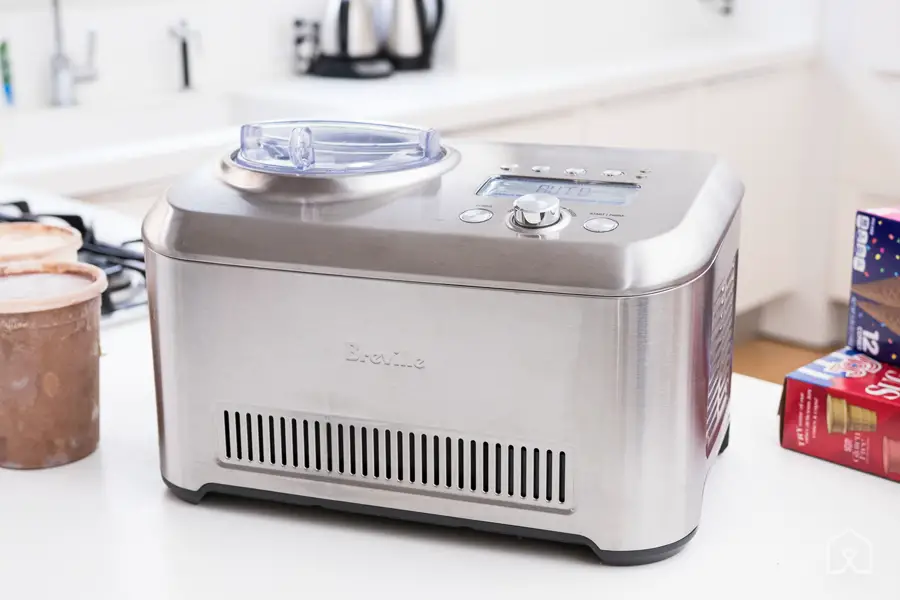 Ice Cream makers are not an essential appliance that people should have in their home. However, they are a favorite kitchen item that many people enjoy using. What makes ice cream makers so great? These pieces of equipment provide people with scrumptious and mouth-watering homemade ice cream treats.
There are two types of ice cream makers that are available for sale. These models include the hand crank and electric versions. Hand crank ice makers are the old models that were first used during the early 1800s and they remained popular for close to 200 years. Now, people use electric ice cream makers which have been around since the early 1950s.
Factors to Consider When Buying Ice Cream Makers
When it comes to making unique and smooth creamy treats, ice cream maker is the machine to grab. Because of such machine, moms, chefs, health-conscious people, and food enthusiasts can now make a delightful ice cream, sorbet, yogurt or gelato in the comfort of their kitchen. Homemade cool treats bag more advantages than store-bought versions.  They are additive and preservative-free and often top the taste of store-bought counterparts. Moreover, everyone has control over the ingredients so everyone can make an ice cream that will not only satisfy their different taste buds but will meet their health needs too.
With a myriad of ice cream makers out there, the search for the best can be way harder than it seems. The best thing to keep in mind is that different products have their own pros and cons. On the positive side, nearly all ice cream makers out there are top-quality and can certainly deliver what everyone wants from such machine. Therefore, the search must not be for the one that will meet expectations rather for the one that will exceed them. Consumers must keep these guidelines in mind before finding the machine that will produce the smoothest and creamiest ice cream.
Price of Ice Cream Maker
Consumers must determine the amount of money they are willing to shell out for a machine, as ice cream makers are available at a very wide price range. For instance, pre-frozen bowl can be as low as $30 while the compressor type can cost as high as $400. Features added might contribute to the price but it's wise to remember that prices do not necessarily determine the overall quality of the product.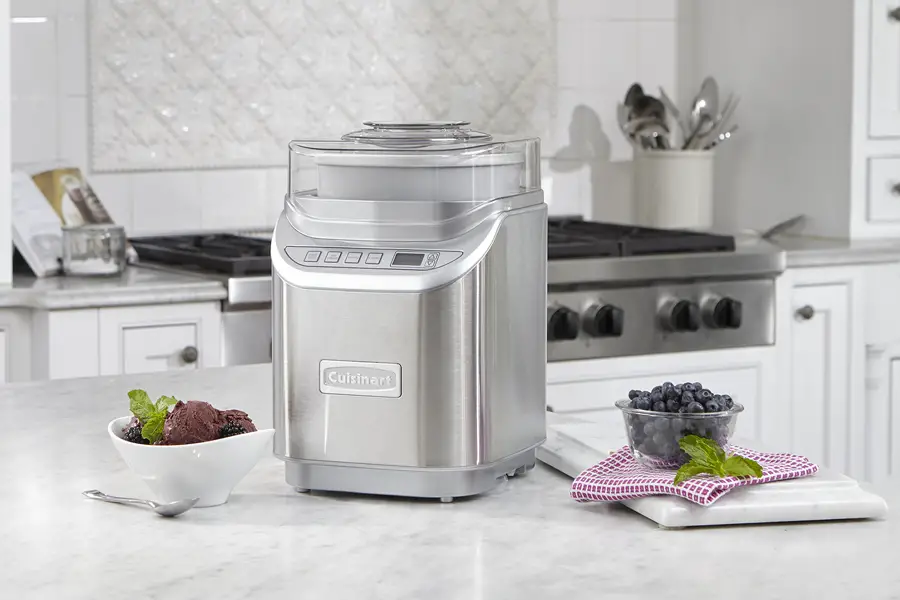 Storage Size
Before shopping, consumers must determine the storage capacity they need for an ice cream maker. The amount a machine can make in a batch is important. For big gatherings or for use of big families, a 2-quart storage size is hardly ample. In addition, it's not ideal to make small ice cream batches in a machine with a large capacity. But if it is only for satisfying daily craving, half-pint capacity machines that produce a serving or two are actually available now.
Size
It is a common misconception that the physical size or bulkiness of an ice cream maker determines its storage size. The size is the amount of space the machine takes-up and not the amount of ice cream it can house. Ahead of shopping, consumers must first find out how large a machine their kitchen can accommodate. If a machine is for occasional use only, it's not likely to be out in the kitchen counter for a long time, so a machine that can fit in the cabinet as well is much practical.
Hand Crank Ice Cream Makers Vs Electric Ice Cream Maker
Many people agree that homemade ice cream tastes better than many of the commercial varieties; with the exception of a few brands. So why is homemade ice cream so good? The answer to this question has to do with natural ingredients. Homemade ice cream makers combine natural ingredients such as milk, cream, sugar, fresh fruit and flavoring all together in a single unit. No preservatives or artificial ingredients need to be added into the mixture to keep it fresh.
When a person uses an old fashioned ice cream maker they will need to turn a crank that mixes the ingredients with a long paddle that is sometimes called a dasher. People must place ice and salt in the outer bowl of a hand crank ice cream mixer. An inner bowl must be closed and placed inside of the outer bowl. Once the crank is turned the mixture in the inner bowl will begin to freeze and turn into ice cream. Many companies still make the old fashioned ice cream makers because a lot of families get a big kick out of making ice cream from scratch.
Electric ice cream makers are a bit more complicated to use than the hand cranked variety. Most electrical units require a person to place the inner ice cream bowl into the freezer to chill. Once the inner bowl ingredients are semi-frozen, they are then placed into an ice cream maker to finish the job.
Another type of electric ice-cream maker is similar to the hand crank variety. It uses a freezing solution in the outer bowl and it requires a person to place the inner bowl on the side of the solution. Instead of using a crank, an electric motor is used to mix the ice cream until it has the desired consistency.
The last type of electric ice cream maker is the kind that has built-in refrigeration. This unit is plugged in and stays cold like a refrigerator. It uses a motor to mix ingredients and it can produce a batch of ice cream within 20 to 30 minutes. This type of ice cream maker is a bit more expensive but it consistently produces a lot of ice cream within a short amount of time.
Electric ice cream makers usually have time features that allow people to adjust the consistency of the mixture and the amount of time that the mixture blends. The more advance units have buttons for controlling temperature and speed.
Ice cream makers are made out of materials such as wood and metal. The hand crank models are usually have wooden coverings for nostalgic purposes. The electric models are usually made of metal which is a good material for conducting cold. Brands such as White Mountain, Cuisinart and Hamilton Beach produce some of the best ice cream mixer models on the market. Ice cream mixers are sold in a variety of shapes and sizes of which many are portable and few are not.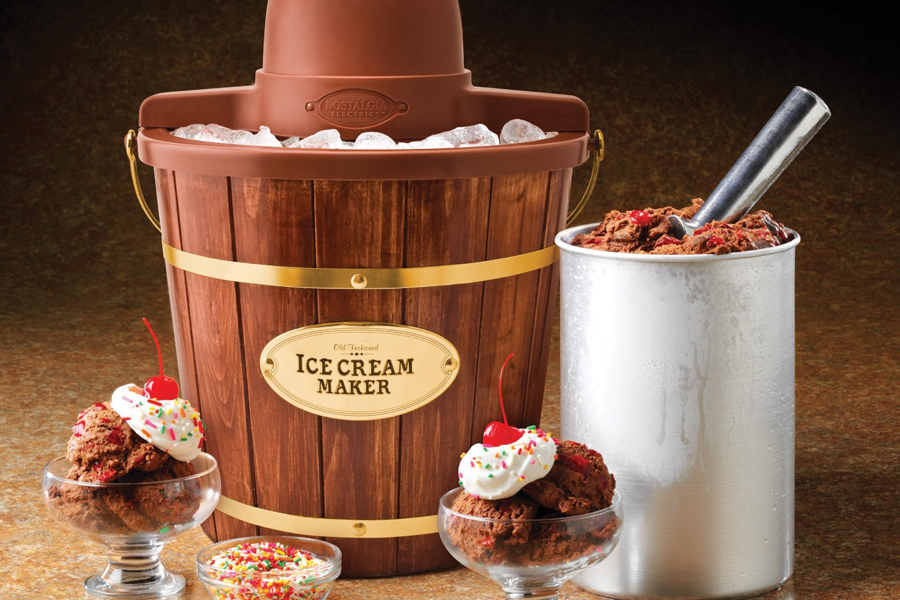 Different Types of Ice Cream Makers
Machine type must be determined first before shopping for the right one. Different types have different way of making and storing ice cream. Plus, all have their own advantages and disadvantages but usefulness might depend on the consumers' personal need and preferences.
Manual/Wooden Bucket Ice Cream Makers
Hand-crank ice cream machine shark back to the old summer camp days and are still available for purchase. They hold ice cream in a steel jug surrounded by an outsized wooden bucket. Rock salt and ice are used to meet and maintain the ice cream texture and someone must crank the handle to churn ice cream inside.
Pros:
Classic ice cream makers do not use electricity to produce ice cream.
It adds a little novelty as kids will enjoy these machines' fun way of making ice cream.
Cons:
Using these is quite laborious. The handle must be cranked for 15 to 20 minutes to churn the ice cream.
They take up more time and effort to make ice cream so they aren't for making ice cream at the spur of the moment.
Ice cream produced may not last overnight.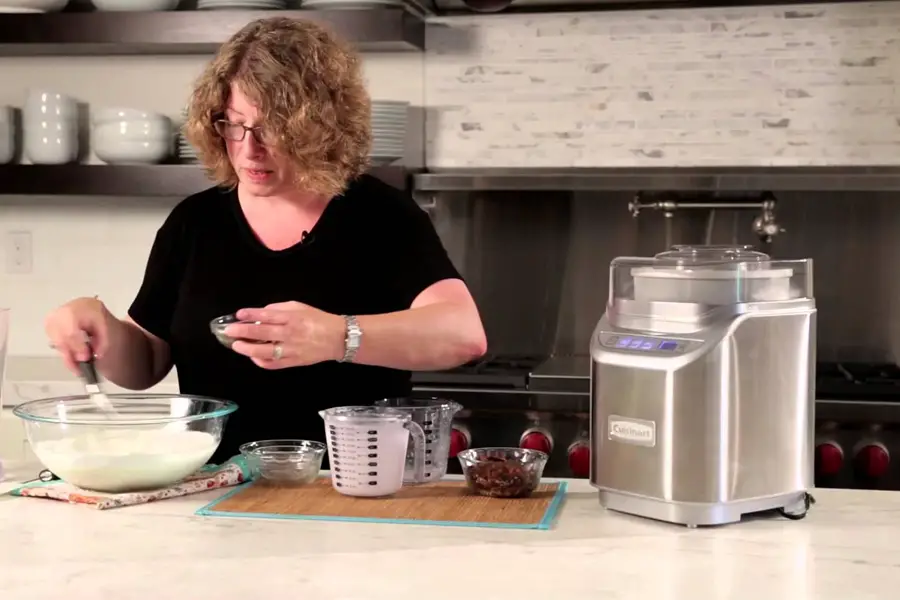 Pre Freeze Bowl
Ice cream makers of this type are the most widely used today. The pre freeze bowl can be separate or fixed to a stand mixer or to a smaller device. Also, the bowl must be frozen for about 12 to 24 hours before making ice cream.
Pros:
These ice cream makers are often at affordable price point or around the $30 mark.
They take up smaller space in the kitchen.
Their mixing procedure prevents formation of ice crystals.
Cons:
These aren't for unplanned ice cream treats unless the freeze bowl is regularly frozen.
Their freezing is not always consistent and even, because liquid might freeze around the side of the bowl.
Gelato Makers
People who love the creamy texture of gelato often buy this type. Gelato makers use a somewhat different mechanism than other types. Gelatos are slightly warmer and only partially hydrated compared to ice cream.
Pros:
Gelato makers can make practically all frozen desserts.
They produce the true and creamy texture of a gelato.
Cons:
Only a small number of brands offer machines of this type at affordable price point.
They aren't as versatile as other machines that boast adjustable speeds.
With Built-in Compressor Ice Cream Maker
Ice cream makers of this type use the same technology used for refrigerators called compressors for fast cooling. They do not need any pre-frozen ingredients or parts. Because of the built in self-chilling mechanism, the recipe of the first batch of ice cream can start minutes after the cooling of the canister.
Pros:
They are powerful and can churn-out batch right after batch of ice cream with just few minutes of waiting time.
They do not need intensive maintenance since the compressor uses electricity for cooling.
These machines are known for their professional standard, and they usually produce smooth-textured ice cream.
Cons:
They are bulky and heavy and take plenty of space.
They are available at a significantly higher price points than other ice cream makers.
Conclusion
Ice cream makers can certainly save time and money in the long run. Plus, it can make big occasions and even spare times a lot sweeter. After all things are considered, consumers are now ready to shop and pick the best ice cream maker for them. With a few but important guidelines in mind, consumers will hardly get lost on the search.