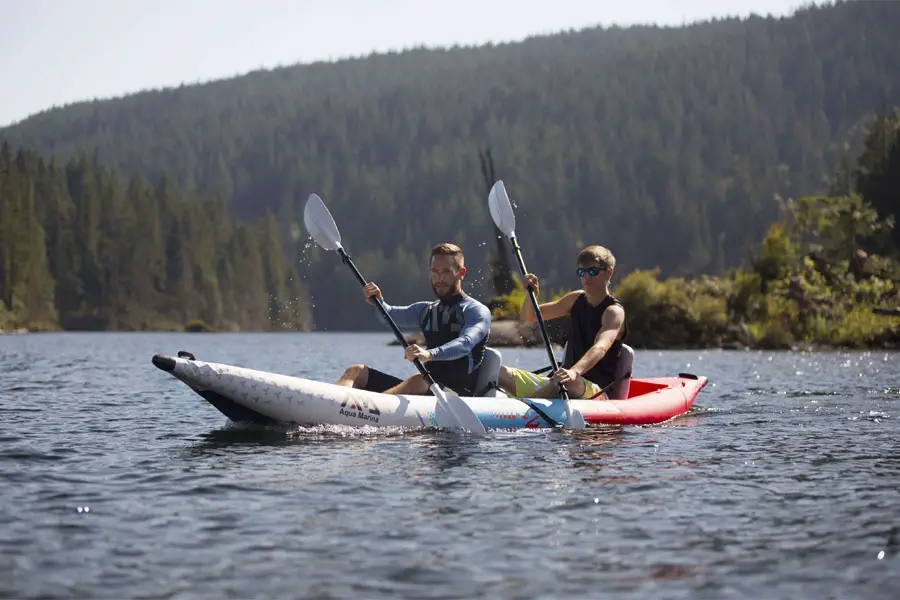 Inflatable Kayak Reviews
Inflatable kayaks are the ultimate in comfort and transportability. They do not take up much space and can be carried anywhere. They inflate quickly and can be taken out on both lakes and rivers. Higher grade inflatables can be used on the ocean surf. These inflatable kayaks allow you to explore the water much better than can happen from the shore. They are easy to operate, comfortable and stable. We have selected the best kayaks on the market to provide you with a kayak that will last for years of enjoyment and provide the safety needed when on the water.
Most Popular Inflatable Kayak
Sea Eagle
The Sea-Eagle-SE370-Inflatable-Package/dp/B001ASRVDK is a lightweight portable, inflatable kayak. The kayak comes with a self-bailing drain valve and three one way valves. The Sea Eagle Kayak inflates in around 8 minutes. It also has a lashed inflatable spray skirt. The seats are removable. The Sea-Eagle-SE370-Inflatable-Package is NMMA certified. For greater stability it has an I-beam floor construction. There are 2 skegs on the bottom of the kayak which provides better speed and tracking. There is a grab line at both the bow and stern making it easy to get in and out of the water. The kayak is built with puncture resistant material, with a 33 mm PolyKrylar, but a repair kit is included if needed. The Sea-Eagle-SE370-Inflatable kayak only weighs 26 pounds but has a weight capacity of 500 pounds. It is built for either one or two riders and is rated for up to class III whitewater. This is a great kayak for both lakes and rivers.
Inflatable kayak with inflatable spray skirt and seats
33mm PolyKrylar puncture resistant material
Holds up to 500 pounds and will accommodate either one or two kayakers
Only weighs 26 pounds and fits in a small carry case (included)
Rated for up to class III rapids
– Anthony Dawson
Best Overall Inflatable Kayak
ADVANCED ELEMENTS
The Advanced-Elements-AdvancedFrame-Convertible-Inflatable kayak has the best of both worlds when it comes to the stability of a framed boat with the portability of an inflatable kayak. The aluminum ribs provide a defined bow and stern and allow the kayak to have better tracking than a typical inflatable kayak. There are three layers of puncture resistant material, making this kayak very durable. The Advanced-Elements-AdvancedFrame-Convertible-Inflatable kayak comes pre-assembled. This allows you to unfold the kayak, inflate the boat and attach the seats. Within a few minutes you are ready to hit the water. The seats have high backs providing lumbar support. The seats are both padded and adjustable for maximum comfort. The two seats can be placed in three different positions. This provides comfortable kayaking for either one or two riders. The total length of the Advanced-Elements-AdvancedFrame-Convertible-Inflatable kayak is 15 feet. The kayak includes a carrycase and a repair kit and has a load capacity of 550 pounds.
Aluminum rib Frame for bow and stern with carry case
Puncture resistant material
2 Padded and adjustable high back seats
15 feet long with a capacity of 550 pounds
Fits one or two riders
– Anthony Dawson
Best Budget Inflatable Kayak
Sevylor
The Intex-Explorer-K2-Kayak-Yellow/dp/B00A7EXF4C is a low profile kayak that is built for lakes and mild rivers. The high back seats are inflatable and adjustable and provide the support of a backrest. There are two seats and the kayak fits either one or two riders.It has a weight capacity of 350 pounds. The Intex-Explorer-K2-Kayak is built of rugged material made from 30 gauge vinyl. It has an I-beam floor and removable skegswhich create better stability and tracking. The Intex-Explorer-K2-Kayak comes in a bright yellow color for good visibility and is coast guard approved. It inflates and deflates quickly for maximum portability. The kayak offers a grab line on both the front and the back for easy entry and exit to and from the water.
Inflatable kayak and inflatable high back seats for comfort and support
I-beam construction for greater stability
One or two seats to accommodate one or two riders
Weight capacity up to 350 pounds
30 gauge vinyl for a puncture resistant kayak
– Anthony Dawson
Inflatable Kayak Buying Guide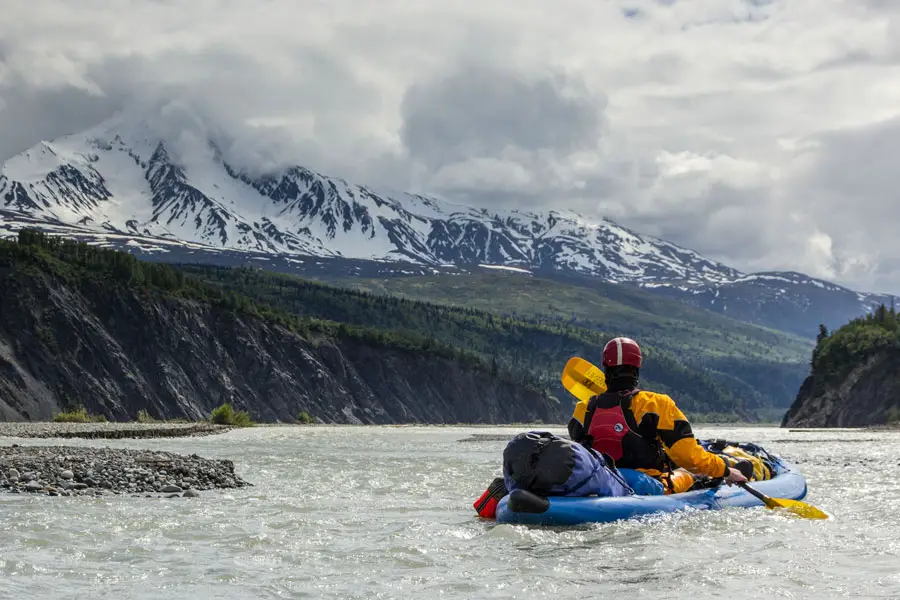 Over a relatively short period of time, the popularity of the inflatable kayaks has come impressively a long way. It has been one of the household names for water crafting. An inflatable kayak could be used in white water rafting or paddling around a lake or any bodies of water suitable for kayaking. The materials, appropriate model, and usage of the kayak would be one of the few considerations when choosing from the many inflatable kayaks available in the market.Discussed below are the basic things to remember when choosing a kayak for your enjoyment.
Purpose of Inflatable Kayak
There are of course innumerable uses of a kayak. Aside from the two usages already mentioned, an inflatable kayak can also be used for fishing, river trips, or lake paddling.  Think about what you are going to use your kayak for to buy one that can serve your purpose well.  A white water rafting kayak could be used in a lake, however, your lake paddling experience would be better if you will use a recreational watercraft. When kayaking on a river, do not use a kayak that is lighter. Instead, use one that is strong and sturdy so that it could fight big and giant waves.
In addition, when you are feeling bold and adventurous and want to use your kayak for paddling in places where there are giant waves, choose a kayak that is more performance oriented. But if you just want to use your kayak for paddling in lakes or rivers where the waves are manageable, then you can choose any kayak available.
There are various styles of kayaks with distinct features. The sit-on top kayak has an open design so that the user will not have difficulties in getting in and out of the kayak shell. The sit inside kayak has an enclosed cockpit where the user would sit. This feature is great for keeping the water from getting inside the kayak. There is also the canoe style which has higher seats and higher walls. The open style is pretty much the same with the canoe style, only it has lower seats. There are many styles and designs to choose from, depending on the adventure and experience you want to have.
The weight and convenient transportation of your kayak will be determined through its length. The performance and rigidity of the kayak would also depend on its length. Like, the longer the length is, the better the kayak could glide on water surfaces. Furthermore, the longer the kayak, the more weight it could hold, thus, allowing the kayak more weight tolerance.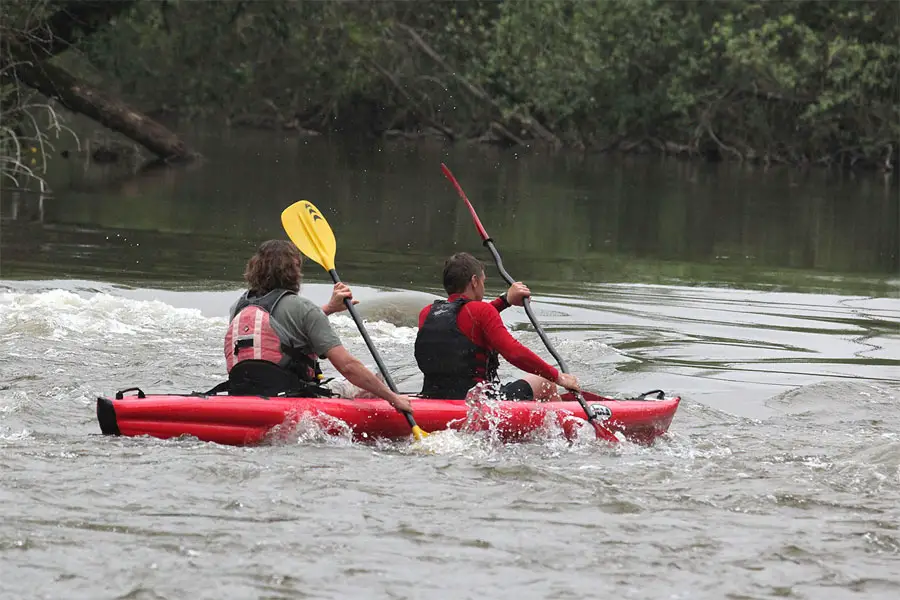 Most kayaks have lengths between 9 to 14 feet and this would also determine the number of passengers the kayak could accommodate and the number of gears it could hold. So, if you are a kayaking in a big group, then go for the longer kayak to fit as many people as possible.
Weight of Inflatable Kayak
The weight of the kayak is always a very important consideration.  This factor not only affects the inflatable kayak's performance in the water, it also affects the way you handle it.  If you need to load your kayak in your car for travelling, then choose one with a lighter weight for ease of transport and lighter load on your vehicle. But if all you need to do is to load and unload it, then a heavier kayak is not a problem. However, a heavier kayak could provide more performance benefits, so make sure that you seriously consider this factor when choosing a kayak.
The weight of the kayak also affects its durability.  Lighter kayaks are made with materials that are thinner and are not often as durable.  Those that are made of heavier materials are considered to be more durable.  With the advancements in water crafting technology, however, there are kayaks available today that combine lightweight convenience with both performance and durability.  These modern kayaks, of course, come with higher price tags.
The Materials Used to Build Inflatable Kayak
One of the most important concerns when buying a kayak is the type of material that is used to make it. There are plenty of different types of materials used in the manufacture of this water craft.  Among the most common ones are Hypalon, PVC, Polyurethane, and more. A kayak that is made with Polyurethane would surely offer a strong and rigid kayak. If you are concerned with the softness of the kayak, then choose one that is made with Hypalon because it is durable and soft.  The downside to kayaks that are made with Hypalon is that they tend to be heavier than those that are made with other materials.
The paddle length of the kayak is also as important as the length of the kayak itself. Longer paddles provide a more relaxed stroke while paddles with a shorter length allow for a more powerful stoke when fighting rough waters. Your height and physical strength as a user should also be considered when choosing the paddle length so that you can use the paddle at a balance.
Typically, the paddle length is between 210 cm and 240 cm long. The most commonly used length is 230 cm for those who are 5'4″ to 6'2″ tall.  At this length and height tandem, the paddler will have a more laid back stroke. But if you are the type who is very aggressive and wants to exert more force and power when paddling, then the 210cm to 220cm paddle length is best. Just remember to find the paddle length that would match your height, weight, and body structure.  The right paddle length will keep you in the kayak and out of the waters.
These factors are important if you want to get good value for your money when buying a kayak.  Obviously, one that does not fit your requirements to a tee would not be used as often.  You want a kayak that you can use any time and everytime you need to.  This is not a cheap purchase.  You have to make sure that you get the most out of your investment.  Take the time to do your research about the various types and models of kayaks available.