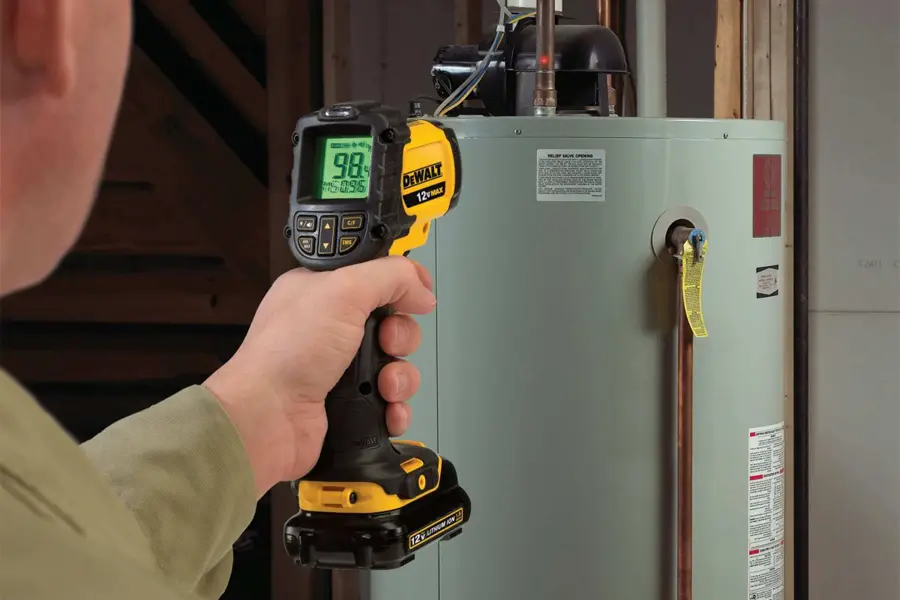 Infrared Thermometer Reviews
When most people think of a thermometer they picture the medical instrument used when you have a fever, or perhaps a meat thermometer for turkey dinners and backyard grilling. However, thermometers have come a long way, and they are way more than just mercury-filled glass vials or metal probes with digital displays. Infrared thermometers are used in a wide variety of applications including food safety, electrical, automotive, HVAC, manufacturing, home inspections, and much more. Infrared thermometers are typically non-contact devices that allow for the measurement of the surface temperature of a given object from a distance. All you have to do is point the device at the desired location and pull the trigger to get an accurate temperature measurement on a digital display. Typically reserved for professional work, infrared thermometers are handy tools for any job that requires quality control and inspection of surface temperatures.
Most Popular Infrared Thermometer
DEWALT
Whether in need of surface temperature measurements for engine parts, electrical components, ventilation systems, hot water heaters, or anything else that's too hot to touch but necessary for safety, the DEWALT 12-Volt Max Infrared Thermometer is the tool for the job. This noncontact infrared thermometer has a range of up to 932 degrees F, giving it the capability to handle readings in most construction site applications. Unique to the DEWALT 12-Volt Max is its ability to record its temperature measurements including minimum, maximum, and average temperatures, allowing you to point and shoot from a safe distance, walk away, and still go back and see your measurements. This is thanks to DEWALT's Class II infrared laser that allows for 12:1 targeting accuracy, which also has adjustable emissivity settings for working with different materials. The thermometer has a backlit LED screen with blue and red number displays to account for changes in temperature across a surface, along with an alarm that alerts you to quick changes in temperature as to quickly identify problem areas. Like all DEWALT tools, the thermometer has an ergonomic grip that makes it easy to operate, and it includes a 12-volt battery that attaches to the bottom to stand the tool upright.
Class II infrared laser enables 12:1 targeting accuracy
Backlit LED display with blue and red numbers to account for temperature changes
Includes 12-volt battery that also acts as upright stand
– Anthony Dawson
Best Overall Infrared Thermometer
Fluke
The Fluke 561 HVAC Pro Infrared Thermometer is designed for making noncontact or contact temperature readings in HVAC systems, but works equally well for industrial, manufacturing, and electrical applications. The Fluke 561 measures temperatures ranging from -40 to over 550 degrees Celsius, or over 1000 degrees Fahrenheit, with accuracy down to +/- 1 degree C or 2 degrees F. The thermometer features a laser sight to pinpoint areas on the object being measured and uses a 12:1 infrared distance-to-spot ratio. While noncontact is typically the preferred method of taking readings, the Fluke 561 HVAC Pro comes with a Type K thermocouple pipe probe that's wrapped with a flexible hook-and-loop fastener with a 20-inch cable that allows for taking contact measurements from 0 to 100 degrees C or 32 to 212 degrees F. The 561 has a digital display that shows the current temperature being read along with the minimum and maximum variations, the difference between the two, and the average temperature of the object being measured. To improve accuracy, it has three settings that compensate for heat emission from reflective surfaces that are more likely to have variations in surface temperature.
Noncontact and contact digital thermometer for measuring heating, ventilation, air conditioning, and refrigeration appliances along with other manufacturing, industrial, and mechanical systems
Measures temperatures from -40 to over 550 degrees C with +/- 1 degree accuracy
Comes with thermocouple pipe probe, hard shell carrying case, two AA batteries, and instruction manual
– Anthony Dawson
Best Budget Infrared Thermometer
ennoLogic
Great for home and professional cooks, and equally good for the everyday handyman's tool supply, the ennoLogic Temperature Gun Dual Laser Non-Contact Infrared Thermometer is fast, accurate, and user-friendly. The thermometer has a professional-grade 12:1 distance to spot ratio infrared sensor that allows for speedy noncontact temperature readings from a distance. The unit employs a rugged ABS construction with an ergonomic pistol grip and comes with a holster for protection and storage when not in use. The thermometer can provide readings over a range of temperatures from -76 to 932 degrees F with +/- 5 degrees accuracy, with current and maximum temperature readouts displayed on the backlit LCD screen. Using the ennoLogic Temperature Gun Dual Laser Non-Contact Infrared Thermometer is as easy as aiming at an object up to 36-inches away and pulling the trigger and within one second the unit will provide a temperature measurement, even if the object is moving.
Easy to use noncontact pistol grip thermometer provides instant temperature readings with LCD display
Infrared laser with 12:1 distance to spot ratio
Ability to measure excessively hot, hazardous, and dangerous materials safely from a distance without contamination
– Anthony Dawson
Infrared Thermometer Buying Guide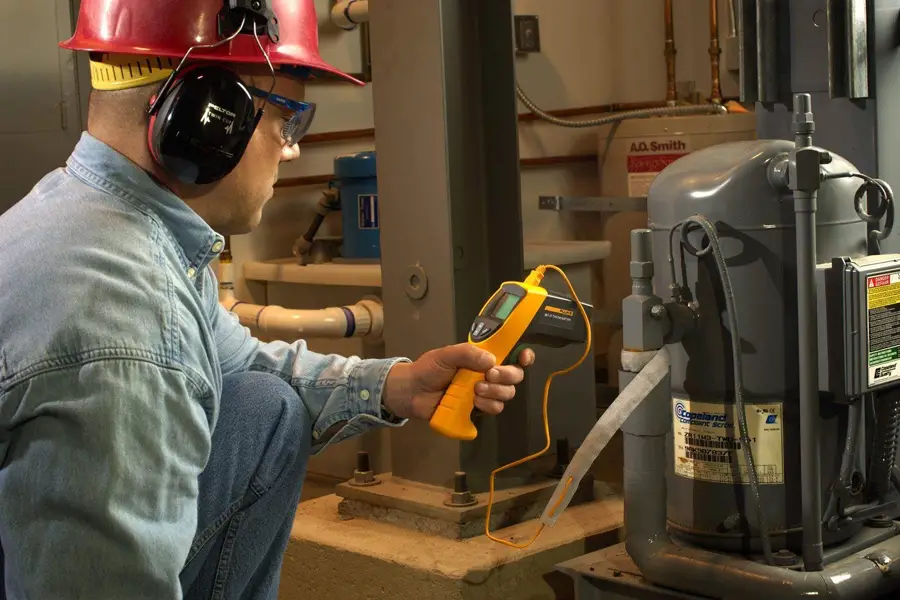 There are a number of ways in which temperatures can be measured. However, in some cases, the object whose temperature is being measured may not be within reach for various reasons. In such circumstances, contact between the thermometer and the surface does not occur and therefore, a normal thermometer will prove useless. This is where an infrared thermometer comes into play. An infrared thermometer uses the infrared energy emitted by surfaces to determine the temperature of the surface itself. Also known as a non-contact thermometer, it records temperatures of items that are at a distance.
Types of Infrared Thermometers
There are five types of infrared thermometers each with its unique design and features. They include:
Spot Infrared Thermometers
These are infrared thermometers that use the energy emitted by a specific spot on an object to measure the temperature of the entire object.
Infrared Cameras
These are infrared thermometers that measure temperature over a wide area. They create a 2 dimensional image of the entire area and map each of the temperature readings. The different temperatures are represented by the pixels on the image. They are also known as infrared thermal imaging cameras.
Infrared Line Scanning Systems
This type of infrared thermometer uses lasers that have been cast over a wider spot to detect the temperature of an object. The system uses mirrors to ensure that the laser does not hit only one spot as in the spot infrared thermometer.
Each of the above types of infrared thermometers can be classified into two main groups namely: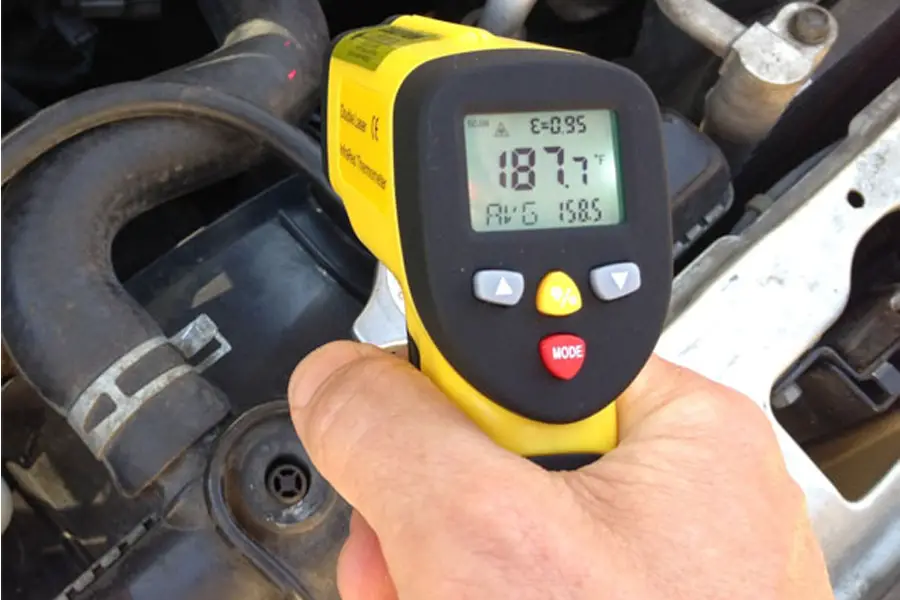 Portable Infrared Thermometers
These are thermometers that are easy to carry around. In most cases, these type of thermometers are relatively small. They may include infrared thermometers such as
Handheld Infrared Thermometer
These are infrared thermometers of a sizeable design enabling them to be held in the palm of the hand. They are easily portable and are mainly used for 'on the move' applications. Handheld infrared thermometers are a very popular thermometer type. Moreover, some have a mount option that enables them to be fixed at a specific point.
Infrared Thermocouples
These are self-powered infrared sensors. They usually cost less than most of the other infrared thermometers.
Pocket Infrared Thermometer
They are also known as stick type infrared thermometers. These type of infrared thermometers are small in size with a slim design. They have an extended front to maximize on the collection of infrared energy. They poses a screen where the temperature readings are displayed. Stick type infrared thermometers can be easily and comfortably carried in a pocket.
Permanent Infrared Thermometers
These are infrared thermometers that are mounted onto a specific place. They are normally large and oversee a wide area. Infrared cameras are the best example of such like thermometers.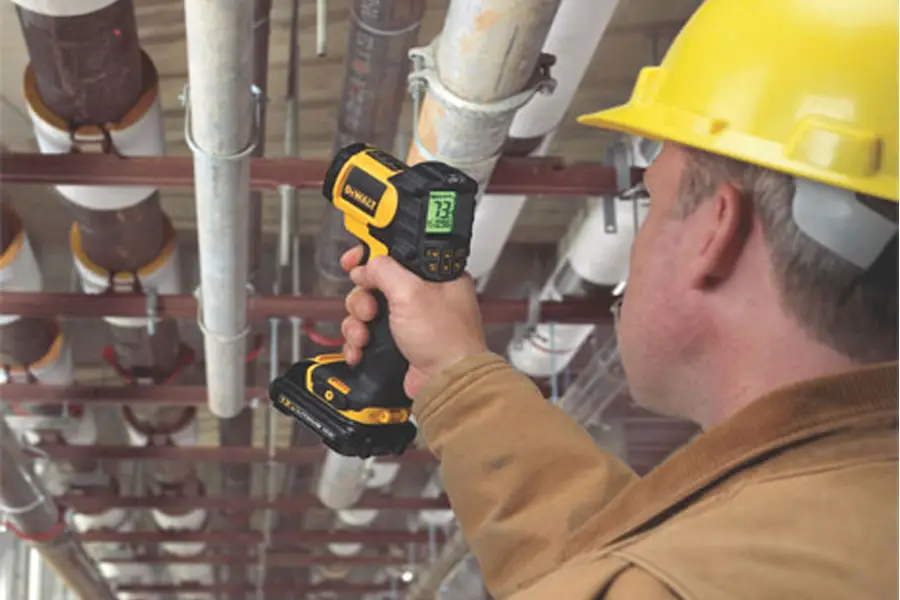 Features
Different types of thermometers have different features. However there are features that common among all types.
An infrared thermometer should have a screen where the temperature readings are displayed.
There should be data logging abilities where readings are recorded.
Other features may include the ability to measure emissivity as well as the availability of a laser sighting.
Factors to Consider When Buying an Infrared Thermometer
Each of the different types of infrared thermometers have a unique scenario in which they are most effective. Therefore, before moving on to buy an infrared thermometer, there are a number of factors one must consider. This will help in selecting the correct thermometer for a specific use. The main factors to be considered may include:
The purpose for which the infrared thermometer will be used. It may be for medical uses or for industrial use to name a few. The purpose may determine the type of thermometer to be bought. It may also determine the size of the thermometer.
The temperature range is important. If you are measuring surfaces with very hot temperatures, that will require a different type of thermometer as opposed to cooler surfaces.
You may also want to identify if you are in need of a thermometer with laser capabilities or without.
Moreover, you should consider whether the surface whose temperature is being measured reflects or absorbs light. This will affect the emissivity thus the temperature reading if the wrong type of thermometer is used.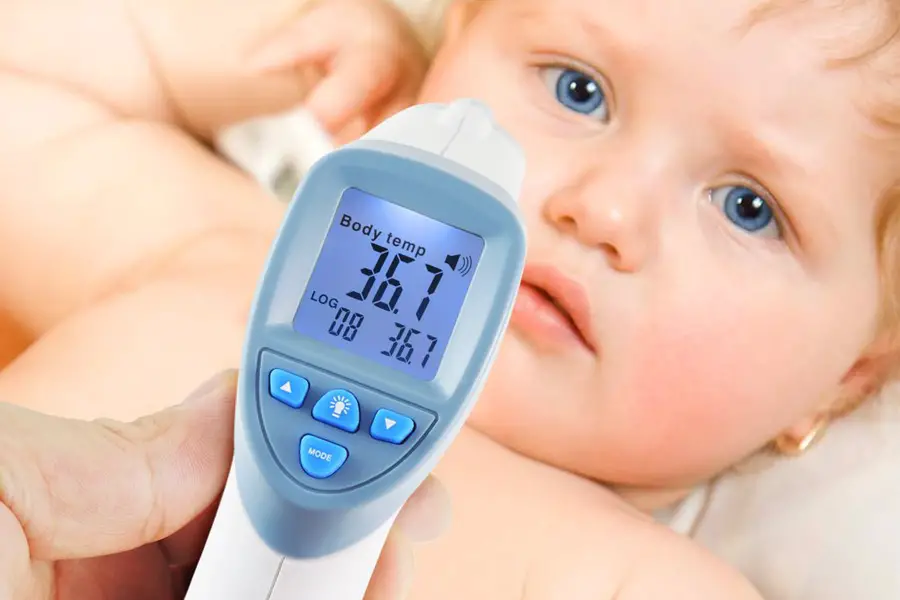 How does an Infrared Thermometer Work?
As stated above, infrared thermometers are used to measure energy emitted by all types of matter. All items emit energy be it living things such as human beings and animals or non-living things such as metal and the general environment. The temperature of an item is measured in reference to its difference with its surrounding temperature. The infrared thermometer uses a convergence lens to concentrate the infrared light emitted by an object onto the thermopile (detector/sensor). The sensor will absorb the infrared energy and convert it into heat which is later converted into electricity. The electricity is directed to another sensor which then determines the temperature of the specific object. The more the infrared energy emitted, the hotter the heat thus more electricity. More electricity subsequently translates to a higher temperature. Learn more about how infrared thermometer cooking work.
Applications
Infrared thermometers can be used in a variety of circumstances in both commercial and domestic sectors. Some of its applications may include:
Enabling fire fighters to detect which sectors of a fire are the hottest.
Taking temperature readings in electrical systems.
Measuring the oven temperatures. This will prevent burning food or under cooking it.
Measuring temperatures of hazardous materials that may cause contamination if touched.
Infrared thermometers are also widely used by the military in its activities.
Pros of Infrared Thermometers
There are a number of benefits enjoyed when using infrared thermometers such as
They offer prompt results. The response time is negligible.
They relay accurate temperature readings.
Infrared thermometers are easy to use.
They do not require one to be in contact with the item whose temperature is being taken. This in turn prevents contamination of sensitive items such as food.
Many of the infrared thermometers are small in size making them easily portable.
Cons of Infrared Thermometer
Some infrared thermometers may not be able to measure emissivity. This results into inaccurate temperature readings.
Verdict
If you are looking for accuracy in your temperature readings, then an infrared thermometer is the gadget for you. An infrared thermometer will give you fast readings from surfaces both near and distant. They also have the capability of giving 2 dimensional reading of large areas where temperatures may differ from one point to the next. An infrared thermometer is an effective thermometer for both commercial and domestic use.