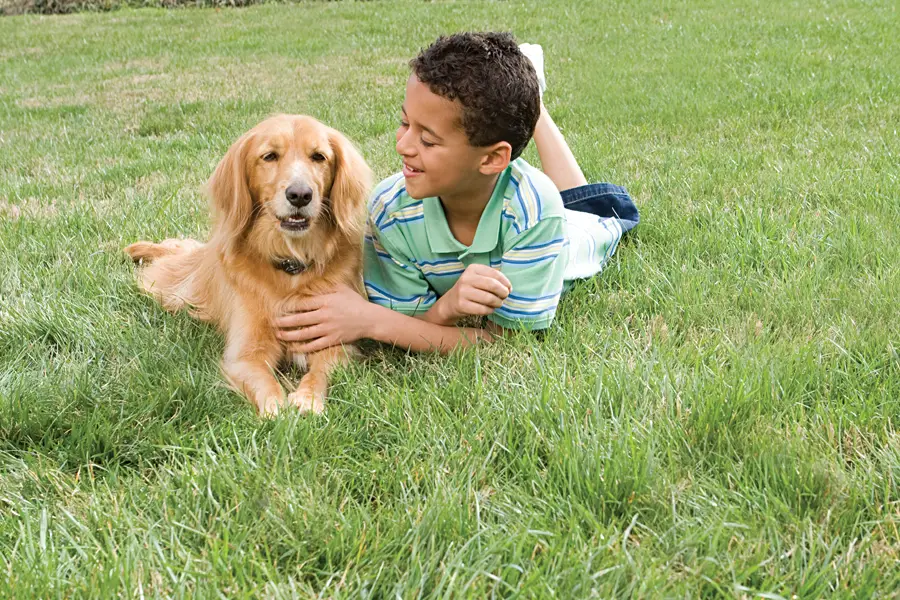 Inground Dog Fence Reviews
Containing your pet is important for your dog's safety, and for keeping your neighbors from screaming at you. Of course, no one wants to build a dog fence and mess up the aesthetics of their lawn. That's why an in-ground fence is the perfect solution to containing your dog, and retaining the beauty of your yard. The reason why an in-ground system is better than a wireless system is because it offers you flexibility to make your own parameters. With a wireless system you set a generic perimeter that is a perfect circle, but the boundaries around ones home are never a perfect circle. That's why, even though there's much more installation required, an in-ground fence is ultimately a better investment. Often there are professionals that can install the wires for you so that you don't have to worry about doing all the digging. The dog's collar receives a corrective stimulation when they get too close to the wires, and therefore learn what their boundaries are.
Most Popular Inground Dog Fence
PetSafe Elite Little Dog in-Ground Fence
It's so important when you're shopping for an in-ground fence to consider the size of your dog. If you install a system that is too strong it can be terrible for these smaller fellows. That's why the Elite Little Dog fence is perfect when you want to set boundaries for your small pal, without any discomfort. In-ground fences are ideal when you want to spare yourself having to build a fence, but you also want your dog to roam around free without a leash. This is a great method for giving your dog the independence that they crave, while sparing the scenic beauty of your yard. There are 4 levels of static correction on this system that allow you to adjust dependent upon how your dog responds to the signals. It's best to start with the lowest setting and monitor how your dog behaves with the correction. There's added peace of mind that comes from knowing that your dog is safe and comfortable in the outdoors.
Radio-controlled, in-ground fence
Designed for smaller dogs
Built-in lightning protection
Adjustable 4 levels of correction
Comes with boundary flags, wire, receiver-collar, transmitter, and manual
– Anthony Dawson
Best Overall Inground Dog Fence
SportDOG Brand In-Ground Fence System
This In-ground fence from SportDog is a great, affordable system and a wonderful alternative to the traditional dog fence. It works perfectly for dogs that are over 10 pounds in weight, and you can hook up as many dogs as you like to the system with the additional purchase of receiver collars. Not only does this fence give you the flexibility that you need to create the perfect boundary for your dog, but it eventually trains your dog without any need of corrective stimulation. In time, it may be possible for your dog not to wear the collar at all, as the habits become ingrained. There are 4 levels of correction to choose from so you can work your dog either up or down in terms of notification intensity. It should be noted that this product is for use in the US only, as it does not work with international voltage. This could prove to be too strong of a current for your dog.
Purchase of additional SDF-R receivers for extra dogs
Collar is comfortable and waterproof
4 levels of correction to choose from, including tone and vibration settings
Anti-linger feature preserves battery
– Anthony Dawson
Best Budget Inground Dog Fence
PetSafe Stubborn Dog In-Ground Fence for Dog
PetSafe is the premier manufacturer of in-ground and wireless fences, and this Stubborn Dog system is perfect for those pets that are more difficult to train, while remaining cost-effective and easy to use. This is for larger dogs who are 30 pounds and over. The fence is powered by radio signals, and when your dog gets too close to the wiring a correction signal is sent to notify and train the dog to not go that far. With time, the dog learns to not stray to that distance, and no correction will be necessary. It seems like an in-ground fence would be hard to install but it's actually quite simple and doesn't take that much time. The system comes complete with 500 feet of boundary wire and 50 boundary flags, that are sufficient to cover 1/3 of an acre. The waterproof receiver is lightweight and comfortable for your dog to wear.
Great for stubborn pets and those that are difficult to train
5 correction levels allow you to set intensity
Covers up to .33 acres
Comes with 500 feet of wire, waterproof receiver, 50 boundary flags, manual, transmitter, and installation DVD
– Anthony Dawson