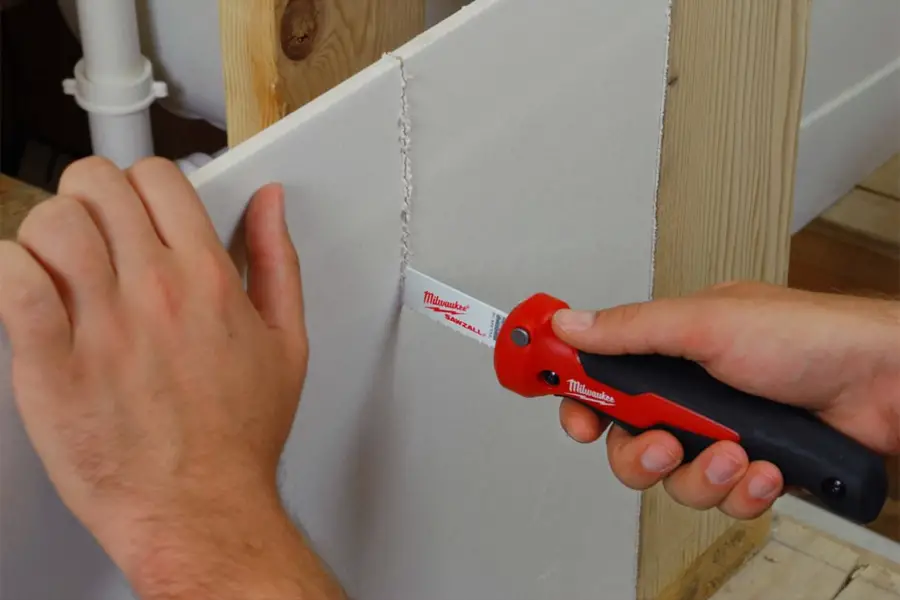 Jab Saw Reviews
The jab saw is mostly used for cutting dry wall, but it can also serve a number of different functions. If you're working on a house or doing anything in construction, then you'll definitely need one of these to get the job done. It's a fantastic tool that looks almost like a knife with teeth. There's really no point to using any other kind of knife when cutting drywall, as you will not get the same sharp lines. Using a saw that is not strong enough will create unsightly, ragged lines that you most certainly want to avoid when trying to cut with precision. Perfect for cutting holes for electrical boxes, most jab saws are not too expensive and will last you for quite a while without any signs of wear and tear. That being said, spending a little extra money on a quality saw is a great choice. It ensures that your saw will require less frequent sharpening, and will stand up to even the toughest of dry walls. Be sure to find a model that has a nice, sturdy handle, as this allows you to maintain a good grip on the saw for the best cutting.
Most Popular Jab Saw
Stanley
The extra sharp tip of the Stanley 6-inch FatMax jab saw makes it easy to puncture through drywall in a snap. The saw also works great for wood and plastic, and the slip-resistant handle makes it incredibly easy to get a good, firm grip for the most exact cutting. Strength and durability are a hallmark of all Stanley tools, and this jab saw is going to last you through years of excellent cutting. Because it is so versatile, you're going to be able to accomplish a number of jobs efficiently, and in no time at all. It meets the highest standards of performance and quality, and the rugged blade is strong enough to cut even through Durorock. Thanks to SharpTooth technology, you're going to see that you're cutting 50% faster than you do with other saws. The hardened teeth stay sharp up to 5 times longer than any other standard teeth. The limited lifetime warranty makes this jab saw a sure thing.
6 inch blade works great for drywall and other hard materials
SharpTooth technology cuts 50% faster
Induction-hardened teeth stay sharp 5x longer
Limited lifetime warranty
– Anthony Dawson
Best Overall Jab Saw
Milwaukee
This fantastic jab saw from Milwaukee allows for a tool free blade change that saves you both time and hassle. The blade folds nicely into the handle making the saw incredibly safe and easy to store. The rubber over mold of the handle makes it easy to get a good grip for the most precise cutting. The Sawzall blade is incredibly durable and ensures years of quality cutting without the need for replacement. The multi-purpose blade not only works great on drywall, but can perform well when used for various applications. With this particular purchase, you get three different blades, so you can be guaranteed that the tool is going to last you for quite some time. Milwaukee has been singularly focused since 1924 on producing the best power tools and accessories that money can buy. All of their products are durable and of the highest quality, and this jab saw is certainly no exception.
Blade change up to 10x faster
Convenient folding blade for easy storage
Works with all Sawzall blades
Comes with folding jab saw and 3 blades
– Anthony Dawson
Best Budget Jab Saw
DEWALT
Dewalt is a name that we all trust when it comes to saws and power tools, because everything that they build is meant to meet the highest standards of performance and durability. The aggressive tooth design manages to cut up to 50% faster than any standard tooth design, and thanks to induction-hardening technology, they stay sharper for much longer than the competition. Works great not just for drywall, but also plastic and other building materials. This is a standard jab saw, and is perfect when you're looking for something that is basic, simple, and built to last. This saw is so strong that it can even cut its way through double sheet rock. It's very affordable, and the comfort-grip handle makes it easy to maintain a firm grip at all times. All in all, this is a wonderful addition to any tool kit, and is a must-have if you're cutting holes to add electrical boxes or any other fixtures to your home.
Strong tooth design cuts 50% faster
Induction-hardened teeth stay sharp for a very long time
Durable, efficient, and easy to use
Perfect for drywall and other building materials
– Anthony Dawson
Jab Saw Buying Guide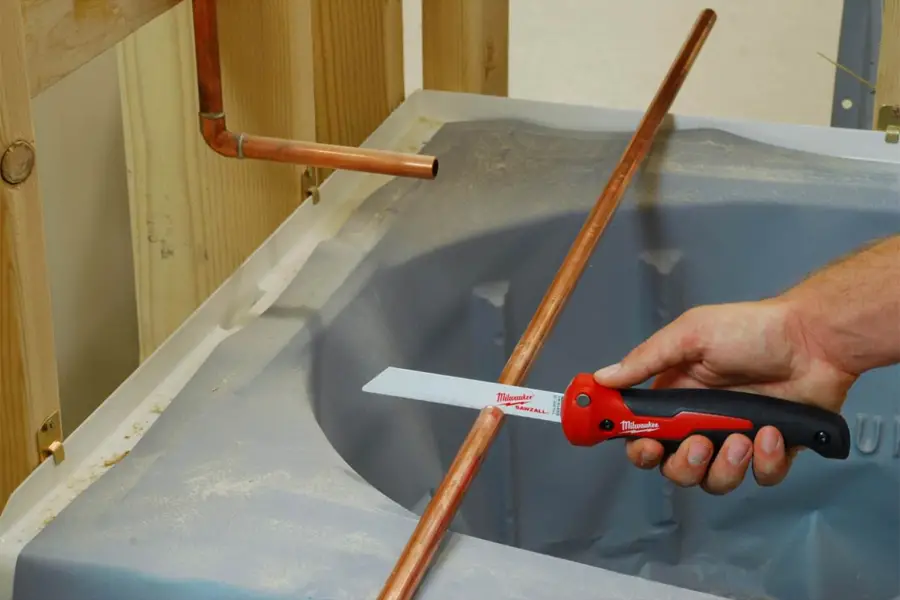 A jab saw, which is often referred to as a drywall saw, alligator saw, and pad saw, is basically a long and narrow saw that is utilized for cutting several building materials. To make it more clear, a jab saw is basically and typically a hand saw that contains a six-inch blade, coarse teeth, and sharpened tip. It is a very sturdy and strong tool; therefore, it is quite effective and tends to get the job done. The tip in particular is strong enough to penetrate a drywall, but it is not sharp enough to cut your finger if light pressure is being applied, so you don't have to worry about any harmful accidents occurring with holding it. Any self-proclaimed handyman more than likely carries a jab saw in his toolbox, as they come pretty handy in various situations.
Jabbing Function
The jab saw feature that is often referred to, as the 'jabbing' function is one of the most talked about. Whenever you don't have an edge to begin your cutting, you simply have to place the end of the saw that is sharpened in perpendicular angle to the surface that you want to cut. Then, all you have to do is smack the handle with the heel of you free hand. If you prefer to strike it with a rubber mallet, you can, too, as it has the same effect.
Jab Saw Types
At the moment, there are two types of jab saws on the market: retractable blade type and fixed blade type. One or two holding screws secure both of these types of blades, and both of them can still get the same job done. They are just two styles that were designed and manufactured in a different form of way.
Fixed Blade
The fixed blade can be attained at an affordable price in most stores. This type of tool is often utilized in modern construction trade. Since building construction methods and materials that are often used have evolved over the years, the design for this particular blade has evolved as well. One noticeable modification that has been made is the sharpened point at the tip of the blade in order for it to be jabbed or pushed through materials that are soft such as drywall, without the need of drilling a hole for the blade.
Retractable Blade
The retractable blade usually has a cast iron handle or wooden handle. The retractable feature this blade carries is good in preventing unwanted flex to the blade in case the full-length blade is obstructed in some form of way.
Spiral Saw and Jigsaw Saw
Two tools that that function the same way as a jab saw are the spiral saw and the jigsaw saw. The only difference these two power tools have from the regular jab saw is that they have been noted to work more rapidly with less effort, but at the moment, that is just an opinion that is floating around. It would be up to you to try and decide if this thought matches yours once you get your hands on it and begin testing it out.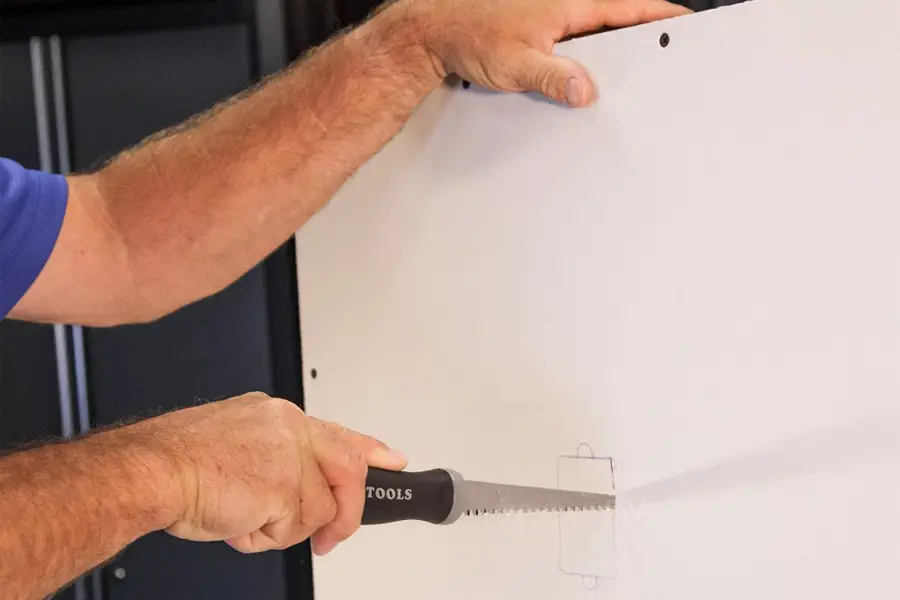 Maintenance of Jab saws
Depending of the age and type of jab saw you purchase, maintenance will always be a must in order for it to function the way you expect it to, without any issues. For those old key hole saws that contain filed crosscut teeth, a craftsman will be needed, as he/she will have to manually sharpen and set the teeth by hand. This might sound like tedious work, but believe it or not, it can be performed in a short period of time.
For modern versions of the retractable blade are readily available thus removing the time, tools, and skills that would otherwise be required to manually sharpen it. If you opt to purchase those mass production fixed blades that are available at affordable prices, you can simply opt to throw it away when the teeth of it begins to become blunt, as they are pretty cheap to attain, money wise.
Multi-Purpose Jab Saws?
Most individuals around the globe opt to purchase a jab saw for a specific purpose such as drywall cutting. The majority of the tools in a toolbox are multi-purpose tools, but that is not the case of a jab saw, as it is only truly needed when cutting drywall. It just makes everything simpler.
Cutting Abilities
Does the jaw saw cut drywall pretty good? That is a question that a lot of individuals around the globe often ask themselves before purchasing a jab saw. It doesn't cut pretty well when it comes to big cuts, but if you are dealing with small cuts, then the answers is definitely 'yes.' Jab saws were basically designed and manufactured to cut holes in drywall. The jaw saw creates fast work of holes for electrical boxes.
This powerful tool is great and all, but it is not good for cutting more than six to eight inches. Another thing is that your cuts don't come out straight. You will probably be able to get straighter drywall cuts with a jigsaw or utility knife. If you don't mind ragged cuts, then give a jab saw a try. It won't let you down.
Plastic Work or Drywall Wood Work?
Since a jab saw's teeth are usually too coarse to create neat cuts on thick plywood, there seems that there aren't any other uses for this tool other than what is stated above. This product was classified as a tool that is designed for plastic work and drywall wood. There are some individuals who have stated on various forums that they don't dare try their jab saw on plastic work, as it will be a waste of time, while other individuals state that they enjoy utilizing their jab saws on plastic work, as it makes everything more simple for them. Again, it is just an opinion that might differ from one's opinion.
As you can tell, the powerful jab saw is a one-of-a-kind handy tool that can make your drywall work a piece of cake every single time; therefore, it is often suggested that this tool never goes out missing in your toolbox.