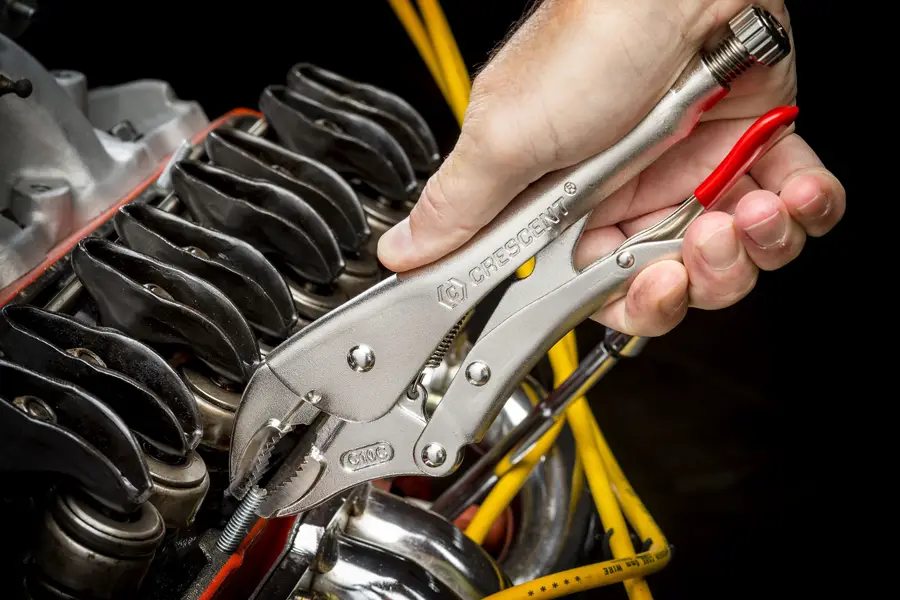 Jaw Locking Plier Reviews
Pliers are amazing tools, and certainly no tool box is complete without them. They're great for pulling things apart, taking nails from walls, cutting wire, and so much more. There are so many different designs out there, but jaw locking pliers are a must-have. Because they can not only clamp-down on what you need to pull, but also hold that clamped position, it takes a lot of strain off of your hand and allows you to perform your job with more ease. They're originally known as vise-grip pliers, and they were invented by a Danish blacksmith many years ago. There's usually a screw at the end of the handle that allows you to create the locked position. Because they're so strong, it's important to make sure you don't clamp them down and lock them too hard, as this can damage some materials. They're great for projects that require that extra bit of toughness and grip. When looking for the perfect pair of jaw locking pliers, veer towards the latest models that offer innovative ways of locking.
Most Popular Jaw Locking Plier
IRWIN VISE-GRIP Original Large Jaw Locking Plier
Irwin creates some of the greatest, multi-purpose tools on the planet, and these lock jaw pliers not only work well for tough jobs, but they have the added bonus of being wire cutters as well. These are a favorite among plumbers, mechanics, builders, and anyone who works with tough materials and needs tough tools to help make things easier. The curve jaw means that you can use even more pressure on four different points of any style bolt or nut. Irwin constructs their tools with only the toughest materials, and these jaw locking pliers are no exception. They're 5 inches in length and can adjust at the jaw for up to 1 1/8 inches. It's quick and easy to lock on and adjust the plier action. All in all, no tool kit is complete without this fantastic tool, which gives you some of the highest pressure you can find in a pair of pliers.
5″ jaw locking pliers and wire cutter
Locks on instantly
Adjust to plier action
Innovative curved jaws and knurled tips
– Anthony Dawson
Best Overall Jaw Locking Plier
CH Hanson Curved Jaw Self-Adjusting
The patented locking system of the CH Hanson locking pliers allows you to automatically adjust with one hand to any size that you need. The curved design makes it even easier to get a tough grip in a flash, and maintain that grip throughout the duration of your project. Set and Forget technology helps you to set your desired pressure and the jaw is able to self-adjust. You can set the pressure anywhere from slight to extreme, allowing you the versatility to use these pliers on all kinds of different materials without risk of damage. The no squeeze release lever makes it very easy to release in a snap and with the use of one hand. The textured grip ensures that you'll always have a firm hold on the handle, which only adds to the ease of performing tough jobs. The whole thing is backed by a lifetime warranty, so you can rest assured that you'll be using the pliers for years to come, and they will maintain the same level of performance.
Set and Forget technology allows you to set desired pressure
Easy release lever
Lifetime warranty
No slip texture grip
– Anthony Dawson
Best Budget Jaw Locking Plier
Irwin Curved Jaw Locking Plier with Wire Cutter
These 12 inch vise grip pliers are fantastic for all the clamping, tightening, turning, and twisting that you need done. They work for all shapes, and they're very popular among mechanics, plumbers, welders, and anyone who needs to work on larger objects. The alloy steel construction means that these pliers are certainly built tough and built to last. The guarded release trigger makes it easy to unlock and release whatever object you're working with quickly. With the backing of a full lifetime warranty, you can be sure that you're never going to need to replace this tool anytime soon. The hardened tooth design is just another feature that adds to the overall strength and durability of these pliers. Rest assured that no matter how tough of a job you have ahead of you, these lock jaw pliers are going to provide all the strength you need to get it done with more ease than you imagined possible.
Heavy duty vise-grip pliers
Highest quality alloy steel
Extra hardened tooth design
Adjusting screw gives perfect pressure
Lifetime warranty
– Anthony Dawson
Jaw Locking Plier Buying Guide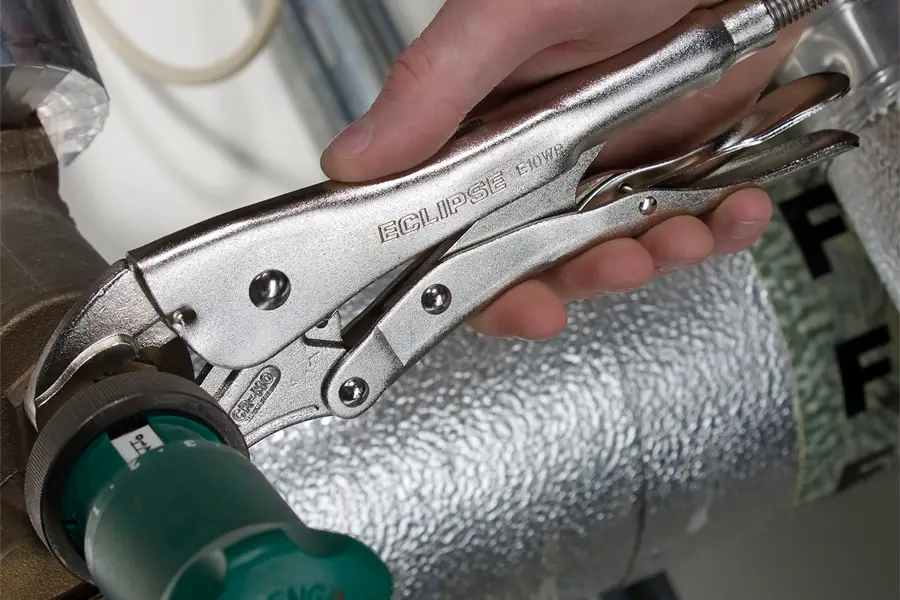 Matching the right jaw and the right locking mechanism to your project can make your jaw locking pliers one of the top tools in your collection.
Pliers By Any Other Name
Sometimes known as vise grips, mole grips, or locking wrench, jaw locking pliers now come in a dazzling array of sizes, materials, uses, and technologies.
Jaw Functionality Of Locking Pliers
The size, shape, and texture of the jaws on your locking pliers will have a great impact on their suitability for a specific activity.
How big will your pliers open? Is there a standard size object you need to work with? See if you can test your tool options with your common components for a good match. For example, you may find that you need more than a two inch jaw to easily work with a two inch pipe.
When looking at jaw size, don't stop at how far the pliers will open. Also consider how much they will close. Depending on the jaw shape, there can still be quite a large opening when your pliers are completely closed. Small objects might shift or completely fall out of too much of a gap.
Locking pliers come with parallel flat jaws, pipe-shaped round jaws, and pretty much everything in between. Furthermore, the shape of the opening can change depending on the how far open the handles are. Examine the geometry of your tools in many positions to see what this change looks like.
Most pliers have a textured jaw to help grip the project. Some of these textures are quite aggressive, so consider if your materials will be marred by the pattern in your pliers.
You probably won't need them immediately, but as your tool collection and expertise grows be aware that locking pliers are available with a range of specialty jaws. You can find replaceable nylon pads, small swivels, broad clamps, and much more.
Now that we've narrowed down choices for an appropriate jaw, we also need to take a look at the nose. Needle nose pliers have a very narrow nose for access in tight spaces. Wider and taller tools are more common, adding a bit of heft to the tool. There is no right or wrong, it's just a matter of what fits.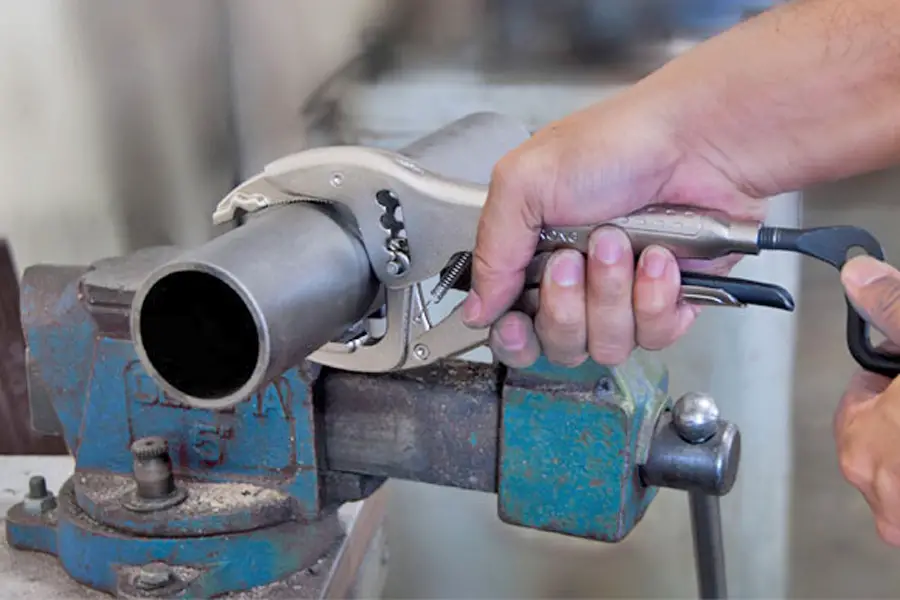 Locking Plier Handles
More so than other types of pliers, a locking device will have often have metal handles. They should provide enough texture to hold firmly as you clamp down on your project but not so rough that your hands hurt.
Some padding can be beneficial to protect your hands. If there are cushioned handles check that the material doesn't move under pressure, wear out quickly, or behave badly (melt or become brittle) in different temperatures that you might experience on the job. There is such a thing as too padded; excessive bulk can quickly become counterproductive if it is spongy or impairs your reach.
Open the pliers all the way and see if one hand can span the gap, keeping control of both handles. Some pliers have to open almost 90 degrees, which can be awkward both for handling the tool and for tight workspaces where there simply isn't room.
Some pliers are built in a compact form to save space or reduce cost. This may compromise your ability to get a firm grip with all your fingers. Alternately, a space-saving pistol grip style does exist.
Locking Functionality
Typically the locking part of your pliers will be in the handles or near the joint where the handles come together. Many locking pliers use some type of screw, others ratchet or pump closed. Those that claim to be self-adjusting or automatic should be tested in the store as many of them are finicky and there are new ones coming out all the time.
Once your pliers are locked they should stay that way until they are intentionally unlocked. You are looking for a quick, but not accidental release. Let go and see what happens. Do they stay tight with a slight bump, or do they burst open?
Practice the lock and release a few times. See if you can open and close them with one hand. Watch for pinch points.
Base Materials
Alloy steels are most common as a foundation of these hand tools. You will also see chromium alloy, high carbon steel, and chrome- or zinc-plated. If there is much moisture where you work or store your tools, select materials with rust resistant properties in mind. As long as you have quality materials and precision construction, your pliers should last a lifetime.
Specialty Locking Jaw Pliers
Welding, sheet metal, plumbing, automotive, and many other specialty locking pliers available to make certain tasks easier. There are even popular locking jaw pliers that are essentially c-clamps with handles.
Value Added Options
Wire cutters are one of the most common features seen on locking pliers. Additional built-in tools, a belt hook, carrying case, table clamp for metal handles, and countless other features can be found if you look long enough. For most people a single function, well-built tool will be sufficient.
Warranty
Most of these hand tools come with a limited lifetime warranty. If the set you are considering comes with much less, decide if a disposable product best meets your lifestyle.
Conclusion
There certainly are a lot of options to choose from and this is a case where the project dictates the preference. Since there is not one best choice, many people enjoy the volume discount and a selection in a quality set with several types of jaw locking pliers.