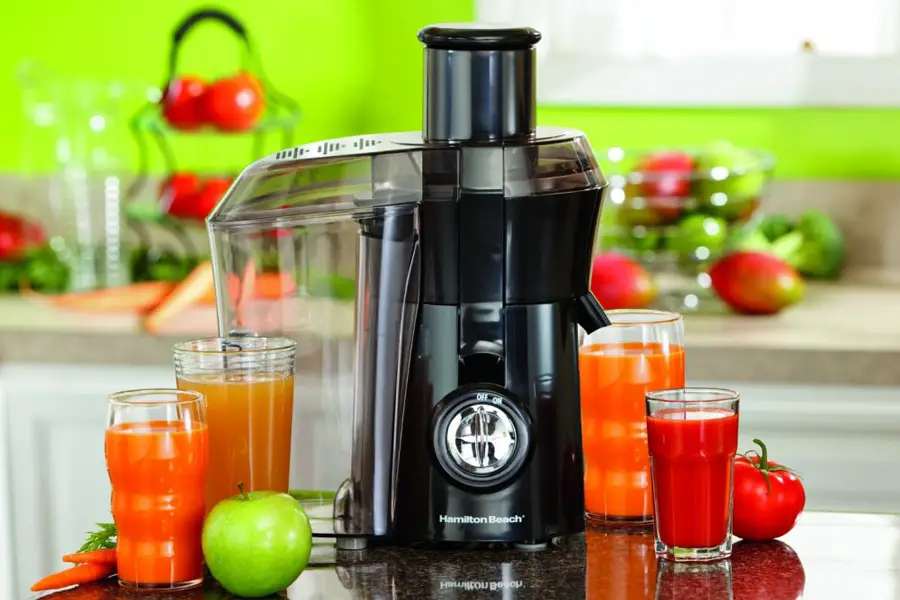 Juicer Reviews
Juicing is a fantastic (and delicious) way to pack those extra nutrients into your diet. Investing in a juicer today is the first step towards a healthier tomorrow. We all have unique juicing needs so before you commit, take a look at our reviews to see which juicer is the perfect fit for you and your lifestyle.
Most Popular Juicer
Hamilton Beach
Take the headache out of juicing with the Hamilton Beach PJP Power Juicer Pro. Not only is it utterly simple to use and clean, but it also comes equipped with a whisper-quiet but strong motor so that you can juice to your heart's content without unwanted noise. Now you can feel free to start your day off the healthy way without worrying about waking other members of the household or neighborhood.
The Hamilton Beach PJP Power Juicer Pro comes fitted with several with an extra large, round chute, a stainless-steel blade, and a mesh filter. Patented extraction technology makes the whole process a breeze while the leak-free spout keeps your counter free of wayward juice. When you're done juicing, simply pop the machine's removable attachments in the dishwasher.
Easy set-up
Quiet
Reliable
Juices efficiently
Easy clean-up
– Anthony Dawson
Best Overall Juicer
Breville Compact Juice
Not only is this juicer packed with features, but it looks the part too. With its slick and sophisticated design, the Breville Compact Juice Fountain makes juicing a pleasure. While this juicer is neat and petite and won't take up much counter space at all, there is no compromise on quality or power.
A 700-watt motor (operating at 14,000) ensures that juicing is quick and efficient, maximising on extraction from fruits and vegetables. The extra large 3-inch tube sits in the centre of the juicer. It can easily process whole fruit and veg and is fitted with a stainless-steel micro-mesh filter. Cleaning is a snap. The detachable parts of the juicer are all dishwasher-safe, and a custom-made cleaning brush is also included with the purchase of the juicer.
In the unlikely event that your juicer malfunctions, you can rest easy since you're covered by a one-year warranty.
Ease of use
Powerful yet compact
Solid construction and design
Easy cleaning
Comes apart and reassembles easily
– Anthony Dawson
Best Budget Juicer
Hamilton Beach Juicer
Go big or go home, right? If you're serious about juicing, you can't go wrong with the Hamilton Beach Big Mouth Juice Extractor. This juicer boasts an impressive range of features, such as its 1.1 horsepower motor which easily extracts juice from even the toughest of produce. This claim has been backed up by a leading gourmet magazine which voted this juicer as "Most Efficient" in its category.
The Hamilton Beach Big Mouth Juice Extractor also features an extra wide chute (three inches, to be exact) which means that you can easily pop in whole fruits and vegetables. The pulp bin is extra large to ensure that you can juice large amounts of your favourite combinations without having to stop to empty out the pulp. Bonus: you'll have plenty of the nutrient-rich pulp left over to use in any recipe you like.
Simple to use
Strong motor
Easy to clean
Affordable
Durable
– Anthony Dawson
Juicer Buying Guide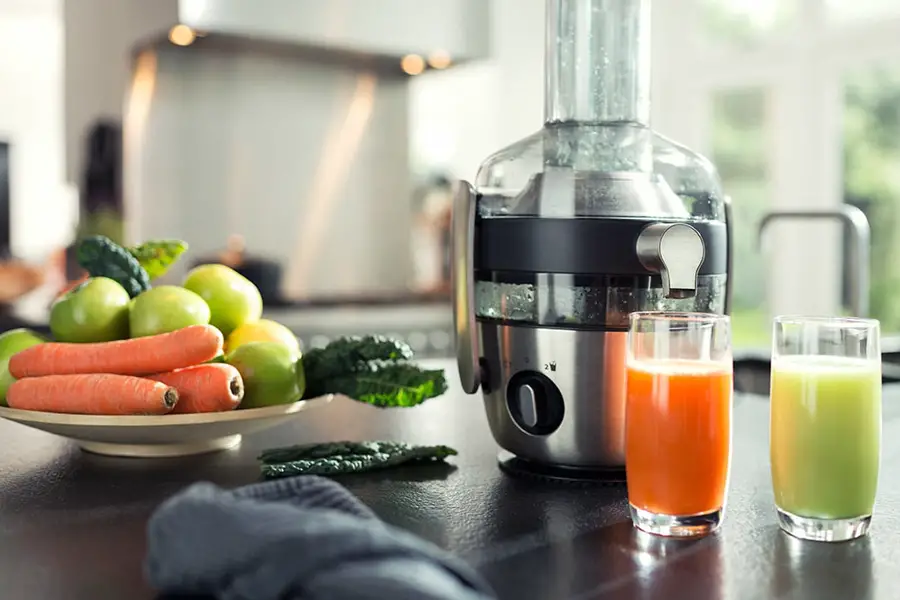 Juicing is trendy. Food loving and health conscious individuals are all eager to juice their fruits and veggies. Why not? Recent studies suggest that drinking fresh-juiced produce helps people boost their immune system, lose weight, and fight diseases like cancer. Juicing is a way to separate water-soluble nutrients of fruits and veggies from fibers so the digestive system can efficiently breakdown all the essential nutrients and deliver it to the body in a shorter period. Of course, juicing won't be a delight to do without the help of juicers.
Not all juicers work in the same way as the other. Different juicers have different fruits and veggies to process, different amount of time for processing, and different results. There are juicers that can magically transform any solid vegetables or fruits into a refreshing drink, but there are also a lot that do the work poorly. Nonetheless, shoppers must remember that although there are juicers that work exceptionally, all juicers have advantages and disadvantages. Before shopping for a juicer, consumers must first have an ample knowledge about the product they'll be buying or else, they'll easily get lost in the hunt. It's easy to make the wrong choice if these few guidelines aren't taken into account now:
The 3 Different Types of Juicers
1. Centrifugal Juicers
These juicers, as the name suggests, uses centrifugal force to extract juice from produce. It typically uses high-spinning metal basket with a sharp teeth on the base to extract juice, separate flesh, and throw it against the basket's side. The basket's sides have pores. Through centrifugal force, juice will be filtered out from the mush. The mush will then be separated in a different container, and the juice will then gush from a spigot down to a waiting glass.
Pros:
Centrifugal juicers juice faster than masticating juicers.

They're easy to clean and parts are usually dishwasher-friendly.

They're typically cheaper than masticating juicers.

They can juice large chunks or whole produce.

Their vertical aesthetics and upright design make them ideal for saving space in the counter.
Cons:
Their process of juicing produces loud noise.

Lesser juice produced. Extraction of juice using centrifugal force is not as efficient as other methods.

They typically can't juice wheat grass, spearmint, rosemary, and other herbs.

Because of heat the blades produce as they spin, some enzymes disperse. Heat also oxidizes some nutrients—making the juice less healthy.
2. Masticating or Cold-Press Juicers
Masticating is a relatively new way of juicing fruits and vegetables. As vegetables and fruits are being pushed down a tube, slowly rotating screw inside will extract the juice. The screw will masticate the produce and will separate the pulp by pushing it down a tapering tube. At the base is a mesh where the pulp is left and the juice is filtered as it drips down a container.
Pros:
Their way of juicing generates minimal heat so most of the nutrients from fruits and vegetables are intact and properly preserved.

They work well on crashing most nuts.

Juicers of this type work well with green juice. They can effectively juice leafy vegetables and herbs.

They produce much lesser noise than centrifugal juicers.

Cold-press juicers maintain a lot of pulps in the produced juice.
Cons:
Fruits and vegetables must be sliced into chunks first before juicing.

Most of these juicers cost higher than centrifugal juicers.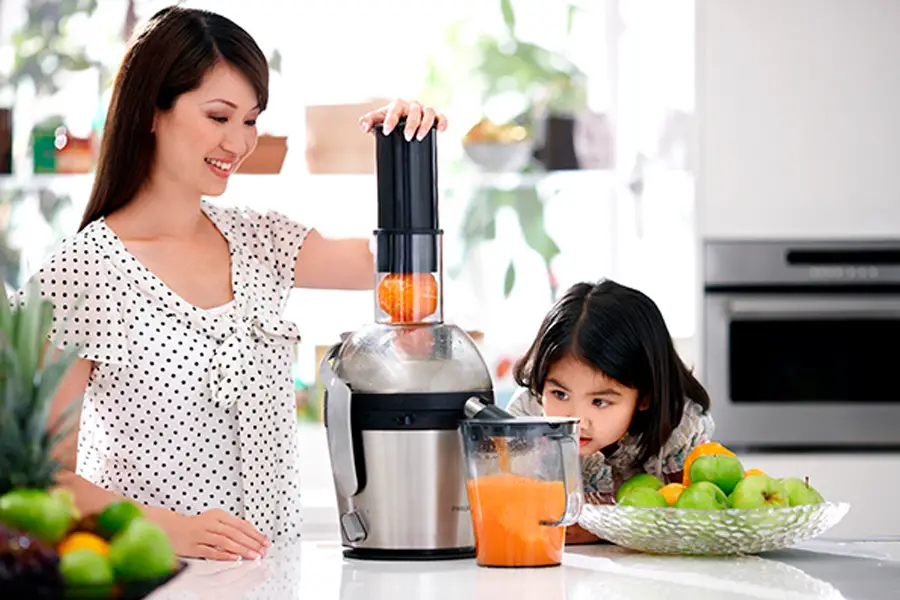 3. Twin Gear Juicers
These juicers are by far the most expensive amongst all juicers, but for a reason. They have two interlocking screws that work in a two-step process. First step involves crushing the produce and thesecond step involves pressing the produce to obtain juice. Dual gears rotate in a slower speed or rpm than other juicers, which means that the highest possible amount of nutrients is retained.
Pros:
The overall process produces a juice that contains more fiber, enzymes, and more intact vitamins and minerals because the gears turn at slower rpm than other juicers.

The obtained juice can last up to 36 hours when stored in a refrigerator.

The extracted juice from these juicers is also often at top quality, less foamy, and more concentrated.

These juicers work well in juicing wheatgrass, spearmint, leafy vegetables and other herbs.
Cons:
They are relatively heavy (about 8 to 12 kg) and may require more effort to move around the kitchen.

They aren't ideal for most beginners because of their high cost.

They have smaller chute and they process smaller amount of produce at a time to prevent over-feeding.

Washing them is more laborious.
Which Juicer Should You Choose?
When choosing the right juicer, it all boils down to the consumer's preferences and needs.
Juice of Choice
What most people, especially beginners, do not understand is that different juicers make different juices. Juice made from cold-press juicers is somewhat thick and smooth in texture while juice from centrifugal juicers is water-based and appears clearer. Cold-pressed and twin gear juicers also produce lesser foam. Both juicers can extract juice from most fruits and veggies but fans of green and herbal juices may not count on centrifugal juicers, as they work rather poorly on juicing leafy vegetables and herbs such as wheatgrass and spearmint. Those who love the strong taste of nuts in their juice must consider buying cold-press or twin gear juicers as well.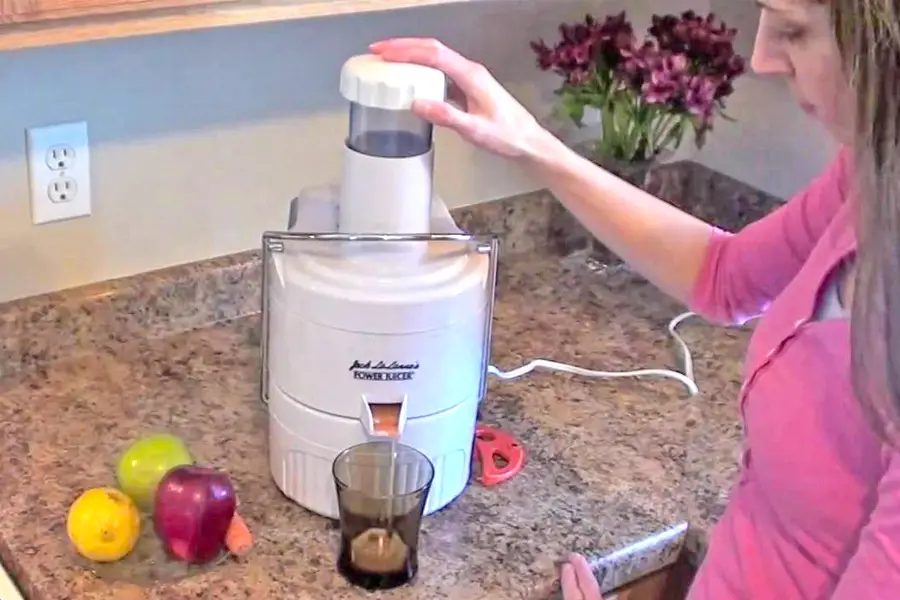 Amount of Juice
Juicers' different ways of obtaining juice affected the amount of juice that they can produce. Cold-press juicers can obtain juice more than enough for the family after 30 minutes of processing. Centrifugal juicers on the other hand obtain juice much faster but a lot fewer than what cold-press juicers can obtain. Twin gear juicers are simply exceptional in producing the most juice possible from produce. The slower the process of juicing, the more juice will be produced. Twin gear and cold-press juicers can be easily proclaimed as winners if amount is the only factor. In addition, there are models that have closed systems, which limit the amount of juice that can be obtained.
The Price
Juicers are available at a wide range of prices that appeal to both beginners and experts in juicing. If consumers are beginners, it is not practical to buy cheap centrifugal juicers available online and in stores nearby. Beginners in juicing that will use cheap centrifugal juicers might later on lose interest in juicing because of the poor quality of both device and juice produced. It is recommended for beginners to buy mid-range centrifugal juicers or single auger juicers that cost a little higher but with a longer-lasting quality. Veterans in juicing such as chefs,food and culinary enthusiasts often buy professional quality twin gear juicers, which are available for about $400 to $1000.
Conclusion
Choosing the right juicer that will provide consumers their everyday juice needs isn't a walk-in-the-park. But by simply following few guidelines, consumers will be able to find the one that suits their needs and taste. Consumers must also remember that juicers are investments and proper care and treatment must be done to ensure long-lasting usability.