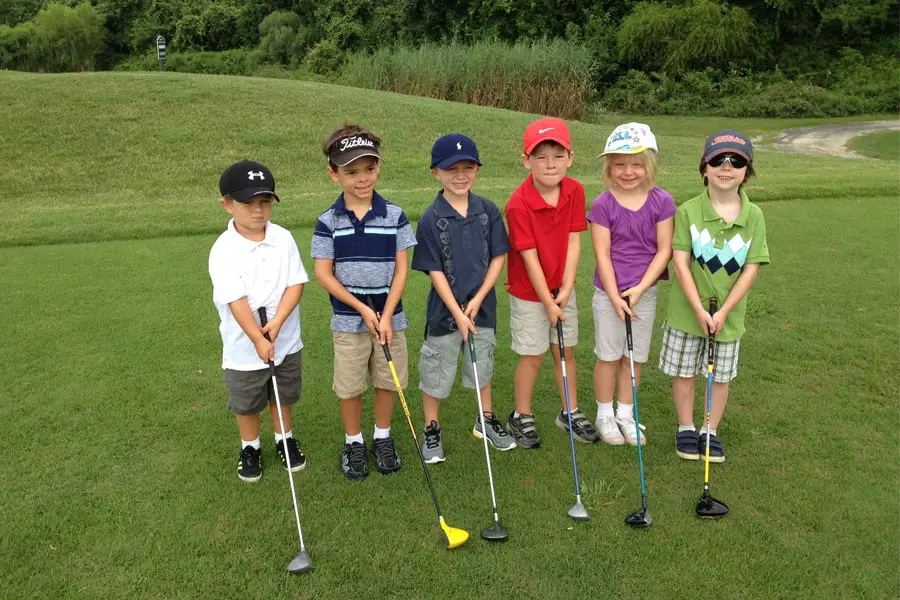 Junior Golf Club Reviews
Despite being one of the most difficult sports in the world to master, many people decide to introduce their children to golf in their formative years to give them the best chance at developing their skills over time. It may be frustrating at times, but golf is also an incredibly rewarding activity that allows young golfers to compete both with their peers, adult relatives, and most importantly, themselves. One of the challenges of getting kids into golf is finding a set of clubs that suit their body size and up-and-coming swing proficiency. Junior golf clubs are, obviously, significantly smaller than both women's and men's adult clubs, and they are also much lighter and designed to be more forgiving to a young person's swing. Since all children are sized differently and they constantly grow, the best way to find the right set of clubs is to go to a place where they're sold and get a feel for them in person.
Most Popular Junior Golf Club
Callaway
The Callaway XJ Junior Set was specifically designed to meet the needs of junior players and help them achieve the most distance and control with every shot with every club. The XJ set comes in two sizes: small for ages 5-8, and large for ages 9-12. Both sets come with a driver, fairway wood, #5 hybrid, 9 iron, sand wedge, putter and bag; the large set also features a 7 iron. The driver is made of a lightweight metal allow with an oversized hitting surface and sweet spot that provides plenty of forgiveness and optimal control on long distance drives. The included wood features a perimeter weight distribution that gives the club a center of gravity that maximizes the power and control of a child's swing by increasing the MOI and amplifying the ball's trajectory and loft. The irons and wedges are also designed to give optimal levels of stability and control with each developing stroke.
Energy efficient and lightweight clubs designed for junior swings
Includes double-strap stand bag in red
Clubs designed to improve control, distance, and ball flight
– Anthony Dawson
Best Overall Junior Golf Club
Intech
The Intech Lander 10-piece Junior Golf Set is specifically engineered to give beginner golfers the best chance at finding the proper swing and developing power and control over time. The driver has a 17.5-degree loft with 4-point weight distribution system that's forgiving on young swings; the driver also includes a head cover. The set also comes with a 4/5 hybrid iron, wide-sole 7 and 9 irons, and an innovative junior putter with a milled polymer insert that allows the junior golfer to have a greater feel with each stroke. Each of the clubs feature strong and lightweight graphite shafts, save the putter which has a more rigid steel shaft. The set includes an attractive deluxe double-strap stand bag with a 4-way divider top for keeping each of the included clubs upright and stable.
Great beginner set designed for young beginner golfers
Includes driver, #4/5 hybrid, 7 and 9 irons, and junior putter
Deluxe double-strap stand bag is suitable for course carry or back of the cart storage
– Anthony Dawson
Best Budget Junior Golf Club
Golf Girl
Most young girls just getting into golf don't want to play with the same clubs the boys use. Not only are they more masculine in the way they look, but also they are also typically a bit beefier to suit young male swings. Girls should have their own set of clubs, and they should be pink. That's why the Golf Girl Junior Set is the perfect starter set for girls aged 4 to 8 who want to hit the course in style. Included in the package is a driver with extra loft to make it easy to make contact with the ball, oversized Ti-Matrix irons with perimeter weight control: these include a 32-inch 5 iron, 31-inch 7 iron, and 30-inch 9 iron. Also included is a 30-inch pink putter with alignment aid. The stand bag has a double shoulder strap for taking the bag on the go, and the clubs are organized via the 4-way divider top. Four exterior pockets, an umbrella holder, Velcro glove tab, and included rain hood compete the package for everything an aspiring LPGA tour pro could want in a golf starter package.
Pink junior golf set specifically designed for girls aged 4-8
Set includes driver, 5, 7, and 9 irons, and pink putter
Forgiving club faces with wide soles allow for great contact with each swing
– Anthony Dawson
Junior Golf Club Buying Guide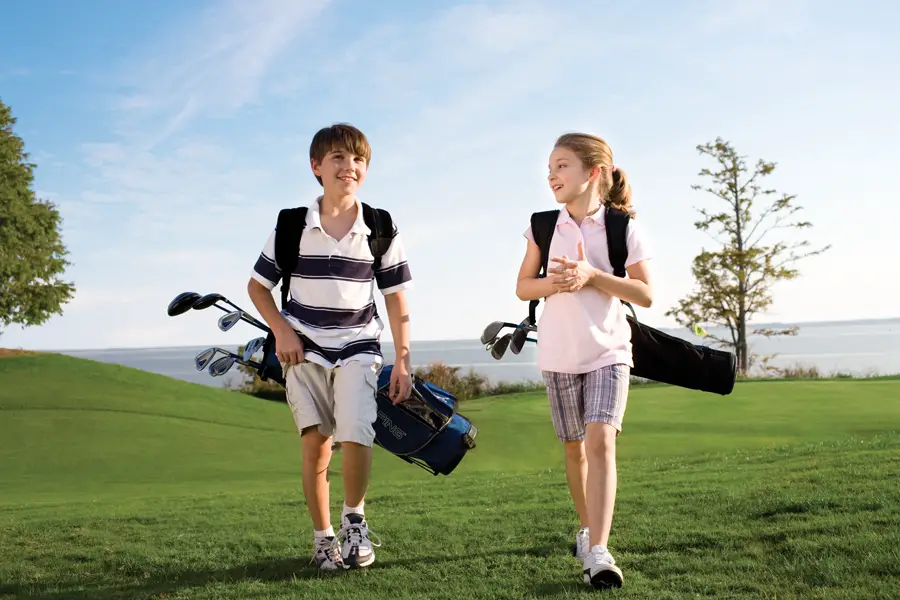 You were walking through a toy store one day, looking at possible gifts for your toddler. You came across the section with sporting goods and noticed the fat, plastic golf club set for tykes. On a whim, you make the purchase and show the gift to your child. Love at first sight takes over and your child happily starts swinging away. Is your story similar?
Regardless if that initial plastic club purchase is accurate or maybe you noticed an interest in golf from your child watching TV or playing a video game, you are considering purchasing professional type junior golf clubs for your growing child. How do you proceed with this endeavor? Here are some tips to help you along the way.
How To Begin Your Junior Golf Club Purchase
Your first consideration depends on the enthusiasm your child shows about golfing. You want to decide if you are purchasing a whole set of junior golf clubs, or just a single club or two in order to test the waters. The first club of importance is the putter, and thus, the first skill to master is putting a ball into the hole.
Most families have spent some time at a putt-putt golf course so the putter should already be a familiar club to many children. If you are starting with individual clubs, the next one should probably be a junior golf iron. The iron is used to launch a ball high in the air towards the putting green. Irons are normally numbered 1-9 and the 9-iron is recommended first.
The third club to test would be a junior golf wedge. The wedge is much like the iron but is more accurate and used at a shorter distance to the green. The most common one is the sand wedge which is used, of course, to escape sand traps. These are the first three junior golf clubs to purchase if you decide against a full set of 14 clubs right from the beginning.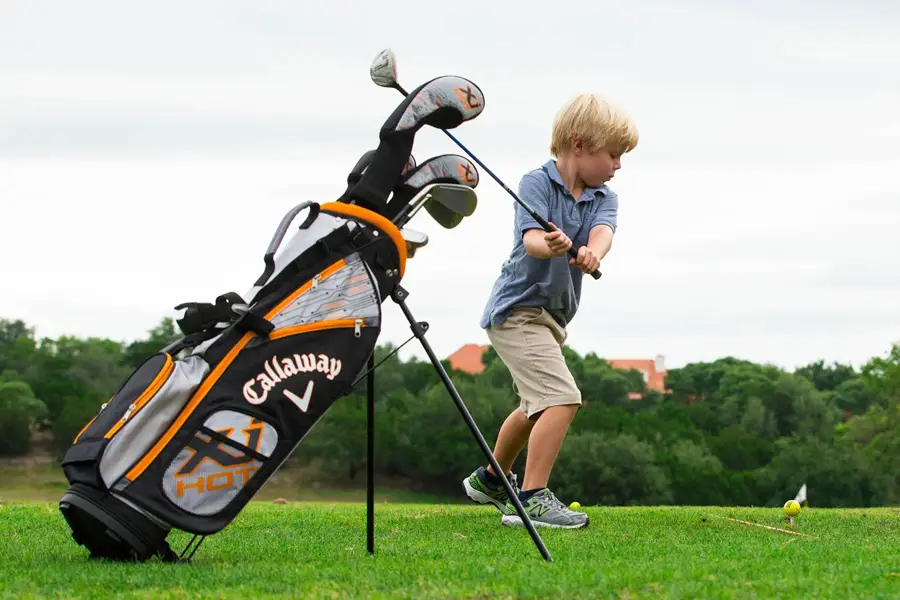 Selecting the Correct Club Fit For Your Child
A common mistake in proper junior golf club sizing is to buy clubs too large with hopes that this will counteract the growth of the child and last longer. We have been known to do this with shoes and clothing, but a proper fit in junior golf clubs is rather important and should be monitored every six months or so for alteration if needed.
It's not totally bad news. If you have purchased a full set, chances are that not all of the clubs are used often. You can replace just the most regularly used clubs.
Choosing junior golf clubs by age recommendation is not the best choice. The height of the child is the most important factor and we all know height and age varies for each child. Ideally, you should seek a professional fit at a golf store, but you can also do it on your own.
The first measurement to jot down before heading to the golf store is to have your child stand up straight, close his or her fist, and measure the distance from knuckle to ground. The second measurement to take note of is total height. Age is last and simply a starting recommendation.
Testing different club sizes at the store will narrow down the proper fit for your youngster. The swing should be smooth, comfortable, and the club head at the correct position to strike the ball.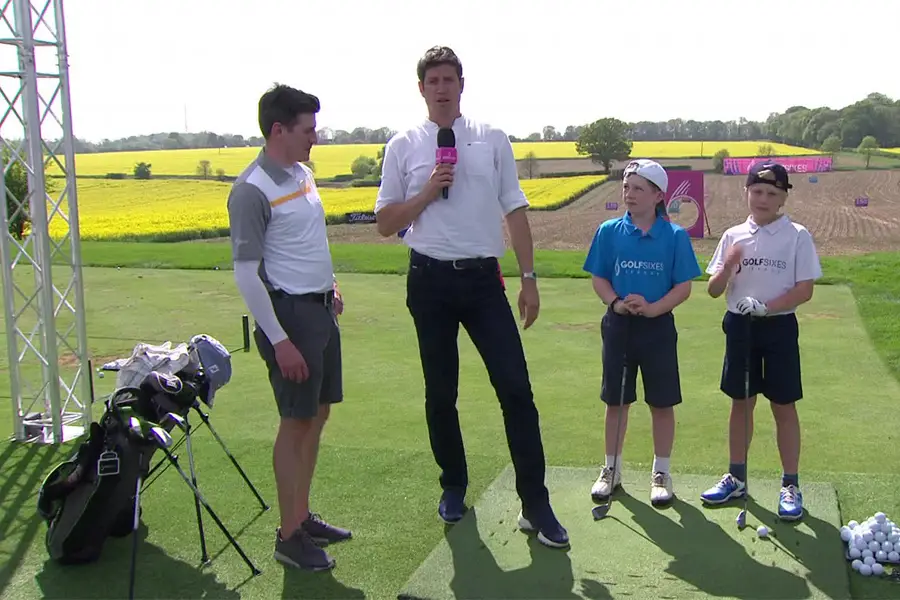 Other Features To Consider
The shaft, grips, and the club head are the main parts of a junior golf club. The shaft is a hollow rod that delivers consistency and power to the swing. You can test shafts in the store to find a good fit for your child's swing.
The grips are more important than most people think. No matter the age of any golfer, your clubs need to fit your fingers properly and comfortably. Try out different types of grips to find the correct thickness and length needed.
Technology goes into junior golf clubs just as much as adult clubs. The best club heads are normally stainless steel as opposed to aluminum alloy. Prices and interest in golfing by your child are factors to think about when purchasing their junior golf clubs.
Gloves and Shoes For Junior Golfers
The grips on the clubs are important but so is your child's grip on those grips. Golf gloves not only will help prevent blisters but will also provide better comfort and control of the club. You can find gloves made with leather or synthetic materials, or a mix of both. Try to find gloves with mesh or perforated areas which are more breathable.
Your young golfer needs to be prepared for a lot more walking than they thought. Shoes that are comfortable and provide proper fit are a must. It doesn't matter if you choose spikes or no spikes as long as the shoes provide good traction. Lightweight shoes are preferable and you should consider waterproof or water resistant brands.